Found November 11, 2011 on The Nats Blog:
It's been nearly two full days since Wasingtion Nationals C Wilson Ramos was kidnapped from his Venezuela home.  As NatsTown is doing everything it can to bond and support Ramos and his family during this trying time, including hosting a fan-organized candlelight vigil tonight at Nationals Park, it would be remiss of us to ignore the lack of coverage of this issue by ESPN, the so-called "Worldwide Leader in Sports." When Ramos was first reported missing, Penn State had just fired it's long-time football coach Joe Paterno and their University President.  SportsCenter, the stations flagship program, ran live all night long to cover the development, without taking a moment to mention the kidnapping of the Nationals starting backstop.  Despite the fact that after the firing no "real news" broke.  It was just reaction.  I figured this had to change once the story lightened a bit; it hasn't. Now, ESPN has started covering it's own basketball game scheduled for tonight between UNC and Michigan State on an aircraft carrier, the USS Carl Vinson, in addition to covering the Penn State saga.  Ramos's kidnapping, by my count, has earned about 20-30 seconds of every our of coverage.  There's no background given, no discussion of the instability and danger of living in Venezuela, no discussion of MLB players' reactions to the situation.  Just that he's been kidnapped and no new information is available. I understand that ESPN is a business that must cover what its viewers want to see, but do they not have some sort of moral obligation to make its viewers aware that a starting Major League Baseball player has been kidnapped and no one can find him?  I've known for a long time that ESPN is a football-first network, followed by coverage of its own sporting events, followed by the rest of sports news.  Why else would stellar baseball minds like Peter Gammons and Brian Kenny leave the biggest sports network in the world for baseball-centered networks?  But the Ramos situation seems more worthy than half a minute of every hour. I must admit, these observations are certainly made out of frustration that one of our own in NatsTown cannot be found, and there's simply nothing I can do to help, but it doesn't make them any less true.  ESPN should be ashamed for not bringing the kidnapping of Wilson Ramos to the attention of more Americans with more regularity.
Original Story:
http://www.thenatsblog.com/2011-artic...
THE BACKYARD
BEST OF MAXIM
RELATED ARTICLES
In simply horrifying news, Rafael Rojas of VivaColorado.com is reporting that Washington Nationals C Wilson Ramos has been kidnapped from his Maracay, Venezuela home.  MASNSports.com's Ben Goessling tweeted that Ramos' Venezeula League team has confirmed the report.   Nationals RP Tyler Clippard also tweeted his thoughts and prayers to Ramos and his family not long after...
Wilson Ramos, a catcher for the Washington Nationals who was abducted two days ago, was found alive in nearby mountains by Venezuelan security forces in an airborne operation.
Washington Nationals catcher Wilson Ramos was abducted by gunmen Wednesday from his home in his native Venezuela. Ramos, 24, was taken away in an SUV by four armed men in central Carabobo state, Kathe Vilera, spokeswoman for the catcher's Venezuelan League team, said through her official twitter account.
Nationals catcher Wilson Ramos was kidnapped in Venezuela on Wednesday night, according to multiple reports from the player's home country.
Washington Nationals catcher Wilson Ramos was reunited with his family today in Venezuela after he was rescued following his kidnapping earlier this week.  Five men were arrested in the kidnapping, but authorities did not release if anyone was… Permalink
The Washington Nationals said Thursday that Major League Baseball's Department of Investigations is working with 'the appropriate authorities' on the case of Wilson Ramos, a player abducted in Venezuela.
CARACAS, Venezuela (AP) -- Venezuelan authorities said Friday they are confident they can quickly solve the kidnapping of Washington Nationals catcher Wilson Ramos.
CARACAS, VENEZUELA (AP) - Professional baseball player Wilson Ramos, a catcher seen as one of the young building blocks for the Washington Nationals, was abducted by gunmen Wednesday from his home in his native Venezuela.Ramos, a 24-year-old who just finished his rookie season, was taken away in an SUV by ...
Nationals catcher Wilson Ramos was found safely in Venezuela on Friday night and was on his way home after being kidnapped more than 50 hours earlier.
The Florida Marlins are no more.  The Fish unveiled their new look for the 2012 season as they move into their new ballpark.Miami Marlins players model the new black, orange, gray and white uniforms they will be wearing next season.  The players in attendance were Hanley Ramirez, Josh Johnson, Ricky Nolasco, Anibal Sanchez, Gaby Sanchez, Logan Morrison, Emilio Bonifacio, former...
Washington Nationals catcher Wilson Ramos was kidnapped in Venezuela, NBC Sports reported. The 24-year-old catcher was taken by four gunmen at his home in Valencia, according to Venezuela's El Nacional. He was in his native country to play winter ball. The kidnappers have not contact his family with ransom information. Stay with News4 and NBCWashington.com for details as they...
MLB News

Delivered to your inbox

You'll also receive Yardbarker's daily Top 10, featuring the best sports stories from around the web. Customize your newsletter to get articles on your favorite sports and teams. And the best part? It's free!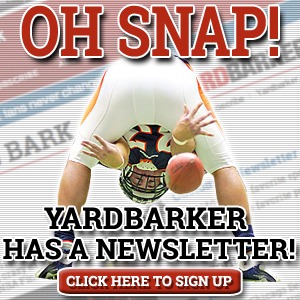 Latest Rumors
Best of Yardbarker

Today's Best Stuff

For Bloggers

Join the Yardbarker Network for more promotion, traffic, and money.

Company Info

Help

What is Yardbarker?

Yardbarker is the largest network of sports blogs and pro athlete blogs on the web. This site is the hub of the Yardbarker Network, where our editors and algorithms curate the best sports content from our network and beyond.