Found February 05, 2013 on Fox Sports Wisconsin:
MILWAUKEE -- Just two years ago, Marco Estrada was across the parking lot. At Maryvale Baseball Park, minor league camp is across the way from the big league camp and clubhouse, and If it weren't for Zack Greinke getting hurt playing pick-up basketball, Estrada probably would have never made the walk back to the side of the complex where he now belongs. As he heads back to Phoenix this year, Estrada is an established major league pitcher, and the manager that once considered him an afterthought now believes Estrada will be his No. 2 starter behind Yovani Gallardo. "It does (blow my mind)," Estrada said. "It's all thanks to them. To even give me the opportunity, it's huge. I'm really appreciative and excited. It doesn't matter where I am, number 2, 3 or 4. As long as I'm in that rotation, it doesn't matter. "Getting the opportunity to stick as a starter now, it's going to be pretty fun for me. I'm excited. Hopefully I can stick as one." In his first full season as a starter, Estrada made 23 starts and posted a 3.64 ERA in 138 13 innings for the Brewers in 2012. Though Brewers manager Ron Roenicke has said he considers Estrada a safe bet to earn a spot in a talented but very inexperienced rotation, the 29-year-old right-hander is approaching spring training like he still has something to prove. It's the same mindset he had in 2011, when he was not even a nonroster invitee. Back then, he was wearing a uniform number somewhere in the 70s coming off a season in which he posted a 9.53 ERA in seven games after the Brewers claimed him off waivers from Washington. "I know guys have mentioned I could be there, but I'm competing for a spot myself," Estrada said. "There's five or six of us competing for four spots. I'm going in thinking I don't have a spot and I'm going to earn something. I've been working hard. I try to do the same thing every year. I still have the same mindset, and I try not to think I've earned a spot because I haven't. I'm going to try and win a spot like the other guys." At the same time, he'll be playing for his home country of Mexico in the World Baseball Classic. The last time the WBC rolled around, Estrada had dreams of representing his country. But that's all they were, dreams. Team Mexico had no interest in a 25-year-old pitching in Triple-A with just 11 big league games under his belt. Estrada was disappointed but understood. Now he's wanted. Not just but by the Brewers, but his country as well. When the call came this winter with the invitation, Estrada jumped on the chance to join fellow teammate Yovani Gallardo as anchors of the Mexican rotation. "My family is super excited," Estrada said. "I was getting phone calls a couple of weeks before I even found out I was going to be on the team. They just kept asking me over and over if I was going to play. They might be more excited than I am. "It's going to be weird for me to be away from the team and competing with another team. I'm also looking forward to it and it's going to be a lot of fun. It's going to be really cool." Different pitchers have taken different approaches to the World Baseball Classic. Some have skipped it altogether. Some have aggressively started their throwing routine earlier in order to compete all out right away. Though Estrada did start throwing earlier and he recognizes the games hold meaning, the right-hander also doesn't want to overdo it to the point where an injury costs him time during the regular season. He's going to work on location and mixing different pitches during the World Baseball Classic just as he would have been doing during spring training games with the Brewers. "I don't really see a big difference," Estrada said. "Their games are going to start about the same time as ours. It's not like I'm going to go in and throw 100 pitches the first game. I'm taking this the exact same way. It's going to be the exact same thing, I think." Brewers pitching coach Rick Kranitz has warned Estrada and all of his pitchers heading to the World Baseball Classic that it's easy to go in thinking you are going to go easy. It's a whole different animal to actually do it when a big stadium is filled with fans and national bragging rights are on the line. "That's the toughest thing," Estrada said. "He's like, Listen, I know all you guys are saying you are going to go in and take it easy,' but we are athletes and competitors and we want to win. We want to do well at everything. (I'm) just going to take it easy, have a good time and go with the flow." It's hard to blame Estrada for not wanting to overdo it. He's still one injury away from having to work his way back across the parking lot. There are always guys on the minor league side looking for an injury or any other reason to take the walk and grab a job. Estrada knows because he's done it. Follow Andrew Gruman on Twitter.
Original Story:
http://www.foxsportswisconsin.com/02/...
THE BACKYARD
BEST OF MAXIM
RELATED ARTICLES
MILWAUKEE Burke Badenhop has one lasting memory of the Milwaukee Brewers and their fans. Sitting in the visitor's bullpen at Miller Park in late September of 2011, Badenhop had a great view as the Brewers clinched the National League Central Division title against his Florida Marlins. When he got word he was traded to Milwaukee in December, Badenhop's mind raced back to...
SECOND TIME AROUND
After having a positive test overturned last Spring, Ryan Braun has been linked to PEDs once again as his name has shown up in Biogenesis records.
MILWAUKEE -- Mark Rogers has had plenty of seasons end or fail to begin at all because of injuries. It's hard to blame the right-hander for being a bit agitated when the Brewers decided to shut him down following his Aug. 31 start last season. With his team in the playoff race, Rogers wanted to keep contributing to the cause. It's also hard to disagree with the decision the...
One year later, we have the sequel: Major League Baseball vs. Ryan Braun, Part II. Days before the start of spring training, MLB drug sleuths have a fresh opportunity to pursue allegations of performance-enhancing drug use against Braun. That is the biggest takeaway from Tuesday night's Yahoo! Sports report, which said Braun's name appeared in records of the Biogenesis clinic...
NEW YORK (AP) -- Milwaukee Brewers slugger Ryan Braun said he used the person who ran the Florida clinic under investigation by Major League Baseball only as a consultant on his drug suspension appeal last year. "I have nothing to hide," Braun said in a statement released by his representatives to The Associated Press on Tuesday night. Earlier in the day, Yahoo Sports...
MLB News

Delivered to your inbox

You'll also receive Yardbarker's daily Top 10, featuring the best sports stories from around the web. Customize your newsletter to get articles on your favorite sports and teams. And the best part? It's free!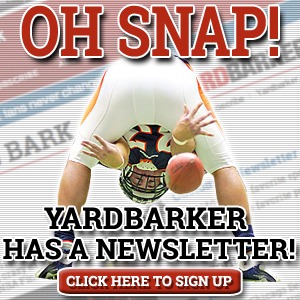 Latest Rumors
The Backyard

Today's Best Stuff

For Bloggers

Join the Yardbarker Network for more promotion, traffic, and money.

Company Info

Help

What is Yardbarker?

Yardbarker is the largest network of sports blogs and pro athlete blogs on the web. This site is the hub of the Yardbarker Network, where our editors and algorithms curate the best sports content from our network and beyond.