Found April 04, 2012 on Fox Sports West:
It was a season of extremes for Los Angeles Dodgers outfielder Andre Ethier in 2011. An All-Star and a Gold Glove winner who took a 30-game hitting streak into May, Ethier's season ended prematurely in an awkward public disagreement with the club over the treatment and severity of a knee injury that had altered his mechanics. Though he bat .292 in his sixth season as a Dodger since his rookie year of 2006, his 11 homeruns and 62 RBI were the lowest totals since his rookie year. Ethier enters the 2012 season ready to accept the added pressure of having to produce in a contract year. It's a venture that shouldn't be hindered by the batting behind an MVP candidate in Matt Kemp, where he'll be facing an awful lot of pitchers working from the stretch, concerned with a self-proclaimed 5050 hopeful on the basepaths. Mashing the ball in spring training must count for something he finished with 15 extra base hits and 16 runs batted in over 51 at bats and for Ethier it's the confidence that his ability to help the team win ballgames is where it needs to be to begin the year. "We're coming out and just trying to figure out how to help this team win on an everyday basis," Ethier said Tuesday at Dodger Stadium. "That's the key here. Obviously we're having a good springand if we can translate it to on the field, and how we're playing, then this organization will be back to where we need it to be." The Dodgers need him to become a fearsome middle-of-the-order presence with Kemp if they're to have any confidence at contending for much more than a fight for a playoff spot. Of the last four Los Angeles playoff teams, all had something to offer offensively. In 2006 and 2009, the team led the NL in batting average. The 2004 team clubbed 203 homeruns. In 2008, a lack of power was off-set by a team that finished fifth in the NL in batting average and stole 126 bases. Many of the early returns have been encouraging. As part of a 2-4, 4 RBI performance last Friday, Ethier drove a down-and-in fastball from Brewers lefthander Juan Perez deep over the rightfield wall for his third homerun of the spring. He bat .220 with one homerun against lefties last year. The mechanical adjustments against lefthanders he detailed in a discussion with Dylan Hernandez of the Los Angeles Times after an 0-2 performance in a Cactus League game last month has apparently made inroads. "I had two tough at-bats today against that lefty," Ethier said of his March 19 performance against Chris Narveson of Milwaukee. "I think it was a little mechanical thing. I figured out after that second at-bat that I was overstriding a little bit and shortened up a lot. I think that's the key more than anything. If I go out there and have sound mechanics and feel comfortable in the box, righty, lefty, it doesn't matter." Because his season ended in early September, he wasn't around to experience the completion of the Dodgers' modest turnaround into a team with a winning percentage above .500 as younger players grew into their roles under first-year manager Don Mattingly. "It's tough to carry momentum over from any year," Ethier said, "but I think more than anything we had guys that gained a lot of experience and had those up and downs from last year know that it's not fun when you're not playing well, and when it ended the way it did, guys want to hold on to that feeling and recapture it, and that's something we're trying to do right now."
Original Story:
http://www.foxsportswest.com/04/04/12...
THE BACKYARD
BEST OF MAXIM
RELATED ARTICLES
OOH LA LA
The Los Angeles Dodgers superstar was reportedly spotted leaving Dodgers Stadium with the Desperate Housewives star and ex-wife of Spurs point guard Tony Parker.
Today is opening day for the MLB. The Dodgers have new ownership and their star, Matt Kemp might also be bringing his own star power into the fold. Tuesday night following the Dodgers-Angels preseason freeway series, former GM and current analyst Jim Bowden tweeted that Kemp and Desperate Housewives star, Eva Longoria left the stadium together. Bowden says he [...]
Andre Ethier's .392 average this spring may be the result of anger. He is reportedly upset the Dodgers haven't talked about a deal beyond 2012. 2012 Opening Day Roster: Catchers – A.J. Ellis, Matt Treanor Infielders – James Loney, Mark Ellis, Dee Gordon, Juan Uribe, Jerry Hairston Jr., Adam Kennedy, Justin Sellers Outfielders – Juan Rivera, Matt Kemp, Andre Ethier...
LOS ANGELES The Los Angeles Dodgers announced their Opening Day roster for the 2012 season. The club also placed pitcher Ted Lilly and infielder Ivan De Jesus on the 15-day disabled list, retroactive to March 26, and moved pitcher Ronald Belisario to the restricted list. General Manager Ned Colletti made the announcement. The 25-man roster, as broken down by position: Pitchers...
The Dodgers' High-A affiliate Rancho Cucamonga Quakes announced their 25-man roster on Monday. Unlike the Loons' roster, there were little surprises here.And also unlike the Loons' roster, the team is absolutely stacked with potential aces.I took a look at the Quakes' potential roster back in January. I hit on a lot, but I also missed on a few.It's a good thing...
Josh Lindblom and Justin Sellers have landed the final two roster spots on the Los Angeles Dodgers. Right-handed reliever Josh Lindblom and infielder Justin Sellers will begin the season with the Dodgers, while reliever Scott Rice and infielders Luis Cruz and Josh Fields were reassigned. The logical choices, in my opinion. Lindblom has proven he
The Los Angeles Dodgers open the season on the road in San Diego, but the team is inviting its fans to watch Thursday's game for free at Dodger Stadium. In a rare move, the team is throwing open the gates to the stadium for viewing of the game in San Diego. Parking is free, while concessions will cost $4 or less and merchandise is being discounted by 15 percent. Former Dodger...
Concerned with Chad Billingsley's spring? Me too. Cutting a potential ~4.5 WAR pitcher for a rookie in Nate Eovaldi with six strikeouts and four walks? Sheer genius
LOS ANGELES (AP) -- Aaron Harang allowed one hit over four scoreless innings in his final outing of the spring and Justin Sellers hit a go-ahead RBI single during a three-run sixth, leading the Los Angeles Dodgers to a 4-1 exhibition victory over the Angels on Tuesday night. Harang, who signed a two-year, 12 million contract with the Dodgers as a free agent on Dec. 8, finished his...
Clayton Kershaw must have been spending too much time around Andre Ethier. Ethier missed Saturdays Freeway Series game against the Angels with a stomach bug, and it apparently made its way to Clayton Kershaw. Kershaw started the season opener for the Dodgers on Thursday, despite battling the flu. After three innings, however, the flu won and Kershaw left the game against the Padres...
Dodgers' Matt Kemp reportedly leaves stadium with Eva Longoria
In about seven hours time, the Dodgers will open the season in San Diego against the Padres, finally giving us all what we've been craving for months: baseball that counts. —– The team made a trio of expected moves to finalize the roster before the season opens. Ted Lilly was placed on the 15-day disabled
MLB News

Delivered to your inbox

You'll also receive Yardbarker's daily Top 10, featuring the best sports stories from around the web. Customize your newsletter to get articles on your favorite sports and teams. And the best part? It's free!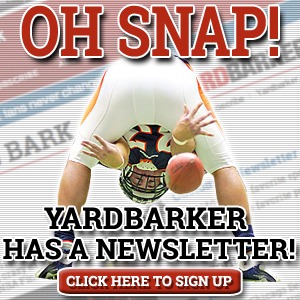 Latest Rumors
The Backyard

Today's Best Stuff

For Bloggers

Join the Yardbarker Network for more promotion, traffic, and money.

Company Info

Help

What is Yardbarker?

Yardbarker is the largest network of sports blogs and pro athlete blogs on the web. This site is the hub of the Yardbarker Network, where our editors and algorithms curate the best sports content from our network and beyond.