Posted May 24, 2012 on AP on Fox
A forensic scientist has testified that two cotton balls and a syringe needle allegedly saved after a steroids injection tested positive for Roger Clemens' DNA - in a key moment as the government tries to prove the former pitcher used performance-enhancing drugs. Alan Keel told jurors Friday that the DNA on both cotton ball matches were ''unique to one person who has ever lived on the planet'' - Clemens. He said that one cotton ball had a random match possibility of 1 in 15.4 trillion for Clemens' DNA, and the other had one in 173 trillion. The needle was not as conclusive, because Keel was only able to get a handful of cells. That match was one in 449. Brian McNamee, Clemens' former strength coach, earlier testified he collected the medical waste after injecting the pitcher with steroids. Clemens is accused of lying to Congress when he denied using performance-enhancing drugs.
Original Story:
http://msn.foxsports.com/mlb/story/Ex...
THE BACKYARD
BEST OF MAXIM
RELATED ARTICLES
The Roger Clemens trial could be losing another juror. US District Judge Reggie Walton said Friday afternoon that Juror No. 16 learned that her mother has died. Walton recessed for the weekend immediately. He said the juror was too distraught to continue. He indicated he didn't expect the juror to continue in the trial, which has just wrapped up its sixth week. Two jurors...
WITH FRIENDS LIKE THESE...
Jose Canseco, who professes to know more about steroids than anyone, strongly supports Roger Clemens' claims, saying he believes the pitcher never took steroids.
There is something sad about this Roger Clemens, bloated and desperate, clinging with white knuckles to a legacy he can't possibly keep. Granted, he is mostly just trying to keep himself out of prison at this point. He has to fight that fight. But it began with his legacy. Against a lot of evidence to the contrary, he wanted us all to believe The Rocket had not been artificially...
The longtime head athletic trainer of the New York Yankees once wrote that Roger Clemens ''maintains complete confidence and respect'' for strength coach Brian McNamee. Gene Monahan, who retired last year, testified Wednesday in the perjury trial of the 11-time All-Star pitcher. In 2000, Monahan wrote a letter to the Yankees manager and general manager about Clemens...
WASHINGTON -- Among the 29 questions the Roger Clemens jury wanted to ask the pitcher's chief accuser, Brian McNamee, one cut to the heart of the case. "Why should we believe you when you have shown so many inconsistencies in your testimonies?" "I won't ask that," U.S. District Judge Reggie Walton declared during a bench conference with trial attorneys...
The judge in the Roger Clemens perjury case ruled Thursday that the government can call former major leaguer David Segui and another man to testify about conversations they had with Clemens' chief accuser, Brian McNamee. Prosecutors hope that Segui and Anthony Corso, who was one of McNamee's private workout clients in New York City, can help rebut defense suggestions that...
Former major leaguer David Segui and a Wall Street investor will be required to testify in the federal perjury trial of Roger Clemens, Judge Reggie Walton ruled Thursday morning. Segui arrived at the courthouse Thursday afternoon, according to multiple reports. The prosecution was looking for Segui to testify about prior consistent statements made by Brian McNamee, Clemens'...
Is it me or has the Roger Clemens perjury trial dragged on like the slowest episode of "Law & Order" ever? I'm talking pre-Jerry Orbach slow, man. Nonetheless, things might have just gotten interesting. Prosecutors want to drag former major leaguer David Segui in to corroborate Brian McNamee's testimony. Former Oriole Segui is so reluctant to testify that Judge Walton...
Former major leaguer David Segui may be required to testify in the Roger Clemens perjury trial, against his wishes. Prosecutors want Segui to speak about a 2001 conservation he had with Clemens' former strength coach, Brian McNamee. McNamee supposedly told Segui about saving waste from injecting players to satisfy McNamee's wife. Relating that information would be consistent...
A government witness testified Tuesday that Brian McNamee said he had injected pitcher Roger Clemens with human growth hormone and had saved syringes, part of a prosecution attempt to dispel defense suggestions that McNamee fabricated those claims to avoid going to jail. ''Mr. McNamee had mentioned that Mr. Clemens was one of the athletes that was getting positive results...
In the 1980s, there were some legendary pitching performances. The decade introduced us to "The Doctor" Dwight Gooden, and "The Rocket" Roger Clemens. Mike Scott dominated with his splitter and Steve Carlton called it a career. The Factor12 Rating is able to quantify each successful season or failure. Where does your favorite pitcher rate against the competition? There were...
MLB News

Delivered to your inbox

You'll also receive Yardbarker's daily Top 10, featuring the best sports stories from around the web. Customize your newsletter to get articles on your favorite sports and teams. And the best part? It's free!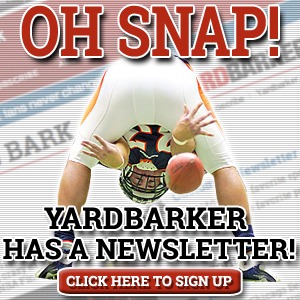 Latest Rumors
The Backyard

Today's Best Stuff

For Bloggers

Join the Yardbarker Network for more promotion, traffic, and money.

Company Info

Help

What is Yardbarker?

Yardbarker is the largest network of sports blogs and pro athlete blogs on the web. This site is the hub of the Yardbarker Network, where our editors and algorithms curate the best sports content from our network and beyond.