Found November 06, 2012 on Waiting For Next Year:
PLAYERS:
Asdrubal Cabrera
,
Terry Francona
,
Sandy Alomar
,
Mike Aviles
,
Chris Perez
,
Miguel Tejada
,
Shelby Miller
,
Trevor Rosenthal
,
Phil Hughes
,
Michael Pineda
,
Justin Masterson
,
Carlos Santana
,
Jason Kipnis
,
Lonnie Chisenhall
,
Michael Brantley
,
Shin-Soo Choo
,
Buster Olney
TEAMS:
Cleveland Indians
,
Boston Red Sox
,
Baltimore Orioles
,
St. Louis Cardinals
,
New York Yankees
I realized something over the weekend that was mildly surprising. The Indians were TERRIBLE last season.  No, that's not the thing I realized; but let me finish. They had the worst run differential in the league, despite suffering no major injuries.  Their starting rotation was historically bad.  Their offense was mediocre at best.  Rather than taking a step forward from 2011—a season in which they were outscored by 56 runs—they took a huge step back, getting outscored by 178 runs.  All this while benefiting from the relatively easy schedule afforded them as an AL Central team. What I realized is that there are people in Cleveland who think this team shouldn't be trading major pieces this off-season.  Who believe that, for instance, Asdrubal Cabrera is too important to trade away—that this team's core players should remain, perhaps in some sort of super-speed rebuild to fill a few holes on the roster.  A makeover of sorts, rather than a face transplant. And I think that's pretty crazy, considering how bad this team was last season.  The notion that anyone should be untouchable just doesn't hold water with me.  "You can't trade him!! HE WAS THE KEY TO OUR 68 WIN SEASON!!!" And to be honest, as happy as I was when the Indians hired Terry Francona to manage the club, in the back of my mind, I was a little nervous that bringing in a big name like Francona signaled that the front office didn't believe a full rebuild was necessary.  That with a tweak or two here and there, this team could suddenly win the division.  After all, why would someone like Terry Francona want to sit through a full-scale rebuild?  Isn't that the sort of job you'd give to someone with a bit less experience?  Someone like, well, like Sandy Alomar? But it's starting to look like my reasoning might not have aligned with that of the Front Office.  I might be reading too much into this weekend's move to acquire Mike Aviles, but I'm sure hoping that, despite Antonetti's remarks to the contrary, the team is open to and actively exploring a move of Asdrubal Cabrera—preferably for young starting pitching to shore up what may be the worst rotation in baseball. That's right.  I want them to consider trading Asdrubal Cabrera.  And Chris Perez.  Our two All-Stars.  And with them, anyone else that might bring back a younger player with a higher upside.  This team, as currently constructed, stinks.  You don't manage the periphery of disaster like this; you utterly remake it.  We now have one more starting SS than we can play, and there are at least a half a dozen teams who might like to get in a bidding war over Asdrubal.  Could we pry one of Oakland's young and promising starters—they haven't had a legitimate SS since Miguel Tejada, right?  Shelby Miller or Lance Lynn or Trevor Rosenthal from St. Louis?  What about Phil Hughes or Michael Pineda?  I wonder if Asdrubal—as an All-Star SS with two more cost-controlled years in a SS-weak market—wouldn't be able to instantly remake our rotation?  If he'd net us any of those arms, we'd be a better team for it, almost instantly. Furthermore, there is some reason to believe that we've already seen the best of Asdrubal.  His 2011 campaign (.273/.332/.460 25 HR; 92 RBI) is starting to look like a flukey outlier rather than a sustainable development.  His defense has consistently rated below average by the advanced metrics, despite his penchant for Web Gems.  And perhaps we should remember that he's now come to Spring Training overweight three years in row, with a body that doesn't look like it will age well at SS.  I'm not saying his demise is imminent, but I'm not sure I'd want to gamble on him long-term right now either. Now, from a 10,000 foot view, does that mean we move everything that isn't nailed down?  After all, if some new blood is good, isn't more better? Well, yes, but this is when we run up against reality.  For instance, I think it's unlikely that at this point, Justin Masterson would net us a player with more upside and cost-control than he already gives us.  Same goes for Carlos Santana and Jason Kipnis and Lonnie Chisenhall and Michael Brantley, I would guess.  Are they for sale?  Sure, but we better get something at least as good and young as we'd be giving up, which would probably be hard to do considering the upside and youth of those guys. *You're asking, and rightly so, why I've not yet mentioned Shin-Soo Choo in this piece.  I tend to think (and I could be VERY wrong) that his value in a trade might be HIGHER at the deadline this year than it is right now.  After all, he wouldn't be a piece for an acquiring team to build around for the next several years (like Asdrubal would be) as much as he'd be one last playoff push piece that a team wouldn't necessarily want long-term (because of his age(nt)).  Furthermore, I think that we'd have a harder time immediately replacing him in the lineup than Asdrubal—we just don't have any ML-ready corner outfielders ready to go in the farm system right now.  For these reasons, I'd prefer Choo stay until the July trade deadline.  If we're in contention then, go ahead and make a run with him, make a one-year qualifying offer, and take the draft compensation.  If not, flip him to a contender when his services will be in highest demand.  But I'm open to rethinking this if you think I'm totally wrong. So do I agree with Buster Olney's argument that the Indians should sell every asset they have?  No, probably not.  But do I think it would be horribly negligent to eschew considering the possibility?  I sure do. The team as currently constructed sits squarely in the middle of any conversation about the worst team in the league.  We can ask questions about whether or not the people who put this dumpster fire of a roster together should still be making the personnel decisions, but for better or worse, they're being given one last shot to get it right. That said, would it be remotely reasonable for this group to double down on a team that's been outscored by 234 runs over the last two seasons?  If your job and reputation depended on it, would you make that bet?  There's a quote about the definition of insanity that would seem to apply here… For a team that's unlikely to have the budgetary resources to initiate a talent influx by way of the free agency market, moving a player who might be in high demand is probably the best way to restock the roster with the sort of young, cost-controlled players we'll need going forward. Photo: Jordan Bastian/MLB.com
Original Story:
http://www.waitingfornextyear.com/201...
THE BACKYARD
BEST OF MAXIM
RELATED ARTICLES
Obviously this entire conversation is based upon the assumption that the Indians will make a trade or two this off-season. It also assumes that at least one of those players traded will be Shin-Soo Choo, Asdrubal Cabrera or Chris Perez. If that assumption seems faulty, then read no further. I'll wait… … Assuming you're still reading, I think it could end up being a little...
Saturday Afternoons in the fall is reserved for college football. On a day with big games galore, the Indians made news with a very interesting deal. Esmil Rogers, who was somewhat of a pen savior and one of the few bright spots in the horror show that was the 2012 season, was dealt to the Toronto Blue Jays for veteran infielder Mike Aviles and catcher/1B/3B Yan Gomes. Aviles spent...
In a recent column penned solely with the goal of discussing what the Cleveland Indians should do in the offseason following one of the most depressing and disheartening seasons in recent memory, ESPN's Buster Olney believes that Chris Antonetti should hoist the white flag on the contention window that never opened. The first course of action being trading every player who has...
With a handful of quality position players and a starting rotation in shambles, the Cleveland Indians could find themselves at the center of trade talks during the off-season general manager meetings. CBS Sports' Jon Heyman reports that the Indians, represented by Chris Antonetti, have already begun receiving phone calls on four key players: Justin Masterson, Shin-Soo Choo, Asdrubal...
Blake Wood missed the entire 2012 season while recovering from Tommy John surgery.  He underwent the surgery in May and will likely not be available to pitch again until the middle of the 2013 season.  But that did not deter the Cleveland Indians.  They picked Wood up after the Kansas City Royals waived him.  Yet, that wasn't the only player with elbow issues to be impacted...
Johnny Damon has bounced around in recent years, but he is really venturing out to join his next team. Damon will play for Thailand as the country attempts to qualify for the World Baseball Classic, Thai Amateur Baseball Association deputy secretary general Chaiyawat Chaiwannajinda told The Nation. Damon, whose mother is from Thailand, last played for the Cleveland Indians, batting...
Johnny Damon is heading to the World Baseball Classic, but not as a member of the United States. Instead, he'll be playing for Thailand as the small Asian country looks to qualify for the 2013 event. While on the surface it might appear that Damon is stretching the rules a bit to find a way to keep playing, a closer look at things reveals that, in fact, Thailand is a pretty fitting...
According to Jon Heyman, the Cleveland Indians are not opposed to trading some of their best players such as Asdrubal Cabrera, Justin Masterson and Chris Perez.  But the one player on the Indians that the Mets should have on their radar is outfielder Shin-Soo Choo. The Mets are going into the 2013 season with the always hustling but never producing Jason Bay in left, your guess...
On Tuesday afternoon, FOXSports.com baseball writer Jon Morosi wrote in his GM Meetings preview that the Boston Red Sox and Cleveland Indians could strike a deal sometime this offseason since the two teams know each other's system very well. Later this week, we could know more on whether a trade may happen once the GM [...]
While We're Waiting serves as the early morning gathering of WFNY-esque information for your viewing pleasure. Have something you think we should see? Send it to our tips email at tips@waitingfornextyear.com. Making the case FOR trading Asdrubal- "The Indians didn't acquire Mike Aviles over the weekend in order to trade Asdrubal Cabrera. In fact, when asked if he still envisioned...
MLB News

Delivered to your inbox

You'll also receive Yardbarker's daily Top 10, featuring the best sports stories from around the web. Customize your newsletter to get articles on your favorite sports and teams. And the best part? It's free!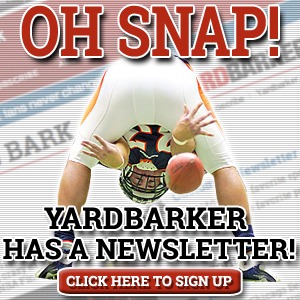 Latest Rumors
Best of Yardbarker

Today's Best Stuff

For Bloggers

Join the Yardbarker Network for more promotion, traffic, and money.

Company Info

Help

What is Yardbarker?

Yardbarker is the largest network of sports blogs and pro athlete blogs on the web. This site is the hub of the Yardbarker Network, where our editors and algorithms curate the best sports content from our network and beyond.