Found March 07, 2012 on Midwest Sports Fans:
PLAYERS:
Roy Halladay
,
Justin Verlander
,
Stephen Strasburg
,
Yu Darvish
,
Matt Moore
,
Doug Fister
,
Roy Oswalt
,
Chad Billingsley
,
Daisuke Matsuzaka
,
Vance Worley
,
Cliff Lee
,
Cole Hamels
,
Clayton Kershaw
,
Ricky Romero
TEAMS:
Philadelphia Phillies
,
Detroit Tigers
,
Washington Nationals
,
Texas Rangers
,
Tampa Bay Rays
,
Seattle Mariners
,
St. Louis Cardinals
,
Los Angeles Dodgers
,
Boston Red Sox
,
Toronto Blue Jays
This post is the latest in Ryan's fantasy baseball position primer series. To see his primers for all other positions, click here.
Stock Watch: Rising
Matt Moore, Tampa Bay Rays
Moore had exactly one start last season, but in that one start he showed the look of the next great southpaw.
Matt Moore is a good choice for a starting pitcher. (Photo by Keith Allison via Wikimedia Commons)
In his September call-up, the rookie posted 15 Ks in contrast to just three walks.  Then, in the playoffs, Moore shut down the Rangers' juggernaut of an offense over 10 innings, giving up just one run and striking out eight.  In the minors, last season, Moore struck out over 13.5 men per nine innings.  As he rose through the minors, Moore's strikeout numbers increased and his walks decreased, which are encouraging signs for a 22-year-old.
Doug Fister, Detroit Tigers
Fister was thrown into the middle of a pennant race last year when he was traded from the struggling Seattle Mariners to the first-place Detroit Tigers.  Fister was 3-12 before the trade with a solid 3.33 ERA, but, after the trade, he went 8-1 with a 1.79 ERA.  The big right-hander struck out 57 in his time as opposed to just five walks during 70 innings with the Tigers.
The Tigers seemed to have found their second starter behind Justin Verlander.  Fister's groundball pitching has flourished in the caverns of Comerica Park, which should continue over a full season in the Motor City.
Stock Watch: Falling
Roy Oswalt, Free Agent
Oswalt's season was maligned by back problems and aging, which cost him some of his fastball velocity and 10 starts last season.  While the former ace's ERA was a solid 3.69, his K/9 fell to a career low 6.02 and his WHIP went up to 1.34.  These two stats can be attributed to either aging or the back problems Oswalt dealt with last year.
Even more concerning was the change in pitch selection.  The veteran used less fastballs and more off-speed pitches, which suggested that he may not ever be healthy enough to be a pitcher of similar caliber or style than he was earlier in his career.  In either case, Oswalt should be avoided at all costs.
Chad Billingsley, Los Angeles Dodgers
Billingsley was once called the next Dodgers' ace, but he has had several problems stemming from control issues throughout his career.  Last season, he saw his strikeouts per nine fall below eight for the first time in five years while having his walks per nine rise above four.
Billingsley's WHIP was very high at 1.45 and his ERA followed suit at 4.11.  These are not numbers that should be even considered for any fantasy teams.  It is questionable if the 28-year-old can ever turn it around.  Do not bother taking a chance on Billingsley this year.
Starting Pitcher Big Questions
What should we think of Yu Darvish?
Darvish comes over from Japan with a great reputation, posting a 1.44 ERA with more than 10.5 strikeouts per nine.  The question is obviously whether Yu can adapt to the American game.
After the failures of Daisuke Matsuzaka, it is natural to be suspicious of Japanese pitchers, but Darvish's repertoire is better than any other previous Japanese pitchers.  Also, there is the issue of Darvish adapting to the Texas heat, as well as dealing with the way the ball flies at Arlington.  I would give Darvish a year before drafting him higher than the middle tier.
Who is the top pitcher?
Justin Verlander had one of the best seasons a pitcher has had in the last 20 years, but he is not the top pitcher this season.  Roy Halladay is the most consistent pitcher in the league, and he belongs at the top of the chart when it comes to starting pitchers.
Verlander will put up more strikeouts, but Halladay is still more likely to have the best ERA in the league, to go along with low WHIP, solid strikeout numbers, and the possibility of 20 wins every year.  You cannot go wrong with either pitcher, but Halladay is the safer option, even though both should be first round picks.
Will Stephen Strasburg return to dominance?
Strasburg was dominant in his brief appearances in the majors in 2010 and 2011.  His strikeout numbers will be among the best in the league per game. At times, he seems to unhittable with great control.  The only thing that will prevent Strasburg from being a top-ten starting pitcher is the Nats' inning cap.  Strasburg strikes out 11.35 men per nine innings and also has a 2.54 ERA in his short time during the parts of two seasons.  If Strasburg can stay healthy, he will be a top pitcher this season.
Starting Pitcher Sleeper
Vance Worley, Philadelphia Phillies
Under the tutelage of the Cliff Lee, Roy Halladay, and Cole Hamels, the Vanimal emerged as a legitimate fantasy option in his rookie year.  Throughout the season, Worley developed a cut fastball against lefties that actually put him among the leaders in called third strikes.
The righty's strikeout, walk, and ERA are very similar to the numbers he put up in the minor leagues.  Worley was incredibly consistent, going at least six innings with four or less runs in 19 of his 21 starts.  Do not be afraid to take a chance on Worley in the later rounds this year.
Starting Pitcher Strategy
While pitching is important to any fantasy championship run, starting pitching is such a deep position that there is no reason to take pitching early.  There is no point in using a second round pick on Clayton Kershaw when underrated pitchers like Chris Carpenter and Ricky Romero will be available in later rounds.
Considering the last two years, which have been called the "Years of the Pitcher," there should be no doubt that there is enough depth at the position, which eliminates the need to spend early round picks when drafting your SP unit.
Original Story:
http://www.midwestsportsfans.com/2012...
THE BACKYARD
BEST OF MAXIM
RELATED ARTICLES
PITCH PERFECT
The 2K Sports marketers have proven their genius once again. Video games, baseball stars, Kate Upton...game over. In this commercial, Justin Verlander is trying to sneak into the "Perfect Club" who was reserved for pitchers who have thrown a perfect game and dressed Kate Upton's absolute perfectness. JV's Randy Johnson get-up wasn't enough to fool Miss Upton...
Yu Darvish struck out three in two scoreless innings and made a run-saving play in his spring training debut during the Texas Rangers' 6-2 win over a split squad of San Diego Padres on Wednesday. The Rangers spent more than $107 million this winter to land the 6-foot-5 right-hander with the shaggy, orange-tinted hair and a dark goatee who was a dominant pitcher for seven years...
Rangers pitcher Yu Darvish has reached a multi-year deal with Topps that grants the company exclusive rights for autographed trading and game-used memorabilia cards. The deal announced Monday is the first in the United States for Darvish, Japan's top pitcher before he got a six-year contract from the two-time defending American League champions. Topps vice president of marketing...
(INSERT YU PUN HERE)
Yu Darvish saw his first live Major League Baseball action today. Even if the game didn't count, the results were impressive. In a live look-in provided by a partnership between MLB.com and NHK television, Darvish showed great velocity. His fastball hit 151 KM/H (or 94 MPH) by the in-game gun, and 95 MPH on PITCH f/x broadcast. A high fastball tied up legitimate slugger Carlos...
The question on whether Texas Rangers pitcher Yu Darvish would be able to make the transition to the Major League game began to be answered on Wednesday when the Texas Rangers played the San Diego Padres in Cactus League action. Darvish threw 36 pitches, 26 of them strikes and allowed only two hits (both doubles) in two scoreless innings. Prior to the game many of his teammates kept...
Two scoreless innings on March 7 are as meaningless an indicator as baseball can offer, but know this about Yu Darvish: He will not be another Daisuke Matsuzaka. Darvish, the newest Japanese sensation, pitches more aggressively than Matsuzaka, displays greater athleticism, seems more comfortable with his teammates. That isn't to guarantee that Darvish will be a bigger success...
25-year-old Japanese phenom Yu Darvish made his MLB (Spring Training) debut today for the Texas Rangers. The 6'5" right-hander was very impressive, tossing two scoreless innings against the San Diego Padres. Here's more on Darvish's debut, from USA Today's terrific baseball writer, Bob Nightengale: Darvish struck out three batters in two shutout innings...
By ARNIE STAPLETON AP Sports Writer PEORIA, Ariz. -- Yu Darvish flashed a sizable assortment of pitches, a huge smile and even some nice leather in his debut for the Texas Rangers on Wednesday. What he didn't show was any nerves. "I've thrown in so many games, you know?" he said through a translator. Sure has. The 25-year-old right-hander was a dominant pitcher...
FORT MYERS, Fla. Japanese pitching sensation Yu Darvish made his spring training debut Wednesday for the Texas Rangers. Between 100 and 150 media members descended on Peoria, Ariz., to watch Darvish.Tsuyoshi Nishioka used to command that type of media attention. Well, maybe not reporters by the hundreds, but there was a time when Japan's media contingency focused their attention...
By STEVE KORNACKISpecial to FOXSportsDetroit.com LAKELAND , Fla. -- The first thing that strikes you upon walking into the Detroit Tigers' clubhouse is that they no longer revolve around Miguel Cabrera. He has been the undisputed main man, the face of the franchise, since arriving from the Florida Marlins in 2008. But now Prince Fielder is there to share center stage. And,...
It's a big day for the Padres. Everybody will most likely see at least a little playing time today, as they are playing two split squad games. Half of the team will be on the road playing the Reds, and the other half will stay home to take on the Rangers. The big news of the day in the eyes of everybody on a band wagon is that Yu Darvish is making his debut in Peoria. The nice...
MLB News

Delivered to your inbox

You'll also receive Yardbarker's daily Top 10, featuring the best sports stories from around the web. Customize your newsletter to get articles on your favorite sports and teams. And the best part? It's free!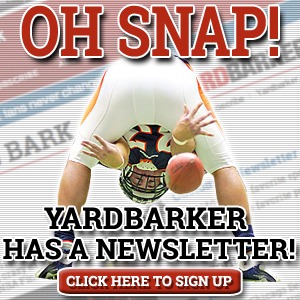 Latest Rumors
Best of Yardbarker

Today's Best Stuff

For Bloggers

Join the Yardbarker Network for more promotion, traffic, and money.

Company Info

Help

What is Yardbarker?

Yardbarker is the largest network of sports blogs and pro athlete blogs on the web. This site is the hub of the Yardbarker Network, where our editors and algorithms curate the best sports content from our network and beyond.