Found February 28, 2013 on Fantasy Baseball Tools:
One of the challenges when it comes to ranking players by position in fantasy baseball is trying to determine which player is going to have that breakout season and return a profit to your auction buy or draft pick. When reviewing the list of catchers for the 2013 season, my pick to break out is catcher Jonathan Lucroy of the Milwaukee Brewers. Lucroy was on pace for that type of season last year before he suffered a broken hand from a falling suitcase at the end of May and ended up missing two months of action which seems to be suppressing his draft value this season since he did not put up a full season worth of stats. I currently have Lucroy ranked ninth among fantasy catchers in a tier with Jesus Montero, Mike Napoli, Brian McCann and Salvador Perez. All of those players are currently going ahead of Lucroy in mock drafts right now which gives him some nice value. A quick glance at his stats above show he has made good strides through three seasons, inching his walk rate up while doing a good job of reducing his strikeout rate last year. His batting average is going to regress given his BABIP (batting average on balls in play) in 2012 but with his increased contact rate, it at least gives him the chance to get "lucky" again. 2013 Fantasy Projection for Jonathan Lucroy  I still think there is some upside in the projection I have for him in his home run and RBI total. That combined with his current average draft position,  makes him an attractive candidate to grab in the middle rounds of drafts after other teams have spent high draft picks on catchers.   To get 2013 fantasy baseball projections, check out our Fantasy Baseball Draft Guide. To get more great fantasy baseball analysis and advice sign up for our free newsletter! Fantasy Breakout By Position – Catcher Jonathan Lucroy is a post from: Fantasy Baseball Tools
Original Story:
http://feedproxy.google.com/~r/Fantas...
THE BACKYARD
BEST OF MAXIM
RELATED ARTICLES
How exactly did Ryan Gennett come to go by Scooter? "I gave it to myself when I was about 5," Gennett said of the nickname. When his mother would try to put his seatbelt on in the car, Gennett would click it off. She'd click it back in. He'd yank it right off. One day she got fed up. She took her son to the local police station to have officers teach him about...
The Italian sausage costume used for the sausage race during Milwaukee Brewers home games is missing, the Milwaukee Journal Sentinel reports. Though this seems like a story straight from "The Onion," it's actually true. According to the Journal Sentinel, someone stole the Klement's Racing Italian Sausage costume from the city's Winter Festival and wore it out to go barhopping...
CEDARBURG, Wis. — The case of the missing sausage is closed. The Journal Sentinel in Milwaukee is reporting the 7-foot Italian sausage costume, usually seen racing around Miller Park during Brewers games, has been found after going missing for nearly two weeks. Guido, the sausage with the chef's hat and bow tie, was dropped off a bar in Cedarburg on Wednesday night, hours after...
The Italian Sausage costume that is used during the "Sausage Race" at every Milwaukee Brewers home game was returned to a bar Wednesday after it was reported missing earlier in the day, and it sounds like the people who stole it had themselves quite the sausage fest. People claiming to be responsible for the "prank" emailed USA Today to detail their experience with the costume...
The famous Racing Sausages Race held by the Milwaukee Brewers during home games is a delight for anyone who has ever encourted it. However, the race may be in jeopardy after a report has surfaced claiming that one of the sausages is missing.Guido the Italian Sausage has been reported missing after last being seen barhopping in the Milwaukee area a couple of weekends ago. It is not...
Photo Courtesy: Milwaukee Brewers ((ht: jsonline.com)) Milwaukee Police are on a heightened state of alert after reports that one of the town's most beloved mascots has gone missing after an alleged night of barhopping. No, there is no truth to the rumors he was found cut to pieces in a bowl of cooked peppers and no, he wasn't found inserted in a giant roll, slathered...
Aramis Ramirez has been remarkably consistent in his career, posting a .289 average or better and at least 25 homers with 90 RBI in nine of his 12 seasons.His batted profile over the years has averaged out to what I like to call the "perfect power hitter's batting profile," which is 19.9 LD%, 35.0 GB%, and 45.1 FB%. The line drive rate is high enough to keep his BABIP rates...
By John Pesetski Special to FOXSportsWisconsin.com PHOENIX -- For the second time in four seasons, the Milwaukee Brewers are grooming a young shortstop long on talent but short on experience. In 2010, that player was Alcides Escobar. This year it's 22-year-old Jean Segura. Ironically, Escobar was traded to the Kansas City Royals in a deal for pitcher Zack Grienke, and Segura...
SURPRISE, Ariz. (AP) -- Milwaukee Brewers left-hander Chris Narveson passed his first game test on his recovery from shoulder surgery. Out for nearly a year, Narveson threw 30 pitches Wednesday in the Brewers' 3-2 loss to the Kansas City Royals. Narveson allowed two hits and a run, striking out one and walking one. He last pitched on April 15 before needing season-ending surgery...
Photo: Cogmag.com (Editor's Note: I like beer.  A lot.  And thus, I figured a monthly installment on delicious beers was in order.  This is the debut of that series. –NM) You know what I've been drinking frequently in recent days (responsibly and in variable moderation, of course)?  Fixed Gear by Lakefront Brewery in Milwaukee, which is a red ale.  I'm certainly...
MLB News

Delivered to your inbox

You'll also receive Yardbarker's daily Top 10, featuring the best sports stories from around the web. Customize your newsletter to get articles on your favorite sports and teams. And the best part? It's free!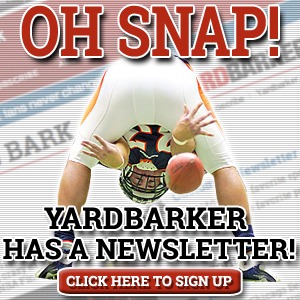 Latest Rumors
Best of Yardbarker

Today's Best Stuff

For Bloggers

Join the Yardbarker Network for more promotion, traffic, and money.

Company Info

Help

What is Yardbarker?

Yardbarker is the largest network of sports blogs and pro athlete blogs on the web. This site is the hub of the Yardbarker Network, where our editors and algorithms curate the best sports content from our network and beyond.