Found January 31, 2013 on Fox Sports:
PLAYERS:
Nate McLouth
,
Nolan Reimold
,
Jair Jurrjens
,
Alexi Casilla
,
Brian Roberts
,
Mark Reynolds
,
Nick Markakis
,
Adam Jones
,
Matt Wieters
,
Chris Davis
,
JJ Hardy
,
Wilson Betemit
,
Jason Hammel
,
Wei-Yin Chen
,
Chris Tillman
,
Miguel Gonzalez
,
Steve Johnson
,
Brian Matusz
,
Jake Arrieta
,
Pedro Strop
,
Buck Showalter
,
Dylan Bundy
,
Jonathan Schoop
TEAMS:
Baltimore Orioles
,
Cleveland Indians
2013 Fantasy Preview: Baltimore Orioles The O's earned an American League wildcard berth last season thanks to a 29-9 record in one-run games. That kind of luck - er, performance - tends to even out, so they'll need to improve in other areas if they want to contend again. But since we care only about fantasy implications ... Offseason moves: Re-signed OF Nate McLouth McLouth provided plenty of second-half help for fantasy owners, with seven home runs and 12 steals in 89 games. But look more closely, and you'll see an underwhelming .694 OPS, along with a probable playing-time threat in Nolan Reimold. Mixed leaguers shouldn't bother with McLouth. Signed SP Jair Jurrjens Remember when Jurrjens made the NL All-Star team in 2011, and posted a 2.60 ERA in 2009? For this injury-prone, soft-tossing righty with a subpar strikeout rate, those days are probably gone. Stay away, even if he makes the rotation. Claimed 2B/SS Alexi Casilla The somewhat speedy Casilla (21 SB in 106 games last season) will serve as insurance against Brian Roberts' injuries. Lost 1B Mark Reynolds to free agency The emergence of Manny Machado made Reynolds and his sky-high strikeout rate expendable. Reynolds will start at first base for the Indians, where he'll try to bat higher than .221 for the first time since 2009. Projected Lineup 1. Nick Markakis RF 2. Nolan Reimold/Nate McLouth LF 3. Adam Jones CF 4. Matt Wieters C 5. Chris Davis 1B 6. J.J. Hardy SS 7. Manny Machado 3B 8. Wilson Betemit DH 9. Brian Roberts 2B The leadoff spot is uncertain, with Markakis, Roberts and Reimold/McLouth as possibilities. Markakis was having a solid season before going down with a thumb injury in early September, and could be a .300, 20-homer guy. Jones should come close to another 30-homer, 15-steal season, while Davis' 33 homers were a pleasant surprise for the vast majority of people who thought he could only hit in the minors. Wieters and Hardy are likely to repeat as solid if unspectacular fantasy performers at premium positions. Rotation 1. Jason Hammel 2. Wei-Yin Chen 3. Chris Tillman 4. Miguel Gonzalez 5. Steve Johnson CL: Jim Johnson Hammel threw harder, struck out more batters and induced more ground balls than he ever had before. We don't know if he'll do it again, but he'll have more upside than other SP5 types in mixed leagues. Chen could be a solid AL-only option, while Tillman's sub-3.00 ERA was helped by some fortunate BABIP luck (.221); don't reach for him, even if he might be improving. The final spot figures to be up for grabs between Johnson, Jurrjens, Brian Matusz and Jake Arrieta, and you should avoid all of them. One or all will be replaced soon enough by a certain stud prospect mentioned later in this article. Raise your hand if you had Jim Johnson pegged for 50-plus saves last season! Yeah, same here. Johnson throws plenty of strikes and gets tons of ground balls, but his inability to miss bats will make him a bit riskier than the top-tier closers (who are all inherently risky, anyway). If Johnson turns into a pumpkin, Pedro Strop seems likely to step in, though his shaky control might drive Buck Showalter crazy. Big questions: Will Roberts finally be healthy? He hasn't played more than 60 games since 2009, so the guess here is a big, fat NO. If you want to draft Roberts late in a shallow league with the idea of replacing him quickly if things don't work out, fine. Otherwise, stay away. Will Machado improve in his first full major-league season? The 20-year-old Machado made an earlier-than-expected debut for the O's last summer, shifting to third base in a move that filled a real-life need while disappointing fantasy owners. He hit 18 homers and stole 15 bases between the minors and majors, and could offer similar power/speed production for you in 2013. However, as talented as Machado is, he's still very young, and probably a couple of years away from making a big impact. Note that Hardy is signed through 2014, so Machado isn't likely to move from the hot corner soon. Sleeper Again, McLouth isn't very good. Reimold missed most of 2012 due to a neck injury, but hit 19 homers and stole nine bases between the minors and majors in 2011. He might fly below the radar in AL-only leagues. How soon will Dylan Bundy join the rotation? It's possible that the 20-year-old Bundy - universally regarded as one of baseball's top three prospects - will break camp with the O's. It's far more likely that he'll start in Double A, spend most of the season in the minors, and be limited to about 150 innings. Keeper league owners should be all over Bundy if he's still available, but he won't pitch enough to help in redraft leagues this season. Top prospects Dylan Bundy, SP - Stud. Blue chipper. Great attitude, according to most. Future ace. Kevin Gausman, SP - Gausman is a big, talented righty who was drafted by the O's last year, but at 22 with only 15 professional innings under his belt, he's still at least a year away from helping the big club. If you want to draft a starter in your dynasty league, Gausman is a solid candidate. Jonathan Schoop, 2B/SS - Schoop batted .245 with 14 homers at Double A last season, and might start 2014 at the keystone in Baltimore.
Original Story:
http://msn.foxsports.com/fantasy/base...
THE BACKYARD
BEST OF MAXIM
RELATED ARTICLES
Even after signing free agent right-hander Jair Jurrjens, the Baltimore Orioles continue to pursue left-hander Joe Saunders, according to Dan Connolly of The Baltimore Sun. Here's what I know for sure -- at least heading into Monday: Both sides still want a marriage and are hopeful it will happen, but both have a pretty clear idea of what it will take, and neither...
After he underwent Tommy John surgery last year, the Baltimore Orioles want to make sure they are as cautious as possible with Tsuyoshi Wada.  Wada is not expected to return from the injury until May or June of this year.  This is not due to a setback or delay in his rehab.  It's simply a precautionary decision. The Orioles pitching coach, Rick Adair said on WBAL radio...
The Baltimore Orioles still appear to be in the market for a reliever, and the team is even a potential match for free agent right-hander Kyle Lohse, according to Dan Connolly of The Baltimore Sun. Lohse is a fit for the Orioles as a veteran sinker-baller that could sit atop their starting rotation. But Baltimore is hesitant to acquire him for his current cost, which is...
Dylan Bundy tweeted this photo of himself working out last month, and MLB.com named him the No. 2 prospect on their top 100 last night. So, to recap: my headline is misleading, the O's have baseball's second-best prospect and Bundy may be the most muscular pitcher I've ever seen.
On the surface it sort of looks like Matt Wieters stagnated last year. His home run production stayed about the same and his batting average fell to a disappointing .249, but Wieters' underlying stats tell a different story. While his average dropped, his line drive rate increased from 17.7% to 20.4% and his xBA increased from .271 to .285. While Wieters struggled to a .274 BABIP...
Eight times on base. Had Nick Johnson reached base just eight more times in his ten-year career, he would have become just the 41st player in history to leave the game with a .400+ OBP (min. 3,000 PA). Eight times on base in ten years. I say we blame the Orioles, because it was with them that he reached base just 33 times in 102 PA last season (.326 OBP). He went into the season...
You're familiar with the story of Adam Greenberg, even if you'd completely forgotten about it until just now. Greenberg made his major-league debut in 2005, and he was hit in the head by the very first pitch that he saw. Greenberg sustained a concussion, and until 2012, that represented the entirety of his big-league career. Eventually, there was a petition to get Greenberg another...
The Angels have agreed to terms with veteran utility player Bill Hall, 33, on a minor league deal with an invitation to spring training. The right-handed-hitting Hall, who can play third base, shortstop, second base and the outfield, will compete for a reserve spot with the Angels, who watched him work out Tuesday in Phoenix. But he is also open to playing at triple-A Salt Lake...
Although Arthur Rhodes hasn't pitched in the Majors since 2011, the Baltimore Orioles may be inclined to give him a shot.  He has been auditioning for the club and lives in the Baltimore area.  Rhodes had been a successful reliever in his career.  Baltimore is also considering another player who hasn't played in a while.  Fernando Tatis last played in 2010. Dan Connolly...
Past Kyle Lohse and Javier Vazquez, the best free agent starting pitcher left on the market is probably Joe Saunders, last of the Orioles. Saunders reportedly has a two year, $15 million offer on the table, which is ridiculous to me. That's what Joe Blanton got from the Angels (plus a club option for a third year), and Blanton is a better pitcher across the board than Saunders...
We all know that the Orioles had an amazing year in 2012. Despite an offseason that should be filled with promise, I'm rather frustrated at the development of the team so far. The Orioles did go ahead a sign some minor league talent, mainly outfielder Chris Dickerson, who has had some decent numbers in part-time; however, the big moves that were thought were coming probably...
MLB News

Delivered to your inbox

You'll also receive Yardbarker's daily Top 10, featuring the best sports stories from around the web. Customize your newsletter to get articles on your favorite sports and teams. And the best part? It's free!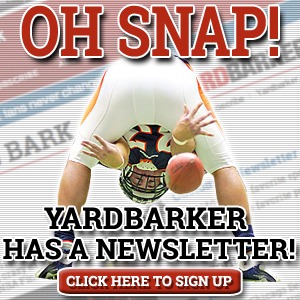 Latest Rumors
The Backyard

Today's Best Stuff

For Bloggers

Join the Yardbarker Network for more promotion, traffic, and money.

Company Info

Help

What is Yardbarker?

Yardbarker is the largest network of sports blogs and pro athlete blogs on the web. This site is the hub of the Yardbarker Network, where our editors and algorithms curate the best sports content from our network and beyond.