Found January 31, 2013 on Fox Sports:
PLAYERS:
Alex Rodriguez
,
Ichiro Suzuki
,
Angel Pagan
,
Brett Gardner
,
Kevin Youkilis
,
Matt Diaz
,
Juan Rivera
,
Dan Johnson
,
Nick Swisher
,
Russell Martin
,
Rafael Soriano
,
Raul Ibanez
,
Derek Jeter
,
Robinson Cano
,
Mark Teixeira
,
Curtis Granderson
,
Eduardo Nunez
,
Francisco Cervelli
,
CC Sabathia
,
Hiroki Kuroda
,
Andy Pettitte
,
Phil Hughes
,
Ivan Nova
,
Mariano Rivera
,
David Robertson
,
Joba Chamberlain
,
Chris Stewart
,
Bobby Wilson
,
Austin Romine
,
Brian Cashman
,
Gary Sanchez
,
Mason Williams
,
Tyler Austin
,
David Adams
TEAMS:
New York Yankees
,
San Francisco Giants
,
Cleveland Indians
,
Pittsburgh Pirates
,
Washington Nationals
,
Seattle Mariners
2013 Fantasy Preview: New York Yankees So, the Yankees want to stick to a payroll of around $200 million, with a couple of slap hitters in the outfield corners, some non-hitters behind the plate, and Alex Rodriguez expected to miss half the season. This should be interesting. Offseason moves: Re-signed OF Ichiro Suzuki Ichiro picked up his pace after being traded to the Yankees, and finished the season with a .283 batting average along with 178 hits. Did you know that hit total was a career low, as was his walk rate (a putrid 22 BBs in 663 plate appearances)? Also, the BA was 39 points below his career average, and he stole fewer than 30 bases for only the second time in 12 seasons. If Ichiro can't bat .300, can't steal more than 30 bases and has his usual single-digit homer power at age 39, why would you draft him ahead of Alejandro de Aza, or Angel Pagan, or even his slappy, scrappy teammate, Brett Gardner? Answer: You probably wouldn't. Signed 1B/3B Kevin Youki...
Original Story:
http://msn.foxsports.com/fantasy/base...
THE BACKYARD
BEST OF MAXIM
RELATED ARTICLES
After experiencing Derek Jeter's 3,000th hit in person at Yankee Stadium on July 9, 2011, I believe that everyone should be able to experience a milestone at the stadium. To be honest, it could be any stadium. Milestones are fun to witness no matter where you are. While not all are historic or even article worthy, for example a players 100th home run, their 1,000th RBI, their 100th...
There has been speculation that the New York Yankees will attempt to void third baseman Alex Rodriguez's remaining contract due to use of performance-enhancing drugs and his hip injury. However, the team knows there is little chance of voiding Rodriguez's contract, an act termed "unrealistic" by David Waldstein of The New York Times. The Yankees can dream of getting...
According to a report by Bill Madden, Christian Red and Teri Thompson of the New York Daily News, Alex Rodriguez's Yankees career could be over. Alex Rodriguez is unlikely to ever wear the pinstripes again, sources familiar with the Yankees' situation with their troubled third baseman told the Daily News, no matter what happens regarding new allegations that he is again involved...
From the NY Daily News:Alex Rodriguez is unlikely to ever wear the pinstripes again, sources familiar with the Yankees' situation with their troubled third baseman told the Daily News, no matter what happens regarding new allegations that he is again involved with performance-enhancing drugs. According to numerous baseball sources, the hip surgery Rodriguez is now recovering...
Yankees fans — and high-ranking members of the organization — were no doubt thrilled with the unfolding of events in recent days, as the perfect storm appeared to coalesce around Alex Rodriguez and create a way for the Yankees to ditch his contract. But not so fast. For the Yankees to cut Rodriguez loose, they need his recent hip surgery to turn into a very long recovery (or...
A bombshell investigative report from a Miami newspaper has accused New York Yankees third baseman Alex Rodriguez of using performance-enhancing drugs as recently as last season, leading to questions about his immediate future and his lasting legacy. "The news report about a purported relationship between Alex Rodriguez and Anthony Bosch are not true," Rodriguez's...
The New York Yankees have a deal in place with free agent designated hitter Travis Hafner, according to Chad Jennings of The Journal News. Jennings says Hafner's new deal with the Yankees is being finalized and could be announced as soon as today. It's a one-year contract which guarantees the veteran slugger in the range of $2 million, according to Ken Davidoff of...
The man Major League Baseball and Drug Enforcement Administration agents have accused of peddling performance-enhancing drugs — and have linked to New York Yankees star Alex Rodriguez — is a native New Yorker and lifelong Mets fan. Anthony Bosch — who is suspected of supplying the PEDs to A-Rod and as many as 20 professional athletes — grew up in Queens before he moved to...
Supposedly, the Yankees are on the verge of signing Travis "Pronk" Hafner - the former Cleveland DH who Miguel Cabreraed us once, long long ago, in a galaxy far far away -- a strikeout/home run guy who hasn't done Steve Whitaker in the last two years.And you thought we learned from Andruw Jones? (Insert sigh here.)Listen: I have no truck with Brian Cashman jiggling...
Alex Rodriguez is denying allegations that he received performance-enhancing drugs from Anthony Bosch's Biogenesis company, but the evidence against him is mounting. On Tuesday, the Miami New Times reported that A-Rod was one of many MLB players who ordered performance-enhancing drugs (in many cases testosterone) from the now-defunct Biogenesis company. Their report was based on...
Andy Pettitte is out, but Justin Verlander might be in. Pettitte bowed out of the World Baseball Classic leaving an open spot on the U.S. squad that is in need of another starting pitcher. And according to CBSSports.com, Verlander "would love to be on the team." Verlander is expected to make a decision by Feb. 20. The final decision is based on how Verlander progresses...
Reports from ESPN New York indicate that the Yankees have begun to explore ways to void third baseman Alex Rodriguez's contract in the wake of his connection to a "wellness clinic" in Miami, which reportedly supplied athletes with PEDs, including human growth hormone (HGH) and other substances banned by MLB. Rodriguez's name appears in the records of Anthony Bosch, the nutritionist...
MLB News

Delivered to your inbox

You'll also receive Yardbarker's daily Top 10, featuring the best sports stories from around the web. Customize your newsletter to get articles on your favorite sports and teams. And the best part? It's free!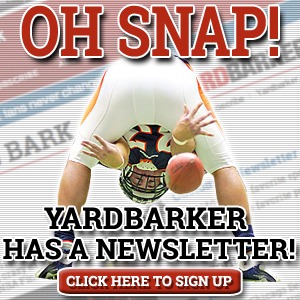 Latest Rumors
Best of Yardbarker

Today's Best Stuff

For Bloggers

Join the Yardbarker Network for more promotion, traffic, and money.

Company Info

Help

What is Yardbarker?

Yardbarker is the largest network of sports blogs and pro athlete blogs on the web. This site is the hub of the Yardbarker Network, where our editors and algorithms curate the best sports content from our network and beyond.