Found June 12, 2013 on 643ball:
PLAYERS:
Jedd Gyorko
,
Robinson Cano
,
Dustin Pedroia
,
Marco Scutaro
,
Chase Headley
,
Rickie Weeks
,
Omar Infante
,
Jose Altuve
TEAMS:
San Diego Padres
,
New York Yankees
,
Boston Red Sox
,
San Francisco Giants
,
Milwaukee Brewers
,
Detroit Tigers
,
Houston Astros
Keith Allison The fantasy stock report is a weekly article that will provide insight on particular hitters or pitchers whose stock is either rising or falling based on recent performances. This week we'll look at a pair of 2nd baseman: Jedd Gyorko and Robinson Cano. Bullish: Jedd GyorkoJedd Gyorko came up lame on the base path on Sunday and the Padres promptly put him on the DL with a groin strain. I think this is the perfect opportunity to try and trade for a very good hitter at a position that is thin this year. Gyorko is batting .284 with 8 HR, 36 R, and 25 RBI for the San Diego Padres. Those numbers are good enough to be a top four second baseman in wRC+, trailing only Matt Carpenter, Dustin Pedroia, and Marco Scutaro at the position. Gyorko has put up those great numbers after getting off to a slow start. In the month of April, Jedd only hit .247 with 0 HR, 8 R, and 8 RBI. He was batting towards the bottom of the lineup and was hitting doubles (7) instead of home runs (0). Gyorko had a better month of May, he hit a healthy .303 with 6 HR, 20 R, and 12 RBI. Jedd did much of the same in the June by accumulating 6 XBH, 13 total hits and his first stolen base of the season. He was beginning to produce at the level many expected when he entered the season. This guy has always been able to hit as evidenced by his .319 minor league batting average and his 62 home runs in just three seasons in the minors. The Padres decided in the beginning of the season, that they would not let Chase Headley's occupation of Jedd's natural position of third base to hold him back from reaching the majors. They converted him into a second baseman and he's rewarded the Pads, as he is currently the 6th highest second baseman according to WAR(+1.8) and this is mostly due to his ability to hit the baseball. I would offer guys like Rickie Weeks, Omar Infante, Neil Walker and even Jose Altuve for Gyorko. Make the move for Gyorko now while he's on the DL because when he returns, his owners won't be willing to sell.Bearish: Robinson CanoI know, how can someone possibly be bearish on Robinson Cano. I get it, Robinson Cano is a perennial MVP candidate and certainly the best fantasy baseball player at his position, right? Well no, not this year at least, that distinction belongs to Matt Carpenter. Cano is batting .272 with 15 HR, 31 R, and 40 RBI. Great numbers for a second baseman but Cano isn't just any second baseman. He was more than likely, a top five pick in your league. You can't afford to have Cano contributing a wRC+ of 123 that ranks 51st among qualified batters.What's worse is that Cano is only sporting a wRC+ of 98 in the past 30 days, which qualifies him as the 12th best second baseman among qualifiers  In June, Robinson is batting just .133 with 4 hits in 30 at-bats. What is Robinson differently this year? Actually not much, his plate discipline is slightly better  than years past, his ISO is still proficient and he's already matched his stolen base total from last year. However, there are two red flags. Cano is striking out a career high percentage (15.9%) and also hitting closer to his career average in line drive rate(19.7). The increase in strikeouts and the decrease in line drives may be contributing to Cano's slow start to the season. If you're looking to hang your hat on something, Cano is hitting more fly balls this year and that could contribute to more home runs as the season progresses. Cano has a BABIP of .277 this year while his career BABIP is .320. Maybe it's just early season luck not falling his way but something tells me that Cano may be pressing at the plate because he is in a contract year. I'm not exactly sure if anything is wrong with Cano but I do know he is not contributing top 5 statistics and although he has in the past, I'm not certain he will this year. I would most likely hold in any scenario because I doubt you will receive equal value. However, I wouldn't just instantly delete any offers that come in for your contract-year second baseman.  Try your hand at a two-for-one deal and ask for Gyorko or Zobrist and a pitcher. Maybe someone in your league doesn't believe in Chris Davis' hot start or that Matt Carpenter can keep it up. See Cano's name holds weight and he is someone that almost any team is willing to trade for. Someone out there in your league loves Robinson Cano and I don't blame them, see if you can take advantage of that admiration of the Yankees slugger. One last thing I almost forgot, the Yankees lineup just isn't that scary.Trevor SteelFollow Trevor on Twitter @TrevorCSteel
Original Story:
http://www.643ball.com/1/post/2013/06...
THE BACKYARD
BEST OF MAXIM
RELATED ARTICLES
The San Diego Padres have one of the National League's top rookies in second baseman Jedd Gyorko. Unfortunately, they may have to play without their rookie sensation for a while.  Gyorko left Sunday's game with the Colorado Rockies in the tenth inning after hurting his right groin while running the bases. Examination on Monday should reveal the extent of the injury. ...
With CC Sabathia once again pitching poorly in Oakland and the Athletics continuing their hot streak at home, last night's Yankee loss was as predictable as it was painful.  Something that was not predictable was the announcement before the game that Robinson Cano had been named AL captain of this year's Home Run Derby.I would have thought that last year's horrible experience...
It was not an unexpected moved.  Jedd Gyorko was placed on the 15-day disabled list yesterday with a groin strain.  The move comes after Gyorko had to be removed from Sunday's game after injuring the groin.  The San Diego Padres will monitor him and hope the injury is minor enough to allow him to come off the DL in the minimum number of days allowed. Marty Caswell of...
Major League Baseball announced that Robinson Cano (AL) and David Wright (NL) will be the captains for the upcoming All-Star Game Home Run Derby on July 15th at Citi Field in New York. Wright and Cano will be selecting three teammates each to round out the AL and NL squads. It's unclear whether Cano will select Kansas City's Billy Butler—who Cano snubbed when he was captain...
For the second year in a row, there is tension between Robinson Cano and Billy Butler over the Home Run Derby. Cano was named captain of the AL Home Run Derby squad last year and upset Kansas City Royals fans by leaving Butler, the Royals' top hitter, off the team. The All-Star Game was being [...]
It doesn't seem like 10 years since Jay-Z opened his first 40/40 Club. Time is just flying by, Bob Blitz courtesy of the New York Post, says Jay-Z is pulling out all the stops for the celebration. Jay-Z is celebrating the 10-year anniversary of his famed 40/40 Club on Monday with a star-studded affair attended by Yankees Robinson Cano, CC Sabathia and Alex Rodriguez along with...
David Wright and Robinson Cano are going to give the Home Run Derby a New York feel. Wright, the third baseman for the New York Mets, this year's host for the All-Star game, has been named captain of the National League team. Cano, the crosstown rival Yankees second baseman, is going to lead the AL squad for the second straight year. The derby is scheduled for July 15 at Citi...
LET'S MASH
The captains for the Home Run Derby have been named. The captains will get to choose which players will be on their team.
In Major League Baseball there have always been great debates about star players from different teams.  Some that immediately come to mind from the past are Joe DiMaggio or Ted Williams? Carlton Fisk or Thurman Munson? Hank Aaron or Willie Mays? Randy Johnson or Roger Clemens? In this modern era we are in the players are bigger and stronger.  There's better nutrition, year...
Last night, David Wright and Robinson Cano were named the captains for the home run derby at Citi Field in July. Under the new format, this means this means that both Cano and Wright will be participating in the derby along with picking three other participants from their league for the derby. Many times, when players participate in the derby, they change their swings in order to...
Durant is leaving agent Rob Pelinka to join the likes of Robinson Cano and Victor Cruz, among other athletes, with Jay-Z's sports agency Much was made of the news from a few months ago that part-owner of the Nets, and massive rap mogul and businessman , Jay-Z, would have to sell his small stake in the team as he transitioned his focus in the NBA from being an owner to...
MLB News

Delivered to your inbox

You'll also receive Yardbarker's daily Top 10, featuring the best sports stories from around the web. Customize your newsletter to get articles on your favorite sports and teams. And the best part? It's free!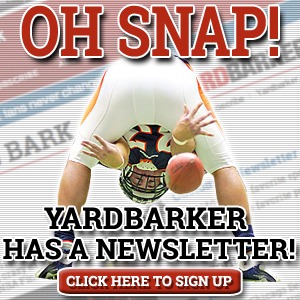 Latest Rumors
Best of Yardbarker

Today's Best Stuff

For Bloggers

Join the Yardbarker Network for more promotion, traffic, and money.

Company Info

Help

What is Yardbarker?

Yardbarker is the largest network of sports blogs and pro athlete blogs on the web. This site is the hub of the Yardbarker Network, where our editors and algorithms curate the best sports content from our network and beyond.