Found December 02, 2012 on Down with Goldy:
PLAYERS:
Denard Span
,
Alex Meyer
,
Jeremy Hellickson
,
Kyle Gibson
,
Aaron Hicks
,
Joe Benson
,
Justin Morneau
,
Glen Perkins
,
Brandon McCarthy
,
Edwin Jackson
,
Kevin Correia
,
Marco Scutaro
,
Freddy Garcia
,
Wilson Valdez
,
Austin Kearns
,
Bill Smith
TEAMS:
Washington Nationals
,
Tampa Bay Rays
,
Minnesota Twins
,
Oakland Athletics
,
Pittsburgh Pirates
,
San Francisco Giants
,
New York Yankees
,
Cincinnati Reds
,
Miami Marlins
As I'm certain everyone is aware by now the Twins traded Denard Span late last week to the Nationals for minor league pitching prospect Alex Meyer.  At first blush I was down on the trade, having hoped the Twins could turn the talented Span into a MLB ready mid-rotation starter type (like Jeremy Hellickson, for example) but the more I've read about it and spent time thinking about the move the more I like it. Meyer (and you can read more about him here at Aaron Gleeman's blog or Keith Law at ESPN or really anywhere they talk Twins) is a former first round pick who lit up A and A+ ball in his first pro season last year.  He's already 22 so the good numbers are not surprising for an older player at that level, but that also means that he should progress through the system fairly rapidly, hopefully landing at AAA at some point this coming season and then ready for the rotation in 2014.  He throws in the mid-90s and can touch 100 at times (which means his downside is likely a pretty good reliever although hopefully it doesn't come to that) and has what one scout I read somewhere called "a truly filthy slider."  He's working on a change-up as a third pitch that apparently "could become average" which doesn't sound great but as a third pitch is just fine when he already has two plus pitches.  Even better, he struck out more than a batter an inning which means the Twins have recognized that having soft-tossing strike throwers is fine, but you can't have those exclusively and need some power arms.  With Meyer, Kyle Gibson, and a couple of the guys they drafted this year they seem to at least be recognizing that fact.  I also heard that Meyer is now the #1 pitching prospect in the system, ahead of Gibson.  He's a really, really good get for the team. Losing Span certainly hurts (he was one of my favorites after Kubel left), but a move with him had to made.  He's one of the sickeningly few attractive trade pieces this team has with his elite leadoff skills, quality defense, and team friendly contract and the Twins need to rebuild the entire organization at this point.  With Revere ready to step in now and hopefully Aaron Hicks in two years the Twins already have guys who have the potential to replace Span's skillset.  Revere is a better outfielder already and has increased his OBP each of the last two seasons, reaching .333 in 2012 which was just shy of Span's number (.342) and actually better than Denard's OBP in 2011, and Hicks is supposed to be even better.  Add in the organizational depth of top prospects in the outfield (Buxton, Arcia, Rosario, even Joe Benson plus Hicks) and it was a no brainer to get the best they could for Span, and it looks like they got a pretty good return, even if it's a lottery ticket of sorts. From here I can see two viable directions for the Twins to go in.  On one hand, you say, this team and organization is broken, time to rebuild.  Trade every asset for whatever you can get.  Willingham should certainly bring a decent package, and for the right team needing a first baseman Justin Morneau would be attractive - although in his case you're probably better off waiting for this year's trade deadline when other team's needs seem more urgent and hopefully he can show he's all the way (or nearly) back.  I don't know if they have anybody else they could possibly trade (Doumit?).  Maybe Glen Perkins if he gets a bunch of saves and somebody is desperate for a lefty reliever.  It's also possible they see Perkins as their closer of the future (hint:  he's not) and won't shop him, but they should if they go in this direction. The other way to go is to try to sign the right mix of players to turn this into a competitive team, which basically means pitching.  With Span gone that gives them somewhere in the neighborhood of $30 million in payroll to play with, based on their comment about a payroll target for this year.  You can do some good things and become a competitive team in this horrible division for that kind of money.  You could sign Brandon McCarthy ($5 mil), Edwin Jackson ($11 mil), Kevin Correia ($5 mil), and like, Marco Scutaro ($8 mil).  I don't know how long you'd want to/have to extend those guys, but then you're looking at this lineup: CF Revere 2b Scutaro C  Mauer LF Willingham 1B Morneau DH Doumit 3B Plouffe RF Parmalee SS Dozier Not bad.  Don't forget the Twins had a solid offensive team last year, and this is a pretty similar look with Revere in for Span and Scutaro in for Casilla.  That's a net win. And here's your rotation: 1.  Jackson 2.  McCarthy 3.  Diamond 4.  Correia 5.  Deduno/Devries/Hendriks, etc. Certainly better than last year. Can that team, assuming an adequate bullpen which admittedly is a pretty big assumption, compete in the AL Central?  Probably for second place, and they aren't going to be in the Wild Card race. I can see, and make an argument for, either approach.  I would probably prefer to trade away everybody and try to remake the entire team, but I can also see something like the above to stay competitive to keep bringing the rubes to the park and pocketing that sweet cash to hopefully re-invest in the team.  Naturally, the Twins will probably do something like sign Freddy Garcia and Derek Lowe and Wilson Valdez and Austin Kearns and call it a day, not making any moves for the future nor significantly upgrading the team and ending up sucking again while not building for the future. Then again, Terry Ryan is back instead of Bill Smith, so there's some reason for optimism.  Either way, it's going to be an interesting off-season.  Actually it already has been.  Do more, Terry.
Original Story:
http://feedproxy.google.com/~r/DownWi...
THE BACKYARD
BEST OF MAXIM
RELATED ARTICLES
Left-hander Zach Duke has agreed to a one-year contract to stay with the Washington Nationals. The NL East champions announced the deal with the free agent on Monday. The 29-year-old Duke joined the Nationals as a minor league free agent in March, spending most of last season at Triple-A Syracuse. He was 1-0 with a 1.32 ERA in 13 2-3 innings over eight appearances as a reliever...
The hot stove is burning, and winter meetings start this week. There will be endless rumors of who is signing where and what player is available to be moved. One guy that seems to be on the block, according to multiple sources, is Nats second baseman Danny Espinosa. I'm not so sure he should be. Espinosa certainly comes with his share of problems. Primarily, he led the National...
Left fielder Michael Morse is the Washington Nationals player most likely to be moved, especially if the team re-signs free-agent first baseman Adam LaRoche. Don't be surprised, though, if second baseman Danny Espinosa also is the subject of trade discussions at the baseball winter meetings, which begin in Nashville on Monday. Espinosa, 25, is likely to draw interest from teams...
  Throughout the offseason, The Nats Blog will look back at every player's 2012 season to summarize and analyze his performance, and we'll look ahead to his possible role in 2013. We'll go from #1 Steve Lombardozzi all the way to #63 Henry Rodriguez with about two posts per week until Spring Training. Enjoy. If someone told you that a player who committed 57 errors...
And so, after an inexplicable 2-year hiatus, the Nationals will be making like a real, live, MLB team and holding a Winter fan fest this year. Good deal. Tickets will be available online starting at 10:00 AM Thursday, December 6, 2012 at nationals.com/natsfest. A person who knows stuff and is usually right told us the Nationals may or may not be looking to bring back former players...
Lidge is ready to retire. (MLB) After several injury-riddled seasons and dealing with the loss of velocity on his fastball, it appears Brad Lidge is hangin' 'em up. Jayson Stark of ESPN broke the news via Twitter that Lidge, 35, will retire. Last season, Lidge was cut by the Nationals after posting an ERA near 10 during his stint there. He was brought in for veteran leadership...
The Tampa Bay Rays are discussing a potential trade with the Nationals that would send one of the team's starting pitchers, most likely James Shields or Jeremy Hellickson, to Washington in exchange for Mike Morse, Danny Espinosa and possibly more, reports Jim Bowden of ESPN. James Loney and Rays close to one-year deal....Loney would replace Carlos Pena at 1B...also...
When the Washington Nationals shut down Stephen Strasburg in September, most of the collective baseball world felt the doom fall over the team.  Sure, the team wasn't about to admit it.  They were still a damn good team.  But they were missing their ace, and they were heading into the playoffs without him.  Ultimately, the Nats lost in five games in the Division Series....
Following their acquisition of center fielder Denard Span from the Minnesota Twins, the Washington Nationals are "definitely shopping" first baseman/outfielder Mike Morse, reports Jayson Stark of ESPN. In the wake of Denard Span deal, #Nationals are "definitely shopping Mike Morse a little bit," says AL exec. Could deal Morse & sign LaRoche — Jayson Stark...
Yesterday, the course of the Twins' offseason was set. The worst kept secret in the Twins organization (to the point that I don't believe it was even a secret) was that Denard Span was going to be traded. It was also apparent that the Twins needed to improve their rotation. Terry Ryan and the rest of the of the front office had stated that they would seek to add three starting...
MLB News

Delivered to your inbox

You'll also receive Yardbarker's daily Top 10, featuring the best sports stories from around the web. Customize your newsletter to get articles on your favorite sports and teams. And the best part? It's free!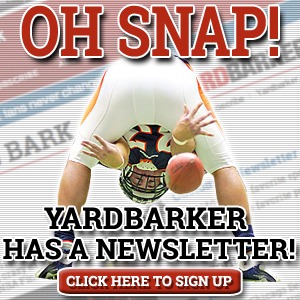 Latest Rumors
Best of Yardbarker

Today's Best Stuff

For Bloggers

Join the Yardbarker Network for more promotion, traffic, and money.

Company Info

Help

What is Yardbarker?

Yardbarker is the largest network of sports blogs and pro athlete blogs on the web. This site is the hub of the Yardbarker Network, where our editors and algorithms curate the best sports content from our network and beyond.