Found February 14, 2012 on RedLegFans:
Since it's Valentines Day and everyone is feeling the "love" I thought I'd ask Reds fans out there what do you "love" most about our team? The thing that I love most about the Reds is listening to them on the radio. I grew up listening to Marty and Joe calling games each night. When I was little we had this old handheld radio that I'd hide under my pillow at night so that when it was bedtime I could keep listening to Reds games even though I should have been sleeping. There was, and still is nothing better than listening to Marty shout out "And this one belongs to the Reds". I would listen to Joe Nuxhall's Star of the Game and his signature sign off "this is the old left hander rounding third and heading for home, goodnight everyone". There was just something about listening to the Reds on radio that I just couldn't get enough of. Not to mention the countless summer nights driving home from whichever practice or game I had, whether it be spring soccer or baseball, you could always co
Original Story:
http://redlegfans.com/2012/02/14/feel...
THE BACKYARD
BEST OF MAXIM
RELATED ARTICLES
Could "Mez" become the first ROY the Reds have had since '99? Keith Law of ESPN Insider recently published a list of the "Top 20 impact prospects for 2012" (click here to read the piece in its entirety). To no surprise catcher Devin Mesoraco, who's rated by many as the top prospect in the Reds organization, made the cut coming in at no. 2. Here's...
With spring training getting underway this Saturday for our Reds (well, the pitchers and catchers at least. Position players show up next Thursday) , I thought I would take a look at the prospects/minor leaguers who are heading to spring training and talk about their chances to break camp with the big league team. There are 21 players who still have prospect eligibility. Yesterday...
Everybody is talking about who is going to play left field for the Reds Chris Heisey or Ryan Ludwick.  I don't see why we can't have both of them in the lineup most of the time. It seems Drew Stubbs has been anointed our center fielder no matter what and I don't understand why.  I understand his speed is nice to have in the lineup, but when you can't get on base consistently...
The ESPN Insider crew consisting of Keith Law, Buster Olney and Jim Bowden have put together a rather interesting series of posts projecting the pecking order of all 30 MLB franchises come 2017. After burning through 30-21 on Tuesday, they took a stab at 20-11 on Wednesday. Cincinnati came nestled in the middle-of-the-pack at no. 16. Here's the excerpt on what they had...
What are you expecting from Scott Rolen in 2012? Back in 2009 when the Reds traded for Scott Rolen late in the summer just prior to MLB's non-waiver trade deadline it left me scratching my head, why did they make this move? In fact, I wasn't the only one thinking that, many of the so called "experts" were wondering the same thing. The Reds weren't in contention, neither...
What's not to like about this? Seen here is the Reds' very own Joey Votto posing for the cover of the 25th Anniversary Edition of Athlon Sports' Baseball Preview Magainze. To buy your copy of this collectible item please click here.
Mat Latos is making the unenviable switch from ultimate pitcher's park to ultimate hitter's park. Will his No. 1 status survive?Click the title to read more.Read more great baseball stuff at The Hardball Times.
Today marks the 26th birthday for SP Johnny Ortiz Cueto. And while I'm sure he'll receive plenty of birthday wishes from Reds country, I wouldn't expect the folks in St. Louis to be so thoughtful. After missing nearly a month to begin the 2011 season, the Dominican native turned in a fine effort over the remainder of the year. He stifled opposing hitters with a league...
Have you gotten your copy of the 2012 Prospect Guide yet? Over 100 scouting reports on the Reds top prospects. Click on the image above for more information. The rules are the same as always: You get three questions. Avoid questions with really long answers. Avoid questions that I will have to do research on to answer. Ask before midnight. Simple enough, so get to it!
Cool commercial, and I'm hoping for a decent game out of 2ksports. I can't stop playing NBA 2k12. I just unlocked the Larry Bird '84 Celts the other night and I am running the point with Larry Legend. If they got anywhere close to their basketball rendition with the baseball game, then we're onto something. This is coming from a guy who understands all about 'finger mechanics'...
Reds News

Delivered to your inbox

You'll also receive Yardbarker's daily Top 10, featuring the best sports stories from around the web. Customize your newsletter to get articles on your favorite sports and teams. And the best part? It's free!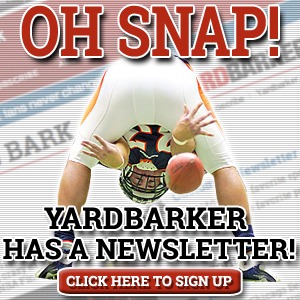 Latest Rumors
Best of Yardbarker

Today's Best Stuff

For Bloggers

Join the Yardbarker Network for more promotion, traffic, and money.

Company Info

Help

What is Yardbarker?

Yardbarker is the largest network of sports blogs and pro athlete blogs on the web. This site is the hub of the Yardbarker Network, where our editors and algorithms curate the best sports content from our network and beyond.