Posted March 31, 2013 on AP on Fox
His usual carefree self, Felix Hernandez danced in the visitors clubhouse to his techno ''house music'' Sunday. It's fitting that Hernandez will make his season debut and first outing since landing a $175 million, seven-year contract against the Oakland Athletics. The Seattle ace always faces them to start, or so it seems to the A's. ''A lot,'' Hernandez said with a smile. ''I've faced the A's a lot.'' Three times last season, in fact - first in the opening game in Tokyo, again in Seattle's 2012 Safeco Field debut, then once more back in Oakland for the A's home opener. The Mariners won the first two. That's quite the fill of King Felix. The AL West champion A's will see Hernandez again Monday night to open the season at the Oakland Coliseum, with the pitcher fresh off the new contract from February that briefly made him baseball's highest-paid pitcher until Detroit's Justin Verlander topped him Friday. ''We're used to it,'' A's third baseman Josh Donaldson said, chuckling. ''If there's a team that's used to facing Felix, it's us.'' Hernandez, who turns 27 on April 8, even opted to sit out the World Baseball Classic for Venezuela to focus on this season. He went 13-9 with a 3.06 ERA in 33 starts last season, two years after capturing the AL Cy Young award. ''I don't care how many times you've done it. Starting on opening day never gets old,'' Hernandez said. ''It's an honor, because there's so much anticipation leading up to that game. It's an exciting time and a fun time to be on the mound. That's especially true against on the road against division rival, when you know the crowd will be into it.'' If the sellout crowd is anything close to comparable to that energized ballpark full of fans from last fall's special run, Hernandez will have a hard time not taking notice. The A's won 94 games and became the first team in major league history to capture a division or pennant after trailing by five games with fewer than 10 to play, stunning the two-time reigning AL champion Texas Rangers on the season's final day. Oakland then lost in the deciding Game 5 of the AL division series to Detroit. ''I think everybody's ready. We've been waiting for opening day for a while now, for most of the guys here probably since the last out was made in Game 5,'' Donaldson said. ''Everybody was diligent in the offseason getting their all their work in, now we're just ready for it to show.'' Hernandez will try not to allow any fanfare to throw him off on Day 1. ''I don't do anything different, I just come to win every opening day,'' Hernandez said a day ahead of his sixth opening day start and fifth in a row. ''I can't do anything different. I've just got to be the same guy.'' Hernandez might need to mind Yoenis Cespedes in the middle of the order. The Cuban homered in two of his final three spring training games, including a three-run drive Saturday off San Francisco starter Ryan Vogelsong in a 4-3 victory over the World Series champion Giants. Cespedes ended spring training on a 13-for-33 run, with all six of his home runs and 13 RBIs over the final 11 games. The six home runs, which came after Cespedes batted just .179 in his first 11 games, are the most by an A's hitter in the spring since 2007. ''The tickets are sold. It's going to be a great game,'' Cespedes said. ''Felix is really happy. He is a great player and has pitched so well. But I see this A's team as being better than last year. We have more balance.'' Oakland sure hopes to carry over some momentum from what it accomplished in October, with a more experienced starting rotation to boot. ''I just think a lot of it has to do with confidence. Going into last year we knew that we could win but we hadn't,'' Donaldson said. ''Last year, especially in the second half on, the success that we did have shows that we have a good team here and we have the talent and a good staff. We're ready to get out there and go, and win some games.'' Typically, the pitchers are considered to be ahead of the hitters in the season's early stage. The A's hope they can challenge Hernandez, anyway. ''What's new, right?'' A's manager Bob Melvin said. ''We had like three Day 1s with him last year. There's good pitching in our division. He may be at the forefront of that. It's our draw. It seems like since I've been here we open up against Seattle and we get him. It's part of the deal.'' Hernandez is as eager as everybody else to get going. ''I'm really prepared. Well, finely spring training is over, it was a long one,'' Hernandez said. ''I feel as comfortable as I ever have going into this opening day. I trust the hitters we have and the guys playing behind me. I'm getting dialed in and ready for another season. I love playing for Seattle. I can't wait for this season to get started.'' --- AP freelance writer Scott Bair contributed to this report.
Original Story:
http://msn.foxsports.com/mlb/story/Fe...
THE BACKYARD
BEST OF MAXIM
RELATED ARTICLES
Felix Hernandez Fist Pump gif. Nice win by Felix yesterday. he's amped up. Are you Seattle Mariners fans? http://25.media.tumblr.com/e99c50ee56ecabcebeca68817e9c2fa8/tumblr_mkn7auHzzw1rs13bbo1_400.gif More...
For the Seattle Mariners, this Spring has been accompanied with great success.  First off, the Mariners were second only to the Royals in wins, and their 22 wins broke the Spring Training club records.  The Mariners also smashed 58 home runs, a club record.  Only one major league team, the 1999 Cubs, hit more home runs in Spring Training.  For a team that is desperately looking...
Seattle Mariners pitcher Felix Hernandez did right by the catcher that was on the other side of his perfect game last August. Hernandez gifted Oakland A's catcher John Jaso with a brand new Rolex for their perfect game against the Tampa Bay Rays. Please click here to read this story. The post Felix Hernandez gifts John Jaso with an engraved Rolex appeared first on Players View.
Before Monday's Mariners-Athletics game, Seattle starting pitcher Felix Hernandez gave Oakland catcher John Jaso a gift: a brand new gold Rolex. What's the occasion? Well, the former Mariner Jaso was the catcher for Hernandez's perfect game in Seattle last summer. The back of the watch is inscribed with "8/15/12", the date of the perfect game. Perhaps ironically...
Felix Hernandez had his mind made up that he would get the Seattle Mariners' season off to a strong start and provide a little bit of momentum on April 1. No arguing that. He delivered against the defending AL West champions. Hernandez struck out eight on opening day in his first start since signing a $175 million, seven-year contract in February, and the Mariners beat the...
Last August, Seattle Mariners ace Felix Hernandez tossed the first perfect game in franchise history. His catcher in that game was John Jaso.On Monday, Hernandez and Jaso were reunited again, except this time they were wearing different uniforms.Jaso, who is now a member of the Oakland A's after being traded in the offseason, squared off against his former teammate as the A&...
Felix Hernandez finally presented former Mariners catcher John Jaso with the perfect gift: a shiny Rolex for catching King Felix's perfecto last August against the Rays.
Felix Hernandez finally presented former Mariners catcher John Jaso with the perfect gift: a shiny Rolex for catching King Felix's perfecto last August. A clubhouse employee delivered the gold watch from Seattle's side to the Oakland clubhouse for Jaso about 90 minutes before first pitch in the Mariners-Athletics season opener Monday night. Hernandez, set to make his first...
Gotta love the sense of anticipation as we are just a an hour away from first pitch of the 2013 Mariners season. M's are in Oakland to begin another journey of 162 regular season games in 180 days. Terrific matchup: The King, Felix Hernandez, goes against tough lefty Brett Anderson. Coming off a productive spring training swinging the bats, hitting an astounding 58 homers, there's...
Morales has a career .330 average against the Yankees.   Threat Level: 5 The Mariners biggest move of the offseason was signing Felix Hernandez to a 7-year, $175 million extension, a record contract for a pitcher. Other than that move, their only other significant move was trading Jason Vargas for Kendrys Morales, who was the odd man out on the Angels. Morales provides some much...
The New York Yankees are a buncha geriatric patients, the Los Angeles Angels lineup is stacked, and the San Francisco Giants have won two of the last three Wolrd Series. Justin Verlander and Felix Hernandez are the richest pitchers in the history of baseball and are sure to not live up to them, while Buster Posey has assured himself a spot as the Giants first basemen in 2016. The...
Amidst a flurry of signings of high contracts to All Stars and Cy Young Award winners (Felix Hernandez, Adam Wainwright, Justin Verlander, and soon-to-be Clayton Kershaw), it's fun to hear a good-newsstory of a person who will probably make the league minimum, but couldn't be happier.  Mets lefty farmhand Scott Rice has made the big league club. Jorge Castillo of the New Jersey...
MLB News

Delivered to your inbox

You'll also receive Yardbarker's daily Top 10, featuring the best sports stories from around the web. Customize your newsletter to get articles on your favorite sports and teams. And the best part? It's free!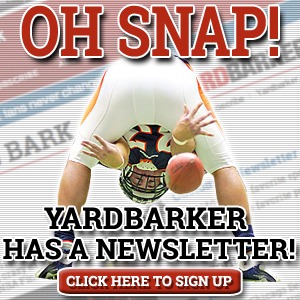 Latest Rumors
The Backyard

Today's Best Stuff

For Bloggers

Join the Yardbarker Network for more promotion, traffic, and money.

Company Info

Help

What is Yardbarker?

Yardbarker is the largest network of sports blogs and pro athlete blogs on the web. This site is the hub of the Yardbarker Network, where our editors and algorithms curate the best sports content from our network and beyond.