Found November 19, 2012 on Pirates Prospects:
FELIX PIE CENTER FIELDER Born: February 8, 1985 Height: 6'2″ Weight: 185 Bats: Left Throws: Left Signed: Int'l Free Agent, 2001 (Cubs) How acquired: Minor League Free Agent Country: Dominican Republic Agent: SFX WTM'S PIRATE PLAYER PROFILES Pie was regarded as a potential five-tool outfielder while he was with the Cubs, but he never developed sufficient baseball skills.  He did start to show good power starting in AA, but it never appeared in the majors.  His plate discipline has always been marginal, but not terrible.  He had very good speed and a good arm, and played center while he was working his way up through the Cubs' system.  In the majors, though, he's played mostly in the corners, although he's been used often as a pinch runner, too.  His base stealing technique never developed in the minors and he's seldom been called upon to steal in the majors.  He's usually been platooned and has just a .513 career OPS against LHPs, compared to .706 against RHPs. 2002 R:  321/385/569, 218 AB, 16 2B, 13 3B, 4 HR, 21 BB, 47 K, 17-25 SB A-:  125/222/250, 8 AB, 1 2B, 1 BB, 1 K Pie had a strong debut, playing center at age 17 in rookie ball. 2003 A:  285/346/388, 505 AB, 22 2B, 9 3B, 4 HR, 41 BB, 98 K, 19-32 SB Pie successfully made the jump to full season ball.  He didn't hit for much power, but at 18 that wouldn't have been a concern.  His plate discipline at this point was marginal but, again, considering his age it wasn't disturbing at all. 2004 A+:  297/358/441, 431 AB, 18 2B, 10 3B, 8 HR, 39 BB, 116 K, 32-50 SB At high A, Pie had about the same season, except his power and K rate both increased. 2005 AA:  304/349/554, 262 AB, 17 2B, 5 3B, 11 HR, 16 BB, 53 K, 13-22 SB In AA, Pie had a breakout season, hitting for impressive power, although with plate discipline that continued to decline.  He suffered an ankle injury halfway through the season and was unable to return.  After the season, Baseball America rated Pie the 27th best prospect in baseball, his highest ranking in five straight seasons on BA's top 100 list. 2006 AAA:  283/341/451, 559 AB, 33 2B, 8 3B, 15 HR, 46 BB, 126 K, 17-28 SB Pie didn't have quite the same season in AAA, but he hit well, especially considering that he was just 21.  He had 18 outfield assists. 2007 AAA:  362/410/563, 229 AB, 9 2B, 5 3B, 9 HR, 19 BB, 40 K, 9-15 SB MLB:  215/271/333, 177 AB, 9 2B, 3 3B, 2 HR, 14 BB, 43 K, 8-9 SB The Cubs called Pie up in mid-April and he played for them the rest of the year except for one-month stretches covering much of May and July.  Although he got into 87 games with the Cubs, for the last two months of the season he was used mostly as a pinch runner and defensive replacement, so he didn't bat all that much.  When he was in AAA he dominated. 2008 R:  667/750/1.667, 3 AB, 1 HR, 1 BB AAA:  287/336/466, 335 AB, 20 2B, 5 3B, 10 HR, 46 BB, 88 K, 48-59 SB MLB:  241/312/325, 83 AB, 2 2B, 1 3B, 1 HR, 7 BB, 29 K, 3-3 SB The Cubs continued to be reluctant to commit to Pie.  He opened the season with them, but struggled at the plate and was sent down in mid-May.  He wasn't called back up until September.  Chicago traded him to Baltimore after the season.  At that point he'd gotten only 287 plate appearances in the majors. 2009 MLB:  266/326/437, 252 AB, 10 2B, 3 3B, 9 HR, 24 BB, 58 K, 1-4 SB Pie spent the season in the majors, playing left and center for the Orioles.  He also served frequently as a pinch runner.  He had his best showing at the plate in the majors. 2010 R:  125/125/125, 8 AB, 2 K A+:  417/500/417, 12 AB, 2 BB, 2 K AA:  348/444/522, 23 AB, 2 2B, 1 3B, 3 BB, 4 K, 1-1 SB MLB:  274/305/413, 288 AB, 15 2B, 5 3B, 5 HR, 13 BB, 52 K, 5-7 SB Pie got hurt in mid-April and missed about six weeks.  Following a minor league rehab, he spent the rest of the season with the Orioles, serving as their primary left fielder against RHPs.  He hit marginally less well than in 2009. 2011 AAA:  250/333/417, 24 AB, 2 2B, 1 3B, 3 BB, 4 K, 3-3 SB MLB:  220/264/280, 164 AB, 8 2B, 1 3B, 10 BB, 32 K, 3-5 SB Pie again spent the season with the Orioles, but struggled badly at the plate and played only sporadically.  The team finally designated him for assignment in late August. 2012 IND:  353/386/608, 51 AB, 4 2B, 3 HR, 3 BB, 7 K, 1-2 SB AAA:  285/338/459, 333 AB, 26 2B, 7 3B, 6 HR, 23 BB, 46 K, 16-16 SB The Indians signed Pie to a minor league deal after the 2011 season, but he failed to make the major league roster and Cleveland released him in early April.  He played independent ball for a few weeks, then signed with the Braves in mid-May.  He spent the rest of the year with their AAA affiliate, playing in right field and putting up solid but not outstanding offensive numbers. The Pirates signed Pie to a minor league deal, with an invitation to spring training.  He should provide a cautionary note about Starling Marte, a very similar player in the sense that he's extremely toolsy with shaky skills.  Pie actually was a better hitter with better plate discipline in the minors, and was younger relative to his levels than Marte.  Pie will probably be in the competition for some sort of role as a corner or fourth outfielder, but with Marte, Travis Snider, Alex Presley and Jose Tabata all competing for the same roles, it's extremely likely that Pie will end up in Indianapolis, unless he has an out clause in his contract. STATS Baseball Reference–Majors Baseball Reference–Minors Fangraphs MLB.com MiLB.com CONTRACT INFORMATION 2008: $401,500 2009: $410,000 2010: $420,000 2011: $985,000 2013: Minor league contract PLAYER INFORMATION Signing Bonus: N/A MiLB Debut: 2002 MLB Debut: 4/17/2007 MiLB FA Eligible: 2013 MLB FA Eligible: 2015 Rule 5 Eligible: Eligible Added to 40-Man: November 18, 2005 Options Remaining: 0 (USED: 2006, 2007, 2008) MLB Service Time: 3.160 TRANSACTIONS July 3, 2001: Signed by the Chicago Cubs as an international free agent. November 18, 2005: Contract purchased by the Chicago Cubs. January 18, 2009: Traded by the Chicago Cubs to the Baltimore Orioles for Hank Williamson and Garrett Olson. August 23, 2011: Designated for assignment by the Baltimore Orioles. September 29, 2011: Became a free agent. December 12, 2011: Signed as a free agent with the Cleveland Indians. April 4, 2012: Released by the Cleveland Indians. May 11, 2012: Signed as a minor league free agent by the Atlanta Braves. November 3, 2012: Became a free agent. November 19, 2012: Signed as a minor league free agent with the Pittsburgh Pirates.
Original Story:
http://feedproxy.google.com/~r/Pirate...
THE BACKYARD
BEST OF MAXIM
RELATED ARTICLES
The Atlanta Braves are pursuing multiple options to fill their void in center field, both through trade and the open market, but outfielder B.J. Upton continues to be the team's "top free agent choice," according to Carrol Rogers of the Atlanta Journal-Constitution. The Braves are pursuing multiple options at center field, both through free agency and the trade...
The Pirates have signed outfielder Felix Pie to a minor league contract. The deal includes an invite to spring training and incentives based on plate appearances if he makes the major league club.
The Pittsburgh Pirates have signed outfielder Felix Pie to a minor league deal, according to Dan Connolly of the Baltimore Sun. Connolly reports that Pie has incentives for major league plate appearances in his contract if he makes the Pirates. The outfielder was once one of the top prospects in the Chicago Cubs system, but hasn't panned out in the majors. In 964 career at-bats...
With Brian McCann out with a shoulder injury, could Christian Bethancourt win a job with the big club? The Atlanta Braves have added catcher Christian Bethancourt and pitchers Zeke Spruill, David Hale, Aaron Northcraft and Cory Rasmus to their 40-man roster, protecting them from the December 6 Rule 5 draft. Tuesday is the deadline for major league teams to solidify their 40-man rosters...
Just a couple years ago, it was Jason Heyward and Giancarlo Stanton that were tearing up baseball, looking like an unprecedented pair of rookie talents ready to continue on into the stratosphere together. Now, just two years later, we've got Mike Trout and Bryce Harper one-upping them. That's just how it goes. With an injury (and a team deflation) taking some of the wind out...
The Braves love B.J. Upton. And physically, whats not to love? He runs like the wind, swiping bases with ease. His power can be intimidating.His glove swallows fly balls destined for the gaps.And even though he just turned 28, Upton is an experienced postseason performer, having already played for Tampa Bay in the 2008 World Series and AL Division Series in two other years. The...
Here's a list of players that signed Minor League deals recently: – Outfielder Felix Pie signed a Minor League deal with the Pittsburgh Pirates according to Dan Connolly of the Baltimore Sun. The deal includes invitation for Spring Training adds Connolly. Pie hit .285/.338/.459 with 6 HR's, 51 RBI's and a .355 wOBA in 364 plate appearances with the Braves' Triple...
  Seriously, we need to vote our fingers off for Eric O'Flaherty. As often as possible, with as many different email addresses as necessary, we need to ensure his win. He is wonderful and deserves ~all~ the awards. Well, except the ones the other Braves are up for too. Like, how could you not vote for Meds? Simba? Freddie? JHey's gold glove performance? Vote Braves! Vote now!
The Pittsburgh Pirates have announced the signing of six minor league free agents, via a team press release. The six players are right-handed pitchers Brooks Brown, Erik Cordier, David Bromberg, and Luis Sanz, outfielder Felix Pie, and infielder Alex Valdez. All are minor league deals, and from that group, Brown, Cordier, and Pie received invites to Spring Training. We already heard...
In Winter League action last night in the Dominican League, Alen Hanson got his first start of the off-season and played his first game since November 2nd. Hanson went 0-for-3, with a walk and a run scored. He has yet to pick up a hit in five AB's. In that same game, Starling Marte went 2-for-4, with two singles, two runs scored, a walk and three stolen bases. He now has a .333...
MLB News

Delivered to your inbox

You'll also receive Yardbarker's daily Top 10, featuring the best sports stories from around the web. Customize your newsletter to get articles on your favorite sports and teams. And the best part? It's free!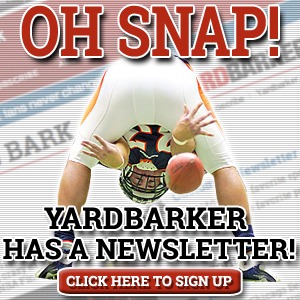 Latest Rumors
Best of Yardbarker

Today's Best Stuff

For Bloggers

Join the Yardbarker Network for more promotion, traffic, and money.

Company Info

Help

What is Yardbarker?

Yardbarker is the largest network of sports blogs and pro athlete blogs on the web. This site is the hub of the Yardbarker Network, where our editors and algorithms curate the best sports content from our network and beyond.