Found April 05, 2012 on Fox Sports North:
PLAYERS:
Joe Mauer
,
Justin Morneau
,
Jason Kubel
,
Denard Span
,
Jamey Carroll
,
Jason Marquis
,
Ryan Doumit
,
Josh Willingham
,
Chris Parmelee
,
Ben Revere
,
Trevor Plouffe
TEAMS:
Minnesota Twins
,
Arizona Diamondbacks
Finally. Opening Day is here.After a tailspin led to 99 losses for the Minnesota Twins last year, the end of the 2011 season seemingly couldn't come fast enough. And for a Twins team looking to turn the page on all that, the 2012 opener couldn't come soon enough. A chance at redemption officially begins Friday when the Twins open their year on the road against the Baltimore Orioles.Few sports, if any, celebrate the first game of the season in the same fashion baseball does. The pristinely manicured fields are painted with special logos and emblems to signify the start of a new year. Fans begin countdowns to Opening Day months before the first pitch is thrown. In Minnesota, that means dreaming about and wishing for baseball long before the snow melts.At the beginning of each season, all teams are even; everyone has a clean slate. No one trails in their division race. There is hope for all 30 teams. That includes the Twins, the same team that finished last in the American League Central for the first time in a long time. I'm not predicting that the Twins will instantly become a playoff threat or win the division, but there are certainly plenty of story lines to watch.I'll be curious to see how the health of this team holds up. The Twins' health or lack thereof in 2011 was perhaps the biggest reason Minnesota lost so frequently. Joe Mauer, Justin Morneau, Jason Kubel, Denard Span, Joe Nathan and many others were out for extended periods with various injuries. Reporters covering the team were looking at WebMD as frequently as live box scores, and game recaps read more like doctors notes than descriptions of baseball games. But as the Twins break camp, it appears they're healthy once again, with a few minor exceptions. If the big guns Mauer, Morneau and Span can stay that way and be productive, this will be a much different team than it was a year ago.I'll also be watching to see how the new faces contribute. Minnesota signed several free agents this offseason, including veterans Jamey Carroll, Jason Marquis, Ryan Doumit and Josh Willingham. All four have been in the big leagues for a number of years, and each should bring a veteran presence to the clubhouse. Can Willingham provide some pop from the right side of the plate? How will the 38-year-old Carroll fare at shortstop? Lastly, I'll be keeping an eye on the Twins' younger players to see how they handle themselves. Chris Parmelee, who made his debut last September, will start the year as Minnesota's everyday first baseman as Morneau plays DH. Parmelee made the jump from Double-A to the majors in 2011. Can he be productive at the major league level? In addition, can some of the Twins' younger players Danny Valencia, Ben Revere, Trevor Plouffe, etc. continue to make strides?The beginning of baseball season is a beautiful thing. If it were up to me, it would be a national holiday. Maybe I'll put that on my campaign platform if I ever run for president.In all seriousness, though, let's take a minute to appreciate what the beginning of the baseball season means. It's a sense of optimism; a reason for hope. For fans of Minnesota, it's another chance to get behind a Twins team that won its division as recently as two years ago. And in Minnesota, it's also an excuse to skip work or play hooky from school, head over to Target Field for a weekday game (or a 3 p.m. home opener Monday) and enjoy America's pastime under the sunny skies at one of baseball's best ballparks.Baseball is back. Play ball.Follow Tyler Mason on Twitter.
Original Story:
http://www.foxsportsnorth.com/04/05/1...
THE BACKYARD
BEST OF MAXIM
RELATED ARTICLES
Minnesota Twins right-handed pitcher Scott Baker left a minor league rehab start Thursday after throwing only 11 pitches. Baker had been placed on the 15-day disabled list Saturday, retroactive to March 27, due to elbow tendinitis. The 30-year-old Baker pitched four innings Saturday and was looking to build up his arm strength. He was eligible to return from the disabled list on...
FORT MYERS, Fla. -- The Minnesota Twins edged their Class-A affiliate, Fort Myers, 8-7, Wednesday, in an exhibition game before breaking spring training camp. The Twins posted three runs in the home half of the sixth, then held on as the Miracle posted a pair of runs in the top of the ninth to draw to within 8-7. Trevor Plouffe provided the biggest highlight for Minnesota Wednesday...
The Minnesota Twins lost 99 games last season and finished in last place in the AL Central. But it's a new season, and they're getting ready in the best way possible; making a parody of The Big Lebowski. A number of Twins, including All-Star catcher Joe Mauer and manager Ron Gardenhire, appear in the parody called "The Big Hrbowski." Playing the role of The Dude...
The Minnesota Twins made their final two roster moves in preparation for Opening Day on Friday in Baltimore. Right-hander Scott Baker was placed on the 15-day disabled list with an elbow strain. That move is retroactive to March 27. Baker was 8-6 with a 3.14 ERA last season but missed time at the end of the season with an elbow injury. He was originally scheduled to start Minnesota...
The Minnesota Twins opened their season on Friday able to finally start with a clean slate after last year's disappointing 63-99 record. Three batters into the bottom of the first inning and the look of the season-opener had a certain dj vu feeling. Former Twin J.J. Hardy had walked and Nick Markakis followed with a one-out, two-run home run to put Minnesota in a 2-0 hole. ...
The Minnesota Twins have placed right-hander Scott Baker on the 15-day disabled list and optioned right-hander Jason Marquis to Double-A New Britain, with neither starter ready in time for the regular season. The moves were made Wednesday, the Major League Baseball deadline for setting 25-man opening day rosters. Baker has been bothered by tendinitis in his throwing elbow. He was...
"The one constant through all the years, Ray, has been baseball." That's a line from "Field of Dreams." And, with another baseball season starting, it's a line that applies to the Twins. The one constant through all the years since 1991 has been that the Twins come up short. They came up way short last season, losing 99 games. They won't come up...
With Opening Day upon us, we're finally getting around to wrapping up our Season Previews. Five years ago, they began as a semi-serious analysis and ended up as half-assed haiku. We're just gonna go with what we know. As our final preview of the 2012 season, and polishing off our preview of the American League Central, let's check out the Minnesota Twins. Pavano...
It has become a tradition for me to go to at least one Yankee game a year, which is not always an easy thing to swing, considering how expensive ticket prices are - c'mon, Steinbrenners! Don't you make enough money charging me $12 for a beer????The tradition has also been to go to a game where the visiting team is the Minnesota Twins - if you're asking why, you obviously...
MINNEAPOLIS First baseman Kent Hrbek won two World Series titles with his hometown Minnesota Twins. Now, Hrbek will be immortalized with a bronze statue of his likeness that will stand outside Target Field. The Twins officially announced Wednesday that Hrbek's statue will be unveiled Saturday, April 14 before Minnesota hosts the Texas Rangers. It will be outside Gate 14, which...
MLB News

Delivered to your inbox

You'll also receive Yardbarker's daily Top 10, featuring the best sports stories from around the web. Customize your newsletter to get articles on your favorite sports and teams. And the best part? It's free!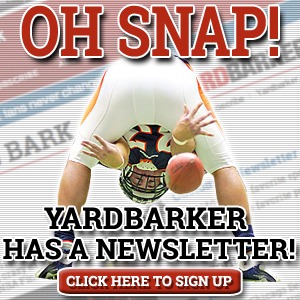 Latest Rumors
The Backyard

Today's Best Stuff

For Bloggers

Join the Yardbarker Network for more promotion, traffic, and money.

Company Info

Help

What is Yardbarker?

Yardbarker is the largest network of sports blogs and pro athlete blogs on the web. This site is the hub of the Yardbarker Network, where our editors and algorithms curate the best sports content from our network and beyond.