Found December 05, 2012 on Pirates Prospects:
PLAYERS:
Angel Pagan
,
Shane Victorino
,
Russell Martin
,
Josh Hamilton
,
Adam LaRoche
,
Nick Swisher
,
BJ Upton
,
Albert Pujols
,
Prince Fielder
,
Aramis Ramirez
,
Michael Cuddyer
,
Josh Willingham
,
Carlos Pena
,
Mike Napoli
,
Jonny Gomes
,
Garrett Jones
,
Michael McKenry
,
Clint Barmes
,
Manny Parra
,
Matt Hague
TEAMS:
San Francisco Giants
,
Los Angeles Dodgers
,
Pittsburgh Pirates
,
Texas Rangers
,
Washington Nationals
,
New York Yankees
,
Atlanta Braves
,
Los Angeles Angels
,
Detroit Tigers
,
Milwaukee Brewers
,
Colorado Rockies
,
Minnesota Twins
,
Tampa Bay Rays
,
Boston Red Sox
We've seen some crazy deals this off-season. Angel Pagan received four years and $40 M. Shane Victorino signed today for three years and $39 M. You could even argue that Russell Martin's two years and $17 M deal seems high. I started looking at the deals that have been signed this year, comparing them to last year. My theory was that this year would produce a higher cost per WAR, all due to the additional revenue that will be pouring in to Major League Baseball in the next few years with the new TV deals. I was surprised to find out that I was wrong. I looked at the position players from 2011 and 2012 who received $3 M or more per year. The $/WAR figures for each year: 2011: $3.42 M/WAR 2012: $3.13/WAR It's important to note that there are some big players who haven't signed. Josh Hamilton is still out there, along with Adam LaRoche and Nick Swisher. But I doubt they're going to drive the average up to a significant increase over the 2011 average. Note that I only focused on hitters for the following reason. After seeing the basic cost per WAR was lower, I wanted to look at the matter a little closer. It seemed that Angel Pagan and Shane Victorino were ridiculously over-paid. I took the average WAR for each over the last three seasons. Victorino's contract pays him $3.02 / WAR. Pagan's pays him $2.70 / WAR. Those are ridiculously valuable contracts, and the exact opposite of the reactions you'd expect. It was at this point that I started looking at the numbers from all of the position players who signed for $3 M a year over the last two years. I focused on the hitters because I felt that the difference in actual value versus perceived value could be due to things like defense and base running. Once I got the basic $/WAR figures I wanted to dig a little deeper with each player. I started looking at the career Runs Above Replacement number, to use as a guide for the strengths and weaknesses of a player. All of these numbers can be seen in the chart below. The RAR section is broken down into five categories: Batting, Base Running, Fielding, Replacement, and Positional. Replacement is calculated as 20 runs for every 600 plate appearances in a season. Positional gives positive points if you play a hard position (catcher, shortstop), and negative points if you play an easy position (first base, DH). All of these numbers are from FanGraphs. After I got the numbers together I was lost. So I sent an e-mail to Charlie Wilmoth of Bucs Dugout, David Todd of ESPN 970, and Pat Lackey of WHYGAVS to get their thoughts. I can't say we figured anything out for sure. I think we all were on the same page in struggling to make sense of the contracts this off-season. They did bring up some good points, some of which are reflected below. I also look forward to seeing their thoughts on this subject as the off-season continues. There were a few things that stood out with the data. First, I noticed that players with an above-average $/WAR usually had productive batting numbers. Out of the 2011 players with an above-average $/WAR, 80% had strong batting numbers. From the below-average $/WAR, 31% had strong batting numbers. The below-average $/WAR group had more players who played tougher defensive positions. The players who weren't strong hitting from that group were usually good at two or three other things, like fielding or base running. I think the best example could be Angel Pagan and B.J. Upton this year. Over the last three seasons, Upton has averaged a 3.8 WAR per season, while Pagan has averaged a 3.7 WAR. Despite the very similar results, Upton received $3.96 M per WAR, while Pagan received $2.70 M per WAR. I have their career numbers in the chart above, but let's look at the RAR numbers over the last three years to get a more accurate picture. UPTON Batting: 26.1 Base Running: 14.5 Fielding: 0.4 Replacement: 62.7 Positional: 6.6 PAGAN Batting: 20.1 Base Running: 21.5 Fielding: 1.2 Replacement: 60.8 Positional: 2.9 Both are very similar with the replacement numbers, as both stay healthy and get a lot of playing time. They're also close in fielding. Upton has the positional advantage, although Pagan has moved to center field the last two years. There aren't any huge differences, but the main ones are that Upton has the edge in hitting, and Pagan has the edge in base running. I'll admit when I first saw the contracts for Pagan and Victorino, I immediately went and checked their offensive numbers. I then checked the defensive numbers. I didn't bother checking the base running. And truthfully when I checked the defensive numbers, it was in a "the offense isn't good, so the defense better be great" way. To sum it up, even though I always look beyond offensive numbers, the offense was forming the bulk of my opinion. I wasn't giving the proper credit to defense, and wasn't considering base running. You'd think the latter wouldn't be the case. After watching the Pirates go TOOTBLAN all year last year, you'd think all Pirates fans would realize the value in base running. B.J. Upton (5 years/$75.25 M), Shane Victorino (3/$39), Angel Pagan (4/$40), and Russell Martin (2/$17) all have deals with average annual values that seem over-priced. They also share a common trend in that they're good across the board. They're good (but not great) at hitting, base running, fielding, they play rare positions, and they can be counted on for a full season. If they excel at one thing, it's usually something that is typically under-rated, like defense or base running. Or they're just average to above-average across the board. I think that's what leads to the difference in perception between this year and last year. Last year we saw a lot of strong offensive hitters signing. Albert Pujols, Prince Fielder, Aramis Ramirez, Jose Reyes, Michael Cuddyer, Josh Willingham, and Carlos Pena are a few of the names. This year the offense-first guys (Josh Hamilton, Adam LaRoche, Nick Swisher) haven't signed yet. Instead we're seeing people paid big dollars for their defense and base running, and we're saying those players are over-paid because their offense doesn't match the dollars. We might be correct. David brought up a good point that offensive WAR is "known". It's not that hard to determine how good a hitter someone is. There are still people who look at batting average and RBIs, but for the most part offensive numbers give you everything you need to know. Defense and base running are harder to determine. You can't just look at the numbers. You have to watch the players. UZR is the best method to grade defense, but it's not perfect, and not close to evaluating defense as accurately as we can evaluate offense. Maybe that will change when the Fielding F/X software starts rolling out. For now we have metrics that show the value of defense and base running, but there are question marks with those metrics which don't exist when we're discussing offense. Charlie brought up a good point about the length of these deals. Angel Pagan is 31-years-old. Shane Victorino is 32. As they get older, they'll get slower and become less reliable. That could lead to a loss in speed, which could hurt their defensive and base running skills. This is something that could be debated either way. The aging problem exists for strong hitters as well. You could argue that a player with good hitting skills and nothing else would be more at-risk of losing value due to age. If the bat starts to go, that's all the player had. He can't fall back on his defense. You could also argue that guys like Victorino, Pagan, and Martin are athletic enough that they should remain in good shape as they get older, keeping their skills sharp for a longer period of time. I'm not sure we could make the same argument about guys who are only strong with their hitting skills. I feel this is an issue with all free agents, since most of them are north of 30 and have played at least six years in the majors already. One thing that really stands out about the group this year is their playing time. Almost all of them have averaged around 600 plate appearances per year in each of the last three years. Russell Martin and Mike Napoli are exceptions, although they're around 450, which is good for catchers. Playing time is another thing that can be over-looked, even though it's such a simple concept. If a guy goes down for part of the year, he's being replaced by a replacement level guy. Once you factor in the replacement level players, a lesser talent who is healthy over a full season can provide more value than a better talent who is healthy for half the season. I don't know what we can take away from this, since we're dealing with a small sample size. We're also early in the off-season, and there are still top guys left to sign. That could change the perception of these deals for better or worse. For now it looks like teams are paying for defense, base running, and durability. The players being signed to these big deals are worth the dollars, even if they don't have the hitting that we usually see with top dollars. I don't think there's a "Moneyball" situation here, although I do find it interesting that someone like Angel Pagan looks like a huge steal at $10 M a year once you start giving credit to his other skills. Just consider that Pagan will put up three times the value that Jonny Gomes will put up, and yet will only make twice as much as Gomes. Gomes is a part time player with strong offensive numbers. Pagan doesn't have the flashy offense, but brings value in every category on the field, and does it as a full-time player. No one really said anything when Gomes signed for $5 M a year, but Pagan signing for $10 M a year was ridiculous. I think a big part of this is our perception. Even with the new age of stats, there's still a tendency to focus primarily on offense. Pat pointed out that Garrett Jones (1.9 WAR), Michael McKenry (1.9) and Clint Barmes (1.7) all had the same value to the Pirates last year. Yet if you asked people who the most valuable was from that group, most people would probably pick Jones. Jones gets there from the bat. Barmes and McKenry get there with defense and by playing a tougher position. With Barmes, a 5 M per year deal was heavily criticized, and people would probably celebrate if he was traded. Yet Garrett Jones is projected to make $4.4 M this year, and based on my "Pirates trade" Twitter search, there's going to be plenty of angry people if he gets traded. The funny thing about that is they both have the same value to the team, and they both are close in salary range. This will be an interesting topic to follow as the off-season goes on. There are a lot of ways you could look at this, and we really don't know for sure what the motivations are with these deals without clubs coming out and telling us exactly why they felt X amount was worth Player A. It looks like guys like Pagan are coming in at below-market prices, even when their prices seem high. Again, that could be a sample size issue, but I do find it interesting that the two biggest Pirates free agents (Russell Martin, Clint Barmes) are both weak with the bat, but have strong defensive value, stay healthy, aren't liabilities on the bases, and play premium positions. If that is a growing trend, and those types of players are coming at a value when you look beyond offense, then the Pirates are on the right side of this trend. Links and Notes **Pre-order your copy of the 2013 Prospect Guide, which is expected to be released next week. **Pirates Interested in Manny Parra. **Pirates Aiming High With Garrett Jones Trade Talks. **Matt Hague Outrighted to Indianapolis. **Winter Leagues Recap: Two Hits for Marte, Garcia's Debut.
Original Story:
http://feedproxy.google.com/~r/Pirate...
THE BACKYARD
BEST OF MAXIM
RELATED ARTICLES
We have already run two pieces on Shane Victorino since he signed his new contract with Boston by Eno here and by Michael Barr at RotoGraphs. They are both fine pieces in their own right, but one issue that needs more discussion is Victorino's platoon split. As people noted elsewhere in the signing's aftermath (and analyzed in some detail earlier this season by Jack Moore),...
NESNShane Victorino has agreed to a three-year contract with Boston, according to Alex Speier of WEEI. Victorino is expected to take over right field for the Red Sox, though he's played the majority of his career in center.Last season, split between the Dodgers and Phillies, he had 11 home runs and 55 RBIs with 39 stolen bases while batting .255 with a .704 OPS. Victorino has known...
The center field market continues to shrink, as Angel Pagan has re-signed with the San Francisco Giants for four years and $40 million. Pagan's signing comes on the heels of BJ Upton signing with the Braves and Denard Span getting dealt to the Nationals last week. Pagan was acquired by the Giants prior to the 2012 season from the Mets in exchange for fellow center fielder...
Another outfield bat is off the market, as Shane Victorino has signed a three-year, $39 million deal with the Boston Red Sox. Victorino will apparently serve as the team's every day right fielder with newly signed Jonny Gomes taking a lion's share of the plate appearances in left. The 32-year old was primed for a big payday this offseason, but offensive struggles took...
Center fielder Angel Pagan earned a World Series ring in his first season with the San Francisco Giants. But he did not know until Monday whether it would be his last season with the team. Pagan and the Giants reached agreement Monday on a four-year, $40 million contract, a source told FOXSports.com senior MLB writer Ken Rosenthal. Pagan also drew interest from the Philadelphia...
Shane Victorino is the latest free agent to sign with the Boston Red Sox. The Red Sox ranked at the bottom of the AL East last season and are out to make sure that does not happen again in 2013. Victorino will join Mike Napoli who also signed a three year deal worth $39 million days ago. The Red Sox will use Victorino in right field next season. He hit .255/.321/.383 with 11 home...
Backup catcher ✓ First baseman/catcher ✓ Two catchers
The Globe's Nick Cafardo is reporting (on Twitter) that the Red Sox have offered free agent outfielder Shane Victorino a three-year, $38 million deal. Ken Rosenthal has since tweeted that the deal is for $37.5 million. Cafardo further says that Boston is the 'frontrunner' and that there is 'optimism' a deal will get done. Victorino would take over right field...
Photo: Wikipedia Commons Cross another name off of the Phillies potential center field board. Ken Rosenthal of Fox Sports reports that the San Francisco Giants and centerfielder Angel Pagan, a Phillies target, are close to agreement on a new deal: Sources: Pagan close to re-signing with #SFGiants. — Ken Rosenthal...
The reported Shane Victorino signing may not mean the Red Sox are done signing free-agent oufielders. The Red Sox could still trade Jacoby Ellsbury, according to Pete Abraham of the Boston Globe. If Ellsbury is moved, that would push Victorino to his more natural position — center field — and reopen the possibility of signing Cody Ross, Josh Hamilton, or another free agent right...
Major League Baseball's winter meetings always bring their fair share of rumors, signings, and significant trades. This year, the Philadelphia Phillies have been linked to almost every big name player on the market. Their number one need, of course, is a starting centerfielder to take the place of former Phillie Shane Victorino. Victorino just inked a three-year, $39 million...
By MICHAEL SCOTT Special to FOXSportsDetroit.com You've all heard by now about the financial cliff the country is facing. Here in Michigan, we've certainly been hit hard enough by the economy over the past few years. But I think I've figured out the answer. We should all move ... to Nashville, Tenn. That's right, the site of baseball's winter meetings has become...
MLB News

Delivered to your inbox

You'll also receive Yardbarker's daily Top 10, featuring the best sports stories from around the web. Customize your newsletter to get articles on your favorite sports and teams. And the best part? It's free!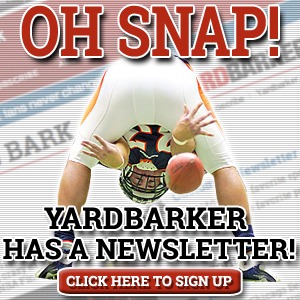 Latest Rumors
Best of Yardbarker

Today's Best Stuff

For Bloggers

Join the Yardbarker Network for more promotion, traffic, and money.

Company Info

Help

What is Yardbarker?

Yardbarker is the largest network of sports blogs and pro athlete blogs on the web. This site is the hub of the Yardbarker Network, where our editors and algorithms curate the best sports content from our network and beyond.