Found August 18, 2012 on Pirates Prospects:
Tonight I saw two different opinions on the upside of Jordy Mercer. First, Kevin Goldstein of Baseball Prospectus tweeted that Mercer could be an "OK utility player" when asked about Mercer's upside. Then, in Kristy Robinson's notebook, Clint Hurdle said that he feels Mercer could eventually be a starting shortstop.
I lean closer to Hurdle's opinion. I think Mercer can be a starting shortstop in the majors. However, I wouldn't expect that anytime soon. Mercer has a track record of getting off to slow starts. He was promoted to Double-A in 2010, and hit for a .702 OPS in 485 at-bats. The next year he returned to Double-A and hit for an .816 OPS in 265 at-bats.
That got him promoted to Triple-A, where he hit for a .689 OPS in 226 at-bats during the second half of the 2011 season. This year he went back to Triple-A and hit for a .778 OPS in 209 at-bats. Both times he improved the second year at the level. Also in both times, he struggled in April during his second year, then went on a tear starting in mid-May, before his eventual promotion.
In his first few at-bats this year, Mercer played well. But lately he's been seeing more playing time, and the numbers have fallen. He has a .159 average and a .532 OPS in 44 at-bats. That's currently lower than the .566 OPS that Clint Barmes has on the year.
I still think Mercer should get playing time. He's benefitting from playing time right now with Walker injured. But when Walker returns, Mercer should get some time at shortstop. I wouldn't give him a lot of time. Considering his slow start history, it would be better to ease him in to the position. At this point I don't think he'd be much of an upgrade over Clint Barmes as an everyday starter. But picking favorable matchups for him and giving him the occasional start could allow him to put up better results than he would as an everyday guy. And in the best case scenario, it could speed up the development process and help get him beyond his slow adjustment period at the new level.
Links and Notes
**The Pirates beat the Cardinals 2-1.
**Pirates Notebook: McDonald Tosses Best Outing of Second Half.
**Prospect Watch: Big Day For Holt; Kaminska Throws Six No-Hit Innings.
**Indians Hold On To Make Holt's First Homer Count For The Win.
**Jameson Taillon Promoted to Double-A.
**A Behind the Numbers Look at Jameson Taillon's 2012 Season.
**Pirates Hoping Extra Side Helps McDonald Get Back on Track.
**Gerrit Cole Leads Baseball America's Prospect Hot Sheet.
**Pirates Announce Post-Season Ticket Information.
**A Second Pirates Prospect Fails a Test For a Drug of Abuse.
**Minor Moves: Aaron Pribanic, Jonathan Schwind.
**Tomorrow's Starter: Exploring the Arsenal – Lance Lynn.
**Minor League Schedule: 8/18/12.
Original Story:
http://feedproxy.google.com/~r/Pirate...
THE BACKYARD
BEST OF MAXIM
RELATED ARTICLES
Heading in to the 2012 season, if you would have asked me to guess whether Garrett Jones would have returned to the Pirates in 2013, I probably would have said no. The first baseman is making $2.25 M this year, and because arbitration heavily favors home runs, he could very easily double that salary next year in his second of four arbitration years. Jones looked like nothing more...
It's a big day for the top pitching prospects in the system. On the same day that Jameson Taillon was promoted to Altoona, Gerrit Cole ranked number one on this week's Baseball America Prospect Hot Sheet. Cole got the top spot for his two starts over the last week, combining for a 0.79 ERA in 11.1 innings, with a 15:3 K/BB ratio. Last night he struck out nine batters in six innings...
Jose Tabata is heading to join the Pirates in St. Louis according to a source. The outfielder has hit for a .297 clip with Triple-A Indianapolis since being demoted in early July. No word on the corresponding roster move yet. Both Starling Marte (right oblique strain) and Jordy Mercer (right wrist) were injured in the Pirates loss on Saturday night.
TOP OF THE SYSTEM A look at how the current top 20 prospects did today.  Note that this list doesn't include players currently in the majors. Rankings are from the post trade deadline update. 1. Gerrit Cole, RHP, Altoona (3-5, 3.19) - 6.0 IP, 3 H, 2 R, 1 ER, 0 BB, 9 K, 0 HR 2. Jameson Taillon, RHP, Bradenton (6-7, 3.82) - DNP 3. Luis Heredia, RHP, State College (2-1, 2.28) ...
Three Pittsburgh Pirates trades of note occurred on this date and three former players were born on this date. In his Jolly Roger Rewind, John Fredland takes a look back at a win over the Cubs that came during the 1958 season. The Transactions On this date in 1909, the Pirates traded infielders Alan Storke and Jap Barbeau to the St Louis Cardinals for third baseman Bobby Byrne. The...
TOP OF THE SYSTEM A look at how the current top 20 prospects did today.  Note that this list doesn't include players currently in the majors. Rankings are from the post trade deadline update. 1. Gerrit Cole, RHP, Altoona (3-5, 3.19) - DNP 2. Jameson Taillon, RHP, Altoona (0-0, 0.00) - DNP 3. Luis Heredia, RHP, State College (2-1, 2.28) - DNP 4. Alen Hanson, SS, West Virginia...
There have been four former Pittsburgh Pirates players born on this date, including one that played just one inning of one game. In his Jolly Roger Rewind, John Fredland covers a doubleheader against the Reds from the 1990 season. Before we get to the former players, one current player has a birthday. Relief pitcher Chad Qualls turns 34 today. He came to the Pirates from the Yankees...
Old McDonald got a win, K, K, K, K, K! And in this win he struck out seven….Yes, James McDonald finally showed flashes of his first half form again last night, pitching 6.0 innings, surrendering just 2 hits, 0 ER, and striking out 7 for his 11th win.  It was a huge rebound for J-Mac, who's been downright awful since the All-Star break. Pirates GM Neal Huntington decided to give...
James McDonald halted a string of ineffective starts with six innings of two-hit ball, helping the Pittsburgh Pirates beat the St. Louis Cardinals 2-1 Friday night in a matchup of NL Central playoff contenders. Andrew McCutchen singled and scored on a passed ball in a two-run fourth for the Pirates, who also scored on a wild pitch that inning. Pittsburgh totaled 41 runs during its...
Your browser does not support iframes. Hanley Ramirez has developed this weird little celebration where he takes his hand and makes circles around his eyes, either like he's wearing glasses or taking a picture. We don't really know the true meaning of the charade, but it's something along those lines. What we do know is A.J. Burnett does not appreciate it. Ramirez hit a two...
Garrett Jones hit two three-run homers, A.J. Burnett became the first Pirates pitcher with 15 wins in 13 years, and Pittsburgh avoided a four-game sweep with a 10-6 victory over the Los Angeles Dodgers on Thursday. Jones had a career-high six RBIs, and Pedro Alvarez also homered for the Pirates, who had lost six of seven. The Dodgers, who lead the NL West by a half-game over San...
Recap What's more important, the win or Jmac's great start? I think they are about equal.  We need two things to happen in this series: Series Win Pitching Revival It doesn't start and end with this start from Jmac, both in his rebound or the season's.  The whole staff needs to turn it around. Still [...]
Pirates News

Delivered to your inbox

You'll also receive Yardbarker's daily Top 10, featuring the best sports stories from around the web. Customize your newsletter to get articles on your favorite sports and teams. And the best part? It's free!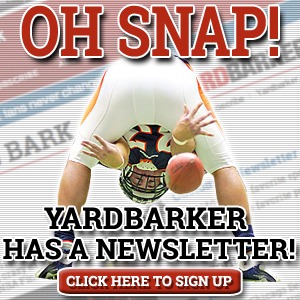 Latest Rumors
The Backyard

Today's Best Stuff

For Bloggers

Join the Yardbarker Network for more promotion, traffic, and money.

Company Info

Help

What is Yardbarker?

Yardbarker is the largest network of sports blogs and pro athlete blogs on the web. This site is the hub of the Yardbarker Network, where our editors and algorithms curate the best sports content from our network and beyond.