Found December 04, 2012 on Pirates Prospects:
PLAYERS:
John Lannan
,
Tom Gorzelanny
,
Manny Parra
,
Jair Jurrjens
,
Mike Pelfrey
,
Neal Huntington
,
Kevin Correia
,
Joel Hanrahan
,
Garrett Jones
TEAMS:
Pittsburgh Pirates
,
Washington Nationals
,
Milwaukee Brewers
,
Atlanta Braves
,
New York Mets
,
Chicago Cubs
The Pittsburgh Pirates are looking for pitching this off-season, and several pitchers just hit the open market as non-tenders. Rob Biertempfel and Tom Singer both reported today that the Pirates have shown interest in several of the non-tendered pitchers, specifically looking at left-handers John Lannan, Tom Gorzelanny, Manny Parra, and right-handers Jair Jurrjens and Mike Pelfrey. None of these guys are going to be big signings. There's a reason they were non-tendered recently. That said, all five would be capable of handling a back of the rotation spot, which is what the Pirates are looking for. Here are my thoughts on each player. John Lannan - We heard about Lannan specifically today, and I shared my thoughts here. Lannan doesn't have flashy numbers, with a career 4.71 K/9 ratio. He would benefit from pitching in PNC Park as a left-handed pitcher with a career 53% ground ball rate. His advanced metrics have him as a pitcher in the 4.50 ERA range. He's always played above the advanced metrics, and a lefty with an extreme ground ball rate in PNC Park would make it more likely that he could repeat his career 4.01 ERA. He's also an innings eater, which could help the Pirates. Tom Gorzelanny - For all of the Neal Huntington trades that have been criticized, the Gorzelanny trade made the least amount of sense to me. Gorzelanny was a young pitcher who was struggling, but was a year removed from a good season. The Pirates traded him when his value was low, at a time when they were desperate for pitching and trading for prospects at low values. For some reason, Gorzelanny hasn't been appreciated by his other teams. The Cubs had him in the rotation for most of 2010, and watched him put up a 4.09 ERA in 136.1 innings. He was traded to Washington, where he split time between the rotation and bullpen in 2010. He put up a 4.03 ERA in 105 innings. Last year he worked mostly in relief, with a 2.88 ERA in 72 innings. All three years he had good strikeout numbers, and his xFIP was in the 4.00-4.30 range. He's been more of a flyball pitcher, with a career 41.2%, but he's been effective and has been more dominant than some of the other guys on this list. Manny Parra - Parra is similar to Lannan. He's a lefty with a good ground ball rate, although not as good as Lannan. Parra's career ground ball rate is 48.4%. He's been very dominant, with a career 8.4 K/9. The problem is that his control has been an issue, with a career 4.6 BB/9. His advanced numbers have been much better than his actual numbers. He has a 5.12 ERA, but a 4.08 xFIP in his career. Last year he posted a 5.06 ERA in 58.2 innings in relief with Milwaukee, with a 9.4 K/9 and a 5.4 BB/9. His xFIP was 4.11. He could benefit from PNC Park, and the strikeouts are intriguing, but the control problems are a big red flag. Jair Jurrjens - Pirates fans may remember that Jurrjens was rumored to be offered to the Pirates in exchange for Jack Wilson in 2007. The right-hander was dealt to Atlanta, where he immediately put things together, with strong seasons in 2008 and 2009. He's gone downhill the last few years. His 2.96 ERA in 152 innings in 2011 was strong, but his 4.23 xFIP was much lower. He's seen his strikeout rate drop from 6.7 in 2010 to 5.3 in 2011 to 3.5 in 2012. In 2012 he had a 6.89 ERA in 48.1 innings. The most concerning thing is his lost velocity. He averaged 91 MPH with his fastball from 2008-2010. In 2011 his fastball dropped to 89.1 MPH, and dropped again to 88.6 MPH in 2012. His slider has also dropped from 80 MPH in 2008-2010, going down to 79.2 in 2011 and 77.9 in 2012. The decline in strikeouts and the loss in velocity are both red flags. Jurrjens doesn't look like the same pitcher he was in 2008-2009. Mike Pelfrey - He only threw 19.2 innings in 2012, missing time with an injury. His ERA has been hot and cold, and seems to be good every other year. No matter if the ERA is good or bad, his xFIP has been around 4.50. He doesn't strikeout a lot, with a career 5.1 K/9. He's a right-hander, but wouldn't be impacted by PNC as much as other right-handers due to his career 48.6% groundball rate. Prior to his shortened 2012 season, Pelfrey had four years in a row with 180+ innings. He seems like just the type of pitcher the Pirates go for: 6′ 7″, 250 pounds, and throws 92-94 MPH. His value really comes with his ability to eat innings. Lannan isn't the most flashy of the group, but he fits PNC Park the best. Gorzelanny is a guy who I feel is under-rated, and would be a good choice as a sleeper for the rotation, or a strong bullpen option. I'm not high on Jurrjens. He's just a name at this point, and is far removed from what made him successful those first two years. Pelfrey or Parra wouldn't be bad. Parra has control issues, and Pelfrey reminds me of a harder throwing Kevin Correia. Both guys would be better in the bullpen, and look like number five starters. Then there's Jeff Karstens, who I talked about last week. I'd probably take Lannan over Karstens due to PNC, but Karstens would be a close second due to his numbers when healthy. With all the guys on this list, the Pirates are looking at back of the rotation guys and innings eaters at best. Links and Notes **Pre-order your copy of the 2013 Prospect Guide, which will be shipping in a few weeks. **Winter Meeting Notes: Big Moves, Grilli, Jones, McPherson. **Joel Hanrahan's Trade Market. **Garrett Jones and the Orioles: Actual Rumors or Connecting the Dots? **Pirates Interested in John Lannan. **Winter Leagues Recap: Fuesser and Welch Named to All-Star Team. **Pittsburgh Pirates 2012 Winter Meetings Preview. **Seattle Interested in Garrett Jones. **Pirates Sign Mike Zagurski to a Minor League Deal.
Original Story:
http://feedproxy.google.com/~r/Pirate...
THE BACKYARD
BEST OF MAXIM
RELATED ARTICLES
A few notes as day one of the winter meetings is coming to a close. **If you're expecting a big follow up move to the Russell Martin signing, it doesn't seem like it will happen this week, or possibly at all. Rob Biertempfel has the following from Neal Huntington. #Pirates GM Huntington re:chance for big move at winter meetings:"For us, biggest move we were going to make this...
Earlier today, Rob Biertempfel had a note about two American League teams who said no thanks to trading for Joel Hanrahan. Biertempfel follows that up with a good rundown of Hanrahan's trade market. He notes that the Pirates have been shopping Hanrahan for several weeks now. He also mentions that one scout was "shocked" at how low the initial asking price was for the closer...
The Pittsburgh Pirates have outrighted first baseman Matt Hague to Indianapolis, according to the MLB.com transactions page. It appears the move happened at the end of last week, although I don't believe it was announced and this is the first I've noticed it. Hague was designated for assignment last week when the Pirates acquired Zach Stewart, Vin Mazzaro, and Clint Robinson...
In a light day of Winter League action yesterday, Starling Marte went 2-for-4, with two singles and a run scored.  He now has a .320/.394/.485 line in 25 games. Marte started the season off showing improved plate patience, but has hit a wall the last eight games. After having 11 walks through just 17 games, Marte has failed to draw a walk in his last eight games, striking out six...
Read Part 1 of the series right here. Last time, we examined the good and bad of Pittsburgh Pirates' owner Bob Nutting, President Frank Coonelly, and General Manager Neal Huntington.  Here, we'll take a look at the positives and negatives of some of the Pirates' other decision makers. Clint Hurdle, Manager Hurdle; Image credit carpetbaggery The Good:  Hurdle was a well-respected...
The Pittsburgh Pirates are shopping Garrett Jones. The Baltimore Orioles are looking for a power bat. There are a lot of articles coming out about the Orioles possibly being interested in Jones. It's hard to tell if these are based on any actual discussions, or if it's a case of people connecting the dots. The Orioles want a power bat and could trade pitching to get that. The...
The Pirates Prospects 2013 Prospect Guide should be completed by this weekend, with the final transactions for the book coming on Thursday. Depending on how long it takes for the publisher to print the book, the books could be shipped out by the end of next week. The 2013 Prospect Guide has been on pre-sale on the products page of the site. You can buy the book for $25 shipped, or...
We've already heard that the Pirates are interested in left-handed pitcher Manny Parra, among other recently non-tendered pitchers. Tom Haudricourt of the Milwaukee Journal Sentinel had an update on Twitter, pointing out that the Pirates and the Mets were both interested in Parra. As I noted last night, Parra would be an interesting option for the bullpen, but his lack of control...
In Winter League action from last night, Starling Marte went 1-for-4, with his fourth triple of the DWL season. He also reached on an error in the second, but was thrown out stealing for his first caught stealing in nine attempts. Marte has tripled in three of the last six games. Anderson Hernandez went 1-for-3, with a walk and his first home run of the DWL season. He now has a ...
With one day of the winter meetings behind us, there wasn't much action on the Pittsburgh Pirate front. In a press conference at the end of the day, Neal Huntington admitted that Joel Hanrahan's probably not as valuable on the trade market now as he was six months ago (this is kind of common sense, of course, though it's not like they could've done anything given...
Here are a few tweets you might have missed in the wild ride that the second day of the Winter Meetings… According to Joel Sherman, the Mets looked into John Lannan – apparently as insurance to fill out their rotation if they trade RA Dickey. Lannan was recently non-tendered by the Nationals, where he has spent his entire MLB career to this point. He has gone 42-52 with a 4...
The 2012 Winter Meetings are in mid-meeting form. R.A. Dickey is going to be traded. No, wait, he's going to be extended. Jonathon Niese is the one who will move. No, wait, the return won't be big enough so he's staying put. Mets are interested in John Lannan. No, wait, he'll want too much money. Jason Bay is going to sign with the Mariners. That one will stick...
MLB News

Delivered to your inbox

You'll also receive Yardbarker's daily Top 10, featuring the best sports stories from around the web. Customize your newsletter to get articles on your favorite sports and teams. And the best part? It's free!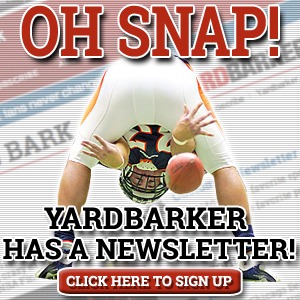 Latest Rumors
Best of Yardbarker

Today's Best Stuff

For Bloggers

Join the Yardbarker Network for more promotion, traffic, and money.

Company Info

Help

What is Yardbarker?

Yardbarker is the largest network of sports blogs and pro athlete blogs on the web. This site is the hub of the Yardbarker Network, where our editors and algorithms curate the best sports content from our network and beyond.