Found February 12, 2013 on Pirates Prospects:
James McDonald had a great first half and a horrible second half in 2012. Pittsburgh Pirates fans have a tendency to expect the worst. It's not really any fault of their own. In the last 20 years, pretty much every bad thing that could possibly happen to the team has happened. You reach a point where the team looks like a true contender in July, to the point where you actually believe it. Then the team has one of the worst collapses ever in the final two months of the year. It's almost like the Pirates are a living example of Murphy's Law. The problem is that some Pirates fans take it too far. They allow Murphy's Law to be their reality. Expecting anything other than the worst possible outcome is foolish and optimistic. It's only realistic if you're expecting the worst. Again, you can't blame these fans. We've seen the worst outcomes in a great majority of situations over the last 20 years. But that doesn't mean every situation going forward will only end up as the worst case scenario. This off-season, James McDonald has become the poster boy for the Pirates version of Murphy's Law. Every time McDonald is mentioned — whether it's when the Pirates tendered him a contract, agreed to a one year deal, or just any talk about him being in the rotation — I always get a few comments about how McDonald is horrible. The people commenting about how McDonald is a horrible pitcher are right — depending on which James McDonald you're looking at. After the All-Star break last year, McDonald was horrible. He put up a 7.52 ERA in 61 innings, with a 51:38 K/BB ratio. Why would any team give a guaranteed rotation spot, and just north of $3 M, to a guy who puts up those types of numbers? The answer lies in his first half numbers. Prior to his implosion, McDonald had a 2.37 ERA in 110 innings, with a 100:31 K/BB ratio. In the first half of the season he looked like an ace. It was like someone flipped a switch at the All-Star break and turned him into a 4-A starter for the second half. If we go back a bit further, McDonald had a 4.21 ERA in 171 innings in 2011, with a 142:78 K/BB ratio. He had a 4.21 ERA in 171 innings in 2012, although his xFIP was worse in 2011 (4.46 vs 4.21). He saw slight improvements in his strikeouts, walks, and home runs. His BABIP in 2012 was lucky (.269 vs .302 in 2011) and his LOB in 2012 dropped to around the league average of 70.8%. Looking only at the second half of McDonald's 2012 season, and assuming that's what we can expect going forward, is the wrong approach. Saying that McDonald shouldn't be guaranteed a rotation spot because of that second half ignores the larger sample of results. It's the same reason you shouldn't say McDonald could be an ace this year because of his first half. He was two different pitchers, each for half a season, and neither version defines him going forward. What we can expect going forward is probably closer to the overall results. The last two years he had a 4.21 ERA in 171 innings both times. Last year his advanced metrics lined up exactly with that 4.21 ERA. So if you're putting expectations on McDonald for the 2013 season, that's probably a good place to start. He probably won't have a hot and cold season like he did in 2012 to get there. He also could end up better or worse than those numbers, but the 4.21 range is the most likely scenario. That's the type of pitcher you pay $3 M and guarantee a rotation spot. It's only when Murphy's Law kicks in that McDonald starts to look like a guy who shouldn't be guaranteed a rotation spot, and shouldn't be making $3 M. Of course, that's probably true of any player if you only look at their bad performances, and ignore everything else in their career that was good. Unfortunately, that's what Pirates fans have been trained to do, just because the bad outcomes seem to be what always wins out. Links and Notes **The 2013 Prospect Guide is now available. The 2013 Annual is also available for pre-sales. Go to the products page of the site and order your 2013 books today! **Spring Training 2013 Position Battles: The Rotation. **Tyler Gaffney Returning to Football.
Original Story:
http://feedproxy.google.com/~r/Pirate...
THE BACKYARD
BEST OF MAXIM
RELATED ARTICLES
Baseball Prospectus released a list of nine breakout candidates, with each writer picking one player to have a breakout season in the majors in 2013 (h/t Rumbunter). One of the breakout candidates was Travis Snider, who looks to be the favorite to win the starting right field job. Hudson Belinsky picked Snider as his breakout player, noting that the outfielder "could have a very...
Last night we heard that the Pittsburgh Pirates were close to a deal with Brandon Inge. This morning the team made the move official via press release. Inge is coming in on a minor league deal with an invite to Spring Training. There are now 61 players in camp. The Spring Training tracker has been updated.
Happy pitchers and catchers day! The Bucs (well, some of them) are in Bradenton, meaning we can officially declare that baseball season has begun!  Here are some of the most important things you should be paying attention to this spring: Who's the 5th starter? Francisco Liriano is a Bucco, but it doesn't sound like he'll be ready to start the season. That means there would...
With pitchers and catchers reporting today, and Spring Training starting up this week, we will be previewing the position battles to follow throughout the Spring. To keep track of the players who are in camp, and the updated status of each position battle, check out the 2013 Pittsburgh Pirates Spring Training Tracker. The Pirates have done a lot since the trade deadline to address...
With pitchers and catchers reporting today, and Spring Training starting up this week, we will be previewing the position battles to follow throughout the Spring. To keep track of the players who are in camp, and the updated status of each position battle, check out the 2013 Pittsburgh Pirates Spring Training Tracker. The Pirates only have one established outfielder at the major...
My initial approach with the Brandon Inge news tonight was the same as any minor league signing: acknowledge that it happened and move on. Danny Knobler reported that the Pirates are close to a minor league deal with Inge, who turns 36 this season. Like 99% of minor league deals, this one comes with no risk, and a small chance to provide some sort of reward. For that reason, there's...
 Brandon Inge is 35 years old and still reinventing himself.  The diminutive catcher turned third baseman looks to extend his career again, this time as a member of the Pittsburgh Pirates.  Inge agreed to a minor league deal yesterday that includes an invitation to the Pirates major league camp. Only 5'11" 190 lbs., the Lynchburg, Virginia native spent his...
Baseball players seem to suffer the most bizarre injuries imaginable.Take new Pittsburgh Pirates pitcher Francisco Liriano for example. The southpaw inked a one-year deal with the Buccos this past Friday, however, the signing almost didn't come to fruition.In December, Pittsburgh and Liriano were reportedly close to agreeing to a contract before it was announced that Liriano...
Spring training is hurtling towards us at a rapid pace, but the Pirates are apparently still filling out the fringes of their spring roster. While everyone was watching burning cabins and presidential speeches last night, the Pirates were signing Brandon Inge to a minor league deal. Inge, of course, spent most of his career in Detroit before being released by the Tigers in April...
Last year Michael McKenry turned into a real bright spot for the Pittsburgh Pirates.  No one really expected him to come out of nowhere and have a pretty fantastic season. Michael McKenry is a lot like Josh Harrison in my mind, though he has been much more successful. McKenry is generally derided to a point…
Pirates News

Delivered to your inbox

You'll also receive Yardbarker's daily Top 10, featuring the best sports stories from around the web. Customize your newsletter to get articles on your favorite sports and teams. And the best part? It's free!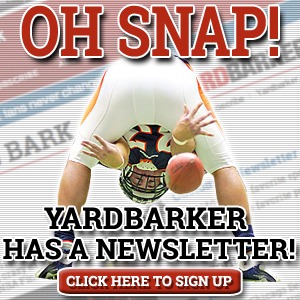 Latest Rumors
Best of Yardbarker

Today's Best Stuff

For Bloggers

Join the Yardbarker Network for more promotion, traffic, and money.

Company Info

Help

What is Yardbarker?

Yardbarker is the largest network of sports blogs and pro athlete blogs on the web. This site is the hub of the Yardbarker Network, where our editors and algorithms curate the best sports content from our network and beyond.