Found March 14, 2013 on Pirates Prospects:
PLAYERS:
Yamaico Navarro
,
Jhondaniel Medina
,
Wandy Rodriguez
,
Gerrit Cole
,
Josh Bell
,
Jameson Taillon
,
Luis Heredia
,
Jin-De Jhang
,
Alex Fuselier
,
Erik Turgeon
TEAMS:
Pittsburgh Pirates
,
Baltimore Orioles
In 2009 the Pittsburgh Pirates spent a lot of money on prep pitchers in the middle rounds. The hope was that one of those pitchers could one day emerge as a top of the rotation option, which is something the Pirates hadn't seen in their system for a long time. So far none of those pitchers have emerged as anything close to top of the rotation guys. Here is a rundown of what the Pirates have from each pitcher. 2nd Round – Brooks Pounders: Traded for Yamaico Navarro, who was traded for Jhondaniel Medina. 4th Round – Zack Dodson: Struggled in low-A last year. Still has the potential and stuff to reach the majors, but he has 4th starter upside. 6th Round – Zack Von Rosenberg: The highest paid player at $1.2 M. He was supposed to have the best chance of breaking out. Has been hit hard the last two years due to an elevated fastball. Today he was throwing 80-83 MPH. 7th Round – Trent Stevenson: Retired last year. 8th Round – Colton Cain: Traded with two other players for Wandy Rodriguez. That's not an impressive result, especially when the draft was focused around those prep pitchers. So far the result is a third of the price it took to acquire Wandy Rodriguez, plus two guys who might make the majors but have been struggling in A-ball, and a small right-hander in rookie ball. If you're making an argument against the Pirates drafting skills, the 2009 draft would be the center of that argument. One thing I noticed today is that the 2011 draft is shaping up to be the exact opposite of the 2009 draft. The Pirates went crazy with their spending in 2011, adding Gerrit Cole and Josh Bell with their top two picks. But they also spent on the middle round prep pitchers, and the early results have been more encouraging than the 2009 class. Colten Brewer hit 95 MPH today. 4th Round – Colten Brewer: Was hitting 95 MPH with his fastball today. 5th Round – Tyler Glasnow: Consistently hits 96 MPH with his fastball, and has touched 98. 7th Round – Jake Burnette: Had a minor elbow injury last year, but is healthy now. Was topping out at 90-93 before the injury, with a good curveball. 8th Round – Jason Creasy: Hasn't shown the velocity of the other pitchers, and was hit around in State College. 9th Round – Clay Holmes: He throws 90-93 MPH with a slider that looks like a plus pitch at times. Right now a lot of the 2011 guys are still more potential than results. None of them have pitched above short-season ball, which isn't a negative since last year was their first full season. They're graded on potential and stuff, and what we do know is that none of the guys in 2009 had the stuff that we're seeing from the 2011 group. The 2009 group didn't have one person hitting 95 or higher, let alone two. Colton Cain, Zack Dodson, and Brooks Pounders all worked in the 90-93 range, but never on a consistent basis. So far there's only one player from the 2011 draft who hasn't hit 93 or higher, and that's Creasy. The 2011 prep pitchers also have an advantage. They're just a bonus. The key to that draft was Cole and Bell. If one or more of the prep pitchers makes it, that's just icing on the cake. The 2009 prep pitchers were the key to the draft. The whole draft was focused on them. They also didn't have Cole, Jameson Taillon, and Luis Heredia in the system. For a year, they were the only hope of having a top of the rotation starter one day, and they were pretty much the only pitching prospects the Pirates had. That's not the case at all with the 2011 group. The 2011 guys are still more stuff and potential than results. But so far that potential has definitely been encouraging, to the point that they're off to a much better start than the 2009 class. Daily Photos Here are a few photos from Pirate City today. Wei-Chung Wang throwing to Jin-De Jhang. Dan Gamache 2010 prep pitcher Ryan Hafner Wang 2012 prep pitcher Hayden Hurst 2010 prep pitcher Bryton Trepagnier Links and Notes **Prospect Notebook: Seeing Two Pitchers For the First Time; Brewer Hits 95. **Pirate City Notes: Curry, Rowland, Rivera, Von Rosenberg, Wang. **Chase d'Arnaud Has Torn Thumb Ligament. **Minor Moves: Alex Fuselier, Erik Turgeon. **Keith Law Releases His Top 50 Draft Prospects. **Draft Preview: Top Prep Players Square Off.
Original Story:
http://feedproxy.google.com/~r/Pirate...
THE BACKYARD
BEST OF MAXIM
RELATED ARTICLES
Here are a few injury updates from major league camp, along with a non-injury update. **Chase d'Arnaud, who is dealing with a sprained thumb, is going to have an appointment for an MRI soon. He has been looked at here in Bradenton, but the Pirates and d'Arnaud wanted to get a second opinion. **Garrett Jones (oblique) took some swings in the cage today and played catch. He will...
The minor leaguers take on the Yankees farm system today. The lineups, pitchers, and notes are below. First, a few notes from camp. **Andy Oliver was optioned to Triple-A today. The Pirates plan on stretching him out in minor league camp and using him as a starter. Luis Heredia might not be in West Virginia until the end of April. **Luis Heredia may have a shot at West Virginia this...
With Jerry Sands' demotion earlier this week, it became pretty clear that Jose Tabata will start 2013 out in Pittsburgh, most likely as Travis Snider's primary backup/platoon partner in right field. Tabata's only 24, but this is almost certainly his last chance to play regularly for for the Pirates. If he can't hack it in the early part of this season, Sands will...
Mark Melancon was one of the main pieces in the Joel Hanrahan trade. The Pittsburgh Pirates made their first round of cuts today at the major league level. Two of the players who were cut were Jerry Sands and Stolmy Pimentel, who made up half of the return for Joel Hanrahan over the winter. Almost immediately the complaints started on Twitter about the Hanrahan trade. Most of them...
The fifth weekend of the college season is about to get under way. The Pirates have the #9 and #14 picks in the upcoming June amateur draft. Throughout the college/HS season, leading up to the draft, we will cover the interesting players that are being discussed in the Pirates draft range. There will also be daily notes on past picks by the Pirates who went unsigned. For a recap...
Keith Law has released his top 50 draft prospects for ESPN Insider subscribers. Some of the notable rankings: **Mark Appel is first overall. **The Pirates pick 9th and 14th. Law has Jon Denney at 9th, and Kohl Stewart 14th. Denney is a high school catcher, who Law calls "a good-throwing catcher who receives well, hits and hits for power." Stewart is a prep pitcher who throws...
Bucs right-hander Kyle McPherson pitched well in a 2-1 loss to the Phillies on Thursday. He allowed four hits, but otherwise had no problems in five scoreless innings. McPherson is vying for a spot in the Pirates' rotation and he took a step toward winning the job with his outing. PiratesDugout.com's George Von Benko caught up with McPherson after the game.
Today I got to see two pitchers for the first time. For the last year I've seen Wei-Chung Wang walking around in a red shirt as he recovered from Tommy John surgery. I also saw Hayden Hurst last year in the GCL after the 2012 draft pick signed. However, he didn't pitch in the GCL, so I didn't get to see him throw. Today, both pitchers were on the mound in the low-A game against...
According to a tweet from Rob Biertempfel, infielder Chase d'Arnaud's left thumb injury, which has kept him out of action since late last week, is a torn ligament that may require surgery.  This could keep d'Arnaud out for a considerably longer stretch at an inopportune time for him.  He's trying to regain prospect status after struggling to a 252/325/383 line in AAA last...
When you punch Nyjer Morgan in the face, that's the picture I use when making a post about you. It's just that simple. The Pirates acquired Gaby Sanchez last year from the Marlins in a trade that sent Gorkys Hernandez and a competitive balance pick to the Marlins and Kyle Kaminska to the Bucs, along with Sanchez.…
Wandy Rodriguez made his final appearance in the World Baseball Classic, the final game for any Pittsburgh Pirates player, and he made it count. He shut down Team Puerto Rico for six innings today, en route to a 2-0 win for Team Dominican. Rodriguez got up to 74 pitches, throwing 49 of them for strikes, in a game that decided seeding for the WBC Finals.  Rodriguez allowed just four...
MLB News

Delivered to your inbox

You'll also receive Yardbarker's daily Top 10, featuring the best sports stories from around the web. Customize your newsletter to get articles on your favorite sports and teams. And the best part? It's free!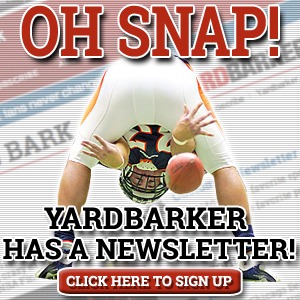 Latest Rumors
Best of Yardbarker

Today's Best Stuff

For Bloggers

Join the Yardbarker Network for more promotion, traffic, and money.

Company Info

Help

What is Yardbarker?

Yardbarker is the largest network of sports blogs and pro athlete blogs on the web. This site is the hub of the Yardbarker Network, where our editors and algorithms curate the best sports content from our network and beyond.