Found April 02, 2013 on Pirates Prospects:
Travis Snider was on the bench today in favor of Gaby Sanchez. We're one game into the season, and already there's a decision made by Clint Hurdle to second guess. The Pirates started Gaby Sanchez over Travis Snider today, putting Garrett Jones in right field. The lineup was announced yesterday, and I withheld my opinion, figuring it could just be a one game move. But it didn't sound like a one game move based on comments by Hurdle today. It sounded more like Hurdle views a lineup with Sanchez and Jones playing everyday as the best lineup the Pirates have. The Pirates could have Jones get the majority of the playing time and still skip starts against left-handers. That would be smart, since Jones is clearly established as a platoon player. Having Sanchez get the majority of the playing time in the lineup is not smart. In his career against left-handers he has a .291/.385/.484 line in 374 at-bats. In his career versus right-handers, Sanchez has a .248/.314/.398 line in 1098 at-bats. Travis Snider isn't exactly a better option. He has a .251/.315/.422 line in 774 at-bats against right-handers. One key difference is that Snider is 25, while Sanchez is 29. There's still a chance that Snider could improve on his numbers. There's little chance that Sanchez will see any improvements. Even in his best years, Sanchez wasn't great against right-handers. In 2010 he had a .742 OPS. It was the exact same in 2011. So in his best seasons, Sanchez only managed to put up a .742 OPS versus right-handers. Snider's career OPS against right-handers is five points lower, and he's still got a chance to improve. The Pirates added both Snider and Sanchez at the trade deadline. They dealt Brad Lincoln to get Snider, and traded a first round compensation pick and Gorkys Hernandez for Sanchez and Kyle Kaminska. The price paid for Sanchez was arguably higher, but the potential from each player should have been clear. Sanchez had a clear history of being a platoon player, and a guy who was barely passable versus right-handers in his best year. There's some value in that, especially when the Pirates have the perfect platoon mate in Jones. Meanwhile, Snider didn't really have a history. He didn't have a real shot at proving himself in the majors, and was looking good before the trade and before his hamstring problems. It's not a guarantee that Snider could finally realize his potential. He could very well continue to be the same player we've seen in his first 963 at-bats in the majors. The hope rests in the fact that he's 25 years old, and hasn't been given a full season to adjust to the majors. He's pretty much in the same situation that Pedro Alvarez was in a year ago. Alvarez was given a chance to adjust to the majors. Based on the early indications, it doesn't look like Snider will get that same chance. There's really no upside to starting Sanchez everyday. Sure, he had a good Spring. But Spring Training stats are largely meaningless. They definitely don't mean as much as his career stats, especially at the age of 29. The best case with starting Sanchez against right-handers seems like the worst case for Snider. Sanchez isn't at the age to improve over his career numbers. Snider still has a shot. The Pirates would be better off sticking with the plan of having Jones and Sanchez platoon, while hoping for a breakout from Snider or Jose Tabata in the outfield. Links and Notes **The 2013 Prospect Guide and the 2013 Annual are both available on the products page of the site. If you order them together, you'll save $5. Get them both just in time for the start of the season. **Today we finished uploading the Major League previews (links below). Tomorrow the minor league season previews will start with Indianapolis and Altoona. Bradenton and West Virginia will be on Wednesday. The minor league season starts on Thursday. **Bats Fail Burnett in 3-1 Opening Day Loss. **Pittsburgh Pirates 2013 Season Previews. **Pittsburgh Pirates 2013 Opening Day Payroll. **Pittsburgh Pirates 2013 Season Preview: 21 Questions to Answer. **Draft Prospect Watch: Week Seven Recap.
Original Story:
http://feedproxy.google.com/~r/Pirate...
THE BACKYARD
BEST OF MAXIM
RELATED ARTICLES
Pittsburgh Pirates ace A.J. Burnett had a pretty rough first game of the season on Monday. His pitching performance was actually quite solid, as Burnett threw 5.2 innings and allowed three earned runs on six hits. He also managed to strike out 10 Chicago Cubs, but the Pirates were unable to give him any run support and went on to lose 3-1. Oh, and then there was the whole exploding...
There's a debate this year about whether the Pittsburgh Pirates have a quality bullpen. Some argue that the bullpen is very talented, with a lot of hard throwers who have put up quality ratios throughout their careers. Others point out the question marks. They believe in the "Proven Closer" theory, which discounts anything Jason Grilli has done. They don't believe Mark Melancon...
The 2013 minor league season begins on Thursday. In the days leading up to the opener, I will be previewing the full season affiliates of the Pittsburgh Pirates. Here is a look at the 2013 Indianapolis Indians, who will feature top prospect Gerrit Cole on their Opening Day roster. Lineup C – Tony Sanchez 1B – Matt Hague 2B – Ivan De Jesus Jr. SS – Jordy Mercer 3B – Jared...
Gregory Polanco (left) and Alen Hanson (right) will try to repeat their 2012 seasons at the next level, and eventually try to make the successful jump to the upper levels. Today I previewed the 2013 Indianapolis Indians and Altoona Curve. Tomorrow I'll go over the Bradenton Marauders and the West Virginia Power. In writing the previews, there's one thing I noticed about the talent...
It is safe to say that A.J. Burnett isn't having a perfect day so far, and an exploding rosin bag is just the icing on the cake of giving up three runs to the Cubs in just 5.2 innings. [Deadspin] Article found on: Next Impulse Sports
Former Pirate minority owner Jay Lustig gave an interview to the Tribune Review in a story that was published late last night in which he gave some perspective on Bob Nutting's reign as owner of the Pirates. I'd recommend reading the whole thing, but the key passage is this: "If you are a small-market franchise, if you want to win, you have to be willing to lose...
Chicago Cubs (0-0, T-1st in NL Central) @ Pittsburgh Pirates (0-0, T-1st in NL Central) Probable Starters: CHC – Jeff Samardzija (0-0, 0.00 ERA) PIT – A.J. Burnett (0-0, 0.00 ERA) "Now we play games that mean something. It's time to go." – A.J. Burnett A.J. Burnett for the first time in his career will take the mound on Opening Day. He went 2-1 with a 1.40 ERA in three...
This should be a game day tradition.
Final: Cubs 3, Pirates 1 (box) WP: Jeff Samardzija (1-0, 0.00 ERA) LP: A.J. Burnett (0-1, 4.76 ERA) SV: Kyuji Fujikawa (1, 0.00 ERA) A.J. Burnett struck out ten batters in his first career Opening Day start, but it wasn't enough as the Cubs scored two runs in the first inning on an Anthony Rizzo home run and led the rest of the way. Cubs starter Jeff Samardzija gave up just two...
Baseball.  It's finally here.  For better or for worse, the Pittsburgh Pirates are once again playing baseball at beautiful PNC Park.  Even today's rain and snow mix couldn't keep away the crowd of 39,078 from watching their beloved (somehow, even if it's too deep down to admit sometimes) Pirates.  The Pirates rewarded their fans with…
The easiest and probably most accurate way to describe the Pirates' 3-1 loss to the Cubs on Opening Day at PNC Park is probably this: it was cold out and when it's cold out, hard-throwing pitchers seem to do well, and as a result AJ Burnett and Jeff Samardzija combined for 19 strikeouts between them in just 13 2/3 innings combined work.  Burnett was particularly awesome...
There is nothing quite like Opening Day. Growing up, I remember going to Opening Day with my father numerous times to Three Rivers Stadium. It was a national holiday for me. I remember being able to miss school to watch baseball. It was literally a dream come true. Even after going off to college and leaving the city of Pittsburgh, I always try to make it back for this glorious day...
MLB News

Delivered to your inbox

You'll also receive Yardbarker's daily Top 10, featuring the best sports stories from around the web. Customize your newsletter to get articles on your favorite sports and teams. And the best part? It's free!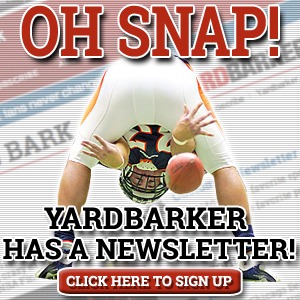 Latest Rumors
Best of Yardbarker

Today's Best Stuff

For Bloggers

Join the Yardbarker Network for more promotion, traffic, and money.

Company Info

Help

What is Yardbarker?

Yardbarker is the largest network of sports blogs and pro athlete blogs on the web. This site is the hub of the Yardbarker Network, where our editors and algorithms curate the best sports content from our network and beyond.