Found July 16, 2012 on Pirates Prospects:
PLAYERS:
Justin Upton
,
Gerrit Cole
,
Starling Marte
,
Brad Lincoln
,
Andrew McCutchen
,
AJ Burnett
,
Jason Kendall
,
Jon Lester
TEAMS:
Arizona Diamondbacks
,
Pittsburgh Pirates
,
Boston Red Sox
,
Kansas City Royals
It was a week ago today that I wrote about why I wouldn't trade for Justin Upton. The main reason was that the price in prospects would be too high, although other reasons included the limited resources for small market teams (Upton would cost an average of $12 M a year).
Today we heard that the Pittsburgh Pirates were emerging as serious bidders for Upton. In those same rumors, we heard that they weren't willing to deal Gerrit Cole or Jameson Taillon, but that they were willing to deal Starling Marte.
That changes a lot in the Upton discussion. If the Pirates could manage to get Upton, and Marte was the only big piece they had to give up, then it's almost a no brainer. I don't see that happening, unless Arizona agreed with Brad Lincoln's trade value and took him as the second part of the deal.
Because a trade centered around Marte as the only top piece would be such a good deal, it raises questions. If the Pirates could get Justin Upton, considered one of the best young players in the game, and they didn't have to give up Cole or Taillon, it would be an amazing deal, to the point where it would be suspicious. Why would Arizona make such a deal, especially when they're looking for major league help, and have Upton under control for three and a half years?
There have been a lot of questions surrounding Upton. First, there's his health. He's had a shoulder injury this year, which could explain his down numbers following a year where he was an MVP candidate. There have been some grumblings that the shoulder is a long term thing.
Then there have been questions surrounding his work ethic and consistency. Arizona owner Ken Kendrick made public comments last month about how Upton needs to be more consistent. There have also been mixed reports about his work ethic and character, although those are more grumblings and speculation.
One alarming trend is Upton's home/road splits. In his career, he has a .924 OPS at home, and a .742 OPS on the road. Even during his MVP season last year he had a 1.033 OPS at home, and a .767 OPS on the road. Players usually play better at home than on the road, but the numbers Upton puts up on the road are alarming. Andrew McCutchen, as a counter example, has a career .901 OPS at home, and an .825 OPS on the road. If you played the game where you take a guy's road numbers and assume that's what he'll hit when he's traded, that .825 OPS isn't bad. Upton's .742 OPS is bad.
My take on Upton's numbers are to defer to his talent. There's either two ways to look at the situation. One, Upton is too talented to believe that he's just a product of Chase Field. The other view would be that Upton is a product of Chase Field, and that his talent isn't good enough to put up good numbers elsewhere. If that's true, then a lot of people are wrong about his skills.
I also don't put too much stock in to the injury concerns, or the makeup concerns. A lot of those things can be blown out of proportion. We heard some of those things coming out of New York about A.J. Burnett, and he's been nothing but the ideal veteran teammate. There are concerns with Upton's slump this year, but going back to his talent, if you think he's got the skills to be considered one of the best young players in the game, that's not a long term concern.
Here's my concern: why is Arizona willing to deal him? You can dismiss the injury from being a long term issue. You can ignore the numbers this year, and the home/road splits. You don't have to believe the speculation about his attitude and work ethic. But even if you dismiss all of these question marks, you're left with the biggest question of all. Why would Arizona deal a guy considered one of the best young players in the game, who is under control for three and a half years, all while they're trying to win at the major league level?
You can dismiss all the concerns about Upton, but that question raises a lot of red flags. Teams don't just deal top young players when they're trying to win. And if Marte was the only top prospect in the deal, that would raise more red flags.
All of these red flags are alarming for the Pirates. With Upton being due $12 M a year on average, the Pirates can't afford to make a mistake. They're not the Yankees or Red Sox. If Upton becomes a bust, they're stuck with him and his contract. There's no going and getting a replacement. There's no adding other pieces to make up for his lost production. Think of the impact Jason Kendall's contract had on this franchise. The same would happen if Upton came to the Pirates and bombed. There are a lot of question marks surrounding Upton, and answering all of them just raises a bigger question of why Arizona would deal him. Because of the questions, it's hard to view this as a slam dunk deal that the Pirates absolutely have to make.
Links and Notes
**The Pirates lost to the Brewers 4-1.
**Pirates Notebook: Sloppy Play Leads to Loss; Tabata Struggling in Triple-A.
**Prospect Watch: Altoona is No Hit, Barnes Homers, Good Pitching From Irwin, Sadler.
**Presley Looking Ready to Return in Indians Win.
**Pirates Emerging as Serious Bidders for Justin Upton.
**Pirates Have Expressed Interest in Jon Lester and Jason Vargas.
Original Story:
http://feedproxy.google.com/~r/Pirate...
THE BACKYARD
BEST OF MAXIM
RELATED ARTICLES
The Justin Upton trade rumors haven't tapered off and one has to wonder why the Diamondbacks would trade a budding young superstar? Upton doesn't turn 25 until August 25th. He is a two-time All-Star, coming off a 31 homer, 88 RBI season and seemed poised to take a titanic leap in 2012. However, at the All-Star break Upton was hitting .273 with just seven homers and 37 RBIs...
  The Justin Upton trade rumors haven't tapered off and one has to wonder why the Diamondbacks would trade a budding young superstar? Upton doesn't turn 25 until August 25th. He is a two-time All-Star, coming off a 31 homer, 88 RBI season and seemed poised to take a titanic leap in 2012. However, at [...]
Justin Upton is a former No. 1 overall pick. At the time of his being drafted, scouts were prone to compare him to Ken Griffey Jr. He is now 24 years old and fresh off a fourth-place finish in the 2011 National League MVP voting. He is the face of the Arizona Diamondbacks and, considering his pedigree and talent, signed to an extremely team-friendly deal for the next several seasons...
Before I get to Friday's game, I got a trade rumor involving the Toronto Blue Jays. I was listening to a Toronto radio station on Wednesday night and the announcer mentioned that Justin Upton from the Arizona Diamondbacks was on the Jays radar screen.  Now I don't know how Upton would fit into the Blue Jays [...]
Justin Upton has power to veto a trade to four teams, sources say.
UPDATE 3:51 PM: Jon Heyman is hearing that there's nothing serious with Justin Upton yet. He also says the Pirates are "probably not a fit" and that they won't include Cole or Taillon. UPDATE 1:16 PM: Jon Morosi reports that the Pirates have a scout in Chicago watching Upton this weekend. UPDATE 12:45 PM: Stark said on Baseball Tonight that the Pirates could get Upton without...
So far the morning trade rumors today surround Justin Upton. Not much is new in the talks, although Jon Morosi of FOX Sports takes a detailed look at the Pittsburgh Pirates. Morosi says that the Pirates have remained in contact with Arizona. He notes that Neal Huntington has refused to part with Starling Marte or Jameson Taillon, although the former is counter to what we heard Sunday...
From Jon Heyman:The Yankees are looking harder at the outfield market than the pitching market, as they still have concerns about Brett Gardner's elbow situation. They've talked to the Phillies about Shane Victorino and the Diamondbacks about Justin Upton, but Upton is a major long shot for them and right now they see the price tag as too high on either. Victorino may...
From Jayson Stark: #Pirates emerging as serious bidder for Justin Upton. More on that and other trade buzz on the 12:30 ET edition of Baseball Tonight! — Jayson Stark (@jaysonst) July 15, 2012 #Pirates so serious about Justin Upton they're sending signals they could include Starling Marte in an Upton deal -- but not Cole or Taillon — Jayson Stark (@jaysonst) July...
The Pittsburgh Pirates continued to search for ways to bolster their roster, with an emphasis on offense, but the big move had yet to drop. They've expressed interest in at least two outfielders, the Diamondbacks' Justin Upton and the Padres' Carlos Quentin, with Upton apparently the preferred choice. The team also is hoping to add a pitcher, preferably one for starting...
Arizona Diamondbacks general manager Kevin Towers told the Arizona Republic on Saturday he has told outfielder Justin Upton he may be traded. Towers said he told Upton: " 'If something gets close.' I said, 'you'll be a part of the process. I'm not going to shock you with something.' "I told him you should look at it in a good way that people...
MLB News

Delivered to your inbox

You'll also receive Yardbarker's daily Top 10, featuring the best sports stories from around the web. Customize your newsletter to get articles on your favorite sports and teams. And the best part? It's free!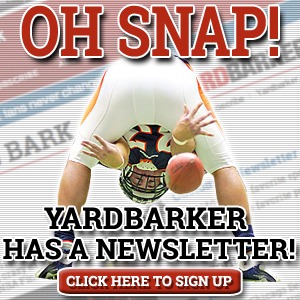 Latest Rumors
Best of Yardbarker

Today's Best Stuff

For Bloggers

Join the Yardbarker Network for more promotion, traffic, and money.

Company Info

Help

What is Yardbarker?

Yardbarker is the largest network of sports blogs and pro athlete blogs on the web. This site is the hub of the Yardbarker Network, where our editors and algorithms curate the best sports content from our network and beyond.