Found August 28, 2013 on Fox Sports Detroit:
DANA WAKIJI FOXSPORTSDETROIT.COM DETROIT -- Justin Verlander may not be having the kind of season he would like on the field, but he's definitely making an impact with his off-field endeavors. Verlander, who already donates his Comerica Park suite to wounded veterans as part of his Victory for Veterans program, has decided to do more for those who have served the country. On Wednesday, Verlander, in conjunction with the Detroit Tigers Foundation, announced a 1 million investment in a new initiative, Wins for Warriors, to support the mental health and emotional well-being of Iraq and Afghanistan veterans and their families in Detroit, Richmond and Norfolk. "I think the stats show it: one in three post-911 veterans need support," Verlander said. "Thats a staggering number. And its not just the men and women that served, its their families as well, that need the help. And, like I said, theyre not going to just throw up their hand and say they need it. So this is kind of a great way to be able to help, like I said, kind of extend your arm and help these men and women." The money will go to two existing programs that already work with veterans and their families, Give An Hour and The Mission Continues. Give an Hour requests that mental health professionals donate an hour of their time each week to offer free mental health services to military personnel and their families. The organization currently has almost 7,000 professionals across the country who have already donated 94,000 hours of service. Verlander's Wins for Warriors will enable Give an Hour to provide two new positions in Detroit and RichmondNorfolk to coordinate services and provide more mental health support and care for the military in both areas. In a statement, Give an Hour founder and president Barbara Van Dahlen said: "We are grateful to Wins for Warriors and to Justin Verlander for recognizing the needs of our military and veteran communities. Justin clearly understands the importance of reaching our service members and veterans in the communities in which they live and he is willing to use his celebrity to ensure that these men, women and families have access to the care they need and deserve." The Mission Continues offers community service fellowships to post-911 veterans to help them develop a sense of purpose and identity outside of their military service. The Mission Continues sponsors veterans in a six-month service and leadership training program in which they volunteer at least 20 hours a week for six months in community organizations. Verlander's Wins for Warriors will help provide three new fellowships, one each from Detroit, Richmond and Norfolk. In a statement, The Mission Continues' vice president of programs, Army veteran Meredith Knopp said: "Justin's support will enable veterans who have a passion for community service to redeploy on a new mission here at home. These veterans are tremendous leaders, who -- given this kind of opportunity -- are ready to tackle and solve tough problems facing their local communities. We recognize the long-term impact on a veteran's successful transition is a win-win for the nation, and is only made possible through generous contributions of partners like Justin and Win for Warriors." Part of Verlander's connection to the military goes back to his days at Old Dominion University in Norfolk, a large naval school. "Some of my best friends from back there are in the Navy, serve in the Navy," Verlander said. "Its just kind of bred into you. Its become part of the culture. You just kind of start to live and breathe it, and even if youre not serving, you respect it. And thats where I was." Verlander said it wasn't one person or circumstance that sparked his interest in starting this initiative. "To be honest with you, its kind of been just a build-up over the years, especially since I started Verlanders Victory for Veterans," Verlander said. "The feedback I got from that, inside the community, was just tremendous. Many people coming up to me, telling me they appreciated the support for the veterans. Some past veterans who would come up to me, on the street, just in passing and (say), Hey, thank you for what you do. Thats something that means a lot to me. "This is something that Im passionate about. Im in a very fortunate opportunity now, and I feel like I wouldnt be here, if not for these men and women, so this is my way to give back." Tigers manager Jim Leyland was impressed with Verlander's initiative. "I couldn't be prouder of Justin, what he did today, it's totally remarkable, commendable." Leyland said. Fans can assist Verlander in his efforts to help veterans. There is a Crowdrise fundraising campaign for Wins for Warriors that goes through the end of the regular season. Verlander will match all donations and donors will have a chance to participate in an on-field event before a game in 2014, receive an autographed baseball or watch a game from Verlander's suite in 2014. Visit JustinVerlander.com or CrowdRise.comJustinVerlander. LEYLAND'S THOUGHTS ON VERLANDER Leyland hasn't heard the various opinions about what might be contributing to Verlander's struggles this season. "I haven't heard anybody chiming in. I don't pay any attention to those people," Leyland said. "I think I'll hold my ground on what I feel about it is that he's a great pitcher with great stuff that's struggled a little bit. I think the silver lining is the fact that we know that he's capable of reeling off five in a row at any time because he's done that in the past." BULLPEN REPORT Bruce Rondon tweaked his back in Tuesday night's rain-filled game but Leyland said he was OK. As for the rest of the bullpen? "I think everybody's pretty much OK," Leyland said.
Original Story:
http://www.foxsportsdetroit.com/mlb/d...
THE BACKYARD
BEST OF MAXIM
RELATED ARTICLES
The Tigers' Justin Verlander is having his worst statistical season in five years and former Detroit ace Denny McLain thinks he knows what's wrong. "Right now his head is moving a great deal when he pitches" McLain told the Detroit News. "That is like a golf swing. When your head is moving in golf you start to play Army golf. Your ball is going left right left right...
Justin Verlander -- author of two no-hitters, winner of a Most Valuable Player award -- is used to making history. Not this kind. Tuesday against the Oakland A's, Verlander needed 44 pitches to get through the first inning. Verlander has thrown more than 1,800 innings in the major leagues, including the postseason. Never before had he expended so many pitches in a single frame...
Justin Verlander is no ordinary pitcher… Last season, JV was the best in the game and can continue to be the best in the game which is why his 12-10 record and 3.73 ERA although not terrible by any means for an ordinary pitcher is WAY off base for the Tigers' staff ace. So what's the problem? Adam Hernandez and Shawn Bell discuss just that in the debut episode of Detroit Sports...
Alright, I think it's finally time to address what might possibly be the biggest elephant in the room during the 2013 season — what the heck is going on with Justin Verlander? And not only that, but is this the end of his reign as an elite starting pitcher?With six years and $160 million left on his new contract, Tigers management and fans definitely don't want to start having...
The Detroit Tigers are almost certainly going to be playing in October. Whether Justin Verlander decides to reclaim his status as staff ace by then remains to be seen. The right-hander continued his up-and-down season Tuesday night, allowing five runs - three earned - in five innings as Detroit lost a rain-shortened game, 6-3 to the Oakland Athletics. Verlander (12-10) needed 44...
via http://opoutofleftfield.blogspot.com/ Some might say that Justin Verlander has been charitable toward opposing hitters this season.  Through Tuesday's start, he was allowing hitters to hit .257 against him.  In comparison, opposing hitters have hit .190 against Max Scherzer and .226 against Anibal Sanchez. On Wednesday, JV's philanthropic attitude contributed to something...
Justin Verlander -- author of two no-hitters, winner of a Most Valuable Player award -- is used to making history. Not this kind.
DETROIT -- Jim Leyland would never acknowledge that he didn't mind losing a game. If there had ever been a time, though, it might have been Tuesday night. When the umpires finally pulled the plug on a rainy 6-3 loss to Oakland, Leyland and the Tigers were facing an ugly situation. Oakland had the bases loaded with no one out in the top of the sixth, and Bruce Rondon had just...
The resurgent A's beat the Detroit Tigers for the second night in a row Tuesday taking a rain-shorted 6-3 decision at Comerica Park in a game called after five and one-half innings. Facing Justin Verlander who beat them twice in the American League Division Series last year the A's scored twice in the first then after falling behind 3-2 tied the game in the third and took...
DETROIT (AP) -- Brandon Moss hit a tiebreaking two-run homer off Justin Verlander, and the Oakland Athletics beat the Detroit Tigers 6-3 in a game cut short by rain on Tuesday night. Seth Smith hit a leadoff homer in the sixth, and Oakland had the bases loaded with no one out when the tarp was pulled on the field due to the weather. It was called after an 80-minute delay. Oakland...
Behind Tommy Milone, the Oakland A's beat Justin Verlander and the Detroit Tigers 6-3 on Tuesday night. Thanks to some persistent and strong rain storms in the Detroit area, though, Bob Melvin and the A's didn't have to walk a tightrope en route to a thrilling win (as they did on Monday night). Instead, Brandon Moss' opposite field two-run homer in the top of the fifth proved...
77-55, first place, 5.5 up on the Cleveland Indians. Rain put a merciful end to the debacle of the 6-3 loss to the A's. It was a forgettable game, but I remember a few things: A. Prince Fielder's 2-run, bases-loaded single to tie the game wasn't just a 2-run, bases-loaded single to tie the game. It was also a fine display of "old style" Prince at the dish, the whole at...
Tigers News

Delivered to your inbox

You'll also receive Yardbarker's daily Top 10, featuring the best sports stories from around the web. Customize your newsletter to get articles on your favorite sports and teams. And the best part? It's free!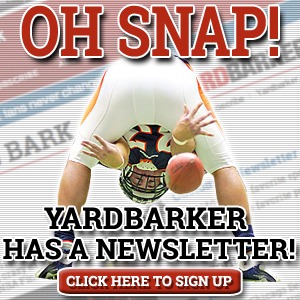 Latest Rumors
The Backyard

Today's Best Stuff

For Bloggers

Join the Yardbarker Network for more promotion, traffic, and money.

Company Info

Help

What is Yardbarker?

Yardbarker is the largest network of sports blogs and pro athlete blogs on the web. This site is the hub of the Yardbarker Network, where our editors and algorithms curate the best sports content from our network and beyond.