Found December 10, 2012 on Pirates Prospects:
PLAYERS:
James Shields
,
Wade Davis
,
Wil Myers
,
Mike Montgomery
,
David Price
,
Matt Moore
,
Jeremy Hellickson
,
Jeff Niemann
,
Joel Hanrahan
,
Garrett Jones
,
Clint Robinson
,
Zack Greinke
,
AJ Burnett
,
Wandy Rodriguez
,
Kyle McPherson
,
Jeff Locke
,
Billy Butler
,
Eric Hosmer
,
Mike Moustakas
,
Alcides Escobar
,
Alex Gordon
,
Bruce Chen
,
Luke Hochevar
,
Jeremy Guthrie
,
Ervin Santana
,
Justin Upton
,
Starling Marte
,
Gerrit Cole
TEAMS:
Tampa Bay Rays
,
Kansas City Royals
,
Pittsburgh Pirates
,
Los Angeles Dodgers
,
Arizona Diamondbacks
The Kansas City Royals and the Tampa Bay Rays made a big trade tonight, with Kansas City acquiring James Shields and Wade Davis in exchange for top prospects Wil Myers, Jake Odorizzi, Mike Montgomery, and Patrick Leonard. That's a pretty big return in prospects, with Myers being one of the top prospects in the game. A lot of the reactions I saw said the Rays clearly won this deal. I'd have to agree. Rather than breaking down this trade, I thought I would take a different look at things. Here are a few things the Pirates, and Pirates fans, can take away from the deal. 1. The Rays Method is the Way to Go This is probably no secret if you've read my work for a long period of time, but there's no team I respect more than the Rays. They are clearly the best run organization in baseball. If baseball was fair, and allowed teams to compete based on smart decisions rather than outspending the rest of the competition, the Rays would have a dynasty. But that's not the case. If you're not in the top half in the league in spending, you're probably not going to have a shot at winning it all. The Rays will never be in that top half. You've got to respect them for this deal. What did they really lose? They traded a good pitcher in James Shields, and Wade Davis could have a shot at being a starter. After the deal the Rays have a rotation of David Price, Matt Moore, Jeremy Hellickson, Jeff Niemann, and one of the new additions. Even without Shields, that's a great rotation. They'd probably be better off in the short term by keeping Shields. They're taking a risk going with one of Montgomery or Odorizzi, rather than keeping Shields and Davis for the rotation. But that risk is worth it when you consider they're also adding one of the top hitting prospects in the game, and Montgomery and Odorizzi are two highly rated prospects themselves. With Price, Moore, and Hellickson, there's not much pressure on either pitcher to provide an impact. They're in the perfect situation for young, un-established starters. That's how the Rays do things. They're not afraid to deal guys with a year or two of control remaining, get good value in return, and slot a prospect in the vacated major league spot. It's not a fan friendly approach, but it's a smart approach. The Rays are better off in the long term with Wil Myers for six years, plus their two new pitching prospects. There's the risk that the trade might not work out, but the potential reward if the trade does work out is huge. This is the type of deal the Pirates shouldn't be afraid to make. It's the type of deal they should have made last year with Joel Hanrahan. They could have gotten a much bigger return, and the trade off would have been that they would have entered the year with an unknown at closer, rather than the comfort of having Hanrahan around. It's the same approach they should take this year with Garrett Jones. It might feel better to have Jones in the lineup, but he's at his highest value, and chances are he won't repeat his 2012 season. Why not trade him when his value is high, then see if Clint Robinson can be the next Jones? 2. The Value of Pitching How many times have you seen someone just casually mention "the Pirates should just trade one of Cole, Taillon, or Heredia"? That's usually all under the guise that the Pirates have three potential top of the rotation guys, so one of them could be expendable. If we learned anything today, it's the value of pitching. James Shields isn't one of the best pitchers in the game, but he landed a huge return. Wade Davis was in the deal, but he's not even a consensus starter and shouldn't help justify the return. Then there was the Zack Greinke deal. Greinke received a record setting $24.5 M per year from the Dodgers. He's a great pitcher, but he's not the best pitcher in the game. I've said that the only way the Pirates can get an ace is developing one internally. Look at the cost for Shields, who isn't even one of the top pitchers in the game. Look at the price on a guy like Greinke. The Pirates can't afford to unload the farm for a return like Shields and Davis, and they'll never win the bidding on a guy like Greinke. Their only chance at those types of pitchers is to develop them. They might have multiple options, but that just means two things. One, it means they have a better chance of one of those guys realizing their potential. Two, it means they have a shot at multiple aces in the rotation. Going back to the first topic, this is an area where the Pirates need to set themselves up like the Rays. The Rays have mostly built their pitching internally. They don't go out and sign big name free agents. The Pirates haven't built internally. That's not necessarily a bad thing. They've traded for A.J. Burnett and Wandy Rodriguez, which weren't bad trades (and the Rodriguez deal looks much better after the recent prices paid for pitching). But they shouldn't be afraid to give chances to guys like Kyle McPherson and Jeff Locke. I've said they should go get another starter to balance out the rotation, which would knock one of Locke or McPherson to Triple-A. That would be a good situation for the 2013 season, with one of those pitchers going from day one, and the other serving as the first call-up from the minors. 3. The Two Ways to Build a Team I look at the Royals and I don't see a team that can compete in the next two years, even after the deal for Shields. They've got some good, young players in Billy Butler, Eric Hosmer, Mike Moustakas, and Alcides Escobar. Most of those guys are still more "potential" than "results". Moustakas had a .708 OPS last year. Hosmer had a .663 OPS. Their offense is basically Butler and Alex Gordon. The pitching staff didn't have much last year. The guys who received the most innings in 2012 were Bruce Chen and Luke Hochevar. They've pretty much built a pitching staff over the off-season with trades and free agent signings. This deal brought in Shields and Davis. They brought back Jeremy Guthrie, who was acquired last July from Colorado. Guthrie signed a three year, $25 M deal. They also traded for Ervin Santana and all of the home runs he will allow. Most of those guys are names because they've been around the league a few years. That doesn't mean they're good options right now. The Royals might have been better off with Montgomery and Odorizzi, rather than Guthrie and Santana. Montgomery is more of a gamble since he's coming off a down year. At the same time, Ervin Santana is coming off a horrible season, and is a gamble himself, only at a much higher price. Both approaches are gambles. The Royals are gambling that Santana can bounce back. They're gambling that Guthrie can repeat his numbers in Kansas City, which aren't near his career numbers. They're gambling that Wade Davis can make it as a starter. There's not much to gamble with on James Shields, but he's only under control for two years, so by trading for him, they're gambling that they will be competitive in those two years. Building internally is also a gamble. There's no guarantee that Myers, Odorizzi, or Montgomery will realize their potential. On the flip side, they're much cheaper, which means the Royals still have room to make moves if those players do work out. They're also under control for much longer. If guys like Hosmer or Moustakas don't break out in 2013, the Royals only have one more year with Shields. If those guys don't break out with Myers on the team, the group is still together for several more years. They don't just have two chances to make things work. The trade from the Royals perspective reeks of desperation. It's looking at how this deal might push the Royals to being contenders for two years if all the stars align, and it's ignoring that this deal could make the Royals cringe for years while the Rays are contenders for a much longer period of time. In these situations there tends to be some forgiveness for the team in the Royals situation. Spending money or trading for established major league players usually gets the automatic praise, even if there is an over-payment involved. Dealing prospects, even top prospects, doesn't get nearly the criticism it should since they're still unknowns. Both of those views ignore the reality of baseball. Teams like the Royals need to build through the farm system. Guys like Wil Myers should be untouchable. They should give rotation spots to Jake Odorizzi before Jeremy Guthrie and Ervin Santana. It's the same situation with the Pirates. Over the summer there were suggestions that they should trade for someone like Justin Upton, which would have required at least two top prospects. They're better off gambling with Starling Marte and Gerrit Cole, rather than trading both of those guys and more for Upton. It doesn't seem fair when teams like the Dodgers can go out and buy anyone they want. Unfortunately that's just the reality of baseball. It would be great if all teams could operate the same, but MLB isn't concerned with a level playing field. This approach isn't new for either team. The Royals tend to go with quick fixes and the Rays rely more on young players and prospects. There's a reason why the Rays have been far more successful than the Royals. It's because that's the way small market teams need to operate to be successful. It won't be a surprise if the Rays see a much bigger benefit from this trade than the Royals, even though both teams should be building their teams under the same approach. Links and Notes **Pre-order your copy of the 2013 Prospect Guide, which is expected to be released later this week. **Winter Leagues Recap: Five More Shutout Innings For Johnson.
Original Story:
http://feedproxy.google.com/~r/Pirate...
THE BACKYARD
BEST OF MAXIM
RELATED ARTICLES
The Kansas City Royals acquired former All-Star James Shields and fellow right-hander Wade Davis from the Tampa Bay Rays on Sunday night for outfielder Wil Myers and a package of minor league prospects. Kansas City has been working all offseason to shore up a starting rotation that has been abysmal for years, re-signing Jeremy Guthrie and acquiring Ervin Santana from the Los Angeles...
KANSAS CITY, MO (December 9, 2012) – The Kansas City Royals tonight acquired right-handed starting pitchers James Shields and Wade Davis and a player to be named or cash considerations from the Tampa Bay Rays in exchange for minor league outfielder Wil Myers, right-handed pitcher Jake Odorizzi, left-handed pitcher Mike Montgomery and third baseman Patrick Leonard. Shields, who...
It's no secret that I don't think the Kansas City Royals made a very good trade last night. In my view, the price was just too high, and the Royals weren't in a position where their team needed to give up that kind of future value to improve their chances of winning in 2013. Reasonable folks can disagree, of course. There's a case to be made that the Royals are closer...
Depending who you listen to, the Kansas City Royals have either: a) made the necessary move to push themselves closer to contention, or b) Tampa Bay Rays GM Andrew Friedman has once again outsmarted the baseball world. Late Sunday evening, it was announced by Ken Rosenthal that the Tampa Bay Rays had dealt former All-Star James Shields and fellow right-hander Wade Davis to the Kansas...
Episode 285 FanGraphs managing editor Dave Cameron analyzes all baseball — and, in particular, the part of baseball concerning the James Shields-for-Wil Myers (etc.) trade. Also: the Dodgers. Also-also: how the guest refuses to read the host's work even once. Don't hesitate to direct pod-related correspondence to @cistulli on Twitter. You can subscribe to the podcast via iTunes...
The Kansas City Royals and Tampa Bay Rays completed a huge swap of talent late on Sunday night, with the Rays sending starting pitcher James Shields, reliever (or potential starter) Wade Davis, and a player to be named later to the Royals for four prospects: Wil Myers, Jake Odorizzi, Mike Montgomery, and Patrick Leonard. The motive for the trade seems obvious for the Royals:...
The Royals' blockbuster trade with Tampa Bay for James Shields and Wade Davis shows that they're ready to start mortgaging their future to win in the present, something that hasn't happened around Kansas City for years. To do it, the Royals gave up outfielder Wil Myers, widely regarded as the top prospect in the minor leagues, and right-hander Jake Odorizzi, considered...
Doozy's on line two. Doozy, "Yeah, I got no words for this trade." Holy Crapballs on line three. Holy Crapballs, "What's there to say?" You've Got To Be Kidding's on line four. You've Got To Be Kidding, "Hey, I'm here with Doozy... Hold on, I'm gonna merge the calls with Holy Crapballs. Okay, HC, you there? You're on...
I was joined by former Kansas City Royals outfielder and current host on 810 WHB, Les Norman. Les and I discussed the wild spending this winter, the value of hitting coaches and the Mets potentially trading R.A. Dickey. Hear his thoughts on whether prospects like Wil Myers and Mike Olt are overrated, and the importance of mental makeup in a ballplayer. CLICK HERE TO LISTEN DOWNLOAD...
The Royals made a bold move late Sunday night when they sent top prospects Wil Myers, Jake Odorizzi, Mike Montgomery and Patrick Leonard to the Tampa Bay Rays for pitchers James Shields and Wade Davis. Check out how Myers and others reacted to the news on Twitter. Joe Maddon, Tampa Bay manager HATE..HATE to lose James and Wade. But this who we are. This is how we have to operate...
KANSAS CITY, Mo. For a stretch, Jake Odorizzi kept the snapshot in his mind: One day, if the stars were aligned, he'd become the Royals' main man, the stopper, the crown jewel of the giant crown along I-70. Instead, he'll go down in Kansas City history as the man traded for one ace, then traded two years later for another. History's funny like that. "(It&...
MLB News

Delivered to your inbox

You'll also receive Yardbarker's daily Top 10, featuring the best sports stories from around the web. Customize your newsletter to get articles on your favorite sports and teams. And the best part? It's free!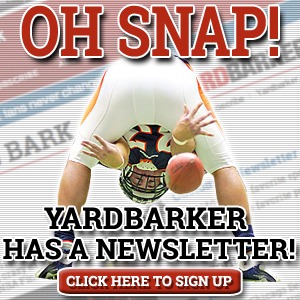 Latest Rumors
Best of Yardbarker

Today's Best Stuff

For Bloggers

Join the Yardbarker Network for more promotion, traffic, and money.

Company Info

Help

What is Yardbarker?

Yardbarker is the largest network of sports blogs and pro athlete blogs on the web. This site is the hub of the Yardbarker Network, where our editors and algorithms curate the best sports content from our network and beyond.