Found July 29, 2012 on Pirates Prospects:
In the top three levels of the minors, the Pittsburgh Pirates have three first base prospects who look close to deserving a promotion.
In Triple-A, Jeff Clement has been on a tear this year. Clement hit his 14th homer of the year on Friday night, and currently has a .297/.360/.529 line in 333 at-bats this year. A big difference this year is that his knee is finally healthy, giving some credit to the numbers. He comes with the disclaimer that he's in his seventh season in Triple-A. But with inconsistent play from Casey McGehee in the majors, the Pirates couldn't lose anything by giving Clement a shot. I doubt it would happen if they add a hitter via trade, although the Pirates could turn to Clement as a September callup regardless of who they add.
In Altoona, Matt Curry is hitting for a .299/.365/.503 line with eight homers and 27 doubles in 288 at-bats. In April and May he had an OPS just under .800. He was on fire in June, with a .385/.455/.821 line, although it was only 39 at-bats in an injury shortened month. He's carried his hitting over to July, with a .288/.372/.493 line in 73 at-bats. He's been slumping in his last ten games, with a .697 OPS in 31 at-bats. That span does include two of his three homers this month.
Alex Dickerson is in a similar situation to Curry. He struggled in April and May, although his struggles were worse. He had a .668 OPS in April, and a .727 OPS in May. In June he turned things around, with a .316/.369/.537 line in 95 at-bats. He's been even better in July, with a .333/.387/.576 line in 99 at-bats. That includes his .361/.439/.667 line in 36 at-bats over the last ten games.
The potential for a Clement promotion depends on the availability of a roster spot in the majors. You could argue that Curry is the least deserving of moving up. He's got a smaller sample size of success, and is slumping recently. Alex Dickerson might be the most deserving of a promotion, and the easiest to promote. Even with Curry in Double-A, Dickerson could move up and fill time as the designated hitter.
Moving Dickerson up at this point might not make a lot of sense. He's going to start in Altoona next year regardless, so the one month might not help. Dickerson and Curry both need continued work defensively at first base, and one would be left out of the mix each game. Plus, with Dickerson/Curry taking up the DH spot, you're bumping someone like Drew Maggi or Oscar Tejeda from the lineup. Bradenton is in a playoff race in the second half, so it might benefit Dickerson to stick around and play the final month in high-A, trying to get some playoff experience.
The only promotion that makes sense would be Clement. You're not making any significant changes to the long term plans by moving Dickerson or Curry up for one month to end the season. Clement, on the other hand, could provide a power bat off the bench for the Pirates down the stretch, with the outside chance to pull a Garrett Jones 2009 and show that there's some merit to his Triple-A numbers this time. There's not much value in giving Dickerson or Curry one month at a new level, but there's definitely value in promoting Clement if he can help the big league team during the final month of the season.
Links and Notes
**The Pirates beat the Astros 4-3.
**Prospect Watch: Sanchez Hits 6th Homer; Three Hits Each For Santos and Dickerson.
**Locke Pitches 7 Shutout Innings In Indians' Win.
**Kyle McPherson Struggles, Hit With Two Line Drives; Santos Update.
**West Virginia Bats Get Shutdown; Von Rosenberg Not As Good As Stat Line.
**Saturday Trade Rumors: Victorino, Headley, Marte, Padres, West Virginia.
**Pirates Trade Brian Friday for Christian Marrero.
Original Story:
http://feedproxy.google.com/~r/Pirate...
THE BACKYARD
BEST OF MAXIM
RELATED ARTICLES
Some numbered thoughts heading into Tuesday's MLB 4:00PM non-waiver trade deadline… 1-5:  Wandy Rodriguez 1.  I've been very critical of Pirates' GM Neal Huntington over the past year, but I was impressed with last week's SP Wandy Rodriguez trade with Houston.  While other clubs were still jockeying with the Cubs for Ryan Dempster, and waiting to see if the Phillies...
Remember a few weeks ago when Starling Marte was the answer for the Pirates? People were calling for him to be promoted to the majors to help the offense for the remainder of the year. Now after four games there are suggestions that the Pirates should trade their top hitting prospect. The rumors came out that the Pirates inquired on Shin-Soo Choo, and that Starling Marte would have...
The Altoona Curve saw back-to-back solid starting pitching performances Friday night in Altoona for the doubleheader against New Hampshire. Right-handers Phil Irwin and Brandon Cumpton shined on the bump combining for just one earned run over 13.0 innings. First baseman Matt Curry drove in four runs on his 23rd birthday in game two as the club took both games at People's Natural...
Buffalo Bison  3,  Indianapolis Indians  2 (Box)   Chase d'Arnaud hands over his protective batting gear to the bat boy when he reaches second base. Shaky control by Indians' pitching combined with a strong performance by Buffalo pitching added up to a loss for the Indianapolis Indians at Victory Field this afternoon.  The Indians were held to three hits in the first 7 innings...
Final: Pirates 4, Astros 3 WP: Chris Resop (1-3, 3.10 ERA) LP: Chuckie Fick (0-1, 6.75 ERA) SV: Jason Grilli (2, 1.86 ERA) Wandy Rodriguez was all over the place in his Pirates debut, but was able to labor through six innings to get a "quality start." I have to imagine that I would feel a little weird and a bit nervous making my debut with a new team against the club I was a...
TOP OF THE SYSTEM A look at how the current top 20 prospects did today.  Note that this list doesn't include players currently in the majors. Rankings are from the mid-season update. 1. Gerrit Cole, RHP, Altoona (2-4, 4.85) –  DNP 2. Jameson Taillon, RHP, Bradenton (5-7, 4.37) –  DNP 3. Alen Hanson, SS, West Virginia (.318) - 1-for-4, 3B 4. Josh Bell, RF, West Virginia...
Vic Black has been dominant in his first season at the Douhle-A Level. When spring training broke camp, the Pirates decided to promote Victor Black aggressively to the Double-A level, despite just 6.2 innings in high-A. Black, Pittsburgh's first round supplemental pick in the 2009 draft, had only compiled 71.2 innings over parts of three seasons since getting drafted. Several...
The Pirates found another way to win (or the Astros found another way to lose, depending on how you want to look at it) as they defeated Houston for the third straight night to improve to sixteen games over .500. SIXTEEN! Wandy Rodriguez's Pirates debut was "meh." He was uncharacteristically wild (five walks despite averaging just 2.2 per nine innings) but pitched out of trouble...
HOUSTON (AP) -- Rod Barajas hit a tiebreaking single in the eighth inning and the Pittsburgh Pirates rallied past Houston 4-3 on Saturday night, sending the Astros to their club-record 12th straight loss. Wandy Rodriguez pitched six innings in his Pittsburgh debut, allowing three runs and six hits with five walks against his former team. The free-falling Astros, who have lost 25...
- Jayson Stark writes that the Pirates are among four teams that are aggressively pursuing Padres 3B Chase Headley, but does add that they are less motivated to make a deal at the current moment than they were before. Headley might be the best available hitter in this year's deadline. His .267/.359/.428 line may not seem all that great, but his .277/.374/.497 road splits are. Keep...
The Pirates have taken care of business against the Astros so far this year, but for the most part it hasn't been easy. A number of their wins over Houston have been close and/or comebacks. Tonight was no different, and possibly the most dramatic of the bunch. Jeff Karstens didn't dominate the Astros like he had in the past. He struck out seven, but allowed six hits and lasted...
Pirates News

Delivered to your inbox

You'll also receive Yardbarker's daily Top 10, featuring the best sports stories from around the web. Customize your newsletter to get articles on your favorite sports and teams. And the best part? It's free!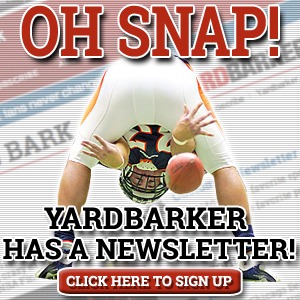 Latest Rumors
Best of Yardbarker

Today's Best Stuff

For Bloggers

Join the Yardbarker Network for more promotion, traffic, and money.

Company Info

Help

What is Yardbarker?

Yardbarker is the largest network of sports blogs and pro athlete blogs on the web. This site is the hub of the Yardbarker Network, where our editors and algorithms curate the best sports content from our network and beyond.