Found March 14, 2013 on NorthWest Sports Beat:
PLAYERS:
Dustin Ackley
,
Brandon McCarthy
,
Mike Trout
,
Bryce Harper
,
Craig Kimbrel
,
Eric Wedge
,
Justin Smoak
,
Brendan Ryan
TEAMS:
Seattle Mariners
,
Arizona Diamondbacks
,
Los Angeles Angels
,
Washington Nationals
,
Atlanta Braves
It is Ackley's Breakout Time! The 2009 number 2 overall pick has been fine, but the Mariners need more than that in 2013. In the land of the rising sun, where the 2012 season began for the Seattle Mariners a year ago, 2B Dustin Ackley kicked off his sophomore season with a bang. In the 4th inning, Ackley took A's pitcher Brandon McCarthy to dead center for his first home run of the season. Unfortunately, this was probably Ackley's best moment of the year, instead of the first of what should have been a lot more. At this point in his career, Ackley has been more consistent with quality commercials than producing quality play at the plate. He is still young, and has the opportunity this season to develop without the weight of a franchise on his shoulders. 1. Time This is the ultimate cop-out for someone to write as a positive for Ackley, but it is the number one reason that he could produce this season. Baseball fans have been very spoiled recently by rookies producing in ways they never have before. Mike Trout, Bryce Harper, Craig Kimbrel and other young players are getting called up and producing at record levels. Ackley has not set records, and his inside-out swings have produced the way most 23 and 24-year-olds produce at the Major League level: average. 2. Plate Discipline The biggest surprise for Mariners fans has come with Ackley's poor batting average, dropping from .273 as a rookie to .226 a year ago, but his strikeout-to-walk ratio is more cause for concern in a leadoff man. M's fans can expect a breakout in 2013 Throughout the spring, manager Eric Wedge has tried a bunch of people leading off, if he sticks with Ackley, that means Dustin has shown improvement swinging at good pitches over bad ones, and drawing more walks. Adjusting to the best pitching in the world takes time for some hitters, and some never adjust. It is hard to believe that Ackley will never adjust to this level, and M's fans can expect a breakout in 2013. 3. Defensive Stability Unless Ackley is asked to DH occasionally, he will play 2B all year. With the additions of Michael Morse and Kendrys Morales, Ackley will not be called on to relieve Justin Smoak at first base. He is not the league's greatest defensive 2B, but his double play numbers alongside Brendan Ryan were the best in baseball a year ago. 4. Consistency When looking at Ackley's splits from a year ago, the numbers are almost identical. Unfortunately, they were consistently low. His OBP was identical on the road and at home (.001 difference for you fact-checkers out there), and his first and second half numbers were incredibly similar as well. So, Mariners fans know that Ackley does not change his approach on the road or at home, he also hits similarly against lefty's and righty's (in fact, slightly better against left-handed pitchers), so if Ackley figures out an approach that works against certain situations, expect the adjustment to happen quickly for the rest of his game. 5. Runs What better reason to take a walk or do whatever it takes to get on base? The belief that someone will drive you home and put a run on the board. If Ackley was putting too much emphasis on getting around the bases to save the team a year ago, that pressure can lift, and he can develop into the .300 hitter that fans have been hoping for. Will Ackley be this year's Mike Trout? No, but can he progress into the ideal leadoff or second spot hitter, absolutely. Cheers, and Go M's! CLICK HERE TO CHECK OUT THE MARINERS BLOG IN OUR CLUBHOUSE TODAY AT NWSB!
Original Story:
http://www.nwsportsbeat.com/mariners/...
THE BACKYARD
BEST OF MAXIM
RELATED ARTICLES
Smell the Hot Dogs & Beer?! The 2013 commercials are finally OUT. We look forward to baseball season every single year. And one event that lets us Seattle Mariners die-hard fans know the season is right around the corner is the Mariners releasing their commercials. The M's unveiled their ads Tuesday morning. The newest season features Dustin Ackley wearing his love for fans...
Scratchin My Hat I was originally going to title this article, "5 players who are surprising me in Mariners spring training." The more I thought about it, though, the less surprised I was and the more annoyed I was getting. Most of this annoyance is directed toward the Seattle Mariners' veteran AAA outfielder, Carlos Peguero.  It isn't that I don't like Peguero; in fact...
Step up, or get out In 2012, the Mariners saw breakout seasons from guys like Kyle Seager, Hisashi Iwakuma and Tom Wilhelmsen. It also saw the departure of guys like Brandon League and Jason Vargas. With the plethora of players brought in this offseason, the front office has proven that they are not afraid to bring in fresh faces to replace the old. Looking forward to the upcoming...
He could probably talk to a Buffalo too! The young 3B has been ahead of schedule his entire career; Mariners fans are looking forward to year three. At the ripe age of 25, 3B Kyle Seager is heading into his third season with the Seattle Mariners, his second complete season. Called up in 2011, Seager surprised both fans and experts by arriving at the show only a month after 2B Dustin...
The Seattle Mariners continue to play in Peoria, Arizona, yet the tune sounds a bit different as of late. The Mariners have lost 6 of their last 7, which comes after winning 10 straight. Young and old pitchers keep rotating, and the lineups continue to shift and adjust, in hopes of finding a groove; it will take a little longer for the young, old, and new to mesh. A few things...
In addition to scouting a trio of young Mariners pitching prospects, a number of top position prospects also made the trip to Goodyear Stadium. Nick Franklin batted second and played shortstop alongside Brad Miller. Franklin struggled at the plate and in the field as he failed to make hard contact and booted two balls on the infield. On one play a few steps to his right, Franklin...
The best of the best For a city that's had more than its fair share of losers, Seattle has been home to some of the most perennial athletes of the past half century as well. From Steve Largent, Jerry Rice, and Shaun Alexander, to Slick Watts, Lenny Wilkens, Shawn Kemp, and Gary Payton, to Kasey Keller, to Alex Rodriguez, Randy Johnson, Ichiro, and Edgar Martinez. But out of all...
As the 2013 MLB season grows closer every day, the Seattle Mariners find themselves with an interesting predicament in the outfield. In the previous 3 to 4 years, the Mariners have struggled tremendously to find 3 competent outfielders to place on the field at one time. Circumstances are different this year. For the first time in years, the M's starting outfield could be one of...
Ace. Workhorse. Unhittable. King. Venezuelan. Those are just five of many words you can use to describe Felix Hernandez, who has been one of baseball's most consistent pitchers since he burst onto the scene as a 20-year-old in 2006. He has especially taken off in the last four years averaging 238 innings pitched and 224 [...]
Michael Morse made the Mariners out of camp five years ago thanks to big offensive production in spring training. Now he's back, and even though he's a big league regular, he's still having another fruitful spring for Seattle. Morse hit two home runs and drove in five runs to lead the Mariners back from a six-run deficit for an 8-7 win over the Cincinnati Reds Thursday...
The Mariners went into the winter with the intention of being agressive. After flirting with Josh Hamilton, they really didn't do much. How will this team fare in the AL West? Key Losses: Mike Carp, 1B (Red Sox, Trade) John Jaso, C (Athletics, Trade) Shawn Kelley, RHP (Yankees, Trade) Miguel Olivo, C (Reds, Free Agent) Mauricio Robles, LHP (Phillies, Waivers) George Sherrill,...
MLB News

Delivered to your inbox

You'll also receive Yardbarker's daily Top 10, featuring the best sports stories from around the web. Customize your newsletter to get articles on your favorite sports and teams. And the best part? It's free!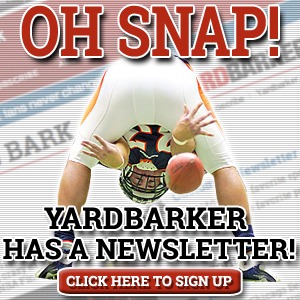 Latest Rumors
Best of Yardbarker

Today's Best Stuff

For Bloggers

Join the Yardbarker Network for more promotion, traffic, and money.

Company Info

Help

What is Yardbarker?

Yardbarker is the largest network of sports blogs and pro athlete blogs on the web. This site is the hub of the Yardbarker Network, where our editors and algorithms curate the best sports content from our network and beyond.