Found February 27, 2013 on Grab Some Bench:
PLAYERS:
Alex Rios
,
Edwin Rodriguez
,
Robin Ventura
,
Carlos Beltran
,
Angel Pagan
,
Yadier Molina
,
Mike Aviles
,
Irving Falu
,
Trayce Thompson
,
Jared Mitchell
,
Keenyn Walker
,
Courtney Hawkins
,
Erick Aybar
,
Tony Pena
,
Robinson Cano
,
Carlos Santana
,
Edwin Encarnacion
,
Hanley Ramirez
,
Miguel Tejada
,
DeWayne Wise
,
Angel Sanchez
,
Jesse Crain
,
John Axford
,
Joey Votto
,
Justin Morneau
,
Brett Lawrie
,
Jameson Taillon
,
Andre Rienzo
,
Andy Gonzalez
,
Alejandro De Aza
TEAMS:
Chicago White Sox
,
St. Louis Cardinals
,
San Francisco Giants
,
Cleveland Indians
,
Kansas City Royals
,
Los Angeles Angels
,
New York Yankees
,
Toronto Blue Jays
,
Los Angeles Dodgers
,
Milwaukee Brewers
,
Cincinnati Reds
,
Minnesota Twins
,
Pittsburgh Pirates
The early start to Spring Training this season means the World Baseball Classic is here for 2013. Our White Sox will be represented during this year's event, with five players under contract being named to the teams for their respective countries. Here, we'll take a look at which five guys will be competing, their possible roles on their teams, as well as what it means for the White Sox this spring. Alex Rios We all know what Alex Rios can do on the field, so it's no surprise that he was selected to play for Puerto Rico in the WBC - and he is going to be a key part of their team. So far this spring, Rios has gotten off to a fast start, hitting .571 through Tuesday.  I'm sure Puerto Rico manager Edwin Rodriguez is happy to see Rios is heating up just before tournament time, as well as happy to see Robin Ventura giving him plenty of playing time and allowing him to get into a rhythm. Rios joins an outfield that will likely consist of major leaguers Carlos Beltran and Angel Pagan. They also have major leaguers Yadier Molina, Mike Aviles and Irving Falu in the infield, making them a threat in this year's event. Rios should be one of the main focal points of the offense and should hit somewhere in the top half of the order. As for the White Sox, Rios departing for the tournament actually does the White Sox a bit of a favor compared to if some of their other players left. This is because the White Sox farm system is loaded with outfield talent, and Rios leaving gives the team a chance to see these guys in more game action. It'll open up the opportunity for guys like Trayce Thompson, Jared Mitchell and Keenyn Walker to get a start or two with the big league club. We could also see Courtney Hawkins make a cameo in a big league game at some point this spring as well. Alejandro De Aza Much like Rios, Alejandro De Aza enters the WBC on a very talented team. He will compete with the Dominican Republic, and he and Rios will actually face off against each other in pool play on March 10. De Aza figures to be a starter for the Dominican Republic, but where he'll hit in the order remains to be seen. We as Sox fans know he's a capabile lead-off hitter, but the Dominican Republic also has guys like Jose Reyes and Erick Aybar that can handle that role as well. Manager and former White Sox catcher Tony Pena (not the sub-par pitcher) will have a difficult time making out a lineup that not only includes guys like De Aza, Reyes, and Aybar, but Robinson Cano, Carlos Santana, Nelson Cruz, Edwin Encarnacion, Hanley Ramirez, and Miguel Tejada as well. Alejandro leaving is not such a bad thing for the White Sox for the same reasons as Rios, but it also gives the Sox the opportunity to try out a few other guys in the leadoff spot. We'll see a lot of DeWayne Wise leading off games, as we would if God forbid De Aza went down with an injury during the season. However, we could see Angel Sanchez leadoff a few times to see if he could be an option there. Also, guys like Keenyn Walker and Jared Mitchell, who project as guys who can potentially be leadoff men of the future, could see some time in that spot as well. Jesse Crain Jesse Crain will be one of two pitchers from White Sox camp competing in the WBC, as he'll be participating for team Canada. He figures to be one of the team's main pitchers in the back end of the bullpen, just as he is with the White Sox. Crain and Milwaukee Brewers closer John Axford have the potential to form one of the best set-up/closer combos in the tournament if Canada can get them the lead late. However, getting a lead could be an issue for the Canadians. The team hasn't made it past the first round in both of the previous WBCs, and aside from Joey Votto, Justin Morneau, and Brett Lawrie, the offense doesn't really boast any names that jump out at you. The same goes for the pitching staff, as after Axford and Crain, there isn't much aside from maybe Pirates top pitching prospect Jameson Taillon. As far as what this means for the Sox, it really doesn't affect much since pitching schedules are so calculated in spring action. In fact, I'd be willing to bet the White Sox may be worried about Crain leaving camp more than even Rios or De Aza, as keeping tabs on the health of the pitching staff and making sure they progress at a good pace is probably the most important thing for any team during Spring Training. Andre Rienzo You may not know Andre Rienzo all that well if you're the casual Sox fan, but he's a pitching prospect that really rocketed up people's boards this past year. After going 7-3 with a sub-3 ERA last year between stops at high-A, AA, and AAA, he rose to as high as ninth in the Sox prospect rankings on MLB.com's list. He'll be playing for team Brazil in the WBC. While Rienzo probably won't break camp with the big league club, Brazil is counting on him to be their ace. Scott Merkin, the Sox beat reporter for MLB.com, wrote a piece after Rienzo appeared in a game on Monday about how he was swarmed by the Japanese media after his appearance, as he's starting the first game for Brazil against Japan on March 2. Rienzo got roughed up on Monday (gave up five runs without recording an out), so let's hope he fares better for Brazil on Saturday. Andy Gonzalez Andy Gonzalez is the fifth and final member in the White Sox system that will be competing in the WBC, as he will join Rios on the Puerto Rico squad. Gonzalez is in minor league camp with the Sox, and doesn't project to be a part of the big league team this season. To go along with that, he will probably be a role player for a talented Puerto Rico squad. If you remember, Gonzalez was a member of the White Sox back in that dreadful 2007 campaign, and his performance really epitomized that season as a whole. Like Rienzo, let's hope he has a better showing in the tournament than what we've seen of him in a White Sox uniform.
Original Story:
http://www.grabsomebench.com/2013/feb...
THE BACKYARD
BEST OF MAXIM
RELATED ARTICLES
Alejandro De Aza was my unanimous sleeper target last year. In every mock draft I did, every actual team I drafted, and every "your fantasy time can't exist without these players" piece I wrote, De Aza was there.He certainly didn't disappoint. For the price of a 200-something pick, De Aza delivered top-100 numbers. Given his role as a speed-first leadoff hitter, his nine...
With just the very early part of Spring Training under the White Sox' belt, one name has popped up quite a bit that you probably didn't expect to see so much of. Particularly in the shape of a 6'4, 250 lb. first base prospect - the one and only Joe Borch -- I mean, Seth Loman. I'm going to assume most of you don't know much about him. With the team...
Newly acquired Conor Gillaspie homered off Collin Balester in the sixth inning, helping the Chicago White Sox beat Texas 8-4 Wednesday and drop the Rangers to 0-5 in spring training. Acquired Friday from San Francisco for minor league pitcher Jeff Soptic, Gillaspie had four RBIs Tuesday aghainst the Rangers. Paul Konerko hit a two-run homer against left-hander Robbie Ross, and...
Comcast Sports Net officially announced the full-time hire of anchor/reporter Susannah Collins as its newest on-air talent member (effective September 20) for the network's signature nightly sports news program, SportsNet Central.  Collins will also handle on-site, post-game reporting duties throughout the year at home games for all four of CSN's pro team partners. In other...
GLENDALE, Ariz. (AP) -- Conor Gillaspie is getting off to a quick spring training start with the Chicago White Sox. The newly acquired Gillaspie homered off Collin Balester in the sixth inning, helping the White Sox beat Texas 8-4 Wednesday and drop the Rangers to 0-5 in spring training. Obtained Friday from San Francisco for minor league pitcher Jeff Soptic, Gillaspie had four...
MLB News

Delivered to your inbox

You'll also receive Yardbarker's daily Top 10, featuring the best sports stories from around the web. Customize your newsletter to get articles on your favorite sports and teams. And the best part? It's free!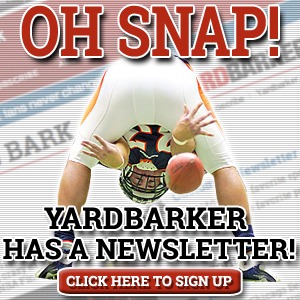 Latest Rumors
Best of Yardbarker

Today's Best Stuff

For Bloggers

Join the Yardbarker Network for more promotion, traffic, and money.

Company Info

Help

What is Yardbarker?

Yardbarker is the largest network of sports blogs and pro athlete blogs on the web. This site is the hub of the Yardbarker Network, where our editors and algorithms curate the best sports content from our network and beyond.