Found January 29, 2013 on NorthWest Sports Beat:
Smell The Spring The Seattle Mariners opened up Safeco field over the weekend to 18,000 loyal fans. An ever-shifting club like the Mariners desperately needs fans to re-engage if they want to kick-start the season. Walking into Safeco this past weekend helped to show everything the franchise is doing to accomplish just that. Even through the 2013 season doesn't feel all that promising, just feeling the energy and enthusiasm in the park from the youngest of fans helped to just make people smile. Seattle fans need to smile more, and Seattle players desperately need to see those smiles as well. All that being said, here are five things to smile about that were illuminated at FanFest: 1. Things are happening For so long it has seemed that the Mariners have been stuck in the past. Safeco Field was built in the golden era of Seattle baseball, sandwiched in between the miracle seasons of 1995 and 2001. For the longest time it seemed like the Mariners had gone from "refuse to lose" to "refuse to win" with short-sited trades of top draft picks for players aging out and a constant stream of "rebuilding" messages. Now the Mariners are addressing the present needs (agree with them or not) by moving in the outfield walls. At FanFest, you couldn't help but notice the major construction came from moving in those wall. It was an acknowledgement of a new direction for the club. A new future. Michael Morse and Jack Zduriencik participated in the Mariners 2013 FanFest. (Photo: Ben VanHousten/Mariners) 2. The Mariners have some quality guys on the roster A lot of pro athletic teams have guys that don't play well with others. FanFest really illuminated one of the Mariners' strengths in recruiting players that can be good role models on and off the field. Part of this may just be caused from the Mariners young staff, but even the Seattle greats like Jay Buhner and Dan Wilson help things lean in that direction. Now it would be nice if they were a little bit better ON the field as well as off, but if you can get to know these players as real people,than some of the bad attitudes of fans stop and we can just enjoy the baseball games together. 3. Happy fans are important to the Mariners One of the things that really impressed me about FanFest was how much great stuff there was to do for a low price. There was a zip line across the outfield, fly ball competitions, photo ops, giveaways, lots of interactions with players, autograph sessions and even touring of the Mariners' clubhouse. On top of that was seeing the Mariners' addition of the new top-of-the-line scoreboard in center field and the new open-air restaurant field level in left field. The fan experience is going to be better than ever in 2013. 4. Honest dialogue Many players came and sat on top of the dugout just to chat with the fans. I admired their accessibility as well as their willingness to own up to their weaknesses and talk about what they were doing to get stronger. Some clubs would try to hide that. The Mariners embraced it. I can stay a fan of a team that is honest. 5. There is hope I don't understand most of what the Mariners are doing this off season, to be honest, but I do see that there are a bunch of guys on that team that truly believe they have what it takes to be something special. Only time will tell, but at Fanfest you don't see stats and you don't judge the numbers—you see the game through the eyes of a child and remember that this game is all about the magic of the unpredictable. There is hope in that unpredictability because you never know when something special might happen. Hopefully it is in 2013. CLICK HERE TO CHECK OUT THE SEATTLE MARINERS CLUBHOUSE AT NWSB!
Original Story:
http://www.nwsportsbeat.com/mariners/...
THE BACKYARD
BEST OF MAXIM
RELATED ARTICLES
To the infield Headline: Prospects have turned into veterans quickly for Seattle, but will that be a strength or weakness going forward? The infield has less new faces than the outfield heading into Spring Training, but change is still brewing in Seattle. Led by 3B Kyle Seager and 2B Dustin Ackley, the future of the Mariners groundball specialists is especially bright. SS Brendan...
One of the Mariners top hitting prospects -- infielder Nick Franklin -- spent some time off stage at the weekend's FanFest festivities to talk with SeattleClubhouse's Rick Randall about his Big League Spring invite, playing the middle infield and switch-hitting.
One of the Seattle Mariners top prospects and one of the most highly thought of young left-handed pitching prospects in baseball, James Paxton talked with SeattleClubhouse's Rick Randall about his favorite team, favorite pitchers, his draft story and his minor league career.
Shawn Kelley and the Seattle Mariners have agreed to a $935,000, one-year contract that avoids salary arbitration. The team announced the deal Wednesday. Kelley gets a raise from $610,000 last season, when the right-handed reliever went 2-4 with a 3.25 ERA in 47 appearances. He had asked for $1.2 million this year and was offered $750,000 by the Mariners. The 28-year-old Kelley...
On Tuesday, news surfaced that the Seattle Mariners have reached an agreement with C Kelly Shoppach. The deal is worth a reported $1.5 million for the 2013 season and will be finalized this afternoon after Shoppach passes a physical with the Mariners. The deal also includes a possible $500,000 dollar bonus if Shoppach reaches performance based incentives. Shoppach, 32, will serve...
(Eds: APNewsNow. Will be updated.) By TIM BOOTH AP Sports Writer Jesus Montero is ready for the challenge of being an everyday catcher for the Seattle Mariners. That would be quite a job for a veteran catcher to take on, let alone a 23-year-old about to enter his second full season in the majors. As it stands now, Montero is the only sure thing the Mariners have behind the plate...
Wanted to watch Oliver Perez again? Of course you do. Oliver Perez will be playing for Mexico in this year's World Baseball Classic. Mexico is keeping the same color pallet from last year and the same hat however the uniform update didn't go so well: The hat still looks good. The uniform is suffering from the same characteristic as a lot of other teams, the small jersey font...
Dan Szymborski's ZiPS projections, which have typically appeared in the pages of Baseball Think Factory, are being released at FanGraphs this year. Below are the projections for the Seattle Mariners. Szymborski can be found on Twitter at @DSzymborski. Other 2013 Projections: Angels / Astros / Athletics / Blue Jays / Brewers / Cardinals / Cubs / Diamondbacks / Giants / Mets / Nationals...
The Seattle Mariners, finding a catcher to pair with Jesus Montero, are in agreement with free agent Kelly Shoppach on a one-year deal, according to a major-league source. The deal, first reported by CBSSports.com, will become official once Shoppach passes a physical. Shoppach will earn $1.5 million with a chance to make an additional $500,000 in incentives, according to ESPN.com...
I was listening to Sports Radio on 710 AM in Seattle today. My dad likes the show. They were talking about the Mariners—specifically, our ace pitcher, Felix Hernandez. What does everyone think? Does he like it here? Is he happy about the changes that have been made to the team structure? He did pitch a Perfect Game—he should be asked. In my opinion—historically, it...
Mariners News

Delivered to your inbox

You'll also receive Yardbarker's daily Top 10, featuring the best sports stories from around the web. Customize your newsletter to get articles on your favorite sports and teams. And the best part? It's free!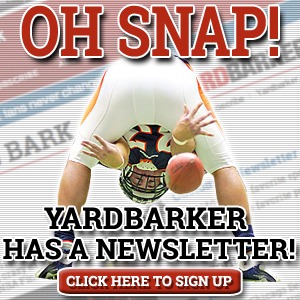 Latest Rumors
Best of Yardbarker

Today's Best Stuff

For Bloggers

Join the Yardbarker Network for more promotion, traffic, and money.

Company Info

Help

What is Yardbarker?

Yardbarker is the largest network of sports blogs and pro athlete blogs on the web. This site is the hub of the Yardbarker Network, where our editors and algorithms curate the best sports content from our network and beyond.