Found February 15, 2013 on Grab Some Bench:
PLAYERS:
Torii Hunter
,
Austin Jackson
,
Miguel Cabrera
,
Prince Fielder
,
Victor Martinez
,
Jhonny Peralta
,
Alex Avila
,
Andy Dirks
,
Omar Infante
,
Anibal Sanchez
,
Justin Verlander
,
Doug Fister
,
Max Scherzer
,
Rick Porcello
,
Jose Valverde
,
Joaquin Benoit
,
Phil Coke
,
Octavio Dotel
,
Bruce Rondon
TEAMS:
Detroit Tigers
,
Chicago White Sox
,
Miami Marlins
The Detroit Tigers won the American League Central last season by 3 games over the White Sox and despite finishing with the fewest wins of any AL playoff team, the Tigers were able to win the pennant and advance all the way to the World Series before being swept by the Giants. Coming into the 2013 season the Tigers are once again the team to beat in the AL Central. If the White Sox want to catch the Tigers this year, they can start by beating them in their head to head matchups.  Last season the White Sox won just 6 of the 18 games against the Tigers and had just ONE WIN at Comerica Park in 9 tries.  When you lose a division by 3 games because you couldn't go .500 against your biggest competition you have no one to blame but yourself. Detroit's Quiet Offseason The Tigers have not stayed quiet this offseason and aging owner Mike Illitch is clearly making another push for the World Series title that has eluded him.  The biggest free agent move for the Tigers was the signing of Torii Hunter to a 2 year, $26 million contract.  The move meant the departure of Sox killer Delmon Young who had 3 homers and 14 RBI against the Sox last season in 18 games.  However, his replacement in Hunter has also played the role of Sox killer over the years.  In 159 career games (roughly one full MLB season) Hunter has 27 homers and 92 RBI to go along with 20 stolen bases and 95 runs scored.  Not to mention the slew of tremendous defensive plays he has made to take runs off the board for the Sox.  This move is an upgrade for the Tigers for if nothing else, Hunter will be a vast upgrade defensively in right field.  He will likely slide into the #2 spot in the lineup giving the Tigers a dynamic top of the order. One Scary Lineup How about that Tigers lineup?  Austin Jackson leading off with new addition Hunter hitting second ahead of the reigning MVP and Triple Crown winner Miguel Cabrera and then Prince Fielder hitting cleanup providing protection.  Oh yeah, and Victor Martinez is set to return this season and will likely DH and hit 5th behind Cabrera and Fielder.  Yikes.  An ACL injury kept V-Mart out all of last season and prompted the Tigers to sign Prince Fielder as protection for Cabrera.  That move seemed to work and now with Martinez on track to return the Tigers will have one of the scariest lineups in baseball.  In Martinez's lone season with the Tigers he hit .330 with 103 RBI and a .394 with runners in scoring position.  Round out the lineup with Jhonny Peralta, Alex Avila, Andy Dirks and Omar Infante and the Tigers should be able to score some runs this year. An Underappreciated Pitching Staff The other major offseason move for the Tigers was to re-sign pitcher Anibal Sanchez, who was acquired at the trade deadline last year from the Miami Marlins.  After a rocky start with the Tigers, Sanchez settled down and performed very well, including 1.77 ERA in three playoff starts.  Overall he was 4-6 with a respectable 3.74 ERA in 12 starts for Detroit with a 3.80 K/BB ratio.  Sanchez will slide into the 4th spot in a very deep starting rotation anchored by Justin Verlander and Doug Fister.  Max Scherzer made big strides last year and could be on the verge of a breakout season after striking out 231 batters in just 187.2 innings last year.  Rick Porcello has been the talk of several trade scenarios in the off season but as of now will start the season as the Tigers 5th starter.  Despite his struggles against the rest of the AL last year, the 24-year-old right-hander was 3-1 with a 1.98 ERA against the White Sox in 2012. The final major off-season news for the Tigers is that they allowed Jose Valverde to leave in free agency and did not go out and sign a proven closer.  It was an interesting move for the Tigers as no pitcher currently on their staff had more than 2 Major League saves last year. The Tigers will enter Spring Training with an open competition for the closer role.  There are a number of possible veteran candidates to land the closer role including Joaquin Benoit who was the primary set up man for Valverde, Phil Coke who took over the closers role in the ALCS and got a couple saves and Octavio Dotel who has 109 career saves. Despite all the veteran pieces the leading candidate might be 22-year-old rookie Bruce Rondon who saved 29 games in the Tigers minor league system last season while posting an impressive 1.53 ERA.  It will be interesting to see what happens with the Tigers closing spot, as Sox fans know closer by committee early in the season can lead to some games slipping away that can hurt you come September. Despite the closer role being in flux the Tigers still have a very deep and solid bullpen.  That combined with a stacked lineup, maybe the deepest starting rotation in the American League and an improved defense all equals out to the Tigers being the team to beat in the Central and maybe in the American League for 2013.  Fear not Sox fans, all hope is not lost. The Tigers were expected to run away with the division last year and did not.  The biggest thing the Sox can do to help stay close to the Tigers is to beat them in head to head play.  Even playing them .500 would be a three game improvement over last year and those three games would have meant a tie atop the division after 162 games.  In the end however I think the Central is the Tigers to lose.
Original Story:
http://www.grabsomebench.com/2013/feb...
THE BACKYARD
BEST OF MAXIM
RELATED ARTICLES
LAKELAND, Fla. -- Tigers late-inning reliever Octavio Dotel is one of those players who becomes glue for a ballclub. He often takes the mound and patches together a game on the verge of breaking the other way, and is a clubhouse leader who brings professionalism and harmony. Dotel threw five innings of no-hit relief in the 2012 playoffs and was central in Game 1 of the American...
LAKELAND, Fla. -- If Miguel Cabrera is feeling any pressure about having to repeat as the American Leagues MVP and Triple Crown winner, he isnt showing it. Cabrera exchanged handshakes and even some hugs with reporters before inviting them to his locker for conversation Friday morning. Cabrera seems to get more comfortable with the media with each passing year, and hes having...
LAKELAND, Fla. Victor Martinez tore up his left knee while doing agility drills last winter, had micro-fracture surgery to repair the damage, and tried unsuccessfully to rush back in time for the Tigers pennant chase. Then he also was unsuccessful in attempting to watch his team on television during a World Series he could not play in. And it was for reasons beyond the sweep by...
LAKELAND, Fla. When you follow a trip to the World Series in 2012 by adding Torii Hunter and getting Victor Martinez back for 2013, you remain the team to beat. Those expectations were something Tigers manager Jim Leyland felt worthy of addressing Friday, when he met with his players to discuss training camp, rules and a little philosophy. I love being a target, Leyland told reporters...
Kate Upton was interviewed by FOX 2′s Jason Carr Thursday morning promoting the Sports Illustrated swimsuit edition and naturally was asked about her relationship with Tigers ace Justin Verlander.  Specifically, Carr asked Upton about the supposed couple's New Year's getaway on the island of St. Thomas. As you'll see in the video, Upton went stone-faced and said: "Actually...
Rumors about a relationship between Detroit Tigers pitcher Justin Verlander and Sports Illustrated Swimsuit Edition cover model Kate Upton have swirled since Upton was spotted in a Comerica Park suite last summer. The two parties have repeatedly denied that they're together, though, and Upton again toed the line Thursday, during an interview with FOX 2′s Jason Carr. Upton, seated...
If you thought a Valentine's Day television interview was the perfect setting to announce a romantic celebrity relationship, you thought wrong. Buxom blond supermodel Kate Upton wasn't divulging anything. In fact, Upton touting her latest cover appearance on the Sports Illustrated swimsuit issue told a FOX 2 reporter in Detroit that she's "single" when questioned...
LAKELAND, Fla. Pitchers threw live batting practice to hitters on Saturday for the first time in training camp. It was a chance for batters to begin tracking balls and getting their timing down for Fridays Grapefruit League opener with the Atlanta Braves in Lake Buena Vista. It was also an opportunity for pitchers to throw to something other than a catchers mitt. One pitcher, Jose...
Here's what you call a very strong denial. The Kate Upton Justin Verlander thing? Not happening according to the back to back SI swimsuit issue cover girl and hottest woman alive. Watch the clip below after the jump. Maybe the Kate Upton Justin Verland thing is still on? And this is just a vehement denial? Either way it's a funny clip and you have to give the journalists points...
It seems the Justin Verlander will be keep all that money to himself when he signs his next free agent deal, as news has trickled out that him and the beautiful Kate Upton are no longer seeing one another. Upton made the revelation known to everyone watching a local Detroit new station earlier on Thursday, when she announced that she was single for Valentine's Day. Poor thing....
MLB News

Delivered to your inbox

You'll also receive Yardbarker's daily Top 10, featuring the best sports stories from around the web. Customize your newsletter to get articles on your favorite sports and teams. And the best part? It's free!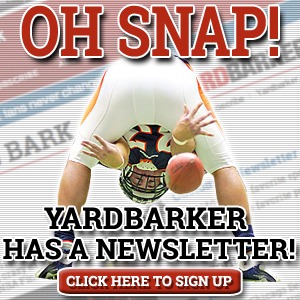 Latest Rumors
Best of Yardbarker

Today's Best Stuff

For Bloggers

Join the Yardbarker Network for more promotion, traffic, and money.

Company Info

Help

What is Yardbarker?

Yardbarker is the largest network of sports blogs and pro athlete blogs on the web. This site is the hub of the Yardbarker Network, where our editors and algorithms curate the best sports content from our network and beyond.