Found November 06, 2012 on Fox Sports Kansas City:
KANSAS CITY, Mo. Former Angels right-hander Ervin Santana is virtually the perfect fit for the Royals, at least according to former Royal and present Angels broadcaster for Fox Sports West, Mark Gubicza. This is really a chance for Ervin to get out of the shadows here and be his own guy, Gubicza said by phone Tuesday. And it's a chance for him to prove he can be a No. 1 guy and get away from his comfort zone. He's always been the 'great prospect' and an Angels draft pick, so he kind of lived in that comfort zone. Now he's going to a new place and he can prove how good he really is, and not be compared to Jared Weaver or Dan Haren or C. J. Wilson or any of the other pitchers that have been here. Santana, acquired last week by the Royals, almost immediately assumes the role of ace with the Royals. He's ready for that, Gubiza said. No question about it. There's no question about his stuff. I think now he'll have to really focus on being more consistent because this is a big year for his career. Santana, a 29-year-old right-hander, will make 13 million in the final year of his contract and will need to prove he can be an elite pitcher to lure a big contract offer on the market after the 2013 season. He's going to a team with great defense and a great bullpen, Gubicza said. I think that will allow him to relax. And he's going to a team that should hit. That was always one of the issues here with him the team didn't really hit for him in stretches. I think there was one stretch where he got shut out five straight games. That can wear on a pitcher. The Royals, Gubciza believes, are getting a workhorse who has pitched 200-plus innings in four of his eight big-league seasons. That's going to make such a difference for (the Royals') bullpen, Gubicza said. I think the Royals have one of the best bullpens in baseball but it really got worked a lot. You need starters that can get to the seventh inning consistently and he's that guy. The Royals also are getting a player who should fit in well in the clubhouse. Ervin is just a great guy, Gubicza said. He's got a big smile on his face all the time. He competes hard. He's a great teammate. He'll fit in well. And I think he'll make a difference with the other pitchers there. They'll see his work habits. They'll see how he competes. That will rub off. The one thing he has that some of the kids there don't is playoff experience that makes a difference. He has a mindset of being a post-season guy. That's the mindset that you want the Royals to have. While Santana did struggle in the first half last season, he finished strong and ended with a 9-13 record and a 5.16 ERA. He had a 3.44 ERA over his final eight starts. The flip side is that he did surrender a league-worst 39 homers for the season. When he would get in trouble, it would be with the get-it-over curve when he's down in the count, Gubicza said. But a lot of those homers were solo homers and that didn't really hurt. He's still got incredible stuff. In fact, a lot of us thought he actually had the best stuff of anyone on the staff, including Weaver and (Zack) Greinke. He's got the best slider or one of the best sliders in the game. So why didn't the Angels want him back? I think the Angels are kind of in transition here, Gubicza said. The option (13 million) would have been a lot to pick up especially when they're considering what to do with an offer for Zack. There are reports that Zack is looking for something in the 100 million or 120 million range. But I don't think anyone was down on Ervin. He was a little too inconsistent at times but he's still a guy who has No. 1 stuff. It's tough to let guys like that go. Kansas City got a nice pickup for where they're at. They're going to be very happy with him.
Original Story:
http://www.foxsportskansascity.com/11...
THE BACKYARD
BEST OF MAXIM
RELATED ARTICLES
KANSAS CITY, Mo. With the trade of Jonathan Broxton to Cincinnati last summer and the Royals' decision to pass on Joakim Soria's contract option last week, the path has been cleared for Greg Holland to become the Royals' closer perhaps for years to come. But Holland, 26, isn't exactly relieved they're gone. "Sure, I'd love to be the closer for years...
After the Kansas City Royals declined Joakim Soria's $8 million option, the former closer became a free agent.  This, of course, does not mean the Royals had no intentions of bringing him back.  It simply meant that after a year lost to Tommy John surgery, they did not feel $8 million was a sound investment.  However, now that Soria is a free agent, he is testing the waters...
By Brian Waller - AngelsWin.com Columnist All good things must come to an end, and it appears as though fan favorite Torii Hunter's days in a Halo's uniform have come to an end; with the door only slightly cracked for the mayor of "Toriitown" to return. After signing a 5 year $90-million deal with the Angels on November 22, 2007 Hunter seemed like the perfect fit for...
Kansas City, MO (November 5, 2012) – The Kansas City Royals have announced that shortstop Alcides Escobar was selected as the 2012 Joe Burke Special Achievement Award winner.  The award was voted on by the Kansas City Chapter of the Baseball Writers Association of America (BBWAA).  The Joe Burke is awarded to an unsung player who contributed above and beyond what was expected...
The November 5th, 2012 edition of daily news for the Los Angeles Angels of Anaheim including Dipoto talks about the Haren non-trade, Hunter not given a qualifying offer, Bourjos will start in the outfield and much more... The Story: Jerry Dipoto talks about the wild events of Friday night that led the Angels to decline Dan Haren's option. The Monkey Says: He doesn'...
The die has been cast.  Jerry Dipoto made his decision and ushered fan-favorite Torii Hunter out the door and into the wilderness of free agency,  In so doing he has also ushered in the Peter Bourjos era... again. A fan-favorite to a much lesser degree, Bourjos appears to have been given back his starting outfield job.  He didn't earn it back, mind you, he was simply gifted...
Joakim Soria was one of the top closers for the Kansas City Royals over the past few years, prior to missing all of the 2012 MLB season due to Tommy John surgery. Now facing a decision in free agency, Soria would like to once again establish himself as one of the elite closers in the game. Unless, of course, the New York Yankees made a phone call. That would be an entirely different...
Last week, the Angels shopped Dan Haren around the league, as it was common knowledge that they weren't going to pick up his $15.5 million option for 2013, and were willing to trade him to a team that wanted to take a one year flier on a pitcher was among the game's best as recently as 2011. Because they owed him a $3.5 million buyout, the marginal cost of acquiring Haren was...
Vernon Wells is a problem for the Angels.  That isn't up for debate.  He is one of the highest paid players in baseball but performs just above replacement level, and that might be a generous description.  No, the question is just how big of a problem Wells is for the Angels, in practical terms. What we've already heard several times from reporters, columnists and...
Torii Hunter may be pushing 40, but the outfielder proved in 2012 that he can still play. Hunter, who turns 38 in July, is drawing interest from the Red Sox, according to Rob Bradford of WEEI.com. Hunter hit .313 with an .817 OPS while making $18 million this past season — the final year of a 5-year, $90 million contract with the Halos. As Bradford points out, the 16-year veteran...
Prior to injuring his elbow and missing the entire 2012 season, Kansas City Royals free agent, Joakim Soria did not want to be a setup man, even for Mariano Rivera and the New York Yankees. Oh, how much changes when … Continue reading →
MLB News

Delivered to your inbox

You'll also receive Yardbarker's daily Top 10, featuring the best sports stories from around the web. Customize your newsletter to get articles on your favorite sports and teams. And the best part? It's free!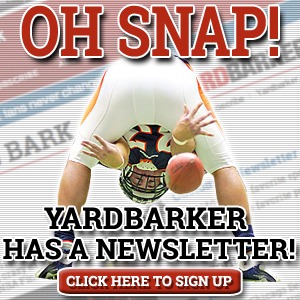 Latest Rumors
The Backyard

Today's Best Stuff

For Bloggers

Join the Yardbarker Network for more promotion, traffic, and money.

Company Info

Help

What is Yardbarker?

Yardbarker is the largest network of sports blogs and pro athlete blogs on the web. This site is the hub of the Yardbarker Network, where our editors and algorithms curate the best sports content from our network and beyond.