Found April 04, 2013 on The Nosebleeds:
PLAYERS:
Andy Pettitte
,
Shane Victorino
,
Jackie Bradley
,
John Farrell
,
Francisco Cervelli
,
Kevin Youkilis
,
Michael Bourn
,
Ryan Dempster
,
Lyle Overbay
,
Mike Carp
,
Stephen Drew
,
Jim Bowden
,
Drake Britton
TEAMS:
Boston Red Sox
,
New York Yankees
,
Toronto Blue Jays
,
Cleveland Indians
On the brink of a sweep in the opening series against their worst rivals, the Yankees, behind a stellar Andy Pettitte eight-inning effort, crushed the Red Sox's dreams of a 162-0 season. Here are the four bases from Thursday's game: First Base: There is a new phenomenon sweeping the Red Sox media! Shane Victorino's "relentlessness" might be the next catchy saying sweeping the nation…well maybe Red Sox nation. The 32-year-old outfielder used his "relentlessness" yesterday, swiping second early in the game that allowed him to score from second on a Jackie Bradley Jr. single. Today, he tried to score from second again, but this time on a passed ball, with not as good of a result. John Farrell must have taken a deep breth when Victorino injured his right hand in a collison at home plate with Yankees catcher Francisco Cervelli, but the skipper probably exhaled when his outfielder jogged back out to right field the next half inning. Second Base: José Iglesias is showcasing a new and exciting aspect to his game; bunting for a hit. And hey, he seems to be entrenched in the No. 9 spot in the lineup, so why not, right? Iglesias dropped down a squibbler in the sixth inning that pulled Kevin Youkilis off the back at first base, the second time the had done so in the series. Iglesias may not have Michael Bourn speed, but he may just have enough to make small ball a big part of his game. Third Base: Ryan Dempster's first start in a Red Sox uniform was not terrible, but was not great either. The surface stats look passable – five innings, five hits, three earned runs, four walks, eight strikeouts – but may not have passed the eye test. To go a little deeper, his control problems can be exemplified with his two-seam fastball; he through his usually-reliable pitch in the strike zone 6 out of 18 times, and one of those strikes was a double for Eduardo Nuñez in the second inning. It is only one start, so an overreaction face (like this one – :-O) is superfluous. Home Plate: Here's an interesting question: would you have kept Lyle Overbay over Mike Carp? The 10-year age difference may seem like a mountain between them, but their spring training statistics make that mountain a little stronger. Here's a quick comparison: Lyle Overbay: .220 Avg., 0 HR, 5 runs, 7 RBI, 6 walks, 1 double, 2 triples (with Red Sox) Mike Carp: .178 Avg., 1 HR, 6 runs, 5 RBI, 3 walks, 2 doubles Hindsight is always 20-20, and it's only one game, but it is ironic how one is playing regularly with the Yankees – and smacked a two-run single in the bottom of the second inning – and the other is essentially the 25th man on the Red Sox roster. Beyond the diamond… Stephen Drew batted third in Portland's debut and went hitless in three at bats, although collecting an RBI on a ground out in the first inning. He is expected to replace Iglesias on the roster when he returns, according to ESPN's Jim Bowden… Drake Britton, who got shelled in his AA Portland debut, got a scathing Gordon Edes column written about him, mentioning his first degree misdemeanor charge for driving 111 MPH in a 45 speed limit zone last month. Britton lasted only three innings, giving up seven runs (3 earned)… Farrell is expecting some jeers when he returns to Toronto, according to the Boston Herald's Scott Lauber. Farrell said in his pregame press conference: "People are going to have their own opinions, and I respect that." (Dempster Image Courtesy of J. Meric/Getty Images)
Original Story:
http://thenosebleeds.com/4-bases-red-...
THE BACKYARD
BEST OF MAXIM
RELATED ARTICLES
It is certifiably insane to claim the Yankees needed to win last night's game. Yep. Lunacy. Booga-booga. We know better. Any blogger or writer who says it was a "must" victory - send 'em down to Columbus! That said, holy crap, did Andy Pettitte save our butts or what?Someday, when the Hall of Fame voters look back on Pettitte's career, I hope they remember...
Pettitte notched the first win of the season with eight strong. Boston Red Sox 2 — New York Yankees 4   Andy Pettitte kept the Yankees from being swept in today's 4-2 win over the Boston Red Sox.   With two losses to start the season, the Yankees turned to Andy Pettitte to get the first win of the season. In eight innings, the 40-year-old Pettitte allowed just one run on eight...
Gordon Edes has written a profile piece on Shane Victorino as the catalyst to the Sox hot start (on pace for 162-0, baby!) that features some interesting quotes from the Flyin' Hawaiian. While so many baseball analysts and fans expect players to have great success during contract years, it sounds like Shane is the exception. Here's what he had to say about the mental side...
Shane Victorino really wanted to come to Boston. In fact, the decision was quite easy. Victorino, who signed a three-year, $39 million contract with the Red Sox in the offseason, wanted to join a baseball town, which is understandable considering the outfielder spent parts of eight seasons in Philadelphia. Victorino wanted to play for a historically passionate fan base so badly,...
Former steroid user and now 40-year old pitcher who is somehow magically still good Andy Pettitte led the Yankees to their first win of the year, a 4-2 defeat of the Sox at Yankee Stadium.  Pettitte went eight strong, scattering eight hits and giving up just one earned run before handing things over to Mariano Rivera, who had a rocky first appearance since his knee injury last...
After Andy Pettitte retired and came back last year, you knew he would have only done it if he thought he had a little something left in the tank. And while the Boston Red Sox didn't get a chance to see him last year, they did get to see him last night. And boy oh boy, did he look like the Pettitte of old in the Yankees 4-2 win over the Red Sox. He did allow eight hits...
Tossing eight innings of one-run ball, borderline Hall of Fame southpaw Andy Pettitte led New York to a 4-2 victory over the Boston Red Sox on Thursday at Yankee Stadium. Thanks to the 40-year-old Pettitte (1-0, 1.13 ERA), a three-time All-Star who has captured five crowns in pinstripes, the Yankees (1-3) finally triumphed for the first time in 2013. Considering New York's everyday...
The walls were starting to close in on the Yankees after the first two games of the season. An 0-3 start would not have doomed their season, but combined with all the injuries the club has sustained the feeling of a lost season in the making would only have grown stronger. It would be easy to say that last night Andy Pettitte and Mariano Rivera turned back the clock. It would also...
On Sunday, Shane Victorino was thrown out trying to score from second on a passed ball. Although it was an aggressive baserunning play by the outfielder that just didn't work it, it might also be a harbinger of what's to come in 2013 for the Red Sox. Manager John Farrell has made it no secret that he likes his teams to be aggressive on the bases when it's the right time. So...
There is something special about watching homegrown talent succeed. That's why, even though the first win of the season is always sweet, this one, with its distinct Yankee farm flavor, was definitely one to savor. From Andy Pettitte starting the ballgame to Mariano Rivera closing it out and everything in between, the Yankee farm system showed up, defensively and offensively...
After opening the season with two losses to the Red Sox, the Yankees won their first game of the season the "old" fashioned way. Two long-time Yankees locked down the win as Andy Pettitte threw eight fantastic innings leading to Mariano Rivera's first save of the year. If the Yankees want to pick up wins this weekend in Detroit, they will have to rely on their young pitchers...
Hiroki Kuroda just didn't look right after he was hit by that Shane Victorino single. Two hit-by-pitches and a trainer visit later, Kuroda exited the game with a bruised middle finger on his pitching hand. He is listed day-to-day. Adam Warren, who did the bulk of the pitching for the remainder of the game, may be rewarded for it with a trip to the minors. The Yankees have...
MLB News

Delivered to your inbox

You'll also receive Yardbarker's daily Top 10, featuring the best sports stories from around the web. Customize your newsletter to get articles on your favorite sports and teams. And the best part? It's free!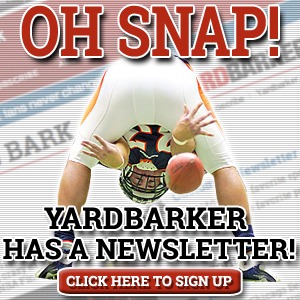 Latest Rumors
Best of Yardbarker

Today's Best Stuff

For Bloggers

Join the Yardbarker Network for more promotion, traffic, and money.

Company Info

Help

What is Yardbarker?

Yardbarker is the largest network of sports blogs and pro athlete blogs on the web. This site is the hub of the Yardbarker Network, where our editors and algorithms curate the best sports content from our network and beyond.