Found February 05, 2013 on Obstructed View OLD:
I was working on an idea for a post using the 2013 Cubs projections. The idea was to calculate an approximation of the best case scenario win total. I was going to use the 65th percentile projection for every player just for fun. I'll finish that before the season, but as I was getting the position player projections into a spreadsheet of their own, I noticed four players that I think could potentially make the 2013 Cubs a contender if they perform better than expected. There are, of course, several players who could perform better, but I limited it to guys that I thought had a chance to be at least 30 points of wOBA better than their CAIRO projection. I'm not saying I think they will. I'm just saying they have the skills to do it. The four most likely Those four players are Anthony Rizzo, Brett Jackson, Alfonso Soriano and Ian Stewart. Their projected wOBA's are, respectively, .348, .329, .319 and .304. For those wondering why I did not include Starlin Castro, his projected wOBA is .328 and his actual wOBA in each of the three seasons he's played was .329, .338 and .323. Castro is a valuable player, but he has over 1900 plate appearances at this point in his career. We know what kind of hitter Castro is and will likely be. Among SS, he'll be a good hitter even when he has a down season. I don't think he's a very good candidate to finish the season with a wOBA higher .358. He's not shown nearly that ability to this point in his career. Anthony Rizzo's .348 projected wOBA is tops on the Cubs, which kind of tells you how poorly the projections think of this offense. Rizzo's wOBA last year, despite getting off a ridiculously good start, was only .349. He's probably as good a candidate to regress from that figure as he is to do as well as I think he might. Against righties, Rizzo had a .386 wOBA last season. He was terrible against lefties (.260). He also had a .405 wOBA last year after his first month plus (played just a game or two in June). The league adjusted and his numbers declined significantly. We did see signs of him adjusting in September as he posted a wOBA of .363. If Rizzo can hit lefties a lot better than he has to this point in his career and make adjustments, there's a good chance his season ending wOBA will be near .380. Maybe even higher. Factoring in his above average defense, and his age, the Cubs would have themselves an elite first basemen for the next several years if this happens. If he only reaches his projections, he'll be slightly better than the league average 1st baseman. Brett Jackson has hit everywhere he's been in the minor leagues. His worst season offensively was last year at AAA and he was still better than league average (107 wRC+). He played a half season in AAA the year before and had a .400 wOBA (128 wRC+) so we know he can hit AAA pitching even better than last year. He was drafted in the 1st round in 2009 and as soon as he signed, he started hitting. He's been a very good hitter throughout his career and even flashed superstar talent at the plate in High A in 2010. Mostly, he's just been a whole lot better than league average and I'm far from convinced that won't be true at the MLB level. Last year when the Cubs acquired Anthony Rizzo, every Cubs fan was excited about his future and for good reason. Like Jackson, Rizzo had hit at every level with the exception of his cup of coffee at the big leagues in 2011. Speaking of that, he performed much more poorly than Brett Jackson did. Rizzo had 153 PA in 2011 and posted a .248 wOBA (59 wRC+). Jackson had 142 PA last year and his wOBA was .292 (77 wRC+). Granted, Jackson does have a huge flaw in his game that could prevent him from having any success. His strikeout rate at the big league level was higher than your average BBWAA member can count. You couldn't count at on all 8 hands. Jackson is going to strikeout. People need to get that through their heads. This isn't a guy who is going to be a contact hitter. He's probably going to strikeout more than 25% of the time in his career. He can hit for power, has some speed and plays average or better defense. He's also presumably a decent baserunner, but we don't have much of a sample. Jackson only had 19 PA vs lefties and performed poorly. Like Rizzo again, if Jackson can be better against lefties and cut down on the strikeout rate to a more manageable level, he's a very good candidate to be significantly better than projected. Since 2009, Soriano has been on the bad year, good year plan. He was pretty bad at the plate in both 2009 and 2011 and his wOBA in the even years was .352 and .350. His projected wOBA of .319 is better than his recent odd years, but not nearly as good as even year performance. Soriano can still hit. He's not a great hitter and never was, but he can still be better than league average and, more importantly, a productive hitter. In Soriano's first year with the Cubs, he had 617 plate appearances. He had been in the low 500s following that until he had 614 last year. He was relatively healthy and he performed well. He looked like a different player on defense, his legs seemed to feel better than they had since he put on a Cubs uniform. At times he looked awfully old, but at other times he even looked young. I wouldn't bet any money on Soriano beating his projection, but I think he's got a decent chance to hit in the .350s, which would be significantly better than projected. In 2003, Ian Stewart was picked in the 1st round by the Rockies (10th overall). After posting a .959 OPS in rookie league at the age of 18, Baseball America ranked him the top Rockies prospect, as well as ranking him 57th best in baseball. The future only looked brighter for Stewart after the 2004 season in which he hit .319/.398/.594 in A ball at the age of 19. Baseball America rewarded him by ranking him the 4th best prospect in baseball. Only Joe Mauer, Felix Hernandez and Delmon Young were ranked higher in 2005. Colorado hasn't had a hitter like Stewart in its system since Helton. Stewart punishes good fastballs and has the strength and hand speed to wait back and drive offspeed stuff. He has good plate coverage and learned to use the whole field during the season. He adjusted when SAL pitchers began throwing him junk, and did damage at both Asheville's cozy McCormick Field (.621 slugging percentage) and on the road (.568). Stewart has average speed, and he's a savvy and aggressive baserunner. While he fell short of his goal of a 30-30 season, he did steal 19 bases in 28 attempts. Defensively, he has an above-average arm. Along with his tools, Stewart has strong desire. He wants to be an all-star and a Gold Glove third baseman, and he's willing to do what it takes to get there. The Rockies rave about his work ethic and focus on team goals. Stewart remained in Baseball America's top 50 propects each each year through 2008. He never fell off the map by performing poorly, but his OPS's the next three years in the low to mid .800s forced us to drop the high expectations earlier in his career. His first three years a the big league level he had respectable wOBA's. The wRC+ was better than league average in his rookie season, but slightly below the following two years. He then hurt his wrist in 2011 and was horrible in nearly 150 plate appearances. He wasn't too good for the Cubs last season either. He's now had surgery to fix the wrist and is reportedly healthy. We could easily see Stewart return to the .330-.340ish wOBA we saw before the injury. There's also the possibility of him even being better than that. He's always had tremendous talent and is an example of a highly ranked prospect who simply did not work out. Maybe the Cubs could get lucky. It's important to point out once more that I'm not predicting these guys will do that much better than expected. I'd bet against all of them, but I think they are the four position players most likely to perform significantly better than the projections. If I was going to create a list of the four most likely position players to perform significantly worse than expected, that list would feature Alfonso Soriano (age-related decline), Brett Jackson (maybe he strikes out even more) and Ian Stewart (over the last two years he's been downright awful). The post Four most likely to exceed expectations appeared first on Obstructed View.
Original Story:
http://www.obstructedview.net/project...
THE BACKYARD
BEST OF MAXIM
RELATED ARTICLES
The Cubs have sent RHP Lendy Castillo outright to AAA Iowa. Castillo was Designated for Assignment on January 26th when RHP Carlos Villanueva (MLB Article XX-B free-agent signed by the Cubs last month) was added to the 40-man roster. Tags: Rule 5 draftLendy CastilloHector RondonRead more about Cubs Send Lendy Castillo Outright to Iowa
There is good news for the Chicago Cubs and their fans. Starting pitcher Matt Garza threw his first pain-free and discomfort-free bullpen session since last July. CBS Sports.com's Matt Snyder reports that Garza threw 30 pitches with no discomfort to his triceps or elbow. Garza suffered from elbow stress last July, and it ended his 2012 season. Cubs' pitching coach...
Northwestern and the Chicago Cubs have announced a partnership that includes five college football games at Wrigley Field. The dates of the games are still to be determined due to construction work at the Cubs' storied ballpark. In 2010, Illinois beat Northwestern 48-27 at Wrigley Field in a game that required both teams to run offensive plays only toward the west end zone...
There are crushes, there are man-crushes, there are bro-mances, heck, I even have my advanced stat man-crush, Ben Zobrist! But I am going to add a new kind of crush to the list. A rotation crush! See, I was pouring over pitching stats, preparing for upcoming fantasy drafts, as I am want to do and came across the Chicago Cubs starting rotation and well, woah, mama! After just a quick...
In the 2014 MLB season, we'll see the Wrigley Field 100th anniversary. Chicago Cubs fans have an opportunity to participate in the "Wrigley Field Turns 100 Logo Contest."  Fans will compete to have their design selected as the official logo to be used during the yearlong celebration in 2014. The official logo may be featured at Wrigley Field, on merchandise and memorabilia...
Cubs fans have many interesting pastimes and amongst the ones that draw the most derision is the building up of players who really are not that good. A decade ago Augie Ojeda was the most likely Cub drawing undeserved praise. Today that might be best exemplified by the love of Tony Campana in some corners. I myself have been guilty of this with Mark Bellhorn remaining one of my personal...
When Denny Garkey built his little league park to replicate Wrigley Field, he paid attention to every detail. In Freeport, IL he brought to life a little league baseball field that recreated every aspect of his own field of dreams. Now he's adding bleachers to his masterpiece, Little Cubs Field. A fundraising drive is starting now, with Cubs fans being offered a chance to make...
In some ways, the Northwestern Wildcats and Chicago Cubs were meant for each other. Both had/have major droughts. The NU college football team just won their first bowl game since 1949, and the college basketball has never ever made the NCAA Tournament, 70+ tries. As you've heard a million times, the Cubs haven't been to the World Series since 1945 and won one since 1908. The...
In some ways, the Northwestern Wildcats and Chicago Cubs were meant for each other. Both had/have major droughts. The NU college football team just won their first bowl game since 1949, and the college basketball has never ever made the NCAA Tournament, 70+ tries. As you've heard a million times, the Cubs haven't been to the World Series since 1945 and won one since 1908. The...
At Wrigley Field on Tuesday, Northwestern University and the Chicago Cubs organization announced a historic business partnership.
Northwestern uses the term "Chicago's Big Ten Team" and they've taken more and more steps to claim that territory for their own in recent years, including a historic football game played at venerable Wrigley Field in 2011. Well, on Tuesday the school and the Chicago Cubs announced an agreement to hold at least five future football games at the "Friendly Confines...
MLB News

Delivered to your inbox

You'll also receive Yardbarker's daily Top 10, featuring the best sports stories from around the web. Customize your newsletter to get articles on your favorite sports and teams. And the best part? It's free!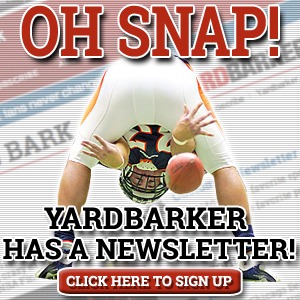 Latest Rumors
The Backyard

Today's Best Stuff

For Bloggers

Join the Yardbarker Network for more promotion, traffic, and money.

Company Info

Help

What is Yardbarker?

Yardbarker is the largest network of sports blogs and pro athlete blogs on the web. This site is the hub of the Yardbarker Network, where our editors and algorithms curate the best sports content from our network and beyond.