ATLANTA On June 2, 2009, Jeff Francoeur enjoyed one of his most thrilling nights in a Braves uniform, belting a two-out, two-run homer in the 9th inning off Cubs closer Kevin Gregg, knotting the score at 5-all. The game-tying blast over the left-center wall, while majestic and perfectly timed, should never have occurred, since the three Braves hitters preceding Francoeur in the ninth had technically gotten out. Only a wild pitch after Garret Anderson's swinging strikeout, and subsequent run to safety at first base, could keep hope alive for the Braves and put the spotlight directly on Francoeur, who responded with a game-saving moon shot, and helped propel the club to a 6-5 win in 12 innings. That night stands out for three reasons: 1) A few friends had thrown me an impromptu bachelor party at Turner Field; 2) Cubs starter Randy Wells was on the precipice of a no-hitter heading into the 7th; and 3) and it was essentially Francoeur's last captivating moment in the sun (or night-time lights) with the only pro franchise he had known at that point in his life (age-25 season). Five weeks later, with mid-season tallies of five homers and a .250 batting average, the Georgia native and current Atlanta resident would be traded to the rival Mets for some random outfielder named Ryan Church, who disappeared from the MLB mini-universe after the 2010 season. Four years later, Francoeur has settled into a comfortable spot with the Royals a previously downtrodden franchise that's loaded with young playmakers in the majors and high-end prospects in the minors. At 29, he is one of the club's elder statesmen, with the reasonable capacity for 30 doubles, 18 homers and maybe 15 outfield assists for the season. But make no mistake, he's also a placeholder for Bubba Starling, Kansas City's premier stud down on the farm. In his third season with Kansas City, a team that's run by former Atlanta executive Dayton Moore, Francoeur has watched his current club undergo many changes in the last 25 months. But that turnover rate would not compare to the vast differences of the Braves' roster from June 2009 (Francoeur's magical night) to the present day, which includes Atlanta's four-homer explosion (Jason Heyward, Justin Upton and Juan Francisco twice) from its 6-3 victory on Tuesday evening. "I've never seen that those are some great hitters," said Francoeur, speaking of the Braves' power trio of Heyward, Justin Upton and Francisco from Tuesday. He added: "Obviously, I live here (and keep tabs with the Braves), and when they put this team together, (the expectations) were to strike out and hit home runs. And they're doing that." Four years ago, the Braves' main core comprised Francoeur, Chipper Jones, Brian McCann, Yunel Escobar, Kelly Johnson, Nate McLouth, Martin Prado, Adam LaRoche and pitchers Jair Jurrjens, Tim Hudson (only seven starts that season), Tommy Hanson and closer Rafael Soriano. Today, only McCann and Hudson still belong with Atlanta, and both are impending free agents this winter. So, as Francoeur took his customary outfield spot at Turner Field on Tuesday, collecting one RBI, two hits and throwing a perfect strike from 200 feet to nail Atlanta's Andrelton Simmons at home plate, it was a familiar sight but one that didn't have the feel of an original homecoming. After all, Francoeur had played at Turner Field a handful of times, post-trade to the Mets; and his plate-appearance announcement from Tuesday, over the Braves' P.A. system, emitted only a smattering of half-hearted boos. "For a while there, I was hoping to get the hit that would give us a win, especially coming back to Atlanta," said Francoeur, now batting .261 with three RBI for the year. Francoeur never fulfilled that wish, but he certainly kept the Royals in the game with the aforementioned outfield assist in the seventh. With Braves pinch-hitter Blake DeWitt at the plate and Simmons at first base, DeWitt lofted a high pop fly to shallow left-center field a tricky ball that neither center fielder Lorenzo Cain or Francoeur could accurately assess. In fact, Francoeur admitted to having a "crappy read" on DeWitt's flare. But that momentary lack of control, ultimately deferring to Cain for the putout attempt, allowed Francoeur to get a sense of Simmons' place along the base paths. "Yeah, I took a peak. I saw (Simmons) coming around the corner and thought I could get him," Francoeur recalled. Sure enough, after Cain couldn't handle the popper, Francoeur reached to grab the ball, spun 180 degrees and air-mailed a pinpoint throw to Royals catcher Salvador Perez, who tagged a diving Simmons just before he reached the plate. The play was many things to many people enjoying a hard-fought game between clubs that hardly face one another. For Francoeur, it was one more rush of adrenaline in an all-too-familiar setting.
Original Story:
http://www.foxsportssouth.com/mlb/atl...
PLAYERS:
Jeff Francoeur
,
Kevin Gregg
,
Garret Anderson
,
Randy Wells
,
Ryan Church
,
Bubba Starling
,
Dayton Moore
,
Jason Heyward
,
Justin Upton
,
Juan Francisco
,
Chipper Jones
,
Brian McCann
,
Yuniel Escobar
,
Nate McLouth
,
Martin Prado
,
Adam LaRoche
,
Jair Jurrjens
,
Tim Hudson
,
Tommy Hanson
,
Rafael Soriano
,
Andrelton Simmons
,
Blake DeWitt
,
Lorenzo Cain
,
Salvador Perez
TEAMS:
Kansas City Royals
,
Chicago Cubs
,
Texas Rangers
,
Atlanta Braves
,
Tampa Bay Rays
,
Baltimore Orioles
,
Arizona Diamondbacks
,
Washington Nationals
,
Los Angeles Angels
MORE FROM YARDBARKER
MLB News

Delivered to your inbox

You'll also receive Yardbarker's daily Top 10, featuring the best sports stories from around the web. Customize your newsletter to get articles on your favorite sports and teams. And the best part? It's free!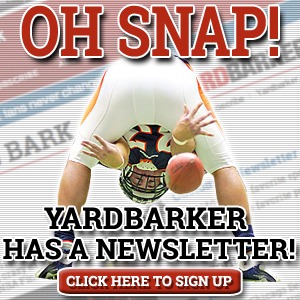 Latest Rumors
Best of Yardbarker

Today's Best Stuff

For Bloggers

Join the Yardbarker Network for more promotion, traffic, and money.

Company Info

Help

What is Yardbarker?

Yardbarker is the largest network of sports blogs and pro athlete blogs on the web. This site is the hub of the Yardbarker Network, where our editors and algorithms curate the best sports content from our network and beyond.