Found April 05, 2013 on Fox Sports Ohio:
No one ever told Todd Frazier he was going to be the Reds starting third baseman this season, maybe because it was just a given to most people. As important as Scott Rolen had been to the Reds the last four seasons, the time had come for Frazier to take over the position on an every-day basis. Still, no one told that to Frazier directly. The closest he got to hearing it was while he was in the trainers room during spring training in Arizona. Frazier was getting treatment for a calf injury when he met up with manager Dusty Baker. Dusty said, Hey man youre not trying out for the team this year and it hit me then that I might have that spot, which was pretty nice, comforting, said Frazier. But I was never told. It was a surprise last year when Frazier didnt make the Opening Day roster. He surprised a lot of people when, after getting the call up from AAA Louisville three weeks into the season, he played well enough to be voted by his peers as the National Leagues Outstanding Rookie and finish third in the NL Rookie of the Year balloting by the Baseball Writers Association of America. There are no surprises for Frazier this season. He is in the lineup, batting sixth, and going about his business like he belongs there, just as Rolen always did. Friday night in the Reds 15-0 win against Washington, Frazier went 4-for-5, including hitting two of the six home runs by the Reds, knocked in four runs and scored three times in the clubs third consecutive victory. Hes hitting .471 in the early going of the season and is the only Red to have hit safely in the teams first four games. Hes handled all but one chance in the field cleanly. I never thought he was going to have any issues filling in at third base, said Jeff Brantley, Reds radio broadcaster. The comparisons of him to Scott Rolen at third base are unfair for anybody. Youre talking about a guy who has a pretty good chance at being in the Hall of Fame. When I look at Todd, I see a guy who loves the game, No. 1, loves his teammates, No. 2, and hes great at what he does. Otherwise he wouldnt be here. The more that hes around this type of atmosphere, which is winning baseball, I really believe its going to make him even better. Rolen came to the Reds in a trade with Toronto on July 31, 2009, and helped them win a pair of NL Central division titles. He was limited to 92 games last season because of injury and hit .245. Rolen meant much more to the Reds and Frazier than his statistics. I learned how to prepare and how to play the game, third base especially, and how to go about your business over there and be professional, said Frazier. He was always that guy and he spoke with actions, not words. He was a great example to have. Frazier played in 128 games last season, hitting .273 with 19 home runs and 67 RBI. He played 39 games at first base in the absence of Joey Votto, 73 games at third base and another seven games in left field. This offseason, Frazier worked on being ready to play third base. When he got to Goodyear for spring training, he and bench coach Chris Speier worked on the mechanics and fundamentals of playing the position. Speier played 19 seasons in the Major Leagues as an infielder. The really good third basemen, and probably all infielders, if you watch their pre-pitch movement, what they do prior to the pitch and how their feet get ready, at the point of contact youll see them be really light on their feet and getting their feet moving a little bit, said Speier. I talk about tennis players and their return of service those guys do is the same type of feeling we have to have as infielders. Its to get him comfortable and getting his feet in the proper position at the proper time, so we worked on that. Frazier was tested in the first inning Friday night. Jayson Werth hit a bounding ball into the hole. He moved to his left, cut the ball off in front of shortstop Zack Cozart and threw to Votto at first base for the out after squaring his body. At the plate, Fraziers solo home run with one out in the second inning gave the Reds their first run of the game. He added a two-run home run in the 7-run seventh inning and drove in Jay Bruce with the final run of the game with a single in the eighth inning. This year is a difference but its what youve always wanted to be, what youve always dreamed of. Its what you play the game for, to have a set position and to have no worries in knowing that youre that guy, said Frazier. Knowing that, my comfort level is a little more there and Im very happy. Im delighted to be at third base its where I want be. In case something happens Ill be that utility guy again but its nice to have that one position.
Original Story:
http://www.foxsportsohio.com/mlb/cinc...
THE BACKYARD
BEST OF MAXIM
RELATED ARTICLES
Friday night was an eventful one for fans at Great American Ball Park. Not only did the hometown Reds pound the only undefeated team left in the majors by a score of 15-0, but in the seventh inning, the crowd was entertained by a man who ran onto the field of play. The crazed fan, who may or may not have been under the influence of alcohol, sprinted onto the field and slid...
Louisville won 4-3. Box Score Billy Hamilton went 1-4 with a double. Felix Perez went 1-4 with a walk off HR (1). Mike Hessman went 2-3 with 2 solo HR (2). Henry Rodriguez went 1-3 with a double and a run. Denis Phipps went 1-3 with an RBI. Tony Cingrani threw 6 no-hit innings with a walk and 14 strikeouts. Justin Freeman threw 2 shutout innings with 3 strikeouts Game Notes The...
This guy's got balls. If he misses that catch, disaster could've struck and really harmed his child. We're sure his wife is not pleased either way. But this guy wasn't going to let that happen, as he snagged the ball with perfection, prompting cheers from those around him.  H/T USA Today Sports. Via @scottjohnson48
Louisville won 6-4. Box Score Jason Donald went 4-5 with 2 doubles, an RBI and a run. Henry Rodriguez went 1-4 with a walk. Mike Hessman went 0-2 with a walk and 2 RBI. Felix Perez went 1-3 with a run and a walk. Konrad Schmidt went 1-4 with a double, RBI and a run. Krisopher Negron went 1-2 with 2 walks and a run. Josh Fellhauer went 1-1 as a pinch hitter. Chad Reineke threw 4...
Louisville won 6-4. Box Score Billy Hamilton went 2-3 with a double, run and 3 steals before exiting with an injury. Henry Rodriguez went 1-4 with a double, walk, RBI and a run. Mike Hessman went 2-4 with a walk and 2 solo HR (4). Denis Phipps went 1-4 with a HR (1) and 2 RBI. Jason Donald went 2-4 with 2 doubles. Felix Perez went 1-3 with a double. Nevin Ashley went 1-4 with a...
Todd Frazier and Zack Cozart each homered twice, and the Reds hit six in all - including Xavier Paul's pinch grand slam - while sending the Washington Nationals to a 15-0 defeat Friday night, their first loss this season and their worst loss since returning as a team.
Washington Nationals manager Davey Johnson is being honored for something he did in Cincinnati 18 years ago. Johnson led the Reds to a division title in 1995 and the NL championship series, where they were swept by Atlanta. Former owner Marge Schott decided to replace Johnson with Ray Knight after the season. The Reds wouldn't win another division title until 2010, when they...
I had actually meant to write this article for yesterday, but things got in the way of that happening so it got pushed to today. Positional Player Breakout Predictions When looking at guys who could potentially break out, I look at a lot of things and pick players for different reasons at times. My first pick already had a bit of a breakout season last year, but it went largely unnoticed...
It has never happened, but it might this year – the Cleveland Indians could face the Cincinnati Reds in the World Series. Other match-ups are more likely — Nationals vs. Tigers, for instance — but Ohio's teams may be on a collision course. It is less of a long shot than you might think. On paper, the Reds are one of the best teams in baseball. They won 97 games last year...
The Washington Nationals had a rough series opener against the Cincinnati Reds on Friday night losing 15-0, which was the worst loss in team history since 2005. The Nats looked to come in to recover from that beating on Saturday afternoon behind Ross Detwiler, and they did just that, even if it did come off the rails a bit in the late innings. Speaking of Detwiler, he had quite...
MLB News

Delivered to your inbox

You'll also receive Yardbarker's daily Top 10, featuring the best sports stories from around the web. Customize your newsletter to get articles on your favorite sports and teams. And the best part? It's free!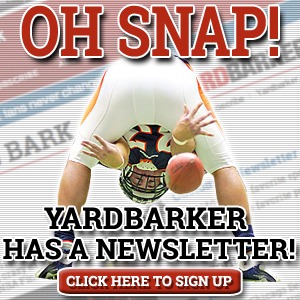 Latest Rumors
The Backyard

Today's Best Stuff

For Bloggers

Join the Yardbarker Network for more promotion, traffic, and money.

Company Info

Help

What is Yardbarker?

Yardbarker is the largest network of sports blogs and pro athlete blogs on the web. This site is the hub of the Yardbarker Network, where our editors and algorithms curate the best sports content from our network and beyond.