Found September 26, 2012 on Fox Sports:
Eric Gagne might be known for his 84 consecutive saves recorded, but thanks to some explosive allegations in his upcoming autobiography, he could have a new reputation brewing. In "Game Over: The Story of Eric Gagne," the former major league reliever suggests that 80 percent of his teammates on the Dodgers were using performance-enhancing drugs while he was there. While Gagne doesn't name any names in the French-language tome, with a number that big, the odds aren't doing any of his former teammates any favors. "I was intimately aware of the clubhouse in which I lived," he writes, according to ESPN. "I would say that 80 percent of the Dodgers players were consuming [PEDs]." From 2002 to 2004, Gagne recorded 152 saves for the Dodgers, posting a 1.79 ERA and an absurd 13.3 strikeouts per nine innings. Despite the gaudy numbers, however, the three-time All-Star and former Cy Young winner seems to recognize that his cheating might not have been worth it. "It was sufficient to ruin my health, tarnish my reputation and throw a shadow over the extraordinary performances of my career," he writes. "Throwing a shadow" might be putting it lightly, since many baseball fans dismissed Gagne as a blip on the Steroid Era radar the moment he was listed in the Mitchell Report as an HGH user. The suggestion that 80 percent of his teammates were users, however, cuts back to the core of what will be the big debate surrounding baseball for years to come. Gagne elevated himself to greatness for a few short years, apparently with the help of performance-enhancing drugs. But if four out of five of his teammates were also on the juice, then it's not unreasonable to extrapolate that number to the rest of the league. That in turn would validate Gagne's performance as dominant, however, since the argument can easily be made that the playing field was (80 percent) level and Gagne was still able to shut down any and all challengers. It's a tricky subject and one that isn't going away any time soon. Gagne wouldn't appear on many Hall of Fame ballots when it comes time to vote, but one has to wonder if we're a few years away from the next book revealing that Cooperstown has already been infiltrated by a PED user.
Original Story:
http://msn.foxsports.com/mlb/story/er...
THE BACKYARD
BEST OF MAXIM
RELATED ARTICLES
GAME OVER
Former Dodgers closer Eric Gagne made a shocking claim related to PEDs in his new biography. See what exactly the pitcher said.
Man, remember when Eric Gagne was a thing? It was great. Seeing him trot in from the bullpen with "Welcome to the Jungle" blaring on the speakers was a sight to behold. I'm saddened I never got to see it in person. But when he came in, the game was almost literally over. Now, he's busy throwing former teammates under the proverbial bus -- kinda. In...
Former Dodger closer Eric Gagne released a biography in French recently, called "Game Over: The Story Of Eric Gagne", and within that book he estimates that 80% of his Dodger teammates used PEDs, though the story is more than a bit light on specifics. Gagne, who set a major league record while converting 84 consecutive ...
Eric Gagne, who won the National League Cy Young Award in 2003, claims in his new biography that about 80 percent of his Los Angeles Dodgers teammates used performance-enhancing drugs when he was playing, ESPNLosAngeles reported Tuesday. Gagne says in the book that he used human growth hormone over five cycles during a three-year period at the end of his career. "It was...
Eric Gagne details his use of HGH in his new biography and estimates that 80 percent of his Dodgers teammates were using performance-enhancing drugs, ESPN LA reports. Gagne, who was an All-Star closer with the Dodgers from 2002-2004 and won the 2003 Cy Young Award, says in his new biography "Game Over: The Story of Eric Gagne," that he did five cycles of HGH over a three-year...
DODGING DODGER
Adrian Beltre said that instead of Eric Gagne stating in his autobiography that 80% of his Dodgers teammates used HGH, he should have named them.
According to a report from ESPN Los Angeles, former Dodgers closer Eric Gagne admits to using HGH over the last three years of his career and claims that 80 percent of his LA teammates were using performance-enhancing drugs in his new biography "Game Over: The Story of Eric Gagne." I would have verified this myself, but it turns out the biography is written in French, and I...
Former Dodgers Eric Gagne has an autobiography coming out and it's definitely going to cause some waves.  In Game Over: The Story of Eric Gagne, the former reliever states that 80 percent of his Dodger teammates used PEDS while he was there. Now he's not diming out who was doing what, but obviously this allegation [...]
Eric Gagne claims in his upcoming biography that 80% of the Los Angeles Dodgers took PEDs when he was with the team. Former Dodgers teammate Adrian Beltre — who people have speculated  about using PEDs in the past — took offense to Gagne's statement and was forthright in his answer when someone asked him about it yesterday: "He should have named names.  I don'...
If you rush to your local bookstore to pick up a copy of Eric Gagne's new autobiography, Game Over: The Story of Eric Gagne, don't expect to see Adrian Beltre waiting in line. Gagne claims in his upcoming book that 80 percent of his Dodgers teammates were using performance-enhancing drugs, and it just so happens Beltre played alongside Gagne in Los Angeles from 1999-2004...
College Football Nebraska made a music video and it's… You be the judge – Throw The Flag Critical SEC East Showdown In Athens – Southern Gameday 6 teams that could threaten the SEC's string of championships – SDS We Must Be Nearing October… The Gruden Talk Has Begun – Mr SEC Another QB leaves Penn St with Jones' departure – SI Other Sports Big Brother Power...
MLB News

Delivered to your inbox

You'll also receive Yardbarker's daily Top 10, featuring the best sports stories from around the web. Customize your newsletter to get articles on your favorite sports and teams. And the best part? It's free!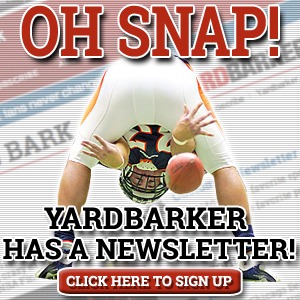 Latest Rumors
The Backyard

Today's Best Stuff

For Bloggers

Join the Yardbarker Network for more promotion, traffic, and money.

Company Info

Help

What is Yardbarker?

Yardbarker is the largest network of sports blogs and pro athlete blogs on the web. This site is the hub of the Yardbarker Network, where our editors and algorithms curate the best sports content from our network and beyond.