Found August 06, 2013 on RedSoxLife:
Photo courtesy of the Houston Astros Ben Whitehead Contributing Writer Losing to the last-place team is never a good thing. But when you're the best team in the league, it's unacceptable. John Lackey pitched another solid outing but was unaided by the Red Sox offense – again – in a 2-0 loss to the Astros. The win was Houston's 37th of the season, still four less than the second-worst team in baseball (Chicago – 41 wins). If Boston (68-46) wants to avoid losing a series to Houston (37-74), it will need to win each of the next two games, beginning tonight when knuckleballer Steven Wright makes his first Major League start. Wright is 2-0 with a 3.65 ERA for the Red Sox this season and has thrown 8.2 scoreless innings in his last two relief appearances, both in which he earned a win. Here is the lineup tonight for the Red Sox (first pitch – 8:05 pm EDT): 1. Ellsbury, CF 2. Victorino, RF 3. Pedroia, 2B 4. Ortiz, DH 5. Napoli, 1B 6. Carp, LF 7. Drew, SS 8. Lavarnway, C 9. Holt, 3B ...
Original Story:
http://www.redsoxlife.com/2013/08/gam...
THE BACKYARD
BEST OF MAXIM
RELATED ARTICLES
Steven Wright's first career start didn't go exactly the way he had planned. The right-hander lasted just one inning and gave up three runs on one hit. Wright combined with catcher Ryan Lavarnway for a record-tying four passed balls in the inning. Wright's first spot start gave the starting rotation some rest, and the Red Sox came out on top, despite the early pitching struggles...
8 a.m. ET: The Astros boast one of the worst pitching staffs in baseball, but it sure didn't look like that Monday night. Rookie starter Brett Oberholtzer and a pair of relievers combined to shut out the highest-scoring offense in the majors, holding the Red Sox to five hits in a 2-0 win for the home team. The Sox hope to have better luck on Tuesday against right-hander Jordan...
Ryan Lavarnway will return to the lineup to catch knuckleballer Steven Wright's first career major league start as the Red Sox try to rebound against the Astros on Tuesday night in Houston. Wright will get the nod as a result of manager John Farrell's wish to give his regular starters an extra day of rest. Despite it being Wright's first big league start, however, the right...
Red Sox knuckleballer Steven Wright made his first career start on Tuesday night against the Astros in Houston, and young Sox catcher Ryan Lavarnway had a very difficult time handling the movement on Wright's pitches. Lavarnway, who has caught Wright eight times before in the minors, tied a Major League record by allowing four passed balls in the first inning. The mistakes allowed...
Boston Red Sox catcher Ryan Lavarnway has tied a major league record with four passed balls in one inning. Lavarnway had trouble handling pitches from knuckleballer Steven Wright in the first inning Tuesday night against the Houston Astros. Wright was making his first big league start. It was the third time in major league history that a team had four passed balls in one inning...
After the first inning where Ryan Lavarnway had four passed balls off of the Steven Wright knuckleball, you'd have thought the Boston Red Sox would be done against the Houston Astros. They weren't and I'm guessing some people gave up on the game. Folks with this Red Sox team, you simply can't do that. Lavarnway redeemed himself in the 5th inning with a two...
I figured Monday night's game, which saw the Red Sox shut down by the worst team in baseball, would be the oddity in this series. Turns out it was just an appetizer. Last night's slugfest was one of the oddest and more confounding Red Sox games I've ever witnessed and I'm happy that when the dust cleared, they emerged with a win. Among the strange happenings: Ryan Lavarnway...
Eric D. Schabell Contributing Writer The definition of a knuckler, "a baseball pitch thrown with little speed or spin". The Red Sox have been blessed to have on of the best ever in Tim Wakefield throwing a knuckler, entertaining the fans at Fenway and across America. This tradition was about to be lost when Time Wakefield finally hung up his hat, but in the minors the...
Knuckleballs are hard to throw, hit and catch — just ask Steven Wright, Ryan Lavarnway and just about anyone who has dug into the batter's box when that red-stitched pearl comes dancing along. In an inning that would make Doug Mirabelli cringe, Lavarnway allowed four passed balls against the Astros in the first frame on Tuesday night, tying a major league record. The last time...
Eric D. Schabell Contributing Writer Who is at fault for the 1st inning last night in Houston? Can we blame the catcher who has never seen a ball dance like that before, sometimes dropping up to 14 inches vertically and moving horizontally up to 12 inches as it came at him? Maybe the Red Sox should have called up the same catcher that handles Steven Wright down at Pawtucket...
First Pitch: Monday 8:10, Tuesday 8:10, Wednesday 8:10 Arms: Monday: John Lackey, RHP (7-8, 3.23 ERA) vs. Brett Oberholtzer, LHP (1-0, 3.77 ERA)   Tuesday: Steven Wright, RHP (2-0, 3.65 ERA) vs. Jordan Lyles, RHP (4-5, 4.91 ERA) Wednesday: Ryan Dempster, RHP (6-8, 4-58 ERA)  vs. Jarred Cosart, RHP (1-0, 0.96 ERA)                                    Yard...
MLB News

Delivered to your inbox

You'll also receive Yardbarker's daily Top 10, featuring the best sports stories from around the web. Customize your newsletter to get articles on your favorite sports and teams. And the best part? It's free!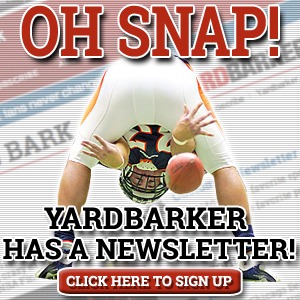 Latest Rumors
Best of Yardbarker

Today's Best Stuff

For Bloggers

Join the Yardbarker Network for more promotion, traffic, and money.

Company Info

Help

What is Yardbarker?

Yardbarker is the largest network of sports blogs and pro athlete blogs on the web. This site is the hub of the Yardbarker Network, where our editors and algorithms curate the best sports content from our network and beyond.