Found July 21, 2012 on Tigers Weblog: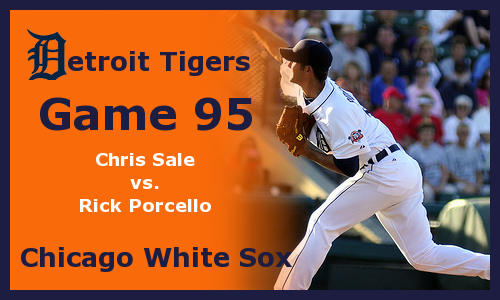 50-44, 2nd place, .5 games behind CWS.
Wow, what a game last night. Other than a very poorly located 2-0 fastball, Verlander pitched a gem. The most incredible pitch of the night came in the 8th when a 100 mph 0-1 fastball literally sawed Gordon Beckham's bat in half, on a check swing no less. Last night's game was just what we expected, and needed, from JV. Valverde had a 1, 2, 3 ninth, but he came perilously close to walking Adam Dunn, and then needed a tremendous diving catch by Berry to get the third out (check out the emotion after the catch; I love it).  Also, all four of the Tigers' runs came with 2 out, and the Tigers were 6-13 with RISP.
Ricky P takes the ball at 4:05 Eastern with a chance to pitch the Tigers into first place. Most of us would rank Porcello's season this year as disappointing, perhaps even very disappointing, but I think a closer look at the numbers reveals that he's actually progressing, and maybe even rapidly so.
First of all, let's look at his peripherals. His walks per 9 are slightly up, but so are his Ks per 9. His 2.20 K/BB ratio is the best of his career. Also, his HR/9 has come down every year since 2009. His current 4.66 ERA is better than 2010 and 2011, and while his 2009 ERA was 3.96, that was due to a ridiculously low BABIP, as his 4.77 2009 FIP (see below) demonstrates. In most measurable categories, he's improving.
So now let's look as his sabermetric numbers. Porcello leads (not in a good way) the majors with a .358 BABIP against (Scherzer is .346 against, 2nd worst in the majors). I think that some of this can be blamed on poor fielding (we've discussed how few balls the Tigers infield gets to but know that JVs .238 BABIP is the 2nd best in the majors; Weaver's is .233; imagine what JV could do with a better fielding infield). But in any event, a lot of BABIP can be attributed to the whimsical nature of chance. 52% of the batted balls against him are ground balls, which is a fantastic number, even for a sinker baller. His FIP (which is ERA without fielding factors) is a respectable 3.81 (which is above his career FIP average), and his SIERA (an even fancier play on ERA) is a career best 4.13. So can the BABIP explain it all? Or is it something else?
Taking a look at his batted ball stats shows that his line drive rate is up to 23.7%, which is almost 30% higher than his career average coming into the season. Batters are squaring up on him like crazy. And to be honest, I can't figure out why. His velocity is up this year over his career numbers, and his pitch selection is in line with his usual numbers. So unless he's tipping his pitches, the BABIP is going to regress way down, and Porcello will have an above average, maybe even a fantastic, 2nd half.
*****************************
Opposing Porcello this afternoon is AL ERA leader Chris Sale. The lefty (RABURN ALERT) is 11-2 with a 2.11 ERA. Over his past 10 starts his ERA is 1.61 and his WHIP is .89. We'Äôre going to need Porcello'Äôs A game and some clutch hits from our righty BOOBs to wake up in 1st place tomorrow. The Tigers did 'Äúrough up'ÄĚ sale for 3 runs and 5 hits over 5 innings back on April 15th in his 2nd start of the year.
We'll do a trade rumor update manana.
Lineups coming later today.
 
Original Story:
http://feedproxy.google.com/~r/TheDet...
THE BACKYARD
BEST OF MAXIM
RELATED ARTICLES
DETROIT -- The Tigers' disabled list should be getting shorter, sooner rather than later. After a couple of good days of work, outfielder Andy Dirks could begin a rehabilitation assignment as soon as Sunday night. Dirks has been on the DL since May 31 with right Achilles tendinitis. "I feel good enough to play right now," Dirks said. "This is by far the best...
Detroit slugger Miguel Cabrera has hit his 300th homer, becoming the second Venezuela-born player to reach that mark. Cabrera reached the milestone with a mammoth shot to center in the third inning against the Chicago White Sox - his second homer in Sunday's game. He's the 14th player to reach 300 homers before turning 30, according to STATS, LLC. Andres Galarraga is the...
The Sports Truth Show Season 2 Episode 4 July 19th 2012 Fifth Avenue Royal Oak The Detroit Tigers were the main topic of Detroit Sports fans and The Sports Truth Show covered it! Also the latest in Detroit Sports and interview with MMA Teacher and Fifth Avenue Bouncer JP Ramone. Co-Hosts Chris Renwick and Dave [...]
PHOENIX -- The Diamondbacks and Tigers have discussed a trade that would include shortstops Stephen Drew and Jhonny Peralta, two sources with knowledge of the talks said Saturday, although once characterized the deal as "a long shot." While apparently unlikely, a trade involving Drew and Peralta would seem to serve both teams. The Tigers are playing Peralta at shortstop...
Rick Porcello pitched brilliantly into the ninth inning, and the Detroit Tigers took over first place in the AL Central on Saturday with a 7-1 victory over the Chicago White Sox. Brennan Boesch hit a three-run homer and Austin Jackson drove in the other four runs for the Tigers, who lead the White Sox by a half-game in the Central. Detroit was six games out after a loss to the Chicago...
There's a reason Detroit Tigers manager Jim Leyland downplays Detroit's "showdown series" with the first-place Chicago White Sox this weekend. He should. It's a three-game set and even if one team should sweep the other it will not seriously damage the chances of the other to finish first in the AL Central or be a threat to earn a Wild Card berth. There...
49-44, 2nd place, 1.5 games back. Your Tigers are now 5 games over for the first time since they were 10-5; or they are 39-39 over their last 78 games. Taking three out of four from a scorching hot Angels team is quite an accomplishment, but the kind of baseball that we've expected from the Tigers all season long. If you remove Turner's start, here's what the starters did...
Justin Verlander shut down the White Sox after the third inning, and the Detroit Tigers backed their ace with timely hitting in a 4-2 victory over Chicago on Friday night in the opener of a big three-game series. Detroit inched closer to the top of the AL Central. The Tigers trail the first-place White Sox by a half-game. Detroit was six back after a loss to the Chicago Cubs on...
Kevin Youkilis was long one of the most beloved members of the Red Sox, as much for his gritty style of play as for his production on the field -- and of course, the stadium-wide cry of "Youuuk!" that greeted his every at-bat. With his recent trade to the White Sox, the members Red Sox Nation found themselves in the classic quandary of whether or not to root for a former...
BOSTON -- As far as homecomings go, Kevin Youkilis' could have gone better. Sure, some numbers were there -- Youk hit .417 over the course of the four-game series while hitting a home run and driving in three runs -- but the most important numbers for Youkilis have always been the wins and losses. So as the White Sox depart town and another chapter in Youkilis' Red Sox experience...
The Blue Jays' Don Wakamatsu is a man of certain talents. He is known for his baseball acumen and experience in the big leagues (as a catcher for the Chicago White Sox).  Being a catcher, there are a couple of things I expect as characteristics of Wakamatsu. I expect him to have a fair knowledge of pitch location significance. I expect him to show an understanding of defense from...
MLB News

Delivered to your inbox

You'll also receive Yardbarker's daily Top 10, featuring the best sports stories from around the web. Customize your newsletter to get articles on your favorite sports and teams. And the best part? It's free!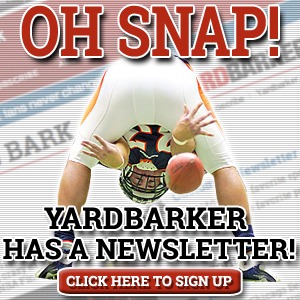 Latest Rumors
The Backyard

Today's Best Stuff

For Bloggers

Join the Yardbarker Network for more promotion, traffic, and money.

Company Info

Help

What is Yardbarker?

Yardbarker is the largest network of sports blogs and pro athlete blogs on the web. This site is the hub of the Yardbarker Network, where our editors and algorithms curate the best sports content from our network and beyond.