Found May 05, 2013 on Tigers Weblog:
Detroit Tigers, 18-11, 1st Place (.5 ahead of KC). The Tigers have their bags packed, and prepare to leave Houston a bit reluctantly, one imagines, after their party of a game last night and a 3-for-3 start to the series.  After leaving the strangely-named Minute Maid Park (there is not a tiny maid anywhere in sight), the Tigers have a two-game howdy of a series in Washington, and then back to Detroit to play three with Cleveland, and then…more Astros! One interesting (if trivial) aspect of the new Interleague play schedule: pitchers, of course, have to bat in National League parks since the play is by National League rules there, with no Designated Hitter.  Since there are at most three consecutive games in National League parks under the new scheduling,  theoretically a pitcher could manage to make it through the season without ever having to bat.  Mr. Justin "Hitless" Verlander is off the hook for the Washington series. The next away Interleague games are May 28-29 in Pittsburgh, and Verlander's schedule should get him out of that one also. At any rate, Verlander does climb the hill this afternoon for the asphalt game of the series, broom in hand. His counterpart will be Philip Umber, who with an 0-6 start has a shot at the coveted Maroth Award this season. ***** Today's Player of the Pre-game: Miguel Cabrera. I was going to say Alex Avila, since he had a 2nd consecutive good day at the plate, which is a bigger deal for the Tigers' season than a shellacking of the Astros is. But today he rests. Cabrera has 2 home runs in 6 at bats against Umber Today's B-Team (Broom-Team?) Lineup: Jackson, CF Dirks, LF Cabrera, 3B Fielder, 1B Martinez, DH Kelly, RF Pena, C Infante, 2B Santiago, SS
Original Story:
http://feedproxy.google.com/~r/TheDet...
THE BACKYARD
BEST OF MAXIM
RELATED ARTICLES
Keith Allison, Flickr Each Monday, good or bad, we'll look back at the biggest theme of the week that was for the Detroit Tigers. After winning the triple crown and MVP in 2012, many wondered what Miguel Cabrera would do for an encore. Even though there's no doubting his talent, Cabrera certainly couldn't put himself in position for a repeat performance of greatness, could...
Who would have thought that just over a month ago that the savior of the bullpen would have been the disgraced Jose Valverde. His return to the Tigers pen has allowed for guys to return to traditional and more defined roles which has provided stability to the end of close games. Pitchers are creatures of habit. They do their best when they know when they will be pitching in games...
We're only in the first days of May, but Miguel Cabrera appears primed for a run at another Triple Crown. The Detroit Tigers' superstar third baseman went 4-for-4 with two homers and six RBI in a 17-2, Saturday night rout of the Houston Astros. With that effort, Cabrera boosted his average to a league-leading .390, took over the top spot in the RBI race with 36 and bumped his...
Again it didn't come easy, but the Tigers are right where they wanted to be, taking the first two games of the four-game series with the struggling Astros, thanks partly to contributions by the slumping Alex Avila and by everyone's favorite bench donkey, Don Kelly (his working a 1-2 count into a walk ahead of Avila's home run was one of the subtle plays of the game). Tonight...
Miguel Cabrera hit two home runs and tied a career with six RBI to lead the Detroit Tigers' 17-2 mauling of the Houston Astros on Saturday night. Max Scherzer (4-0) won his fourth in a row to begin the season, allowing one run on three hits and striking out eight in eight innings. Detroit has won its first three games against Houston and has won eight of its last nine. Scherzer...
Nice to have you in the American League, Houston. The Detroit Tigers wrapped a four-game weekend sweep of the Houston Astros with a 9-0 win, as Justin Verlander carried a no-hitter into the seventh inning. Verlander did not allow a hit until Carlos Pena laced a 3-2 pitch to right with one out in the seventh. After coughing up a second hit, Verlander induced a double play to end...
On Thursday afternoon I talked Detroit Tigers on The Drive With Jack Ebling Show. Our main topic of discussion was the polarizing play of Alex Avila. He has hit two homers this week, including the go-ahead 2-run blast in Friday night's win, but should we expect good things from him? Have a listen:
Justin Verlander held Houston hitless until the seventh inning and the Detroit Tigers romped past the Astros 9-0 Sunday for a four-game sweep. Verlander, who has already pitched two no-hitters in his career, made a bid for another one against the overmatched Astros in their sixth straight loss. Carlos Pena got Houston's first hit, a single with one out in the seventh over the...
Carlos Pena saved Jim Leyland from one of the toughest decisions of his career. The former Tiger broke up Justin Verlander's no-hit bid with one out in the seventh inning, meaning Leyland didn't have to consider pushing his ace to unprecedented pitch counts. Verlander was already pushing 110 pitches when Pena singled to right field, and probably would have been over 140...
The Detroit Tigers are rolling after a four-game sweep, though they may be facing a stiffer challenge to start the week as they look to continue their winning ways. The Tigers go for their fifth straight victory as they open a two-game series against the Washington Nationals on Tuesday night. Detroit swept woeful Houston to close last week to give it nine wins in 10 games, outscoring...
This weekend the Detroit Tigers outscored the Houston Astros 37-8 in a four game sweep at Minute Maid Ballpark.  Detroit 8 home runs, 3 off of Philip Humber, who allowed 8 earned in 4 innings, and now owns and 0-7 record.  Miguel Cabrera added 7 hits, including a two home run game, 7 RBI and scored 5 times.  Could he possibly win back-to-back Triple Crown's?  Prince Fielder...
In this week's edition of the Triple Play, we look at the most consistent hitter in the game, a closer banished to the minors and more. Off we go: Who's Hot? Miguel Cabrera, Detroit Tigers Talk about en fuego. In the past week, he smashed four homers, drove in 13 runs and punished opposing pitchers to the tune of a .461/.562/1.038 batting line. Prepare to roll your eyes: Cabrera...
Tigers News

Delivered to your inbox

You'll also receive Yardbarker's daily Top 10, featuring the best sports stories from around the web. Customize your newsletter to get articles on your favorite sports and teams. And the best part? It's free!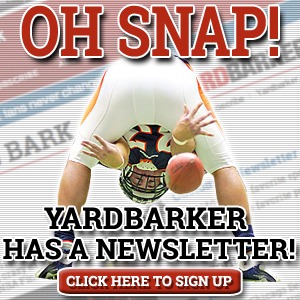 Latest Rumors
Best of Yardbarker

Today's Best Stuff

For Bloggers

Join the Yardbarker Network for more promotion, traffic, and money.

Company Info

Help

What is Yardbarker?

Yardbarker is the largest network of sports blogs and pro athlete blogs on the web. This site is the hub of the Yardbarker Network, where our editors and algorithms curate the best sports content from our network and beyond.