Found April 10, 2013 on Suicide Squeeze:
PLAYERS:
Clayton Richard
,
Josh Beckett
,
Chase Headley
,
Carl Crawford
,
Mark Ellis
,
Matt Kemp
,
Adrian Gonzalez
,
Juan Uribe
,
Will Venable
,
Yonder Alonso
,
Jedd Gyorko
,
Justin Sellers
,
Andre Ethier
,
Carlos Quentin
,
AJ Ellis
,
Vin Scully
,
Nick Hundley
,
Chris Capuano
,
Mark Kotsay
,
Paco Rodriguez
,
Alexi Amarista
,
Matt Guerrier
,
Cameron Maybin
,
Nick Punto
,
Chris Denorfia
,
Everth Cabrera
,
Don Mattingly
,
JP Howell
,
Jesus Guzman
,
Brad Brach
,
Luke Gregerson
,
Ronald Belisario
,
Chad Billingsley
TEAMS:
Los Angeles Dodgers
,
San Diego Padres
,
Boston Red Sox
,
New York Mets
It goes without saying that sometimes when you've been out on the road for a while and things aren't quite breaking your way, there's no place like home to catch your breath and get back on track.  This proved to be true for the San Diego Padres tonight as they opened their home schedule at Petco Park after a dismal 1-5 road trip to start the season. The Dodgers and the Padres faced off today at Petco Park, with long-time Dodger nemesis Clayton Richard going up against new Dodger face Josh Beckett, with each pitcher making their second start of the season. The Padres are without All Star Third Baseman Chase Headley for this series, and their offense was struggling considerably coming into this game.  Headley's return will certainly help bolster the Padres' chances to make some noise in the National League West. Carl Crawford picked things up where he left off, drawing a leadoff walk against Richard.  Mark Ellis followed with a single that skipped through the infield and found its way to left field.  Matt Kemp got struck out on a couple of pitches that he felt were questionable, then long-time Padre First Baseman Adrian Gonzalez walked to load the bases for Juan Uribe.  Uribe, however, could not deliver, hitting into a 1-2-3 double play to end the inning.  The Dodgers came up empty despite having the bases loaded with one out and working Clayton Richard for 28 pitches in the first inning. The Padres would strike early.  In the Bottom of the 1st, Will Venable hit the first pitch he saw from Beckett out to right field to put the Friars up 1-0.  Yonder Alonso would double two batters later, then Jedd Gyorko (apparently pronounced "Jerko") singled to center to score him and the Padres had a 2-0 lead at the end of an inning after registering 4 first inning hits off Josh Beckett, who threw 25 pitches of his own and did not look sharp. Richard got into another jam in the 2nd inning, but got out of trouble when Justin Sellers hit into a double play and Josh Beckett struck out, leaving Andre Ethier on third. Carl Crawford saved Beckett from giving up what looked like a sure hit for Clayton Richard in the Bottom of the 2nd, making a great diving catch of Richard's fly ball that looked like it was going to drop in.  Crawford followed up on this by leading off the Top of the 3rd with yet another single.  However, Crawford got picked off first base by Clayton Richard immediately after the hit.  While exhibiting great speed at times so far this year, this is the third time Carl Crawford has been caught stealing this year, his one achille's heel in what has been an otherwise excellent start for Crawford this year. A controversial call in the Bottom of the 3rd that cost the Padres an out.  With one out, Carlos Quentin hit a pop foul in back of the plate.  In the process of trying to make a play on the ball, A.J. Ellis got tangled up momentarily with Quentin and was unable to make a catch.  The umpire determined that Quentin had interfered with Ellis's attempt to catch the ball and called him out.  Vin Scully did not outright state he disagreed with the call, but did state that it appeared that Ellis bumped into Quentin in the Batters Box. Adrian Gonzalez led off the Top of the 4th with a pop single to left, then Juan Uribe came through.  Uribe hit a ball over the newly moved-in fence in right field to tie the game at 2.  Andre Ethier made it 3 hits in a row by lining a single into right field.  After A.J. Ellis flew out to Center, Justin Sellers hit a single of his own to right field.  Beckett sacrificed Ethier and Sellers over to 2nd and 3rd before Crawford ended the inning by hitting a chopper to second. Josh Beckett settled down after the first inning and by the end of the 4th inning had retired 10 batters in a row.  Beckett seemed to gain command as the game went on and looked more like the pitcher the Dodgers were hoping to get when they acquired him last August from the Boston Red Sox. Matt Kemp continued to come around slowly, hitting a double into the left field corner.  Adrian Gonzalez hit a deep fly to center to move Kemp over to third, then with two outs, Juan Uribe came up again with a chance to do some more damage.  Uribe wouldn't repeat his previous at-bat's feat, but did manage to draw a walk, bringing Ethier up with 2 on and 2 out.  Ethier unfortunately could not repeat the success of his first two at-bats, grounding out to end the inning.  Clayton Richard left the mound after 5 innings of work having thrown 99 pitches and fortunate to have only surrendered two runs. The Padres would take a 3-2 lead in the Bottom of the 5th when Nick Hundley hit a Josh Beckett fastball off the Western Metal Supply building facade down the left field line.  Beckett would get out of the 5th inning without allowing another run, but left the game after 5 having given up 3 runs, including  2 home runs, on 6 hits.  Beckett looked sharp at times, retiring 10 in a row at one point, but could not maintain his effort into the 5th. Chris Capuano would get in an inning of work, pitching a 1-2-3 6th for the Dodgers, and the Dodgers would tie the game up in the 7th inning when Adrian Gonzalez lined a single into left field, plating Carl Crawford.  This would be the last bright moment for the Dodgers on the evening, however, as the Dodgers bullpen would implode. The first sign of trouble came in the Bottom of the 7th.  Mark Kotsay's 1 out double to the wall in right-center field plated Cameron Mabin and put the Padres up 4-3. Paco Rodriguez would come in and put out the fire in the 7th inning, but the fire would flare up again in the 8th.  The Padres started off the 8th by drawing back-to-back walks by Jedd Gyorko and Alexi Amarista off Paco Rodriguez.  The Dodgers then brought in Matt Guerrier  to face Cameron Maybin.  Maybin sacrificed the runners over to second and third.  Nick Hundley then hit the ball to shortstop Nick Punto, who threw Gyorko out at the plate for the second out.  However, just as it looked like the Dodgers might escape the 8th inning unscathed and have a look at the game in the 9th, the floodgates opened up and the Padres offense capitalized on the opportunity. Chris Denorfia singled to right field, plating Amarista, putting the Padres up 5-3, and officially closing the book on Paco Rodriguez.  Everth Cabrera walked to load the bases and Don Mattingly went to his bullpen again, bringing in left-hander J.P Howell.  Howell gave up a long fly ball to center field off the bat of Will Venable that Matt Kemp could not run down and the bases were cleared, and Venable wound up on third base with a triple to put the Padres up 8-3.  After a Jesus Guzman walk, Yader Alonso's infield single placted Venable and gave the Padres a 9-3 lead.  Gyorko would walk for a second time in the inning before Amarista would strike out to mercifully end the inning. The Dodgers would go quietly in the Top of the 9th against San Diego Padres reliever Brad Brach, who walked the leadoff batter Nick Punto before settling in to strike out Carl Crawford and Mark Ellis, then getting Matt Kemp to pop out to second to end the game. The starters did not factor into the decision tonight, with both Richard and Beckett gone from the game after 5.  The winner is Luke Gregerson, who's record is now 1-0.  Ronald Belisario takes the loss and is now 0-1. So the Padres get a little momentum going their way in their home opener.  Game 2 between the Dodgers and Padres will be a 7:10 P.M. local time start tomorrow night at Petco Park, with Chad Billingsley making his first start of the season for the Dodgers.  He will be counter by the Padres' Eric Stultz, who won his first game of the year 2-1 over the New York Mets, providing 5 innings of shutout ball. Every Juance In A While… Don Mattingly elected to start Juan Uribe at 3rd base tonight because of past success against tonight's started Clayton Richard, with a career average of .385 (10-for-26) against the left-hander.  Mattingly looked the fool in the first inning when Uribe hit into a double play back to the pitcher with the bases loaded to end the inning, but looked the genius when Uribe redeemed himself with a shot over the fence in the 4th inning.  Uribe's had only limited success in what has been a very difficult 2 seasons in a Dodger uniform, but got a chance to have an impact today and managed to come through in the 4th, then drew a walk in the 5th to give the Dodgers a two on, two out situation.  The rest of the offense failed to supplement Uribe's efforts, however, only managing one additional run. When the Bullpen Blows Up… The Dodgers' bullpen opened the season up looking nearly perfect through its first 5 games, but found themselves on the wrong side of six Padres runs tonight, including 5 runs in the 8th.  Ronald Belisario showed the first sign of the bullpen cracking when he gave up a 7th inning run.  Paco Rodriguez, Matt Guerrier and J.P. Howell combined to allow 5 runs in the Bottom of the 8th, including 2 runs allowed by Rodriguez, 2 more by Guerrier, and 1 by J.P. Howell. The Fabulous Mr. Kotsay: Mark Kotsay came through with a big double and RBI in the 7th inning tonight, giving the Padres a 4-3 lead that they would not only not relinquish, but would build on by adding 5 more.  Kotsay had been one of the few bright spots for the Padres this season prior to today's game and is now 6 for 10 this season as a spot starter and a bat off the bench.  The Padres will need continued production out of Kotsay's bat while Chase Headley recovers from his injury. Praise for Will Venable: Will Venable's game tonight is worthy of special note.  Venable had RBIs on 4 of the Padres' 9 runs, including his first inning two run home run and his 8th inning triple.  Venable was 2-for-3 on the night and also drew two walks, raising his batting average to .222. Moving In The Fences: The Padres featured several changes in their ballpark from last season.  The outfield fence in right field is visibly 10-15 feet closer in some areas than it was last year, contributing to Juan Uribe's 4th inning home run.  Based on the location of the fence last year, Uribe's blast would have been, at best, a double last season and may have been run down by right fielder Will Venable. Another change for the season, and a good one for the Padres' opponents, is a change in the location of the visitors' bullpen.  Historically, the visitors bullpen had been down the Right Field line in foul territory within the field of play.  This season, the bullpen has been placed immediately behind and above the Padres' bullpen beyond the left-center field wall.   This article has been read (0) times
Original Story:
http://thesuicidesqueeze.com/?p=1553
THE BACKYARD
BEST OF MAXIM
RELATED ARTICLES
I like Yasiel Puig. I like him a lot, actually. I even ranked him as the top prospect in the Dodgers system for 2013. However, if you follow me on Twitter, most of what I tweet about him is sort of dismissive. That's not because I'm not excited about him, but rather because he seems to make people incredibly stupid. For example, look at the tweets just from the last couple of...
We all knew it was coming, and it's finally here. This is probably the greatest thing on the Internet, at least until the next big cat video hits YouTube. Your browser does not support iframes. Hyun-Jin Ryu, Clayton Kershaw and Matt Kemp put on quite a show. I just wish the video clip was a little longer. What I'm wondering is, how did Steve Ames end up winning...
Clayton Kershaw is enjoying a red-hot start to the 2013 campaign, and for his efforts he was named the National League Player of the Week on Monday. Kershaw is 2-0 after two starts, and has yet to give up an earned run in a MLB-high 16 innings pitched. On Opening Day against the defending champion Giants, legendary Dodger Sandy Koufax threw out the first pitch, but it was Kershaw...
Will Venable homered and hit a bases-loaded triple for the San Diego Padres, who rebounded from a dreadful six-game trip to win their home opener 9-3 against the rival Los Angeles Dodgers on Tuesday at reconfigured Petco Park. Venable tied his career-high with four RBIs. He homered in the first and his two-out triple highlighted a five-run eighth against three Dodgers relievers...
Carl Crawford led off with an opposite-field homer and A.J. Ellis added a two-run shot to back Chad Billingsley's strong season debut and lead the Los Angeles Dodgers to a 4-3 victory against the San Diego Padres on Wednesday night. Billingsley (1-0) opened the season on the disabled list after bruising his right index finger during a bunting drill on March 15. He held San Diego...
Another beautiful night at Dodger Stadium, great weather, a great crowd of about 40,000 on hand for Saturday night baseball, and Clayton Kershaw on the mound for the Dodgers against Pittsburgh Pirates Ace A.J. Burnett.  I settled into my seat in the Right Field Pavillion around 5:30 P.M. with my Dodger Dogs, my peanuts and a Coke with Aaron (who I wrote about in a blog earlier this...
Padres manager Bud Black, general manager Josh Byrnes and assistant G.M. A.J. Hinch spent several minutes throwing baseballs off the new fence in right field at Petco Park on Monday, trying to get a crash course in how they might play starting with the home opener Tuesday against the Los Angeles Dodgers. The big hope, of course, is that more balls will fly over the fence. From...
Chad Billingsley made his season debut in San Diego tonight, and Carl Crawford did his part to make sure that Chad got some run support in this game. In a sight that had to have Red Sox fans shaking their head and asking "where was THAT guy when he signed that contract here?" Crawford took Eric Stults's second pitch of the game out to left field.  Just like that the Dodgers...
MLB News

Delivered to your inbox

You'll also receive Yardbarker's daily Top 10, featuring the best sports stories from around the web. Customize your newsletter to get articles on your favorite sports and teams. And the best part? It's free!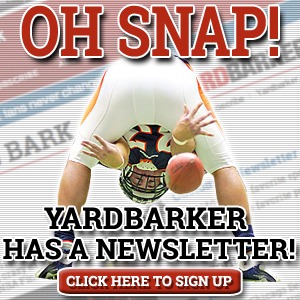 Latest Rumors
Best of Yardbarker

Today's Best Stuff

For Bloggers

Join the Yardbarker Network for more promotion, traffic, and money.

Company Info

Help

What is Yardbarker?

Yardbarker is the largest network of sports blogs and pro athlete blogs on the web. This site is the hub of the Yardbarker Network, where our editors and algorithms curate the best sports content from our network and beyond.