Found January 14, 2013 on IT IS HIGH, IT IS FAR, IT IS caught:
Last week, the national gaggle of professional Gammonites - those obese and balding poets of the game, whose mission is to report each day on whom the Yankees will not obtain - did what the U.S. government could not do: Take down Roger Clemens. They ignored him for the Hall of Fame. Why?a. He used steroids.b. He lied about using steroids.c. He refuses to apologize for lying and using steroids.d. He lies about refusing to apologize for lying and using steroids.e. He refuses to apologize for lying about refusing to apologize for lying and using steroids.f. He's a former Yankee who refuses to apologize for lying about refusing... oh, hell with this... you get the picture, right? If not, Bleacher Report surely has a posting written just for you.But getting back to the guv. For five years, three prosecutors in the U.S. Department of Justice apparently had nothing better to do than pursue Roger Clemens. Theoretically, they had a slam dunk. And they whiffed. Which pretty much sums up ...
Original Story:
http://johnsterling.blogspot.com/2013...
THE BACKYARD
BEST OF MAXIM
RELATED ARTICLES
Gary Sanchez has been named as BronxPinstripes.com's top preseason prospect (Photo Credit: MiLB.com) The baseball season is almost upon us, which means it is time for BronxPinstripes.com to release its first edition of prospect rankings for the 2013 season. Our final rankings from last year, completed in August just days after the trade deadline, featured the same one-two punch...
From Dan Martin:Long already has begun working with Rodriguez's temporary replacement at third, visiting Kevin Youkilis in San Jose, Calif., last week. "We looked at old film and compared it to 2012," Long said. "We saw some considerable differences, mainly in his stance and it looked like the adjustments had an impact. ... I think we can get him back to being an all-star...
Finally, Yankee Universe gets confirmation that team owner Hal Steinbrenner is alive. Scenes from the Yankee Parade 2009 (Photo credit: ChrisGampat) Hal discussed the current state of the Yankees with New York Post's Ken Davidoff down in Arizona at the annual MLB owners meetings last week. Everyone under the sun knows that Hal is a "numbers" guy and has made it clear that he...
Ichiro Suzuki is looking forward to starting the baseball season the way he ended last season: as a member of the New York Yankees. The Yankees and Suzuki finalized a $13 million, two-year contract in December that kept the 10-time All-Star in the Bronx after he was obtained in a trade with Seattle last July. ''Signing with the Yankees has given me a new sense of determination...
From the NY Times:"Re-signing for the Yankees has awakened a fresh determination in me," the 10-times All Star told Japanese media after a workout in Kobe. "This is a team that can select A-Rod as a pinch-hitter we're talking about," he added, referring to fellow future Hall of Famer Alex Rodriguez. Ichiro's future with the Yankees had hung in the...
For the next two years, Rafael Soriano will be untucking his jersey in the nation's capital. Jeff Passan of Yahoo! Sports has reported that Soriano, 33, and the Washington Nationals  have agreed to a two-year-deal worth $28 million, with a possibility of a third year worth $14 million should the closer finish 120 games in '13-'14 combined. If and when the deal becomes official...
Berra's plaque hangs in Cooperstown (Photo courtesy of Wikimedia Commons) When the final chapter of the game is written and the Pantheon of baseball greats is assembled, Lawrence Peter Berra will surely be among them.  In his 18-year, Hall of Fame career as a New York Yankee, Yogi Berra was the glue of two dynasties, piloted by Joe DiMaggio and Mickey Mantle, was the preeminent...
Reliever Rafael Soriano and the Washington Nationals were working to finalize a $28 million, two-year contract on Tuesday, said a person familiar with the negotiations. The person said Soriano's deal would contain a $14 million option for 2015 that would become guaranteed if he has 120 games finished over 2013 and 2014 combined. The person spoke to The Associated Press on condition...
Coming into the offseason, Rafael Soriano had a choice: return to the Yankees in 2013 for $14 million, or opt out, collect $1.5 million, and become a free agent. Consensus around these parts was that Soriano should stay put. Soriano opted out. The Yankees extended to Soriano a $13.3 million qualifying offer, and there was a strong argument that Soriano should accept it and stay with...
New York third baseman Alex Rodriguez will have surgery on his left hip on Wednesday, and if all goes well he could return to the Yankees lineup shortly after the All-Star break. Dr. Bryan Kelly, the co-director of the Hospital for Special Surgery in Manhattan and the lead surgeon for Rodriguez, told the New York Daily News that the recovery and healing process for Rodriguez should...
The Washington Nationals have signed free agent reliever Rafael Soriano to a two-year, $28 million deal with a vesting option for a third season, reports Jeff Passan of Yahoo. The option for 2015 will vest if Soriano finishes 120 games over the 2013 and 2014 seasons, ensuring he'll be Washington's closer during the life of the contract. Soriano served as the closer for...
With only a month before pitchers and catchers report to training camp, the Yankees are looking to make at least one more move before the roster is set for Opening Day. On this episode of the podcast I discuss this, as well as injuries, the Hall Of Fame voting and the recent changes to the MLB drug policy. Click the player below to listen:Leave your comments below or send me an email...
Yankees News

Delivered to your inbox

You'll also receive Yardbarker's daily Top 10, featuring the best sports stories from around the web. Customize your newsletter to get articles on your favorite sports and teams. And the best part? It's free!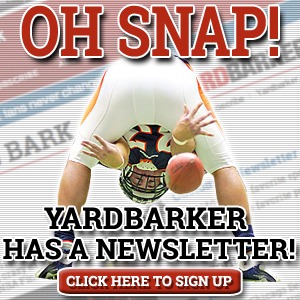 Latest Rumors
Best of Yardbarker

Today's Best Stuff

For Bloggers

Join the Yardbarker Network for more promotion, traffic, and money.

Company Info

Help

What is Yardbarker?

Yardbarker is the largest network of sports blogs and pro athlete blogs on the web. This site is the hub of the Yardbarker Network, where our editors and algorithms curate the best sports content from our network and beyond.