Found May 29, 2012 on MetsOnline:
The New York Mets (27-22) will try to avoid losing their series against the Philadelphia Phillies (26-24) tonight at Citi Field. The game begins at 7:10 PM and can be seen on SNY. Starting Lineups: #Mets Tuesday lineup vs. Philly: Baxter-LF, Nieuwenhuis-CF, Wright-3B, Duda-RF, Murphy-2B, Davis-1B, Nickeas-C, Quintanilla-SS, Hefner-RHP — New York Mets (@Mets) May 29, 2012 Lineup vs. Mets: Rollins SS, Pierre LF, Pence RF, Wigginton 1B, Victorino CF, Polanco 3B, Galvis 2B, Schneider C, Blanton P — Phillies (@Phillies) May 29, 2012 Starting Pitchers: RHP Jeremy Hefner (0-2, 6.17 ERA) will take the hill for the Mets tonight and try to redeem himself against the Philadelphia Phillies. Hefner allowed six runs in 3 2/3 innings in his first big league start against the Padres on Thursday. RHP Joe Blanton (4-4, 4.55 ERA) will take the hill for the Phillies tonight, as he too attempts to redeem himself after two awful performances. Blanton allowed seven runs in 4 1/3 innings in his last start in St. Louis on Thursday. Game Notes: The lefty lineup will start against Blanton today with Mike Baxter leading off and Kirk Nieuwenhuis batting second. Andres Torres, once again, is not starting. Blanton and Hefner both struggled recently, so I'd hope that the Mets offense can out-hit the Phillies Utley-less, Howard-less, Ruiz-less lineup. The Mets are still missing Bay, Tejada, and Thole from their starting lineup. So it's not like the Mets are nearly offensively at full strength. Anyway… Let's Go Mets!
Original Story:
http://metsonline.com/game-preview-ph...
THE BACKYARD
BEST OF MAXIM
RELATED ARTICLES
The New York Mets evened the series with their 6-3 victory over the Philadelphia Phillies.BAD JOE B-Remember good Joe Blanton? We miss him. Tonight, it was Bad Joe B, which has been a disturbing trend in May. Blanton gave up six runs on nine hits in just five innings. Over his last three starts, he's allowed 19 earned runs in 13 2/3 innings.-On May 14, Blanton's ERA was 2.96...
New York Met Pitcher Jeremy Hefner had a night to remember after hitting a home run against Joe Blanton for his first Major League hit. Hefner launched a solo home run in the bottom of the fourth inning, giving the Mets a 4-2 lead over the Phillies. Hefner earned his first MLB win as well, after going six strong innings of six hit ball, while scattering just three earned runs.  ...
On May 3rd Joe Blanton crafted a 3-hit shutout against the Braves and his ERA was at a remarkable 2.83, allowing only 1 homerun all season. Less than a month later...boom! After tonight's 5 innings of failure, Heavy B's ERA sits at 5.05 for the year. Over the past 5 starts he's allowed 24 earned runs, 9 homeruns, 39 hits, and 7 walks in 27.1 innings for a 7.90 ERA and...
NEW YORK -- When the New York Mets first drafted Jeremy Hefner in 2004, they weren't sure if they'd utilize him as a pitcher or a hitter. Eight years and one circuitous route back to New York later, Hefner helped the Mets out with both his arm and his bat Tuesday. Hefner threw six solid innings in his second major league start and helped his own cause by hitting a solo...
Summary I think I enjoy making up names for the recaps. I have to think hard. Neither bad weather nor our rival team could shake Jeremy Hefner tonight and I actually look forward to seeing more of this guy in the future. Jeremy Hefner started tonight since the starters are injured and the replacements are injured or not performing – but he did fine out there tonight.  He probably...
Today, the Phillies are looking to take the series in New York after taking yesterday's game by force, winning 8-4. Ty Wigginton came up clutch, going 3-3 with 6 RBI including a three-run home run. It put the Phils ahead and they'd never look back. It's good to have those kinds of games. Cole Hamels allowed four earned runs on two two-run home runs, but all was well with...
Joe Blanton took the hill at Citi Field tonight against Jeremy Hefner, who was making his second major league start. After two straight rough outings from Joe, it wouldn't get easier in another frustrating game.  The Phillies jumped out in front scoring a run in the first on a wild pitch. The Mets came back with two runs in the bottom of the inning on an RBI single from David...
Joe Blanton of the Philadelphia Phillies slots in behind the aces.  How do the Braves compare at the bottom of their rotation?  The Apocalyptic Horsemen Stats are in my recent coverage linked below. TAL'S HANDY STATS   WELCOME, NEWCOMERS: I am alternating a game-day 2012 ERA For The NL East and a 2012 ERA For The MLB 5. See link section below. In each publication, the number...
Omar Quintanilla. Jeremy Hefner. Scott Hairston.  If someone told me prior to tonight's game that those would be the names of the offensive stars of the night for the Mets, I'd have said this team was in danger of being swept tomorrow.  But that isn't the case, as the Mets are in position to take yet another series from the Phillies tomorrow on the strength on some big offensive...
Joe Blanton has his third staright bad start, giving up six runs this time, as the Phils drop one to the Mets, 6-3. The Phils took the lead in the first as, with a runner on third, and with one man out, Jimmy Rollins, who had started the ballgame off with a double, then went to third on Juan Pierre's sacrifice bunt, 1-3, would score on Jeremy Hefner's wild pitch, giving the Phils...
There's a lot of talk about how depth is important in Major League Baseball, but the notion rarely materializes so obviously as it did for the Mets during Tuesday night's 6-3 win over the Phillies. With Ronny Cedeño and Ruben Tejada already unavailable even before Justin Turner hit the disabled list today with a sprained ankle, the Mets were forced to call up Omar Quintanilla...
Philadelphia Phillies (25-24, Last Place) @ New York Mets (27-21, 2nd Place) Pitching Matchups: Monday, 1:10 Cole Hamels vs. Jonathon NieseTuesday, 7:10 Joe Blanton vs. Jeremy HefnerWednesday, 7:10 Cliff Lee vs. Dillon GeeMutts Offense:R -  204 (15th)AVG - .258 (11th)OPS - .711 (19th)The don't have much.  David Wright is awesome (.382/1.077).  Daniel Murphy and Kirk Nieuwenhuis...
MLB News

Delivered to your inbox

You'll also receive Yardbarker's daily Top 10, featuring the best sports stories from around the web. Customize your newsletter to get articles on your favorite sports and teams. And the best part? It's free!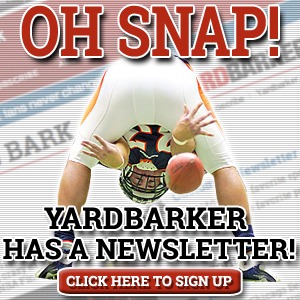 Latest Rumors
The Backyard

Today's Best Stuff

For Bloggers

Join the Yardbarker Network for more promotion, traffic, and money.

Company Info

Help

What is Yardbarker?

Yardbarker is the largest network of sports blogs and pro athlete blogs on the web. This site is the hub of the Yardbarker Network, where our editors and algorithms curate the best sports content from our network and beyond.