Found September 21, 2012 on Monkey with a Halo:
To quote John McClane, "How can the same **** happen to the same guy twice?" Aside from the fact that this game might very well spell the end of the Angels' season, the only thing that anyone is going to remember this game for is Mike Scioscia once again pulling Zack Greinke during a great start in favor of Ernesto Frieri.  The same Ernesto Frieri who spoiled the same Zack Greinke's last great start in his own last relief appearance.  So what happened?  Well, you already know.  Ernasty became ErnestNOOOO!!!!! And thus sparked the anti-Scisocia rage.  Many feel that at 108 pitches, Greinke could have gone out for another inning.  Others, and I am in this camp, have no real problem with him exiting in favor of the Angels' best reliever, even if Frieri was coming off a wretched previous appearance.  After arguing with what felt like half of Twitter about this after the game, I think the best argument I heard came from the one, the only Sam Miller:
@monkeywithahalo @productiveouts Any fresh/decent closer should be better than even a great starter going through the order a 4th time. — Sam Miller (@SamMillerBP) September 21, 2012
I couldn't agree with this more.  Put aside all talk of Greinke's pitch count and I think, at a minimum, this justifies Scioscia's choice.  And really, nobody would even be arguing if Frieri didn't hang his slider (and really, I have more of an issue with him throwing that pitch than anything else).  Most of the season, Ernie has been a very good reliever.  Recently, he has been less so, but hardly a guy I would consider even below average. If you want to assign fault to Scioscia, and Twitter suggests most of you do, it is that he didn't know his reliever well enough to foresee that his struggles from that KC game would carry over into this game.  I'm not really sure any manager could know that, but maybe they should, I don't really know. Truth be told, I don't think this would have been much of a debate at all if we were back in July.  Let's face it, Angel fans are mental messes right now, clinging to every last shred of hope that they can reach the post-season.  Losing yet another game as a result of a late-inning gut-punch that Mike Scioscia possibly initiated is just becoming to much to handle.  Really, we should probably just be thankful that the season ends in two weeks because the fanbase is probably three weeks away from a collective nervous breakdown. Rangers 3, Angels 1 Game Notes -- Nelson Cruz didn't touch the plate.  That ended up not mattering, but, yeah, ROBOTS NOW! -- Mike Trout didn't exactly help put an end to this whole Trout vs. Cabrera debate.  I'm not hating on him at all, mind you, but he had some big moments that he came up empty in.  Let's just say I'm not looking forward to talking to any Tiger fans tomorrow. -- There was no bigger dagger in this game than Jon Heyman tweeting in typical smarmy Heyman fashion about how the Halos should still regret failing to close on signing Beltre two off-seasons ago.  Nothing pains me more than agreeing with that blowhard.   Halo A-Hole Like you even had to ask. [follow]
Original Story:
http://www.monkeywithahalo.com/2012-a...
THE BACKYARD
BEST OF MAXIM
RELATED ARTICLES
The Los Angeles Angels thought they were getting an elite-level pitcher when they acquired Zack Greinke in a trade before the July 31 deadline. After a slow start, it has proven to be true. Greinke is 4-0 with a 1.60 ERA over his past six starts, allowing no more than two runs or five hits in any of those outings. However, he apparently came with limitations. For the second consecutive...
Mike Scioscia will return for his 14th season as Los Angeles Angels manager next year, and he called speculation about his job security and alleged uneasy relationship with first-year general manager Jerry Dipoto ''ridiculous.'' Angels owner Arte Moreno told MLB.com in a phone call Saturday that Scioscia would return regardless of what happens in the team's remaining...
Los Angeles Angels manager Mike Scioscia should have as much security as any manager in baseball. He has led the Angels to the most successful run in franchise history, including the club's only championship in 2002, a run of five division titles in six years, winning records in seven of the past eight seasons and two trips to the AL Championship Series since the 2002 World...
To hear the Angels' Mike Scioscia and Jerry Dipoto tell it, things between them are just fine, the relationship normal for a manager and general manager. Major-league sources paint quite a different picture of the dynamic between Scioscia, the Angels' manager since 2000, and Dipoto, the team's first-year GM. And if the Angels fail to make the playoffs for the third...
ANAHEIM, Calif. -- A closed-door meeting in the manager's office is never a good sign, so the fact CJ Wilson spent a considerable amount of time with Angels manager Mike Scioscia on Thursday afternoon probably indicated they had lots to talk about. It can be assumed Scioscia did most of the talking. Discounting a start in Texas that was shortened to one-third of an inning because...
MILWAUKEE Imagine for one moment that it's July 26 the trade deadline closing in and you're standing next to Milwaukee Brewers general manager Doug Melvin. He's on the phone with Anaheim general manager Jerry DiPoto discussing a potential trade that will send Brewers ace Zack Greinke to the Angels for three prospects, including shortstop Jean Segura. He hangs up...
Earlier this week, I posted a poll on which current MLB managers you, yeah YOU, consider to be an upgrade over the incumbent Angels manager, Mike Scioscia.  The results were exactly as I expected them to be, which is great, because now I get to make my point. Here are the main takeaways: -- The only manager that almost everyone said was an upgrade was Joe Maddon.  He had...
Yu Darvish vs. Zack Greinke. There aren't many pitching match-ups better than that.  And tonight's game was every bit the pitcher's duel you'd expect with those two arms leading the way. The Rangers got to Greinke first.  But not until the 5th inning.  Nelson Cruz singled and then advanced to third on a David Murphy single.  He scooted home on a Mitch Moreland sacrifice...
Adrian Beltre hit a tiebreaking two-run homer off Angels closer Ernesto Frieri in the ninth inning, and the Texas Rangers dealt yet another blow to Los Angeles' fading playoff hopes with a 3-1 victory Thursday night. Yu Darvish (16-9) held the Angels to four hits and struck out nine in a scintillating eight-inning duel with Zack Greinke, who gave up five hits and struck out...
The September 20th, 2012 edition of daily news for the Los Angeles Angels of Anaheim including Trout-Cabrera MVP debate rages on, Scioscia not worried about job security, a look at Weaver's odds at 300 wins and much more... The Story: Jon Morosi believes the AL MVP will go to Miguel Cabrera if he wins the Triple Crown. The Monkey Says: Morosi is now the champion of the...
MLB News

Delivered to your inbox

You'll also receive Yardbarker's daily Top 10, featuring the best sports stories from around the web. Customize your newsletter to get articles on your favorite sports and teams. And the best part? It's free!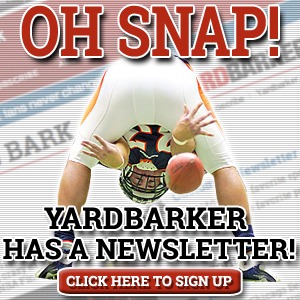 Latest Rumors
Best of Yardbarker

Today's Best Stuff

For Bloggers

Join the Yardbarker Network for more promotion, traffic, and money.

Company Info

Help

What is Yardbarker?

Yardbarker is the largest network of sports blogs and pro athlete blogs on the web. This site is the hub of the Yardbarker Network, where our editors and algorithms curate the best sports content from our network and beyond.