Originally written on
22gigantes
| Last updated 10/22/14
Ryan Theriot has some pretty big guns. And today he got a chance to prove they're used for more than just good looks. With a runner on, Theriot crushed a 3-2 slider from A's starter Tom Millone for his first spring homer and the San Francisco Giants went on to beat Oakland, 7-2 at Scottsdale Stadium. Theriot stood and admired his homer for a second before starting his home run trot. Tim Lincecum (2-0) went six solid innings and earned the win. He allowed one run on six hits and no walks while striking out four. In the 4th inning, the Giants helped Lincecum out when right fielder Nate Schierholtz nailed Kila Ka'aihue at home plate trying to score on a single. Ka'aihue had just been awarded a double due to fan interference after some dude in a Denins Eckersley jersey reached over the wall and snagged the ball. Theriot was one of three Giants to go yard today. Angel Pagan went 2-for-4 with a home run to right field, his first of the spring. Pablo Sandoval hit his second Cactus League homer in the sixth inning, launching the ball into the Giants' bullpen in right field. The ball caromed off the wall inside the pen and glanced off Brian Wilson's leg. Wilson, who was warming up at the time, covered his head with both hands. After the ball hit him, he simply resumed throwing as if nothing happened. Top Giants hitter: Pagan (2-for-4, HR, SB)
Top Giants pitcher: Lincecum (6 IP, 6 H, 1 R, 0 BB, 4 K)
Key moment of the game: Theriot's 2-run blast in the 4th inning. The Giants (11-4-2) play another Cactus League game tonight in Glendale as their other split squad takes on the Dodgers (8-3) at 7:05 p.m. (PT). Left-hander Brian Burres (1-0, 1.80) goes up against Aaron Harang (1-0, 5.40). That game will be televised on the MLB Network and can be heard via web stream at MLB.com's online Media Center. NOTES: First baseman Aubrey Huff was a late scratch due to lower back tightness … Shortstop Brandon Crawford was originally slated to play in this game, but was sent to Glendale to play in tonight's game against the Dodgers. Something about <a title="CSN Bay Area: "Huff scratched with lower back tightness"" href="http://www.csnbayarea.com/blog/giants-talk/post/Huff-scratched-with-lower-back-tightness/" target="_blank">league rules requiring three expected starters in every lineup … Chris Dominguez, who replaced Huff at first today, made a couple of really nice over-the-shoulder catches of foul pops. But in the second inning, on a grounder to Theriot at second, he forgot to cover first base. Luckily, Lincecum was on the ball and covered first while Dominguez watched the play like a spectator … Remember Scott Munter? The 6-6, 260-pound right-hander came in to relieve Wilson in the 7th inning and retired Coco Crisp on a fly ball to center to keep Wilson's ERA at 0.00 … Giants pitching coach Dave Righetti said during the game that Ryan Vogelsong might start the season as the "long man" while he works up his arm strength. He hopes Vogey can make his first start between April 10–15 … The Giants wore green caps in honor of St. Patrick's Day.
I hope you enjoyed reading "Giants 7, A's 2." I'm interested in your opinion on this article. Why not leave a comment at 22gigantes.com?
Original Story:
http://feedproxy.google.com/~r/22giga...
MORE FROM YARDBARKER
MLB News

Delivered to your inbox

You'll also receive Yardbarker's daily Top 10, featuring the best sports stories from around the web. Customize your newsletter to get articles on your favorite sports and teams. And the best part? It's free!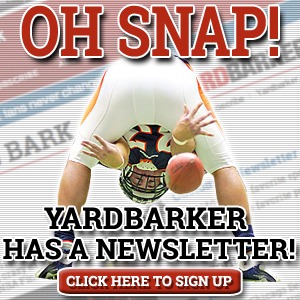 Latest Rumors
Best of Yardbarker

Today's Best Stuff

For Bloggers

Join the Yardbarker Network for more promotion, traffic, and money.

Company Info

Help

What is Yardbarker?

Yardbarker is the largest network of sports blogs and pro athlete blogs on the web. This site is the hub of the Yardbarker Network, where our editors and algorithms curate the best sports content from our network and beyond.