Found May 13, 2012 on Fox Sports:
PLAYERS:
Melky Cabrera
,
Gregor Blanco
,
Brett Pill
,
Barry Zito
,
Jason Kubel
,
Joe Saunders
,
Brandon Crawford
,
Joaquin Arias
,
Angel Pagan
,
Hector Sanchez
,
Ryan Roberts
,
A.J. Pollock
,
Jeremy Affeldt
,
Derek Jeter
,
Ian Kennedy
,
Clayton Kershaw
,
Ryan Vogelsong
,
Christian Friedrich
TEAMS:
San Francisco Giants
,
Arizona Diamondbacks
,
New York Yankees
,
Los Angeles Dodgers
,
Colorado Rockies
Melky Cabrera singled four times to extend his hitting streak to 11 games, Gregor Blanco drove in three runs with a pair of hits and the San Francisco Giants beat Arizona 7-3 on Sunday to take two of three from the Diamondbacks. Brett Pill hit a two-run homer and Barry Zito (2-1) earned his first win since his opening start. Jason Kubel went 3 for 4 with a pair of doubles and drove in two runs for the Diamondbacks, who finished their homestand 1-5. San Francisco had a season-high 14 hits, 10 of them against starter Joe Saunders (2-3). Zito allowed three runs and five hits in six innings. He struck out five, walked three and hit a batter with a pitch. The left-hander entered with a 2.21 ERA but, thanks mostly to a lack of offensive support, had not won since a 7-0 shutout at Colorado on April 8. Zito has not given up more than three runs in any of his seven starts. Saunders had his second rough outing in a row after a fast start to the season, giving up six runs in five innings. The left-hander retired his first seven batters before trouble set in. Brandon Crawford doubled, then with two outs consecutive singles by Blanco, Joaquin Arias and Cabrera brought in two runs in the third inning. San Francisco scored two more in the fourth on a two-out, bases-loaded single by Blanco to make it 4-1. Angel Pagan and Hector Sanchez started the inning with singles. The Diamondbacks, up briefly 1-0 on Kubel's RBI single in the second, cut the Giants' lead to 4-3 in the fourth. Ryan Roberts led off with a single, was sacrificed to second by Saunders' bunt and scored when A.J. Pollock doubled over the head of Blanco in right. Kubel followed with his second double of the game to bring home Pollock. The Giants padded the lead their next time up. Cabrera, whose four-hit game matched his career best, led off the fifth with a single, then Pill hit the next pitch into the left-field seats and San Francisco led 6-3. Sanchez's RBI single made it 7-3 in the seventh. Jeremy Affeldt, activated from the 15-day disabled list before the game (right knee strain), pitched a scoreless eighth. NOTES: Cabrera is tied with Yankees SS Derek Jeter for the most multihit games this season (17). ... The Diamondbacks have lost 12 of their last 15 home games. ... Giants 2B Charlie Culberson, called up from Triple-A Fresno, was in the lineup and went 1 for 4 in his major league debut, singling in the fifth for his big league hit. ... Arizona opens a three-game series at Los Angeles on Monday night, sending Ian Kennedy (3-2, 3.91 ERA) to the mound against Dodgers ace Clayton Kershaw (2-1, 2.56). San Francisco is home against Colorado. Ryan Vogelsong (1-2, 2.94) goes for the Giants and Christian Friedrich (1-0, 1.50) for the Rockies. ... After allowing five earned runs in his first five starts, Saunders has given up 12 in his last two.
Original Story:
http://msn.foxsports.com/mlb/story/Gi...
THE BACKYARD
BEST OF MAXIM
RELATED ARTICLES
Voumas/AP The Giants best pitcher ever, Barry Zito, has just thrown in his seventh start of the 2012 season, and has done surprisingly well so far. How well? Giants fans haven't booed him off the mound yet (and that tells ya somethin'!). But just for fun, let's do a blind comparison of his first seven starts this season, as well as 2011 and 2002 when he was the AL Cy Young...
When the Giants departed for Los Angeles, they were 14-14. After going 3-3 on this road trip, they've improved to…17-17. That's .500 ball, a win for every loss. Have the Giants done anything to indicate that they're anything more than a .500 team (particularly with Pablo Sandoval on the DL for another five weeks or so)? If I was told before the season started that there would...
PHOENIX -- Melky Cabrera finished the road trip just like his San Francisco Giants, at .500. The left fielder tied a career high with four hits while continuing his season-long assault on Arizona pitching, and the Giants broke even on their six-game trip while getting a season-high 14 hits Sunday in a 7-3 victory over the Diamondbacks at Chase Field. Cabrera was 13-for-26 with...
The San Francisco Giants made four roster moves Sunday, adding two players to the roster while sending out two others. The Giants activated left-hander Jeremy Affeldt from the 15-day disabled list after sustaining a right-knee injury. Left-hander Travis Blackley opened up a spot by being designated for assignment. Also, third baseman Conor Gillaspie has been optioned to Class...
The San Francisco Giants sent infielder Conor Gillaspie back to Fresno and called up infielder Charlie Culberson. Culberson made his major league debut yesterday (Sunday), and also managed to get his first major league hit. It was a great moment to see his father fight back the tears, and his mother looking so proud on Mother's Day!The Giants made another roster move this weekend...
Consider this my touchdown dance. The Giants hung a 7-spot on the Arizona Diamondbacks. The Giants scored 7 runs. The Giants scored 7 runs. Coming into the game, the Zito/Saunders comparisons were being made across all platforms- low K-rate lefties with a surprisingly low ERAs, along with the obvious signs that big spoonfuls of regression are in order. But despite the peripherals...
PHOENIX Matt Cain had a little extra drive Saturday. The last time he faced the Diamondbacks, he teetered, losing all but one run of a six-run lead in a game the D-backs came back to win. The last time he faced Trevor Cahill, he did not get enough run support to offset a strong outing. Cain took care of both issues in a 5-2 victory over the D-backs, when he had two hits and two...
PHOENIX (AP) -- Melky Cabrera singled four times to extend his hitting streak to 11 games, Gregor Blanco drove in three runs with a pair of hits and the San Francisco Giants beat Arizona 7-3 on Sunday to take two of three from the Diamondbacks. Brett Pill hit a two-run homer and Barry Zito (2-1) earned his first win since his opening start. Jason Kubel went 3 for 4 with a pair of...
San Francisco Giant fans are busy searching for just the right disaster metaphor to describe how badly the first month and a half of the 2012 season has gone for their beloved Gigantes. You can join in, and it's loads of fun!Create your own catastrophic image of the 2012 Giants' season by using combinations of the following classic disaster elements: the arrival of Godzilla...
Matt Cain gave up three hits in six innings and singled in a pair of runs to help the San Francisco Giants end a nine-game losing streak against Arizona with a 5-2 victory over the Diamondbacks on Saturday night. Cain (2-2) allowed a run, struck out eight, walked two and hit a batter in his first victory in five outings. Trevor Cahill (2-4) took the loss as the Diamondbacks were...
Although he doesn't have many wins to show for it, Barry Zito is off to one of his best starts in his six seasons with the San Francisco Giants. His next outing, though, will come at a park where he hasn't had much success recently. Zito seeks his first victory in more than a month Sunday when he faces the Arizona Diamondbacks and fellow left-hander Joe Saunders, who will...
I can't wait until Christian Friedrich's next start. He'll be found after the game, sitting in the team shower, shivering under the shower head, shivering in his soaking uniform. "B-b-but I threw the ball! How did they hit it?" Rockies Pitching Coach Bob Apodaca will turn off the shower tap, and slide down next to Friedrich. "Son, you're going to have to learn sooner...
MLB News

Delivered to your inbox

You'll also receive Yardbarker's daily Top 10, featuring the best sports stories from around the web. Customize your newsletter to get articles on your favorite sports and teams. And the best part? It's free!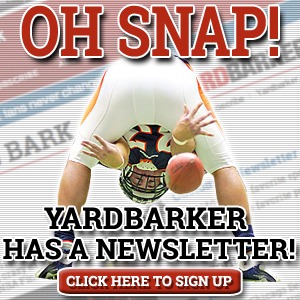 Latest Rumors
The Backyard

Today's Best Stuff

For Bloggers

Join the Yardbarker Network for more promotion, traffic, and money.

Company Info

Help

What is Yardbarker?

Yardbarker is the largest network of sports blogs and pro athlete blogs on the web. This site is the hub of the Yardbarker Network, where our editors and algorithms curate the best sports content from our network and beyond.