Posted October 16, 2012 on AP on Fox
Kyle Lohse is all about efficiency, about avoiding extended at-bats and letting hitters get themselves out. The St. Louis Cardinals are in a spot where they could really use that kind of game. When he takes the mound Wednesday against the San Francisco Giants, the 16-game winner can pitch his team to into the lead of an NL championship series tied 1-1. St. Louis has gone three straight games without a starter getting an out in the fifth inning. Lohse gets a chance to end that troubling trend when he faces Matt Cain in a matchup of 16-game winners. Marco Scutaro's availabilty was unclear after he got rammed by Matt Holliday while busting up a double play on Monday night. A person with knowledge of the injury told The Associated Press that Scutaro strained his left hip. Scutaro underwent an MRI exam as was due to arrive along with the rest of the Giants later Tuesday. If they deactivate him from the roster, Scutaro would become ineligible for the World Series. The Cardinals didn't work out Tuesday after a return flight to the Midwest. The exception was a 49-pitch simulated game by Jake Westbrook, who recovered from a strained right oblique and is hopeful of rejoining the staff if St. Louis makes it to the World Series. After Game 2, Holliday said he relayed an apology of sorts to Giants catcher Busty Posey before his next at-bat. ''I told Buster to tell Marco I wish I had started my slide a step earlier,'' Holliday said. ''I wanted him to know I wasn't trying to hurt him. When a guy has to leave the game, I feel bad.'' Holliday also defended his hardnosed approach. ''When I'm at first and see a grounder to short, I'm just trying to make sure they can't turn the double play,'' Holliday said. ''He was right on second base. I hope he's OK. He's a good guy.'' Back at home, where Holliday will get cheers instead of boos, Cardinals manager Mike Matheny said what happened is just part of the game. ''To me, what I see is a guy who I've never seen one act of trying to hurt anybody,'' Matheny said. ''And I would never believe that's what he was trying to do. I know what Matt's intentions were and he was thinking about his team at the time.'' Addressing the overworked bullpen, Matheny said travel days during the postseason lessen the burden and keeps pitchers fresh. Still, he'd rather not keep making those early trips to the mound. ''You have strong starting pitching, you have an opportunity to be successful,'' Matheny said. ''Otherwise, you're fighting an uphill battle all the time and it seems like you're constantly coming back.'' Lohse needed just 87 pitches to complete a strong seven-inning outing his last time out, a 2-1 loss to the Nationals in Game 4 of the NL division series. In the regular season, in 11starts he worked six innings or longer and threw fewer than 100 pitches. ''It's not really a secret, I rely on getting first-pitch strikes, getting ahead of the guys and making them hit my pitch,'' Lohse said. ''That's my version of pitching to contact. I'm not out there trying to strike guys out, I want them out in three or four pitches and move on.'' He'll try not to carry any extra burden into this start. ''We've had our ups and downs as the rotation goes,'' Lohse said. ''You can't put more pressure on yourself to go out there and do more. I can't go out there and try to throw seven innings all at once.'' Cain was ex-Cardinals manager Tony La Russa's choice as the NL All-Star game starter in July. The right-hander hasn't gone deep in either of his postseason starts, giving up six runs in 10 2-3 innings. He struggled against the Cardinals this year, too, going 1-1 with a 6.94 ERA in two starts.
Original Story:
http://msn.foxsports.com/mlb/story/Gi...
THE BACKYARD
BEST OF MAXIM
RELATED ARTICLES
ST. LOUIS Kyle Lohse has made the most of these moments. They come like gold nuggets in a season-long dig: An efficient start here, a clutch postseason showing there, more signs of growth from the seasoned 34-year-old, more proof that he has placed himself in prime position for whatever comes after this contract year. The moments occur in a vacuum for the St. Louis Cardinals&...
WIZARD OF AUCTION
St. Louis Cardinals legend Ozzie Smith will be selling many of his awards and baseball possessions in an upcoming auction.
Carlos Beltran is one of the best postseason hitters around, and the St. Louis Cardinals lost him for Game Three.  The outfielder had to leave the game in the second inning because of a left knee strain.  He suffered the injury while trying to beat out a ground ball in the first inning. According to Derrick Goold of the St. Louis Post-Dispatch, Beltran is listed as day-to-day...
ST. LOUIS Matt Carpenter arrived at Busch Stadium late Wednesday morning not expecting to see his name in the starting lineup. Cardinals manager Mike Matheny has started the same eight players the entire postseason, so he didn't expect him to change things up now. And he didn't. Despite Carpenter's having a perfect 4-for-4 career mark off Giants starter Matt Cain, the...
St. Louis Cardinals catcher Yadier Molina easily had the best offensive season of his career in 2012.  The four-time Gold Glove Award winner hit .315 with 22 home runs and 76 RBI's this season. Molina had himself an MVP caliber type season and will likely finish in the top five of voting for the award. While Molina's regular season was spectacular, his post-season thus...
ST. LOUIS The last time Adam Wainwright stepped off a mound, a funeral for the St. Louis Cardinals was supposed to follow. His six-run, seven-hit scramble in 2 13 innings against the Washington Nationals in Game 5 of the National League Division Series was supposed to be the mortal wound that buried the defending World Series champions. That moment in the delirious District, a city...
ST. LOUIS – When Matt Carpenter trotted to right field at the start of the second inning on Wednesday, replacing Carlos Beltran, it was definitely a cause for concern for the St. Louis Cardinals. Beltran, even after grounding into a double play in the bottom of the first, still had a .400 average this postseason and a .375 average in his postseason career, among the highest in...
Retired manager Tony La Russa joins Matt this week to talk about the ongoing MLB playoffs. They also discuss his retirement from the game, Albert Pujols' up-and-down season with the Angels, the Diamondbacks future, Bobby Valentine's disastrous season with the Red Sox and his new book: "One Last Strike." Among his observations: -- On a new perspective since retiring...
SAN FRANCISCO (AP) -- Chris Carpenter had to figure there might be a hitch at some point along the way in his remarkable return. The St. Louis Cardinals' longtime postseason ace came back from a complicated operation that removed a rib and two neck muscles just to get on the mound again this October for the reigning World Series champions. His recent run of spectacular playoff...
SAN FRANCISCO (AP) -- Chris Carpenter had to figure there might be a hitch at some point along the way in his remarkable return. The St. Louis Cardinals' longtime postseason ace came back from a complicated operation that removed a rib and two neck muscles just to get on the mound again this October for the reigning World Series champions. His recent run of spectacular playoff...
After the Washington Nationals epic collapse against the St. Louis Cardinals in game five of the National League Division Series, many fans in the D.C. area weren't exactly happy.However, Wizards rookie Bradley Beal who grew up in St. Louis decided to celebrate on Twitter with the below tweet:As you would figure many Washington sports fans weren't exactly kind to Beal after...
There was only one pick yesterday and since it included the St. Louis Cardinals, of course it was wrong. Chris Carpenter still looked mean, but he couldn't get the job done as the Giants scored four runs against him (yes, two were unearned) and the Giants won easily. This is a series where the unlikeliest World Series champ of 2010 meets the unlikeliest WS champ of 2011. So...
MLB News

Delivered to your inbox

You'll also receive Yardbarker's daily Top 10, featuring the best sports stories from around the web. Customize your newsletter to get articles on your favorite sports and teams. And the best part? It's free!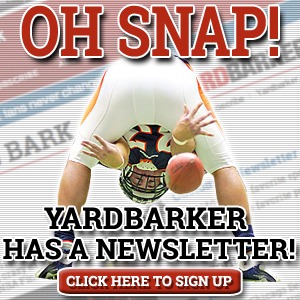 Latest Rumors
The Backyard

Today's Best Stuff

For Bloggers

Join the Yardbarker Network for more promotion, traffic, and money.

Company Info

Help

What is Yardbarker?

Yardbarker is the largest network of sports blogs and pro athlete blogs on the web. This site is the hub of the Yardbarker Network, where our editors and algorithms curate the best sports content from our network and beyond.