Found March 28, 2012 on Seed Spitters:
PLAYERS:
Barry Bonds
,
JT Snow
,
Jeff Kent
,
Fred Lewis
,
Rajai Davis
,
Dave Roberts
,
Eugenio Velez
,
Randy Winn
,
Andres Torres
,
Aubrey Huff
,
Jonathan Sanchez
,
Angel Pagan
,
Melky Cabrera
,
Gregor Blanco
,
Brandon Belt
TEAMS:
Cleveland Indians
,
Toronto Blue Jays
,
St. Louis Cardinals
,
New York Mets
,
San Francisco Giants
,
Kansas City Royals
Steals in baseball are overlooked like the number 14 seed in a March Madness bracket. I like them a lot. They can turn a walk or measly base hit into a productive game-winning rally.
The Giants have usually had one or sometimes two base-stealers who can steal over 20 bases a season. Over the past few years, steal numbers have gone down.
When the Giants were still in New York back in the late-1800′s and early 1900′s, steals were a huge part of the game. The Giants averaged anywhere from 100 to 400 steals per seasons until 1926. After that period, steals became a rare occurrence in baseball as the Giants as a team never touched 100 steals until 1971 – 45 years later.
Power hitters  and a high batting average became the spotlight in baseball entertainment in that period, and the quickness of a player was never noticed due to the lack of steals around the league.
Then the steals became a part of the game once again, maybe not as big as the early century, but still the Giants averaged over 100 steals per season until the Giants hit another steal drought in the early 2000′s as guys like Barry Bonds, J.T. Snow, Jeff Kent and Rich Aurillia were the main position players on the roster.
Steals dipped below 100 per season from 2000 and 2007, hitting as low as 43 as a team in 2004. For two years in 2007 and 2008 the Giants had guys like Randy Wnn – a career 20 steals per season player – Fred Lewis, Rajai Davis and Ol' Vroom himself Dave Roberts.
The reason these guys stole so many bases was because Barry Bonds, the home run king, was the only source of power for the Giants, at the age of 42. This left the roster open for young guns like Davis, Lewis and Eugenio Velez to start and run around the bases as much as possible.
Since those struggling seasons in '07 and '08, the Giants have yet to have serious steal threat in their lineup. Over the past three seasons, the Giants as a whole have averaged just 73 steals per season, well below the league average.
In 2009, Randy Winn led the team with 16 steals, second to him in that year was Emmanuel (now "Manny") Burriss with 11. The next year, the Giants managed to win the world Series with a mediocre 55 steals (26 of which stolen by Andres Torres). After Torres, there was virtually no other on-base threat.
Guess who had the second most steals for the Giants in 2010. Go ahead, guess.
***
Yeah, it was Aubrey Huff, the 33-year-old first baseman with seven stolen bases. Huff!
After Torres was a speedy force for the Giants in 2010, even his steal numbers dropped to just 19 (still leading the team). Since the Giants ended their disappointing 2011 season, they have managed to trade away their top base stealer in Torres and an inconsistent pitcher in Jonathan Sanchez for a couple of guys who know their way around the base paths.
Angel Pagan, 29, was the speedy guy on the Mets before he was traded to the Giants earlier this off-season. In the past three seasons, Pagan has averaged 28 steals per year, automatically slotting him as the top base stealer for the Giants.
Melky Cabrera was the next speedy acquisition for the Giants this off-season as he stole a career high 20 bases last season with the Kansas City Royals. Although he has only averaged around 13 bases per 162 games in his career, his stealing potential was bolstered when he supposedly got into "the best shape of his life" last year.
The next addition of speed comes from the infielder Manny Burriss. After spending several seasons in the Giants minor leagues, Burris has seen little time in the majors. The 27-year-old has played in just 222 games for the Giants in a span of four years, but has averaged 26 stolen bases per 162 games during that time.
In the minors, Burriss has played in 338 games, racking up 147 stolen bases (a 70 steal average per 162 games).
He has speed, he plays second base and shortstop, and he is absolutely raking in spring training. As one of the top hitters and base runners for the Giants this spring, Burriss still hasn't stacked up to the offensive production and blazing speed of Gregor Blanco.
Blanco has been the dark horse candidate to make the big league roster out of spring training. After signing a minor league contract and an invite to Scottsdale, Ariz., he began hitting and running like a mad man. In just 20 spring training games so far, Blanco is hitting .356 with a league-leading 11 steals. He also owns a pretty .424 on-base percentage, second on the team behind Burriss's .431.
Also of note, Brandon Belt had 22 steals in 2010 for San Jose, Richmond and Fresno. He has the speed potential, but typically not Pagan or Burriss speed. Having a first baseman with power, the ability to field great defense and speed on the base paths may seem like a dream come true.
It is, and his name is Brandon Belt, Giants fans.
All in all, look forward to the Giants being a whole lot faster, leading to more runners in scoring position in 2012 as they have quietly accumulated a handful of solid base stealers.
I just hope Huff isn't the second best on the team again, ever.
Original Story:
http://seedspitters.com/2012/03/giant...
THE BACKYARD
BEST OF MAXIM
RELATED ARTICLES
  Pat The Bat Burrell The San Francisco Giants have released relief pitcher Ramon Ortiz, says Henry Schulman of the San Francisco Chronicle (via twitter).   Henry Schulman also tells us that Pat Burrell has signed on as a scout for the Giants. Burrell will revisit the coaching or instructional position at a later time. GM Brian Sabean thinks a scout role is better for Burrell at...
Henry Schulman of the San Francisco Chronicle says infielder Freddy Sanchez has "plateaued" in his rehab, thus the decision to give him a cortisone shot. It's very clear that Sanchez will not be ready for Opening Day. It's time to see what Manny Burriss can do with his time at second base till the injured Sanchez can get back on the field. It's unclear at this time as to...
Jon Heyman of CBSSports.com says Barry Zito's contract with the San Francisco Giants is the worst free agent contract ever!   Heyman believes that interviews with Zito are like Groundhogs Day. Saying all of the minor adjustments Zito talks about, haven't mattered in five years. Heyman also points out that the contract is seven years for $126 million. Zito is currently 43-61...
In the interest of full disclosure, I'll start off this post by saying I've been a San Francisco Giants fan since childhood. And initially when the Giants signed Barry Zito in December 2006, I was excited. It's been a long time since then– five seasons and a 43-61 record with a 4.55 ERA, to be precise– but yes, when the Giants splurged $126 million over seven years on the...
What will be Brandon Belt's role in 2012? Episode 71: Got Any Hitters? Go Fish! is out! In the seventy-first episode, Thomas and Danny talk with Grantland.com writer Jonah Keri about his 2012 Giants preview, the infield situation, Matt Cain's true worth, Brandon Belt's quest for playing time, and why Giants fans should be angry with the Front Office. Click on the image...
The Giants made some changes in the offseason trading away Jonathan Sanchez (albeit at his lowest value), trading Andres Torres and Ramon Ramirez and acquiring Melky Cabrera and Angel Pagan. They got decent value albeit older guys again. The Giants have this pattern of trading away young guys for veterans. Jonathan Sanchez should've been traded the year before when his value was...
Doug Greenwald knows the San Francisco Giants system. The son of longtime Giants broadcaster Hank is entering his tenth year as the voice of the Grizzlies. This spring he's also been calling Cactus League games for the Giants. Fresno Correspondent Ryan Satkowiak recently spoke with Greenwald -- about this year's experienced Fresno squad, Brandon Belt and who's turning heads in Scottsdale.
SCOTTSDALE, Ariz. (AP) -- Pablo Sandoval hit a two-run homer with two outs in the bottom of the ninth inning Monday and the San Francisco Giants beat the Kansas City Royals 4-2. Sandoval's third homer of the spring came off Greg Holland. Justin Christian singled with two outs and Sandoval connected. Ryan Vogelsong, who went 13-7 last year and was an NL All-Star, made his first...
A pair of big swings by Brandon Crawford and Nate Schierholtz put the San Francisco Giants in a better mood on Wednesday. Crawford and Schierholtz homered to lead San Francisco to a 4-1 victory over the Los Angeles Dodgers. ''It's time for all of us to start swinging the bat better,'' manager Bruce Bochy said. ''We've been struggling the past week...
Pablo Sandoval gave the San Francisco Giants something to smile about with a two-run homer with two outs in the ninth inning to defeat Kansas City 4-2 on Monday. Sandoval had three hits, including a double, and scored twice. But what occurred in the first 2 2/3 innings was even more important for the Giants. Ryan Vogelsong, expected to be a key part of the rotation, made his first...
Sergio Romo, Giants   Jayson Werth, Nationals   Brian Wilson, Giants Who has the best beard in baseball?  Let us know in the comments below.
SCOTTSDALE, Ariz. (AP) -- A pair of big swings by Brandon Crawford and Nate Schierholtz put the San Francisco Giants in a better mood on Wednesday. Crawford and Schierholtz homered to lead San Francisco to a 4-1 victory over the Los Angeles Dodgers. "It's time for all of us to start swinging the bat better," manager Bruce Bochy said. "We've been struggling...
MLB News

Delivered to your inbox

You'll also receive Yardbarker's daily Top 10, featuring the best sports stories from around the web. Customize your newsletter to get articles on your favorite sports and teams. And the best part? It's free!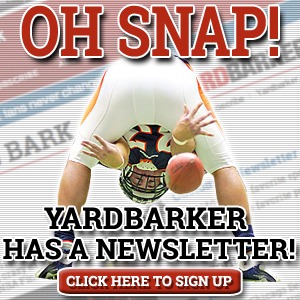 Latest Rumors
The Backyard

Today's Best Stuff

For Bloggers

Join the Yardbarker Network for more promotion, traffic, and money.

Company Info

Help

What is Yardbarker?

Yardbarker is the largest network of sports blogs and pro athlete blogs on the web. This site is the hub of the Yardbarker Network, where our editors and algorithms curate the best sports content from our network and beyond.