Found December 12, 2011 on 22gigantes:
PLAYERS:
Eli Whiteside
,
Jeff Keppinger
,
Emmanuel Burriss
,
Santiago Casilla
,
Tim Lincecum
,
Pablo Sandoval
,
Nate Schierholtz
,
Ryan Vogelsong
,
Mike Fontenot
,
Melky Cabrera
,
Angel Pagan
,
Buster Posey
,
Aubrey Huff
,
Carlos Corporan
,
Jose Altuve
,
Matt Cain
,
Chris Stewart
,
Hector Sanchez
,
Freddy Sanchez
,
Henry Sosa
,
Jason Stoffel
,
Brandon Belt
,
Brandon Crawford
,
Madison Bumgarner
,
Barry Zito
,
Brian Wilson
,
Sergio Romo
,
Jeremy Affeldt
,
Javier Lopez
,
Guillermo Mota
,
Dan Runzler
,
Brett Pill
,
Justin Christian
,
Steve Edlefsen
,
Eric Surkamp
TEAMS:
San Francisco Giants
,
Minnesota Twins
,
Houston Astros
Looks like jersey No. 22 (worn by Whiteside) is up for grabs again in San Francisco. The non-tender deadline passed tonight with the San Francisco Giants declining to offer contracts to catcher Eli Whiteside and infielder Jeff Keppinger, officially making both arbitration-eligible players free agents. The Giants have whittled their list of arbitration-eligible players down to 10. As expected, the club has tendered offers to Emmanuel Burriss, Santiago Casilla, Tim Lincecum, Sergio Romo, Pablo Sandoval, Nate Schierholtz, Ryan Vogelsong, Mike Fontenot, and recently acquired outfielders Melky Cabrera and Angel Pagan. Terms of the offers are not yet available but all of these players will likely receive raises from their 2011 salaries. I'll update this page as contract information becomes available. [SCROLL DOWN TO SEE MY PROJECTED 2012 GIANTS OPENING DAY ROSTER] Whiteside, 32, began his Giants career in 2009 after he was signed as a free agent on May 5, 2008 — about a week after the Minnesota Twins waived him. He was thrust into the starting role behind the dish last year after the season-ending injury to Buster Posey and was mostly disappointing. Whiteside batted .197/.264/.310 with 4 HR and 17 RBI in a career-high 213 at bats last season. Horrible, to say the least. Whiteside's defining moment as a Giant, perhaps, came in the ninth inning of a game on Aug. 28, 2011 against the Houston Astros. With the game tied and Aubrey Huff at first base, Whiteside (who would end up wearing the Golden Sombrero (0-for-4, 4 K) that day, flailed at a strike three in the dirt. Huff broke for second base and 'Stros catcher Carlos Corporan threw down to second base instead of simply tagging Whiteside for the third out. Huff was safe, putting the winning run in scoring position. However, Whiteside — rather than run to first base on the dropped third strike — stood and argued with home plate umpire Larry Vanover, while Houston second baseman Jose Altuve took the throw from Corporan and threw to first for the force out on Whiteside, making it a 2-4-3 inning-ending strikeout. The Giants wound up losing 4-3 in 11 innings. With a healthy Sanchez, Keppinger is too much of a "luxury item' to be kept around in 2012. Whiteside made another huge mental error in a game against the Padres on Jul. 17, when he failed to call off pitcher Matt Cain on a routine pop-up in front of home plate. Whiteside collided with Cain and the ball dropped to the ground for a base hit. The Giants will likely use Chris Stewart or perhaps Hector Sanchez as the primary backup catchers to Posey in 2012. [SCROLL DOWN TO SEE MY PROJECTED 2012 GIANTS OPENING DAY ROSTER] After the season-ending injury to second baseman Freddy Sanchez, Keppinger, 31, was brought over to the Giants in a trade with Houston (on July 19, 2011 for minor league pitchers Henry Sosa and Jason Stoffel). Prior to the trade, Keppinger was hitting .307/.320/.436 with 4 HR and 20 RBI in 43 games with the Astros. He played in 56 games for San Francisco, where he hit just 255/.285/.333 with 2 HR and 15 RBI. Keppinger lacks the versatility of Burriss and Fontenot (who were also both thought to be non-tender candidates), which is probably why the Giants decided against keeping him. For all intents and purposes, the Giants' roster is set. Sure, some non-roster spring training invitee could steal a job. The club may even make another trade, or sign one of the other non-tendered players from tonight. But for now, here's a quick rundown of the Giants' 2012 25-man roster as I see it (barring injuries or trades, of course): PROJECTED STARTERS BY POSITION (B/T): 1B — Brandon Belt (L/L)
2B — Freddy Sanchez (R/R)
3B — Pablo Sandoval (S/R)
SS — Brandon Crawford (L/R)
C — Buster Posey (R/R)
LF — Aubrey Huff (L/R)
CF — Angel Pagan (S/R)
RF — Melky Cabrera (S/L) PROJECTED STARTING ROTATION: 1. Tim Lincecum (RHP)
2. Matt Cain (RHP)
3. Madison Bumgarner (LHP)
4. Ryan Vogelsong (RHP)
5. Barry Zito (LHP) PROJECTED BULLPEN: CL — Brian Wilson (RHP)
SU — Sergio Romo (RHP)
SU — Jeremy Affeldt (LHP)
MR — Javier Lopez (LHP)
MR — Santiago Casilla (RHP)
MR — Guillermo Mota (RHP)
MR — Dan Runzler (LHP) PROJECTED BENCH/RESERVES: 1. OF Nate Schierholtz (R/R)
2. C Chris Stewart (R/R)
3. INF Mike Fontenot (R/R)
4. INF/OF Emmanuel Burriss (R/R)
5. INF Brett Pill (R/R) PROJECTED OPENING DAY LINEUP: 1. Pagan (cf)
2. F.Sanchez (2b)
3. Sandoval (3b)
4. Posey (c)
5. Huff (lf)
6. M.Cabrera (rf)
7. Belt (1b)
8. Crawford (ss)
9. Lincecum (p) As you can see, I'm predicting a few things:
First, infielder Pill (R/R) makes the Opening Day roster, and outfielder Justin Christian (R/R) does not. Simply stated, Pill's got pop, Christian doesn't. And I bet Pill wins the job with a good spring.
Notice also that I have Cabrera beating out Schierholtz in right, although I definitely see a platoon situation emerging with all four outfielders. Belt and Burriss will even log some innings out there.
Second, I predict that catcher Hector Sanchez will start the season at Triple-A Fresno. I love the kid, but he just has so much to learn about the nuances of catching and hitting at the big league level and he's not ready yet. No doubt we will see him during the season if there's an injury or other opportunity for a call-up.
Third, I think the Giants will start the season carrying 12 pitchers. It's a tough call for that last spot in the 'pen, but I'm going with Runzler over right-hander Steve Edlefsen because he's got more experience (and the Giants already only have two southpaws in Affeldt and Lopez). Eric Surkamp will undoubtedly start the season in Triple-A. There's no plans for the Giants to convert him into a reliever and he needs the starts. However, if there's an injury to one of the Giants five starters, Surkamp is the first guy in line to get the call from Fresno.
I hope you enjoyed reading "Giants non-tender Whiteside, Keppinger." I'm interested in your opinion on this article. Why not leave a comment at 22gigantes.com?
Original Story:
http://feedproxy.google.com/~r/22giga...
THE BACKYARD
BEST OF MAXIM
RELATED ARTICLES
The San Francisco Giants have signed infielder Mike Fontenot to a one-year deal, keeping him over second baseman Jeff Keppinger. Keppinger and backup catcher Eli Whiteside weren't offered contracts by San Francisco on Monday night. Other arbitration-eligible players who were tendered contracts were two-time NL Cy Young Award winner Tim Lincecum, fellow starting pitcher Ryan...
Mariano with Brian Sabean (left) at the Giants' World Series parade in 2010. Three new faces will join the Fresno Grizzlies coaching staff in 2012. The San Francisco Giants' Triple-A affiliate announced today that Bob Mariano will become the Grizzlies' skipper next season, replacing Steve Decker, who will become the Giants' new organizational hitting instructor. Decker...
The verdict is out! The San Francisco Giants have decided to sign Mike Fontenot (1-year), and non-tender Jeff Keppinger.   From the comments left on SF Giants Rumors Facebook it sounds like a lot of fans wanted to see Keppinger back in a Giants uniform.   Keppinger came over to the Giants (July) from the Astros (traded for Henry Sosa and Jason Stoffel). He hit a combined .277...
2007: Free agent Aaron Rowland (.309, 27 HR, 89 RBI) and the Giants agree to a five year, $60 million deal. The 30-year old Gold Glove center fielder is expected to bat fifth and will help fill the void in the outfield created by the departure of Barry Bonds. 1986: The Mets trade Kevin Mitchell' a rookie who played six positions for the eventual world champs, along with prospects...
With Melky Cabrera and Angel Pagan, the Giants believe they've upgraded their offense and become more of a complete team.
Nothing particularly shocking here, but the Giants decided on Monday night to dump Jeff Keppinger and Eli Whiteside and tender Mike Fontenot. reported that Keppinger and Whiteside were non-tendered, and that Fontenot was offered a one-year deal. The logic on why the Giants did this? Cost and positional flexibility -- Fontenot is cheaper than Keppinger, and he can play multiple positions...
Aaron Rowand has started his path back the NL East as he just signed a minor league deal with the Miami Marlins. (Just saying that if was a minor league deal he wanted, I would have totally done that) Anyway, Rowand was cut last year by the Giants after hitting .233. He has one year left on his contract and the Giants still owe him 12 million for the upcoming season (minus...
The largest federal criminal investigation into sports doping began more than nine years ago with a tax agent digging through the trash of the now notorious Bay Area Laboratory Co-Operative. Barring an appeal, the government's work comes to an anti-climactic end Friday when Barry Bonds - the probe's highest-profile catch - is sentenced for obstruction of justice. In between...
Preferring versatility over second-base insurance, the Giants agreed to terms with infielder Mike Fontenot on a one-year contract Monday and declined to tender contracts to infielder Jeff Keppinger and catcher Eli Whiteside, casting the pair into free agency.
The Giants re-signed infielder Mike Fontenot to a one-year deal and offered contracts to nine of their other 11 arbitration-eligible players on Monday, vice president Bobby Evans said.
Rowand could become the Marlins' starting center fielder in 2012. Former Giants outfielder Aaron Rowand has agreed to a minor league deal with the Miami Marlins, according to Ken Rosenthal at FOX Sports. The 34-year old will receive an invitation to spring training and could make it on to the Marlins' active roster with a solid spring. Rowand will be paid $12 million next season...
MLB News

Delivered to your inbox

You'll also receive Yardbarker's daily Top 10, featuring the best sports stories from around the web. Customize your newsletter to get articles on your favorite sports and teams. And the best part? It's free!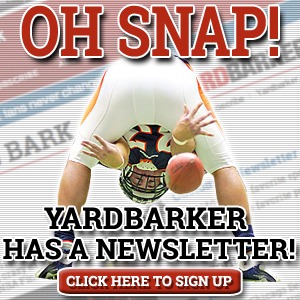 Latest Rumors
Best of Yardbarker

Today's Best Stuff

For Bloggers

Join the Yardbarker Network for more promotion, traffic, and money.

Company Info

Help

What is Yardbarker?

Yardbarker is the largest network of sports blogs and pro athlete blogs on the web. This site is the hub of the Yardbarker Network, where our editors and algorithms curate the best sports content from our network and beyond.