Found November 21, 2012 on World Series Dreaming:
PLAYERS:
Jeffrey Loria
,
Theo Epstein
,
Jed Hoyer
,
Jim Hendry
,
Bryan LaHair
,
Ron Santo
,
David DeJesus
,
Anthony Rizzo
,
Javier Baez
,
Tony Campana
,
Brett Jackson
,
Ryan Dempster
TEAMS:
Miami Marlins
,
Boston Red Sox
,
San Diego Padres
,
Chicago Cubs
,
Texas Rangers
We gripe and gripe about everything all year, including the Cubs and how incredibly crappy they are, but this time is for the giving of thanks and being thankful for what we have.  There's the usual suspects, i.e. health, family, friends, a roof over our heads.  There's other things too, like our favorite sports teams and icons that keep us entertained.  And then there's all of you, who stick with us even when the offseason is more boring than a comatose snail and the team itself isn't much better.  So plenty to be thankful for. Most of the big news this offseason belongs to the epic fail that is the Miami Marlins franchise.  In a way, the fans of Miami should be thankful that the pathetic business practices in Miami were fleshed out so blatantly, as this may be the impetus needed to get Jeffrey Loria and the rest of his crooked crew out of Florida and MLB.  Lots of pain in the short term (and maybe the medium term, especially if Giancarlo Stanton gets his way and can get out from under the Marlins' control), but with the MLB Players' Association, the other owners and even the commissioner looking at them under a microscope, maybe they'll be okay in a few years.  Here's hoping for them, even though things happened in the past involving the Marlins that we won't speak about. And that brings us to the Cubs.  There are a lot of complaints about the Cubs, from owner Tom Ricketts not reducing ticket prices enough, to Theo Epstein and Jed Hoyer not buying up every available free agent or even trading the farm they built up in just one short year to take that monster trade package away from Toronto.  But there is much to be thankful for with the Cubs.  For the first time in a very long time, we have an owner who is patient enough and dedicated enough to see that this franchise is built the right way, from the lowest level of the minors all the way to the eventual renovation and modernization of Wrigley Field.  There are arguments that Tom Ricketts could have acted a bit more rapidly to get rid of Jim Hendry and the previous regime, but there was a method to the madness and he got the (hopefully) right folks in place to get the Cubs back on track for the first time since World War II.  That's definitely something to be thankful for. On the MLB level, we saw that the Cubs said goodbye to surprise All-Star Bryan LaHair.  Naturally there was a mutual benefit in the transaction that ensued, but by doing their part to ensure that LaHair had a good opportunity that would set him up comfortably financially and as a baseball player, the Cubs showed that they cared about at least one marginal player in their organization.  That has to resonate through the rest of MLB, to show that ownership and management cared about each player enough to help them find good opportunities elsewhere.  So we should be thankful that the Cubs, including in this example, are turning their franchise into something that players may want to be a part of. On the community level, the Cubs have been very active.  Cubs legend Ron Santo used to host events and raised funds for JDRF when he was still alive and kicking.  Nowadays, Cubs players are still active in the community, including pitching coach Chris Bosio, David DeJesus and his family, and Anthony Rizzo.  Cubs.com had a nice story about how the Cubs donated to Bosio's foundation.  I'm sure the Ricketts Family has money flying out the wazoo, even while they have to figure out a way to renovate Wrigley Field without state or city help (that's another debate for another day) and having to develop facilities in Arizona and in the Dominican Republic.  But this is just one of several ways the Cubs are contributing to the community and absolutely something to be thankful for in our favorite team. I guess we also have to be thankful for the way the franchise is moving forward, too, even if it's not apparent at the MLB level.  Jim Hendry's last draft, where he was able to spend like a crazy man prior to the new CBA taking affect, landed the Cubs some of their top prospects in Javier Baez and Dan Vogelbach.  Theo and Jed's most recent draft got a lot of interesting pitching and Albert Almora.  Before Epstein and Hoyer's hire, and Hendry's last draft, the Cubs were ranked somewhere around 20th to 22nd in MLB in terms of their farm system.  Still waiting for the end-of-season (and probably pre-2013 season) rankings, but I imagine that after the midseason trades and other acquisitions, the Cubs are closer to the top than the bottom now.  There's a lot of work to be done, but be thankful that it's being overseen by one of the smartest front offices in MLB, one that was able to deliver two World Series championships and a perennial winner and is motivated and well-supported to bring one to Chicago as well. In the meantime, Cubs-wise, what was I thankful for this year?  I was thankful to Anno for inviting me to the Cubs Convention as his guest, where I got to meet Tony Campana (yeah, he sucks, but he tries, dammit), Pat Hughes, and got autographs from Anthony Rizzo, Brett Jackson and Ryan Dempster.  I was thankful that I was able to get to so many games either for free or for a big discount.  Being a Cubs fan can be expensive if you want the good seats, but I was grateful to my friends and to various subsidies for allowing me to take my son to a few games affordably. And while I knew the team was probably going to suck, I appreciated that the front office was always honest about it, and I was thankful for the slightly unintended consequence of suppressing ticket prices so that I could actually watch them suck in person.  I was thankful that no matter what, the Cubs always tried.  I knew they sucked, I knew they didn't have enough talent to keep up with their opponents, but I could tell that they were trying and playing hard.  Sometimes you just don't have enough talent.  And in a rebuilding year, that was okay, because the attitude the team showed was "I am doing my best" and that attitude will endure even if the players are shipped out. Happy Thanksgiving to all you Cubs fans.  Next deadline we have to look forward to is the November 30th non-tender deadline, so keep your eyes peeled.
Original Story:
http://worldseriesdreaming.com/2012/1...
THE BACKYARD
BEST OF MAXIM
RELATED ARTICLES
Today was the deadline to add players to the 40-man so they would't be eligible for the Rule 5 draft. The winners were: RHP Trey McNutt, RHP Robert Whitenack, 3B Christian Villanueva and INF Logan Watkins. Bryan LaHair was desginated for assignment and RHP Carlos Gutierrez was waived (I swear I don't even know who that is). LaHair is apparently going to sign to play in Japan...
Bryan LaHair went from unheard-of to the National League All-Star team in 2012. He's set to depart the major leagues just as quick. LaHair, who struggled in the second half, was recently designated for assignment and now appears to be headed to Japan. The Fukuoka SoftBank Hawks are on the verge of signing LaHair who spent all of 2012 with the Chicago Cubs. Already a trade candidate...
he Chicago Cubs today selected the contracts of four players and added them to the 40-man roster: right-handed pitcher Trey McNutt from Double-A Tennessee, infielder Christian Villanueva from Single-A Daytona, infielder Logan Watkins from Tennessee and right-handed pitcher Robert Whitenack from Daytona. Infielder Bryan LaHair has been designated for assignment, as he and the Cubs...
The Softbank Hawks of the Japanese Pacific League say they have signed former Chicago Cubs infielder Bryan LaHair to a two-year, $4.5 million contract. LeHair, who was named to the National League All-Star team last season, batted .286 with 14 home runs and 30 RBIs before the All-Star break but fell to .202 with two home runs and 10 RBIs after it. After losing the first base job...
In the span of a week, the Cubs went from being smart to peculiar. Which isn't all that surprising. After all, this is the Cubs we are talking about. Last week the cubs swooped in with I'm tentatively calling the signing of the offseason when they inked Scott Baker to a one-year deal. Yesterday they DFA'd 2012 All Star, and killer of my fantasy team, Bryan LaHair. According...
The Softbank Hawks of the Japanese Pacific League say they have signed former Chicago Cubs infielder Bryan LaHair to a two-year, $4.5 million contract. LaHair, who was named to the National League All-Star team last season, batted .286 with 14 home runs and 30 RBIs before the All-Star break but fell to .202 with two home runs and 10 RBIs after it. After losing the first base job...
Bryan LaHair will go to Japan for the 2013 season. The 2012 National League All-Star has signed a contract worth $4.5 million to play the next two seasons for the Softbank Hawks. LaHair was designated for assignment by the Cubs earlier this week and would have been in line for a contract worth the league minimum had he opted to remain in the US. In 2012 LaHair got off to a strong...
In a relatively surprising move, the Chicago Cubs have designated first baseman Bryan LaHair.  LaHair was an All-Star in 2012, but he had a rough second half of the season.  With Anthony Rizzo's promotion to the big leagues, the team had to shift LaHair to the bench with occasional outfield duties.  Now they are likely going to release him. LaHair is trying to go play...
As the Rule Five draft looms in the near future, the deadline for teams to set their 40 man roster arrives today. With that being the case, the Chicago Cubs made a flurry of moves to ensure that players who would be vulnerable to the draft, that the club valued, would be protected. In doing so, the Cubs added pitchers Trey McNutt and Robert Whitenack as well as infielders Christian...
  Carlos Gutierrez, 26, was claimed off waivers by the Cubs from the Minnesota Twins on October 24.  He was originally selected by the Twins in the first round of the 2008 Draft and has gone 15-20 with a 4.11 ERA (154 ER/337.0 IP) in 136 appearances (32 starts) covering the last five seasons in the Twins minor league system. The Chicago Cubs today selected the contracts of four...
MLB News

Delivered to your inbox

You'll also receive Yardbarker's daily Top 10, featuring the best sports stories from around the web. Customize your newsletter to get articles on your favorite sports and teams. And the best part? It's free!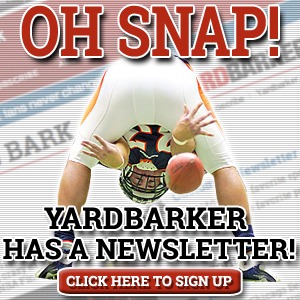 Latest Rumors
Best of Yardbarker

Today's Best Stuff

For Bloggers

Join the Yardbarker Network for more promotion, traffic, and money.

Company Info

Help

What is Yardbarker?

Yardbarker is the largest network of sports blogs and pro athlete blogs on the web. This site is the hub of the Yardbarker Network, where our editors and algorithms curate the best sports content from our network and beyond.