Found August 31, 2012 on Down with Goldy:
I was considering making this a live blog of the Gopher/UNLV tilt, but there area few issues with that:
1.  I don't care enough about the Gopher football team to write about it exclusively, even in one post.  Honestly off the top of my head right now I can name exactly one player, MarQueis Gray, and that's probably only because his name is so sweet.  It's not that I never watch the team.  I probably go to 2-3 games a year at TCF Bank and watch a handful more on the tv.  It's not appointment viewing like the hoops team, but if I'm home and they're playing I'm watching.  The problem is that every time I watch a game I immediately forget every player whose name I learned.  Plus the Gophers are always so ****** that nobody is ever good enough to notice until they get to their senior year, and then they're gone.  So it's really not my fault.
2.  The game starts way to late for an old man who doesn't care.  I don't want to start a live blog and then end up bailing at halftime because I passed out fell asleep. 
Instead, I will watch the game and may write a thing or maybe two things or maybe more.  I don't know.  What am I, Kreskin?
Naturally, to make the game interesting I am involved in some wagering.  I have the Gophers -2.5 as the third leg of a three-team, six-point teaser with Vandy already having hit (need BYU to win by 5.5 or more as well to win this), OVER 52 total points, OVER 25.5 total points first half, Gray OVER 11 completions, and whoever UNLV's boner running back is over 69.5 rush yds.  Should be a hoot.  As Jack Napier once asked, "You ever dance with the devil in the pale moonlight?"
-  Great, it's 10:02 and I still haven't found the game because it's on some weird channel.  I assumed I'd be able to handle this.
-  BOOM!  I'm there and I didn't miss a minute of action.  Although I'm guessing that's not necessarily a positive thing.
-  Troy Stoudermire is still on this team?  This has gotta be like, year 7.  He's stuck around college longer than older brothers Damon and Salim combined at this point.
-  UNLV just picked off Gray in the redzone on a batted ball that was only batted because Gray threw the ball so directly to a linebacker on the Rebels that he was too stunned to actually catch it.  And this on the same drive where Gray missed a wide open guy for a TD a few plays after missing a wide open guy for a first down.  Gonna be a long year.
-  Seriously remember how like, when Glen Mason was here he'd get your hopes built up that maybe this Gopher team was different before ripping your heart out midseason in some gruesome, Mola Ram style?  It's nice to not have to deal with that anymore.
-  Good thing the Rebels are terrible.  Field Goal.
-  Official Gopher basketball schedule was released today and there's really no way to sugarcoat this - it's freaking awful. 
Gopher Nation spent more time on it here than I'm going to
, but basically even though the overall non-conference schedule is good (Duke and likely two other quality teams in the Battle for Atlantis and a trip to Florida State) but the home slate is awful.  Check it:
American - a powerhouse in the Patriot, but likely staring at a down year.  Terrible.
Toledo - terrible
Tennessee State - a top tier team from a bottom tier conference.  Not an NCAA Team, but sadly probably the second best home opponent.
Richmond - a mid tier team from a mid tier conference.  And that's strong praise for this slate.
North Florida - terrible
South Dakota State - best home NC opponent by a significant margin, yet still the kind of team that has to win their conference tournament to make the NCAA tourny
North Dakota State - terrible
Lafayette - terrible
Oof.   Gopher Nation (at the link above) does a nice job of spinning seven of the eight games (you can't spin the Lafayette game) and if you're optimistic you can actually make an argument for Toldeo and NDSU being better than terrible, but really this is awful.  The U is basically stealing money from season ticket holders with this crap.  Richmond, in a down year, should not be a highlight of the home NC schedule for your fans.  Gross.
-  Wow this is absolutely terrible.  The Gophers have punted like twice or something and UNLV can't really do anything.  Pretty sure the Vikings are going to win more games.
-  Jesus this is just like watching a Twins/Royals game.
-  Gray with three completions in the first quarter, which is technically on pace to cover my "OVER 11 Completions" bet.  Not on pace?  The over 25.5 first half and over 52 game.  It's 3-0.  And I think it's actually been worse than that so far.  No chance I'm getting to a second half.
-  Is there anything better than a d-back picking up a clearly incomplete pass and starting to run it back as if it was a fumble?  No.  There's not.
-  If Gray and this UNLV QB guy had a contest where the balls were actually rigged so if they hit a live person they'd explode and you had to stand there and let them throw at you from 10 yards away you'd die of old age.  Or boredom.
-  Do you want to know what sucks about the Twins' training staff's complete inability to diagnosis, recognize, or treat any kind of injury?  Besides of course making it take longer from injury date to return date on guys like Kyle Gibson?  If Matt Capps and/or Carl Pavano were healthy these last 9 months or whatever and actually pitching the Twins could get value out of them.  If they held on to them all year and they were at least not totally putrid they could do that thing where you offer arbitration, then when they signed multi-year deals elsewhere the Twins would get draft picks or, to be safer because god knows you don't want Capps to sign anything to stay on your team, just trade them.  Assuming Pavano was doing his usual 200 innings, 4.50 ERA thing you know somebody'd give up something for him.  And Capps?  Even though he sucks he could be great Dodger bait right now.
The Dodgers' closer, Kenley Jansen, was just shut down indefinitely because of a heart condition.  This is a team so desperate to win and win now they took on a ******** of possibly dead money just to acquire a slugging first baseman (and a disgruntled pitcher) and gave up a couple quality pitching prospects for the privilege.  You're telling me at this point they're not panicking?  That they wouldn't overpay to get a "known closer" with 150 career saves (which he'd have if he pitched all year) and who had 42 just two seasons ago?  I mean, yeah he sucks, but teams are idiots about the save statistic, and team's who are panicking are even dumber.  Then add in their desperation to win and keep relevant compared to the Angels, the billions they falling out of their asses, and "shiny new toy" syndrome the new owners are falling prey too and you know the Twins could fleece them.  Well, I should say a normal team could fleece them, the Twins would probably end up trading Kyle Gibson along with Capps to get a slap hitting middle infielder.  Because lord knows they don't have enough of those.
-   Gopher TD!!!  I have no idea what happened.
-  These pictures of Vegas make me want to go gamble and play craps at the Tropicana.  Seriously, Tropicana is the second best craps run of my life.  First would be the San Remo, which is now Hooters, which is probably the most depressing thing ever.  That place blows now.
-  I know you can win in college ball with a QB who doesn't throw very well but who can run like a mo-fo, I know this.  But I really don't like it.  I want a QB who can sling that pill like Mox.  Is that so much to ask?
-  Gophers miss a 10 yard field goal with a minute to play in the half.  I'm going to bed.  All my bets suck.  The Gophers suck again.  This is all highly annoying.
-  And for the record no, I have not danced with the devil in the pale moonlight, but it sounds sexy.
Original Story:
http://feedproxy.google.com/~r/DownWi...
THE BACKYARD
BEST OF MAXIM
RELATED ARTICLES
MINNEAPOLIS The Twins announced Thursday that pitching prospect Lester Oliveros had Tommy John surgery on his right elbow.Before going into surgery, the Twins doctors were unsure whether Tommy John would be necessary, but theyd received prior authorization from the team, Oliveros and his agent to perform the procedure if it was necessary. Upon closer examination, it was."He...
The Minnesota Twins have recalled outfielder Matt Carson from Triple-A Rochester. The Twins made the move on Friday, one day after putting center fielder Denard Span on the disabled list with a sprained right collarbone. Span was first injured on Aug. 12 and missed 14 of the next 17 games. When the injury still had not improved enough for him to feel comfortable playing on the Thursday...
The Minnesota Twins have recalled first baseman Chris Parmelee from Triple-A Rochester. The Twins announced the move on Wednesday, a few hours before playing the Seattle Mariners. Parmelee has struggled in three stints with the Twins this season, hitting .204 with two homers and six RBIs in 40 games. He has fared much better in Rochester, hitting .338 with 17 homers and 49 RBIs...
In his 10th year of professional baseball, Samuel Deduno has finally gotten a chance to prove he's major league material. After going 5-2 with a 3.72 ERA in 10 starts for the Minnesota Twins, it's hard to believe it took this long. He's been showing his potential since July 8, when he made his first major league start at Texas, six days after turning 29. In his last...
Minnesota Twins left-hander Scott Diamond has dropped his appeal of a six-game suspension for throwing behind Texas Rangers star Josh Hamilton. The Twins announced Diamond's decision Wednesday, one day after he allowed five runs in seven innings of a loss to the Seattle Mariners. He started serving his suspension on Wednesday and will miss one turn in the rotation. Diamond...
MINNEAPOLIS These days, the clapping is a bit thinner. Roving vendors' neon yellow shirts glow a bit brighter silhouetted against empty green seats, their piercing advertisements ringing ever louder. It's the twilight of August at Target Field, and the three-season-old ballpark is glistening in the 90-degree heat. She's showing her age a bit, this field that Minnesota...
Samuel Deduno dominated for seven innings, Trevor Plouffe homered and had four RBIs, and the Minnesota Twins beat the Seattle Mariners 10-0 on Wednesday night. The normally wild Deduno (5-2) struck out a career-high nine with no walks to help the Twins snap a seven-game losing streak against Seattle and win for just the fourth time in their last 20 games overall. After Trayvon...
It wasn't long ago when Joe Mauer was considered the premier catcher in the game. He was a St. Paul native and the face of the franchise when the Twins rewarded him with a long term deal. Just one year later they put him on waivers to check out the landscape for dumping his salary. This happened less than a year after three other teams locked committed $200M+ to first basemen.
Due to the steady rain that's lingered over Kansas City all day, the Twins' Friday night game against the Royals has been cancelled.A doubleheader has been scheduled for tomorrow, with the first game at 3:10 p.m. The Twins' Cole De Vries was scheduled to pitch against the Royals' Will Smith on Friday, and the Star-Tribune is reporting that it is still unknown how...
MLB News

Delivered to your inbox

You'll also receive Yardbarker's daily Top 10, featuring the best sports stories from around the web. Customize your newsletter to get articles on your favorite sports and teams. And the best part? It's free!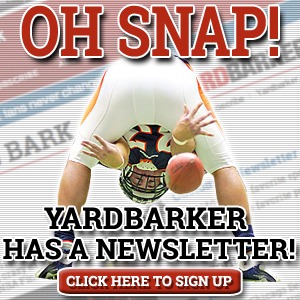 Latest Rumors
Best of Yardbarker

Today's Best Stuff

For Bloggers

Join the Yardbarker Network for more promotion, traffic, and money.

Company Info

Help

What is Yardbarker?

Yardbarker is the largest network of sports blogs and pro athlete blogs on the web. This site is the hub of the Yardbarker Network, where our editors and algorithms curate the best sports content from our network and beyond.