Found December 11, 2012 on Fox Sports West:
LOS ANGELES Finally. An honest man. Maybe even two. Zack Greinke said that when it came down to choosing the Dodgers over other teams pursuing him, it was all about the money. The new Dodgers right-hander said that he was leaning toward joining the Texas Rangers before taking the Dodgers offer of 147 million over six years. The negotiations changed, he said. Was it the money that put the Dodgers over the top? Greinke smiled and said: Thats what it comes down to at the end. A no-nonsense type on the mound and usually reticent with the media, the 2009 American League Cy Young Award winner seemed happy to be regaling inquisitors with truthful tales of negotiations. Even though he now has the highest average salary for a pitcher on a multi-year deal, he knows his place in the record books wont last long. The moneys getting higher and higher, said the 29-year-old Florida native, and thats just how baseball is. As soon as a couple of other guys sign, Ill be passed. And it may be by a Dodger teammate. General manager Ned Colletti said that the Dodgers have done what they set out to do, and now theyre done with the nearly 600 million shopping spree and will concentrate on trying to make trades to shore up the roster. Unless something thats too good to pass up jumps out at us, were pretty much where were going to be budgetarily, Colletti said. But he didn't rule out signing Clayton Kershaw to an extension this offseason, which will likely turn Greinke into a prophet. Its already being speculated that the Dodgers left-handed ace and 2011 Cy Young winner will get a contract with an average annual value of 30 million per year. Greinkes AAV is 24.5 million, with a player opt-out clause after the third season. Greinke and Kershaw are both represented by agent Casey Close, who will see his own AAV jump toward the skies. Colletti says that the Guggenheim Baseball Group felt Greinke was the best free-agent fit forthe team, and that the Dodgers were going to do everything possible to get him on the club. We looked at our staff and felt it was a good staff, but we needed someone who would fit in right alongside Clayton Kershaw, Colletti said. Those types of pitchers are very, very rare, and one name kept coming back to us: Zack Greinke. It was very important for us to let Zack know that were about making this team as great as we can make it, and the part that he would play in it would be a major, major part. The more time he spent with him and his wife Emily, the more Colletti became assured that Zack was the right man. I knew we had to figure out a way to get him on this team, he said. It took 147 million, definitely. But the Dodgers loaded roster was a huge selling point as well. Greinke said he made a list of the Dodgers projected starting offense, and as he thought about how he could get each individual out, he realized that very few had any major weaknesses. Before I did that, he said, I didnt realize how good they were. This offense is as deep as any team. And Greinke teaming with Kershaw and a healthy Chad Billingsley makes the pitching staff pretty deep, too.
Original Story:
http://www.foxsportswest.com/12/11/12...
THE BACKYARD
BEST OF MAXIM
RELATED ARTICLES
If you think Zack Greinke just signed a big free-agent contract, wait three years. He might get an even bigger deal then. Greinke's six-year, $147 million contract with the Los Angeles Dodgers includes an opt-out clause that enables him to return to the open market midway through the agreement, major-league sources say. Talk about perfect timing: By the time Greinke is eligible...
The December 10th, 2012 edition of daily news for the Los Angeles Angels of Anaheim including Greinke signs with the Dodgers, making sense of the Angels' pitching moves and much more... The Story: Zack Greinke has signed with the Dodgers for six-years and $147 million and will now create all sorts of fallout through the league. The Monkey Says: Well, I think we all saw...
Over the weekend, the Los Angeles Dodgers broke the proverbial bank when they added free agent pitchers Zack Greinke and Hyun-Jin Ryu to their already bloated payroll.But they only made one go "Gangnam Style" during his first photo shoot with the team.Seriously, is that how we welcome a Korean-born baseball player to the Majors?  I can't imagine that dude donned the...
Step aside, New York Yankees.  Move over, Boston Red Sox.  There's a new spoiled rich kid team in town: the Los Angeles Dodgers.After signing Zack Greinke to a six year, $147 million contract yesterday, the Dodgers have boosted their payroll up to roughly $225 million, well beyond anyone else in baseball.  Considering $208 million was spent this winter on two players (Greinke...
LOS ANGELES The Angels have a news conference scheduled for late Wednesday morning to officially introduce their four new pitchers, none of whom will be Zack Greinke. When it came time to choose his team, sign his contract and pose for photos wearing his teams jersey and cap, Greinke picked the Dodgers, not the Angels. Greinke spent two months in Anaheim last season, but any hope...
Earlier today, the deal that has been the talk of  the town, was finally consummated when new starting pitcher Zack Greinke donned his new Dodger jersey and ball cap for the first time amid an army of reporters. Having recently signed a league record six-year deal for $147 million, the Dodgers continued to show the rest of baseball that they planned to be a force to be reckoned...
The Dodgers signed Zack Greinke to a contract that reflects his ace-like abilities. But does he have ace-like abilities?
On Saturday, the Los Angeles Dodgers gave one of the biggest contracts in baseball history to Zack Greinke. On Sunday, the Dodgers gave a big contract to Ryu Hyun-Jin, who has never before pitched in the majors. The Dodgers still might not even be done, and neither of the moves this weekend came as a surprise, because as we've established, the Dodgers have all of the money. The...
Well, it happened.  Zack Greinke is staying in Southern California, but he'll be doing so wearing Dodger Blue and all the Angels have to show for it is a wobbly rotation and a giant hole in their farm system where three quality prospects used to be. Some corners of the baseball world are applauding Jerry Dipoto for the restraint he showed in not giving into Greinke's...
Today is the last day for entries in our DVD Giveaway!  Get your entries posted to our Facebook, Twitter or Google+, and we'll announce the winners of the drawing tomorrow! Now, let's talk about the Dodgers. First of all, the unavoidable sound effect the Dodgers will play of "Ha-dou-ken!" every time a strikeout is notched by Ryu Hyun-jin will sound clever only to them, but...
The Los Angeles Angels and the Los Angeles Dodgers have ruled the roost this offseason. The best available free agent players, Josh Hamilton and Zack Greinke, have both been spoken for and it's official - they love L.A.. There has been a seismic shift in the baseball landscape and the more Bud Selig screams parity, the less of it there seems to be. Meanwhile, all we can do here...
MLB News

Delivered to your inbox

You'll also receive Yardbarker's daily Top 10, featuring the best sports stories from around the web. Customize your newsletter to get articles on your favorite sports and teams. And the best part? It's free!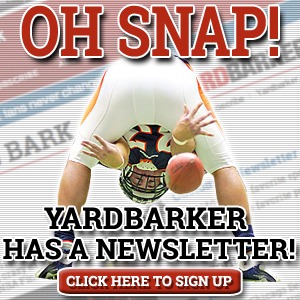 Latest Rumors
The Backyard

Today's Best Stuff

For Bloggers

Join the Yardbarker Network for more promotion, traffic, and money.

Company Info

Help

What is Yardbarker?

Yardbarker is the largest network of sports blogs and pro athlete blogs on the web. This site is the hub of the Yardbarker Network, where our editors and algorithms curate the best sports content from our network and beyond.